Pungwe Falls
Why Visit?:
The Pungwe Falls are one of the scenic highlights of Zimbabwe.
The landscape leading toward the horizon is uncluttered by human habitation or roads, the air is cool and fresh.
The few visitors often have the whole landscape to themselves and this makes the journey on poorly maintained roads worth the effort.
How to get here:
From the Rhodes Nyanga Hotel: 0.67 KM turn left onto the scenic road, 1.04 KM continue straight on ignoring the road to the right, 2.10 KM continue straight on the scenic road ignoring the road to the left,
6.73 KM continue straight on the scenic road ignoring the road to the right, 11.0 KM turn left onto the road marked Pungwe Falls and Mtarazi Falls, 20.2 KM turn off left for Pungwe Drift road, 20.9 KM arrive at Zimbabwe Parks and Wildlife Authority office, 21.4 KM arrive at Pungwe Drift
For the return journey: From Pungwe Falls road turnoff turn right onto the scenic road reversing direction, 9.2 KM turn left (i.e. not returning by the same scenic road) 15.9 KM turn right on the A14 for Nyanga National Park, or left for Juliasdale.
The scenic road has become severely degraded and a high clearance vehicle is recommended as a minimum requirement; 4WD is recommended.
GPS reference: 18⁰25′18.55″S 32⁰46′49.05″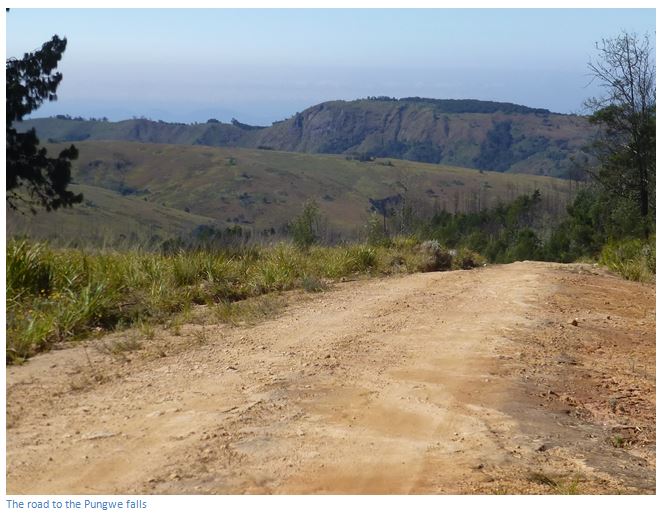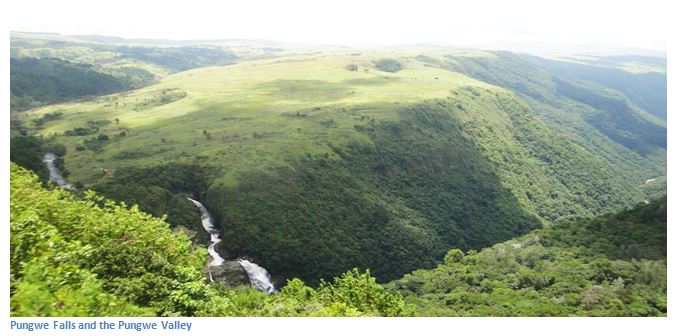 The Pungwe River has its source in a swamp high in the Nyanga Hills, where as a small perennial cold stream it goes racing down the mountainside, leaping thirty feet downwards at the Upper Falls to the left of the causeway. Flowing swiftly over the Pungwe drift, it falls down a series of beautiful tiers and plunges before gathering its strength in the pool and throwing itself over the main fall in a cascade of foam 240 metres (787 feet) into the densely wooded Pungwe Gorge, making it one of Nyanga's most spectacular views. It then flows over the border into Mozambique forming the southern boundary of the Gorongoza Park before finally reaching the sea at Beira.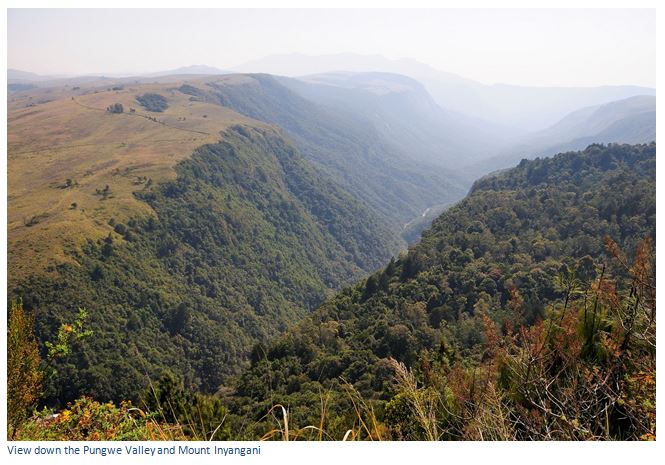 Walking in the Pungwe Falls and gorge area should not be done alone and it is recommended that anyone who wants to physically visit the falls, rather than just viewing them from the heights, should do so in the company of a tour operator, or with a local guide. The nights are cold and the area is quite remote.
Activities include fly-fishing for rainbow trout, walking in the vast wilderness area with waterfalls, pools and rivers, organised white water rafting and kayaking with Far and Wide.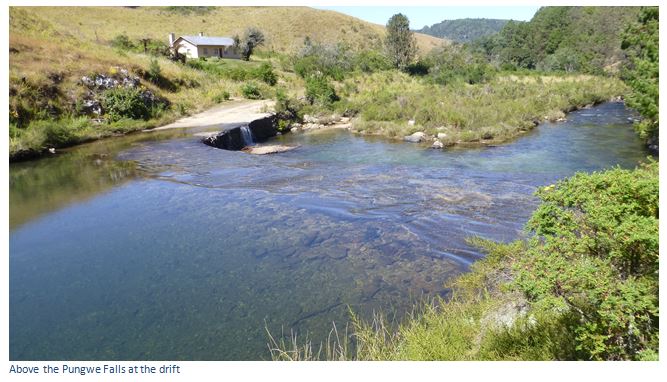 When to visit:
All year around Monday to Sunday 6am to 6pm
Fee:
An entrance fee is chargeable for Pungwe Falls which includes Mtarazi Falls.