Nyangombe Natural Swimming Pool / Falls
Why Visit?:
The Nyangombe River cascades down the rocks into a natural pool and a sandy area called locally Brighton Beach.
The fast running, cold water is bilharzia free and safe to bathe in.
There is a picnic braai area, changing rooms, flush toilets and parking area.
How to get here:
For the Nyangomwe natural swimming pool
From the Rhodes Nyanga Hotel take the entrance road. At O.7 KM turn right, at 1.2 KM turn right again towards the National Park boom gate, at 2.0 KM continue straight on ignoring the camp site on the left and the road to the right to the National Park offices, at 2.3 KM turn left onto track marked Nyangombe swimming pool, at 2.6 KM reach the car park
GPS reference: 18⁰16′51.30″S 32⁰43′23.49″
For the Nyangombe Falls
From the From Rhodes Nyanga Hotel drive down 1.8 KM on the A14 towards Nyanga Village crossing the Nyangombe River Bridge. Turn left, driving west and up the gravel road passing the Ubu Lodge. At 6.6 KM reach the Nyangombe Falls car park. A short walk of 300 metres takes you to the Nyangombe Falls.
GPS reference: 18⁰17′05.75″S 32⁰40′43.64″E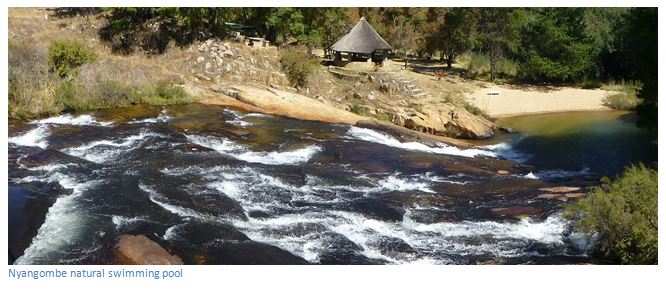 The rocks are slippery and care should be exercised when walking on them.
Close to the Nyangombe swimming pool is the Nyanga National Parks caravan and camping site.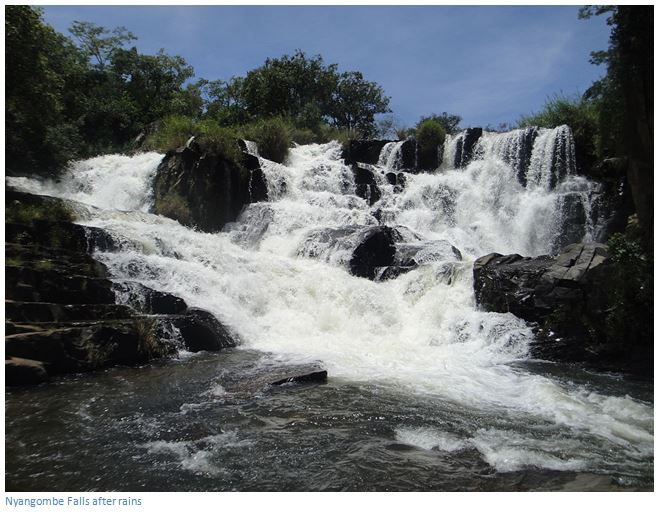 Fee:
Entrance free once the National Park fee is paid