Mare Dam
Why Visit?:
Mare Dam is very scenic and ideal for staying overnight, or for a few days' relaxation and fly-fishing.
It is free of bilharzia, making the Nyanga dams the only ones in Zimbabwe where it is safe to come in contact with the water.
Activities available include fly-fishing, walking, canoeing and rowing.
Accommodation available at the Mare Dam lodges and campsite.
How to get here:
From Rhodes Nyanga Hotel: 0.8 KM turn left onto the scenic road, 1.1 KM continue on the left road for Mare Dam, 2.2 KM continue on the left road for Mare Dam, 2.6 KM continue past the Rhodes Inyanga Research Station, 3.4 KM continue straight on towards Mare Dam, 4.4 KM turn sharp left on the road, 5.7 KM turn right towards Mare Dam ignoring Mount Inyangani scenic drive, 6.6 KM arrive at Mare Dam office and car park.
GPS reference: 18°17'47.38″S 32°46'12.76″E
Trout fly-fishing is probably the main attraction for many visitors and Inyanga is the only place in Zimbabwe that offers this sport. A day licence for catch and release fly-fishing (i.e. you may only fish with an artificial hand-tied fly) is available at Mare Dam. All the record fish come from the Purdon and Gulliver Dams where a day licence is more expensive as the fish are bigger. You can try pond fishing at the trout hatcheries nearby below the dam wall and pay by weight for the trout you catch and keep.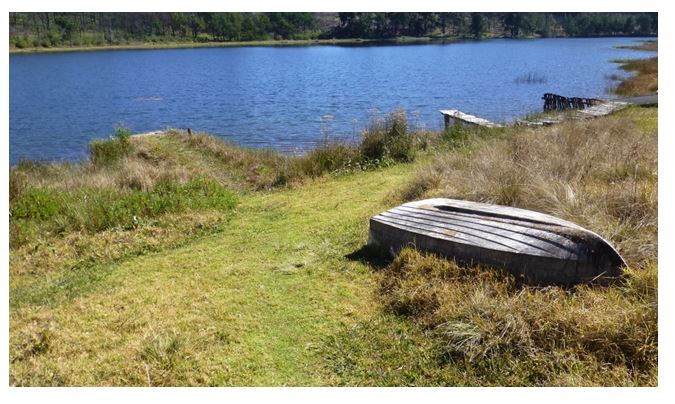 There are seven double bedroom and two single bedroom lodges. In recent years the number of lodges has fallen, but Zimbabwe Parks and Wildlife Authority have refurbished and upgraded those that remain to a very comfortable standard. They are fully equipped with bedding and curtains, sufficient furniture for four persons in the double Lodges, tiled toilets and shower rooms, plenty of hanging space and cupboards and new fridges. The Dover-type stoves and wood-fired boilers are kept fired by the lodge attendants, who will also supply wood for the fireplace and do the washing up and even ironing, if required.
At Mare Dam there is also a camping and caravan site.

Fee:
Entrance free once the National Park fee is paid