Marange Diamonds – Zimbabwe's natural resource stolen from the nation
Acknowledgments
Much of the basic content of this article owes its origin and details to the work carried out by Richard Saunders who has written and co-authored a number of informative articles on the Marange diamond fields and their exploitation by the Zimbabwe state security agencies. Other useful articles have been contributed by Zimbabwe Environmental Law Association (ZELA) Partnership Africa Canada (PAC) now IMPACT, Global Witness and others that are listed in Saunders' article High-Value Minerals and Resource Bargaining in a Time of Crisis, A Case Study on the Diamond Fields of Marange, Zimbabwe.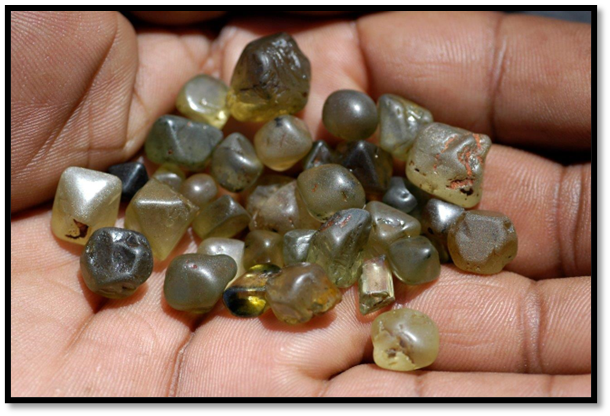 Darrell Plowes: rough and uncut diamonds from Chiadzwa
Everything in the Saunders' article indicates that the true value of the diamonds taken from Marange will remain a mystery to all but those ZANU-PF elites who benefited directly, secretively and often criminally through state capture of all the institutions of government from the find and Zimbabwean citizens have been the losers.
2006-2009 – the Free-for-All Phase
In 2006 it became known that African Consolidated Resources plc (ACR) a British registered company had made a significant diamond strike and this started a diamond rush that involved local villages who became diggers, artisanal miners and criminal gangs. International traders flocked to the nearest town of Mutare (formerly Umtali)
Saunders' states that the geology played a critical role. Kimberlite diamond deposits are generally found underground in close proximity to a 'pipe' but alluvial diamonds can get spread over a wide and shallow area and therefore their mining is difficult to control as picks and shovels are all that are necessary to locate them. At Marange thousands of local people quickly arrived, all lured by the prospect of instant riches, and informal mining began, that was unregulated with much leakage of diamonds into a parallel market trade, and violence become an increasing problem. He notes that all instances of conflict diamonds in Africa have featured alluvial diamonds.
By the end of the year, the situation deteriorated when ACR was evicted from its claims by the ZANU-PF government, and local people given the go-ahead to begin informal mining. This quickly led to a loss of regulatory control and the beginning of illicit diamond dealing with links to criminal networks.
State mining institutions were not only helpless, they also contributed to the systematic looting and smuggling from Marange
The Zimbabwe Mining Development Corporation (ZMDC) the state mining arm, had few staff, none with a diamond background, and whose experience had all been in base metals and gold. The Minerals Marketing Corporation of Zimbabwe (MMCZ) the state buying and marketing arm, had little buying power and weak presence at Marange.
Into this vacuum came international black market traders and criminal networks who traded on site with the diggers at informal markets and paid in foreign currency.
From the very beginning the state's financial gain from the diamond trade was diminished as were the livelihoods of local communities and the nation itself has gained very little through the widespread looting of diamonds.
State security in the form of Zimbabwe Republic Police (ZRP) gets involved
With the economic crisis affecting everyone, and diamonds being exchanged for foreign currency, local ZRP saw an opportunity to become involved in protection rackets and as the volume of illicit stones being traded increased, there was a growing opportunity for a wider net of state security agencies to become drawn in, including the Central Intelligence Organisation (CIO) and the army (ZNA)
State resources were then despatched to control and purge the informal artisanal mining, but instead saw an opportunity to engage with the trade with the free-for-all becoming increasingly characterised by "violence, predation, looting and the state's own strategic, deliberate incapacitation."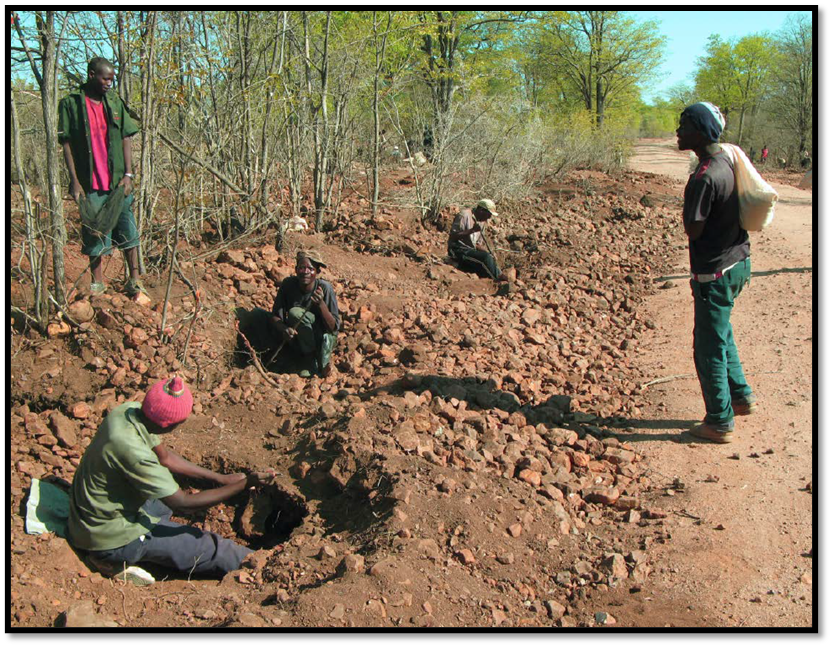 The Illegal Diamond Mining Exhibition: Makorokoza at the peak of illegal mining activities in Chiadzwa
The situation is exacerbated by state capture
Saunders' writes that prior to 2006 there had been critical changes within the state and national politics. Zimbabwe's deteriorating economic situation that came after the contentious land reform policies of 2000 and the growing opposition to the ruling party, resulted in the civil service, police and armed services increasingly aligning themselves with ZANU-PF policies. State capture assisted the ruling party in overcoming the opposition parties through legal and extra-legal means, but also provided the elites with easy opportunities to accumulate wealth.
State security agencies become actively involved in the Marange diamond trade
Soon the various state security agencies (i.e. security forces) activities evolved from attempting to control the illicit diamond trade, to actively participating in it, and has been a significant concern since the outset. Saunders' notes this resulted in chaotic and contradictory policy-making. Some officials saw the nation benefiting from informal miners selling their diamonds on the international market – a policy that called for occasional government crackdowns and calls for state control; other officials saw the state working actively via syndicates including miners, traders, state security agencies and ZANU-PF politicians.
In 2008 the government decides to bring diamond production under state control
In 2008 as the country spiralled increasingly into economic crisis and the political challenges from the Movement for Democratic Change (MDC) grew, the government decided to eject the artisanal miners and bring diamond production under the control of ZMDC and MMCZ. By hi-jacking diamond production for the state, there would be opportunities for the elites to enrich themselves, increased funding for patronage, and other illicit state activities.
Operation Hakudzokwe used to evict civilians from Marange
Operation Hakudzokwe translates as "You Shall Never Return." The purpose of the military operation was to clear the diamond fields of freelance diamond diggers to pave the way for the military to take charge of the area. Military sources said that about 1,500 soldiers took part in the operation.
It took place in late October 2008 when Zimbabwe was in the depths of its ongoing economic crisis and thousands of civilians had flocked to the diamond fields in the hope of making a living.
Former soldiers and paramilitary policemen, now in South Africa, told the BBC they laid strings of mines and stationed armoured vehicles, mounted soldiers and an infantry battalion in a circular pattern around the 2.5km area. "In the end there was no way out," said an officer who was directly involved in laying the trap. Warning shots were initially fired, but soon after soldiers and paramilitary police then began firing AK47's directly into those fleeing.
Multiple civilian and military witnesses said soldiers fired down on civilians from military helicopters. Among the victims were women and children, some working in a makeshift market which had sprung up to sell food and clothes to the miners.
The BBC has confirmed that a mass grave exists at Dangamvura Cemetery in Mutare, the nearest town to the diamond fields. A morgue worker said he helped pack 105 bodies for burial that decomposed at the morgue, which was overcrowded, and was suffering electrical power cuts at the time. Several other people said bodies were left in shallow graves at Marange.
A military officer who was directly involved in Operation Hakudzokwe said "Without orders from the top this would not have been possible." Those implicated include the Zimbabwean President and heads of the Army, Police and Airforce.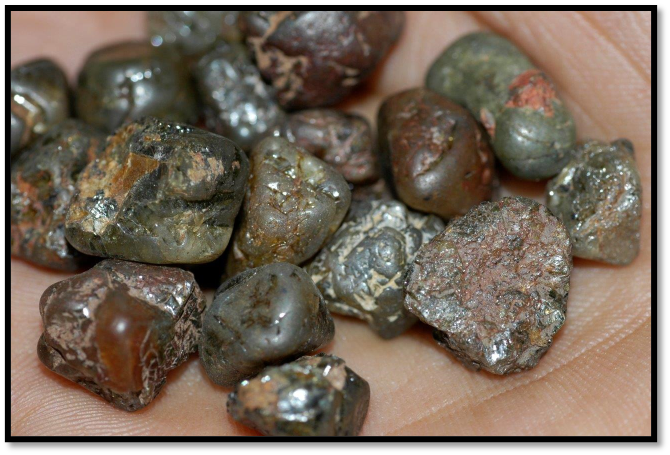 Chiadzwa rough and uncut diamonds, Marange
BBC Panorama collected testimonies from 53 witnesses and victims of the attacks, as well as a number of perpetrators, including military officers.[i]
Deaths of artisanal miners attracts civil society and international attention
The scale of violence that had occurred at this remote mining field, seventy-five kilometres south-south-west of Mutare and just fourteen kilometres north-west of Hot Springs, now gained the attention of local civil society and international organisations through the Kimberley Process Certification Scheme (KPCS) that had been formed to eliminate the trade in conflict diamonds.[ii]
Although membership of KPCS is voluntary, it has an effect of being mandatory for diamond exporting countries because KPCS member states are barred from trading with non-members, or those suspended from the KPCS, due to non-compliance with its minimum requirements.[iii]
The KPCS report was negative on Marange diamonds
In 2009 a KPCS monitoring group visited the diamond fields at Marange and their report was largely negative on the Zimbabwe state's handling of the mining management including:
Human rights abuses
Poor security and diamond handling procedures
Large differences in reporting and data controls
Other KPCS shortfalls in diamond handling procedures
Zimbabwe is excluded from the Kimberley Process Certification Scheme
Despite intensive lobbying by the Zimbabwe government, KPCS members imposed a ban on Zimbabwe's rough diamond exports until laid-down minimum requirements were met and these sanctions remained in place until 2011.
Some prosper, Zimbabwe as a nation is a loser
Saunders' writes that within the first three years of their discovery it has been estimated that ten million carats with a value of perhaps $600 million had been spirited out of the country into the diamond illicit trade with the rough gems destined for the markets of India and the United Arab Emirates. So although artisanal miners, local communities, criminal networks and diamond dealers may have benefited, there was a great loss to the nation as a whole.
One positive result of KPCS engagement is that it empowers civil society organisations
Saunders' says that civil society organisations were empowered by the KPCS intervention. Previously dependent and vulnerable, stronger support from donors, industry and local and international Non-Governmental Organisations (NGO's) strengthened local civil society's technical and political capacity and strengthened their ability to engage with Zimbabwe's state agencies on issues such as mining governance, human rights violations and community development policies.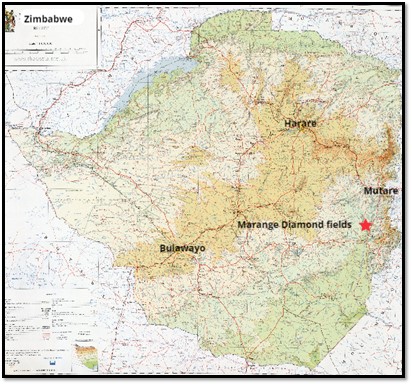 Zimbabwe map showing location of Marange Diamond fields
Normalization and Continuity: 2009-2013
A second result of the KPCS engaging with Zimbabwe was that diamond mining becomes increasingly under state control. Saunders' writes that from 2009, "a second mining phase began with government's moves to initiate formal, larger-scale mechanized extraction through licensed companies."
However, the state's move to replace unregulated artisanal production with commercial producers, combined with the KPCS ban on Zimbabwe's diamond trade provided new opportunities for illicit trade, and was to lead to increasingly negative results for the country as a whole.
State agencies under ZANU-PF tighten their grip on the diamond trade
In 2008, the ruling party was forced into a coalition with the MDC with ministerial positions divided amongst the two parties, but ZANU-PF retained control of the mining portfolio and all the security forces, the key players controlling Marange.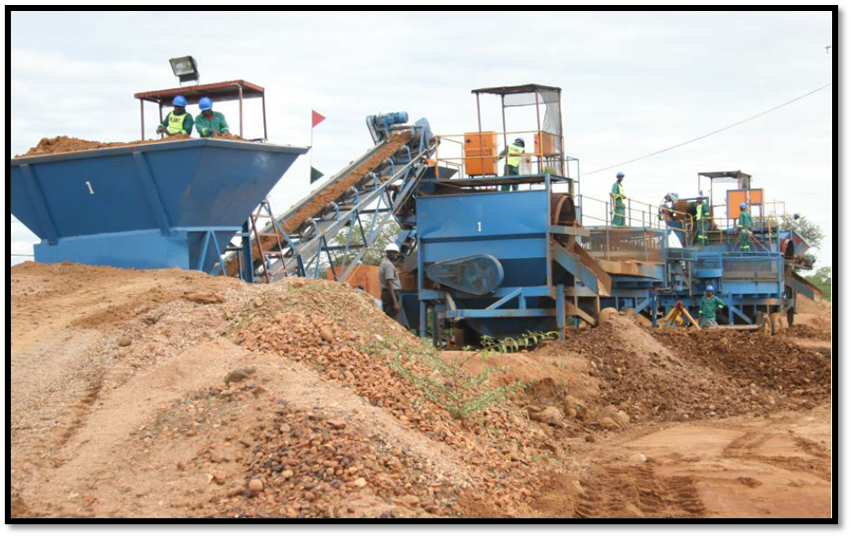 Photo: The Illegal Diamond Mining Exhibition: Diamond mining plant at Chiadzwa.
Joint-Ventures with foreign actors under highly suspicious circumstances
By late 2009, through a secretive selection process, six companies were licensed by the ZMDC to mine diamonds at Marange – all but one being joint-ventures with foreign stakeholders and with the government holding at least a 50% shareholding. Government argued the benefits of their direct participation would be:
Equal shareholding would facilitate management supervision of mining operations
Compliance with Zimbabwe Revenue Authority (ZIMRA) would follow
Profit sharing would benefit Zimbabwe's fiscal revenues.
In reality, the very opposite would become true, with theft and secrecy the main features.
What was not disclosed was that the Mines Minister at the time, Obert Mpofu[iv], hand-picked the joint-venture partners, over-riding the government's own contracting and procurement rules. The identity of the shareholdings was hidden behind nominee companies and shareholdings structures were not disclosed and in time it would emerge that, "a political connection to a ZANU-PF or its officials appeared to be the deciding criteria for a company obtaining a licence."
Other significant factors included operators winning mining contracts with no previous diamond mining experience and the government's stakes in joint-ventures being represented by individuals, with no mining expertise, from the Zimbabwe Defence Forces (ZDF) Central Intelligence Organisation (CIO) and the Zimbabwe Republic Police (ZRP)
Anjin Investments Ltd, one example of a Marange joint-venture with no mining experience
Anjin's Zimbabwe partner was Zimbabwe Defence Industries, an organisation responsible for military procurement and itself a manufacturer of arms and ammunition to the military. Its foreign partner was a subsidiary of Anhui Foreign Economic Construction Group, a company controlled by the Chinese military. Later revealed as part of the Anjin deal,[v] was the National Defence College in Harare secured through Exim Bank and the work contracted to Anhui Foreign Economic Construction Group.[vi]
Mbada Diamonds, another joint-venture partner
Mbada's Zimbabwean CEO was Robert Mhlanga, President Mugabe's former helicopter pilot, with no experience in mining.
Other joint-ventures granted mining licences included:
Diamond Mining Company (UAE)
DTZ-OZGEO (Russia)
Gyn Nyame Resources (Ghana-Belgium)
Marange Resources (a wholly owned company of the ZMDC)
Kusena Diamonds (controlled by the ZMDC)
Nan Jiang (Chinese)
Jinan Mining Limited (Chinese)
The majority of joint-ventures were with foreign partners and state security organisations, or ZANU-PF elites who served as conduits for the theft of diamonds. Other links would be revealed between the joint-ventures given mining contracts, ZANU-PF and the government security forces as time went by.[vii]
ZANU-PF individuals and organisations become embedded in Marange diamond mining
Saunders' reveals that the state security agencies and senior ZANU-PF and security officers use multi-layered shareholdings and nominee companies in shady jurisdictions, such as the Cayman Islands and Hong Kong to hide their interests. Contractual details including profit sharing, management fees, tax and management issues were kept secret.
Production of diamonds from Marange is kept secret, but it is believed that by 2010 Marange is supplying perhaps 20% or more of the world's rough diamonds
No details are released from the joint-ventures regarding production at Marange of carats uncovered, their quality, or prices realised. No details are given of revenues paid to the state (if any) in the form of taxes or royalties, and no indication given of profits realised and distributed to individuals and organisations.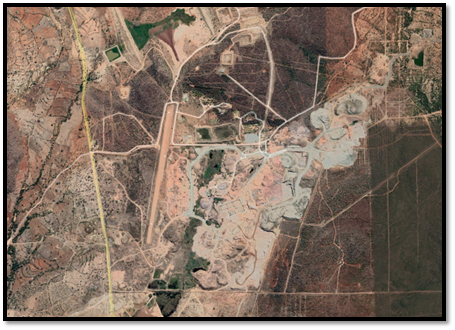 Google Earth: An aerial view of the Marange diamond fields - GPS: 19° 35´ 25"S 32° 20´ 47"E
The Government of National Unity (GNU) fails to bring oversight to Marange
The GNU was anything but, with the MDC and ZANU-PF locked in "Sharp partisan and institutional contestation." Despite numerous calls from civil society for reform and transparent management of the diamond mining operations, no clarity was achieved. In fact, the situation becomes even more confused, as one Ministry issued figures that are hotly disputed by another.
For example, the MDC-controlled Ministry of Finance introduced a Diamond Revenue Bill which the ZANU-PF controlled Mining ministry neutralised by amending the Precious Stones Act, including any supervision by the Minister of Mines.
In 2011, those above same Ministries fought openly over the value of diamond production and revenues delivered to the treasury. "Heated disagreements within the GNU over the validity of basic production and income data became the norm, and coherent and comprehensive official figures on Marange were not produced."
In parallel, the mining industry stated it would respond to the KPCS required minimum conditions for diamond exports, but once the KPCS export ban was lifted in 2011, nothing more was done.
Lack of information from the joint-ventures promoted tax evasion
Where no production information was available, how could diamond royalties be calculated?
Where no earnings and profits were announced, how could corporation tax be calculated? The multitude of state ministries involved including the ZMDC, the MMCZ, the Zimbabwe Revenue Authority (ZIMRA) Ministry of Finance and Treasury – all with competing interests, just made tax collection more difficult and added to the confusion.
ZIMRA is the statutory body given responsibility for collecting taxes, but state capture and conflicting elite factions in different ministries undermined inter-agency and made cooperation almost impossible and gave the ZANU-PF elites new opportunities for tax evasion and avoidance of all forms of fiscal obligations. "In 2017 Parliament's Public Accounts Committee reported that it had received no audited accounts since 2013 on either the ZMDC or the MMCZ, the main state entities overseeing mining and sales of Marange diamonds, amid reports that the Office of the Auditor-General had been prevented from carrying out this work by a powerful clique from the ruling elite" (The Standard 2017). Ultimately Zimbabwe's revenues suffered to the advantage of a privileged elite.
As Saunders' writes: "The unreliability of financial information on Marange was soon evident in the enormous disjuncture's between KPCS data on exports and sales, and Zimbabwe government figures on earnings." However any pleas by Civil society groups to adopt international transparency rules, e.g. Extractive Industries Transparency Initiative (EITI) resulted in prominent ZANU-PF figures saying they cannot have the rules of 'hostile' foreign companies and governments imposed on Zimbabwe.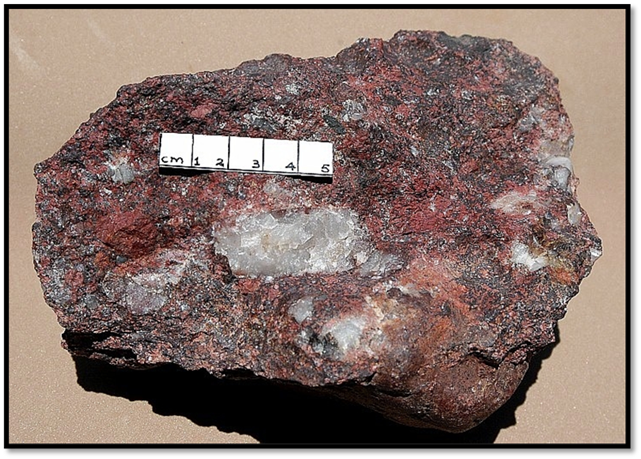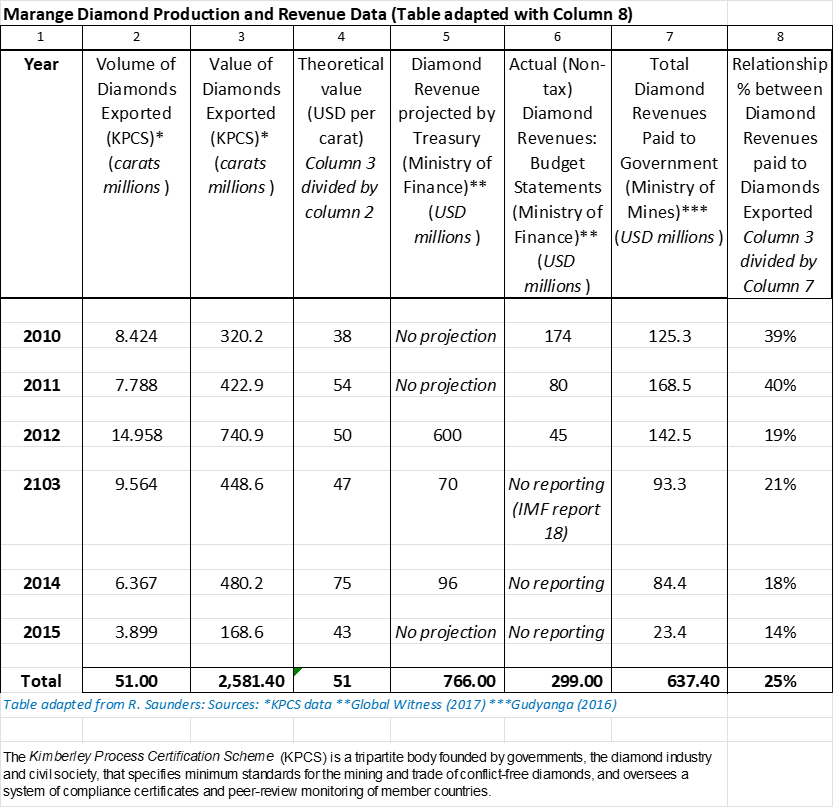 Anjin and Mbada joint-ventures were amongst the main beneficiaries of tax evasion, as was Hong Kong registered Queensway[viii] Group that was heavily involved in the marketing of Marange diamonds and then channelling the large amounts of proceeds back to the beneficiaries in the state security agencies and officials connected to ZANU-PF.
2013 and After: New Configurations, Old Challenges
In 2013 a new Constitution and a new Minister of Mining seemed to offer fresh opportunities. Other initiatives included a draft mining policy and amendments to the Minerals and Mining Act; civil society organisations believed there was a new opportunity for increased community involvement in natural resource governance.
But within a year Ministry of Finance officials were again complaining of a lack of transparency as the Marange joint-ventures reported declining production and revenues. Column 7 of the table above shows diamond revenues paid to government plummeted from USD 93.3 million in 2013 to USD 23.4 million in 2015. The reason offered by the Marange operators was that recovering diamonds was getting more expensive, but their company accounts were usually non-existent, and monitoring by ZMDC and MMCZ had failed in many of their statutory duties in valuing the Marange reserves.
Minister of Mines acknowledges widespread diamond corruption and theft
Walter Chidhakwa, who succeeded Obert Mpofu as Minister of Mines, once responded to the rampant pillaging of diamonds by explaining that he would, "rather halt mining operations if mining companies continue to fleece government through understating of the stones." Chidhakwa said that during the brief period of artisanal mining at Chiadzwa, before being broken up by the security forces, diamond mining had a significantly larger multiplier effect on the Zimbabwe economy than during the period of joint ventures between the state and the Chinese firms. This is quite an admission.[ix]
Zimbabwe Consolidated Diamond Company (Pvt) Ltd (ZCDC) is created
In 2015 the Marange joint-ventures were merged into the Zimbabwe Consolidated Diamond Mining Company (ZCDC) Government officials stated the joint-ventures had not been transparent about their earnings, were inefficient, were failing to invest and were not planning for the future.
These were ZANU-PF controlled state mining institutions being critical of the ZANU-PF officers running the Marange joint-ventures! President Mugabe in feigned outraged mode stated that the diamond miners had acted like robbers by "swindling" and "smuggling" and had remitted less than USD 2 billion of perhaps more than USD 15 billion earned! His claim that the government had no knowledge of the 'miners shenanigans' was absurd as government had direct involvement through the ZMDC and their 50% shareholdings in the Marange joint-ventures.
ZCDC simply gives an illusion of change, but there is no real underlying shift
There was no public consultation around the ZCDC's formation and the continuing faction fights between the various arms of ZANU-PF suggested it was the same old mechanism for controlling the production of Marange diamonds under a new name. A 2017 Parliamentary review concluded the same irregularities existed, as in the past, that had enabled the ruling party elite to siphon off significant diamond revenue. The report recommended that the Chief Secretary in the Ministry of Mines – a dominant player in the prior MMCZ and ZMDC and the creator of the ZCDC should be dismissed for aiding "illicit financial flows" and enabling "poor corporate governance."[x]
Marange diamond production reached new lows
Reports suggest diamond production reached only 600,000 carats in 2016, down from nearly 15 million four years previously.
At the same time, under ZCDC's weak management and poor security, artisanal miners returned to work the Marange site and loot unprotected mining assets and infrastructure creating a new resurgence in the illicit diamond trade.
This situation occurred because the elites were distracted by faction fights within ZANU-PF over who would succeed an aging President Mugabe and this dashed any hope of reforms within the diamond industry.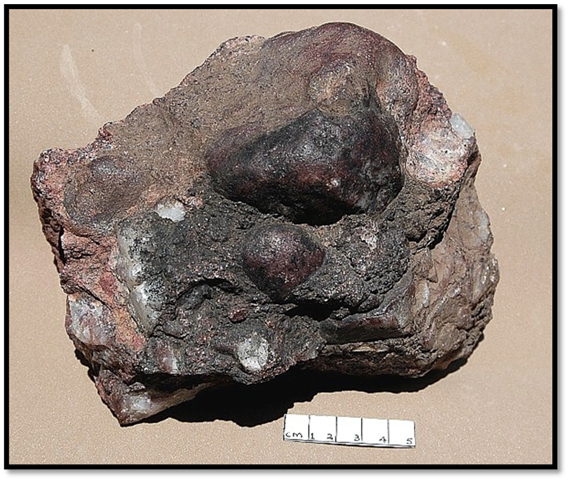 Darrell Plowes: Chiadzwa diamond conglomerate, Marange
2013 Report of Parliamentary Portfolio Committee on Mines and Energy
The clearest report on Marange was delivered by the above committee of the GNU that concluded that the main beneficiaries of the missing billions of lost diamond revenue were the ZANU-PF political and military elite who received their funds through a web of on-shore and off-shore companies linked to Marange operations.
The committee believed the fraud at Marange was carried out and facilitated by:
Fraudulent contracting
Incomplete and falsified accounting
Undervaluing rough diamond exports
Illegal transfer pricing practices
False tax and dividend returns
Mismanagement and lack of supervision by ZMDC and the Ministry of Mines
Conflict and confusion between Ministries supporting different political factions
However Saunders' states the return of ZANU-PF to power in the July 2013 elections meant the Committee's recommendations were simply ignored. Civil society organisations would be left to highlight the need for reform, but the end of the GNU meant that that secrecy descended once more over Marange's operations.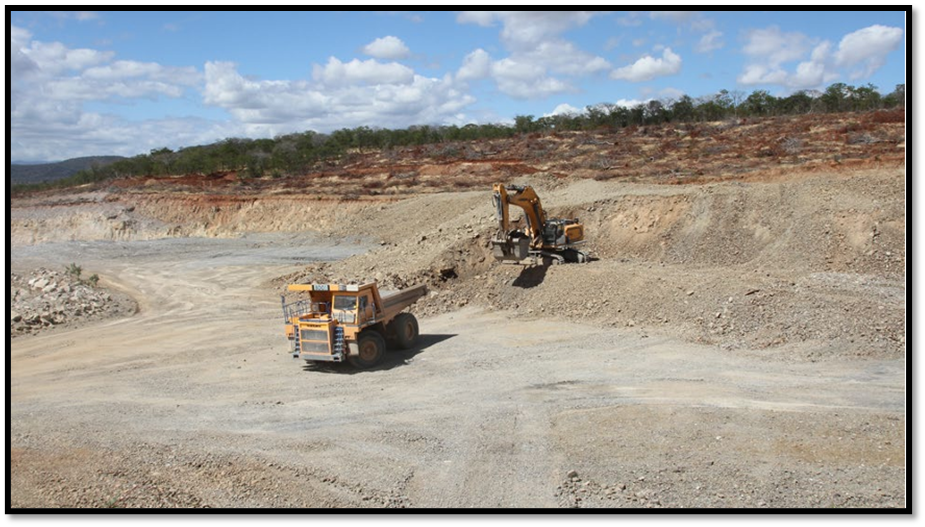 Photo from ZCDC annual report of diamond mining operations
Zimbabwe Consolidated Diamond Company
The latest audited annual reports state the following results
| | | |
| --- | --- | --- |
| ZCDC Annual Report results | 2021 | 2020 |
| Diamond production (million carats) | 4.02 | 1.38 |
| Diamond sales (million carats) | 1.28 | 1.81 |
| Annual Turnover (ZWL Billion) | 11.10 | 5.59 |
| Annual Profit / (Loss) (ZWL Billion) | 1.41 | (5.27) |
The annual reports give figures, but there very few explanations offered, for instance why annual turnover almost doubled, but diamond sales fell by 29% from 2020 to 2021. Presumably because of a fall in the quality of the diamonds, but perhaps there are other reasons and why is there no disclosure?
A major question mark over ZCDC is ownership. We know that it is a private company and is wholly owned by Defold Mine (Pvt) Ltd which has a 100% shareholding, i.e. owns all the issued share capital of 30 Ordinary shares of $1 each.
Among the related party relationships listed in the annual reports are Zimbabwe Mining Development Corporation (ZMDC) Marange Resources (Pvt) Ltd and Diamond Mining Corporation (Pvt) Ltd (DMC) – these are all ghosts from the past and still involved in diamond mining in Zimbabwe in one way or another.
The same shell-game structuring and cloudy multi-layered shareholdings with ultimate company ownership in safe-havens such as the Cayman islands and Panama allows the state security agencies and senior ZANU-PF party officials and civil servants to disguise their identity and profits from the diamond operations. Until there is better transparency, readers can assume that the extreme secrecy in the diamond sector is because of the extensive involvement of ZANU-PF related elites who hold disguised ownership stakes in ZCDC.
This lack of transparency flows into the annual accounts where details of contracts, profit-sharing arrangements, management fees and value of diamond reserves are kept secret. These will also lead to the Zimbabwe Revenue Authority (ZIMRA) having difficulty in estimating the companies' true tax obligations and loss of revenue to the nation.
The same old concerns over transparency in diamond production, valuation of reserves and the real proceeds of diamond sales manifest themselves. There is no evidence that supervision from the Ministry of Mines is in any way improved and the security forces continue to maintain their tight grip in the neighbourhood of the diamond fields as evidenced in the reports below from local community and civil society organisations.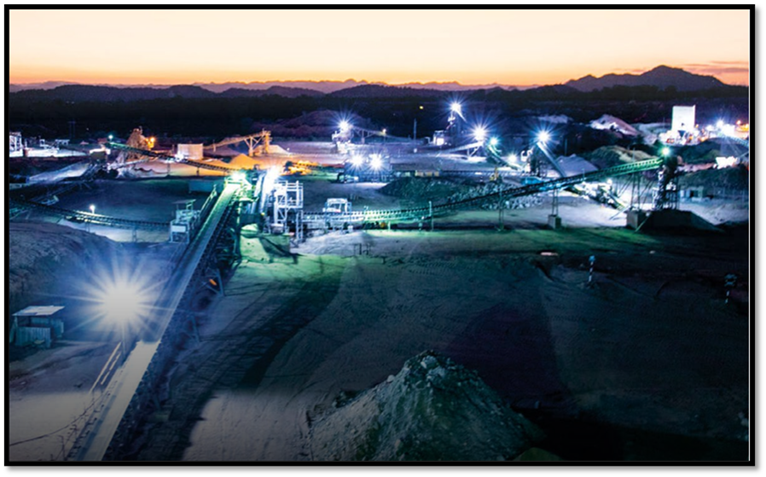 Photo from ZCDC annual report of the diamond separation plant at night
More recent reports from the Marange / Chiadzwa diamond fields
In their 2018 article[xi] Global Witness write that the Zimbabwean people will only see the real benefit from their Marange natural resources if there is a break from the past and a real effort to overhaul the diamond industry based on transparency and accountability.
In his first year in office President Emmerson Mnangagwa had promised to stamp out corruption, prioritise economic recovery of the nation and attract foreign investment following two decades of increasing poverty and international isolation. "As we focus on recovering our economy, we must shed misbehaviours and acts of ill-discipline which have characterised the past. Acts of corruption must stop."[xii]
As one of Zimbabwe's key industries, the theft of Marange diamonds has deprived Zimbabwean citizens not only of a precious source of funds, but fuelled human rights abuses against them. They have been "ruthlessly exploited by the elite under the Mugabe-led government and came to be known for their association with human rights abuses, corruption and looting."
The article goes on to say the Zimbabwean military (ZNA, ZRP and CIO) have played a central role in the above since 2008 when a brutal clampdown on artisanal miners at Marange killed an estimated two hundred people. These organisations then took ownership stakes in the joint-ventures that were granted mining permits by the Ministry of Mines.
Only a series of major reforms would achieve a transparent, accountable and well-governed diamond industry.
In a 2020 report by Clayton Masekesa for the Zim Morning Post he wrote, "Soldiers have turned Marange diamond fields into a lawlessness and impunity zone."[xiii] Members of the Zimbabwe National Army (ZNA) "are unleashing a reign of terror by attacking defenceless villagers in a renewed act of human rights abuses." Villagers and businesses were being robbed of their money and valuables. Owners of shops at Zengeni Business Centre said, "There have been fears all over. They come here and force us to close our shops, but if you give them money and beer they will not close the shop and harass you."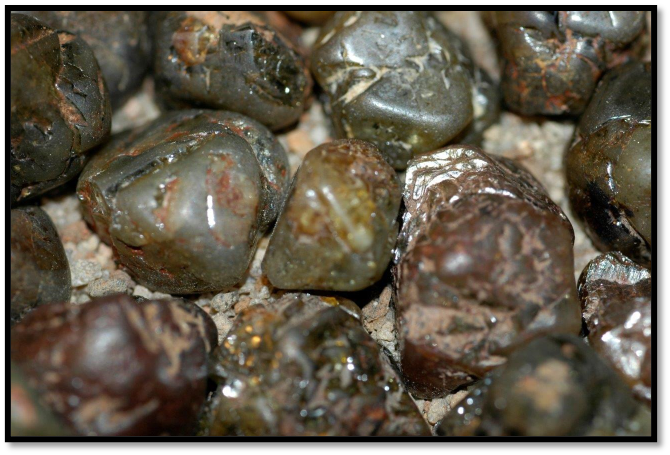 Chiadzwa rough and uncut diamonds, Marange
The human rights defender and Director of Centre for Natural Resource and Governance (CNRG), Farai Maguwu, was quoted as saying Marange had become a zone of lawlessness and impunity… "The appalling human rights situation in Marange is a stain on the entire diamond industry. These tainted diamonds from Marange fields continue to find their way into global markets because Zimbabwe is deemed to be KP compliant."
The Director of Centre for Research and Development (CRD) James Mupfumi, said diamond mining in Marange was being done within a backdrop of human rights violations. "Government must now undertake human rights impact assessment sessions in order to identify, prevent, mitigate and account for adverse human rights impacts."[xiv]
Alternative livelihoods options for communities in Marange affected by diamond mining
CNRG, a Zimbabwe based community organisation that defends the rights of communities affected by extractive industries, carried out a 2020 survey to establish the current livelihood status and preferred livelihood options of the communities of Marange in Chiadzwa, Mukwada and Chipindirwe wards in Mutare District in Eastern Zimbabwe.
Although Marange is currently ranked as the largest alluvial diamond producing deposit in the world, the neighbouring communities seriously lack development. A former senior executive of Zimbabwe Consolidated Diamond Company (ZCDC) visited Chiadzwa in July 2020 and expressed shock at the state of the roads and the lack of running water for villagers, children still need to walk long distances to school. There appears to be no spill-over to local communities despite ZCDC currently selling billions of dollars' worth of diamonds.
CNRG attributes Marange's underdevelopment to corruption and the destructive nature of extractive operations, which has to the dislocation of many families from their traditional homes and provided little in the way of alternative livelihoods.

They held focus group discussions with 15 local men and 15 women and key informant interviews with community-based organizations, traditional, religious and political leaders, and a women's rights organization.

Currently the survey found that households mainly engage in home-gardening, livestock raising, bee keeping, brick moulding and subsistence farming with little interconnection with the mining activities in Marange. Most earn between USD 5 and USD 20 per month through said activities.

Young men in order to boost household incomes sneak into the diamond fields to carry out artisanal diamond mining that may increase their income to between USD 200 and USD 500 per month. Artisanal diamond mining is punishable by the state authorities, although local people say they are only caught when they refuse to pay bribes. They are subject to harsh measures if caught, including having dogs set on them and being beaten by the ZRP and ZCDC security guards.

Local villagers would like employment by the mining companies, but there is general disgruntlement over the lack of employment prospects and lack of development in the area despite the diamond finds.[xv]
The images below from the ZCDC annual report of the community benefits accruing to the local villagers appear to be mostly an attempt to achieve respectability locally and internationally, but are too insignificant to have any real impact in increasing their livelihoods from a poverty level and only fuels artisanal mining.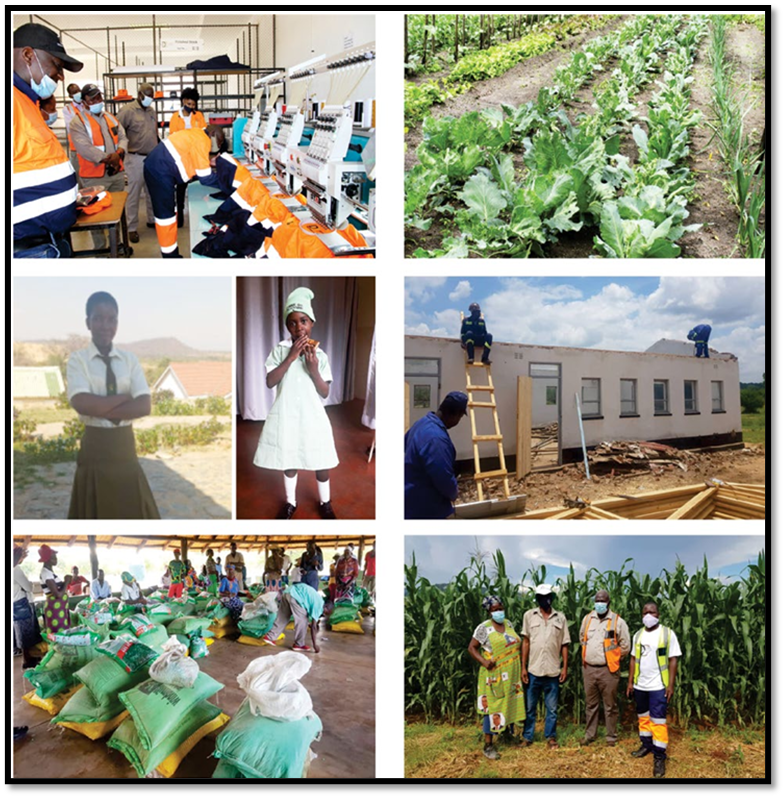 ZCDC photos of community projects under the label of social investment
Conclusions
Zimbabwean people have seen saw little value from Marange with billions of dollars' worth of diamond proceeds still unaccounted for. Over half of the population is living beneath the poverty line, the government is in arrears on most of its USD 11 billion of external debt and depends on over USD 800 million in annual international aid.[xvi]
Only a real break from corruption of the past – that is not yet apparent – would be a significant sign to Zimbabwe's citizens and the international community that the government is committed to cleaning up the diamond business.
Global Witness make the following recommendations:[xvii]
Make all beneficial owners of diamond companies, and any private investors, public.
Publish detailed information about all diamond mining related revenue flows, disaggregated by company, year, and type of revenue stream.
Publish any joint-venture contracts signed with private investors.
Require risk based supply chain due diligence by companies trading in Marange diamonds.
Prevent the risk of the security sector receiving off-budget funding through control or ownership positions in diamond companies that is free from parliamentary oversight.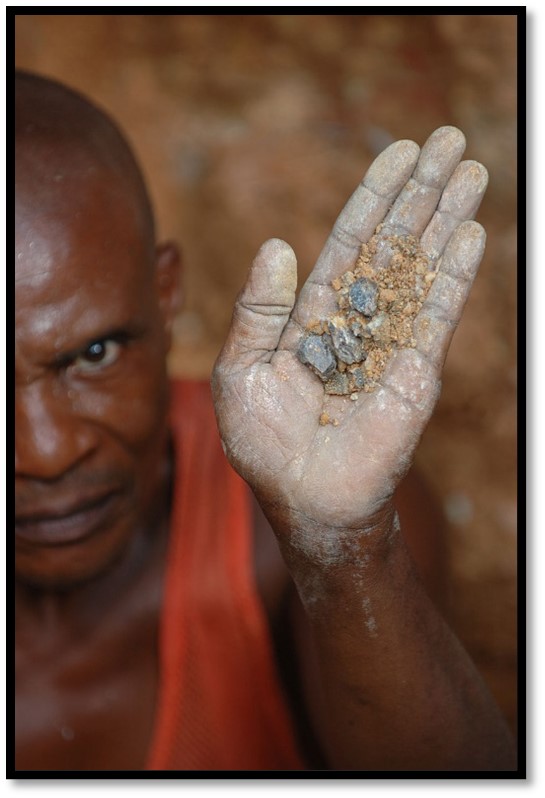 Photo: Chiadzwa Diamond Fields: Unprecedented Plunder
References
R. Saunders. High-value minerals and resource bargaining in a time of crisis: A case study on the diamond fields of Marange, Zimbabwe, UNRISD Working Paper, No. 2018-1, United Nations Research Institute for Social Development (UNRISD), Geneva
C. Masekesa. Zim Morning Post. Zimbabwe: Solders have turned Marange diamond fields into a lawlessness and impunity zone says NGO. Info from https://www.business-humanrights.org/en/ 11 Nov 2020
Global Witness. Leave no stone unturned. 6 Dec 2018 https://www.globalwitness.org/en/campaigns/conflict-diamonds/leave-no-stone-unturned/
BBC Panorama. H. Andersson. 8 Aug 2011. https://www.bbc.co.uk/panorama/hi/front_page/newsid_9556000/9556242.stm#:~:text=Soldiers%20and%20paramilitary%20police%20from,fired%20upon%20with%20automatic%20weapons.
Centre for Natural Resource Governance (CNRG) Zimbabwe: Alternative livelihoods options for communities in Marange affected by diamond mining. https://ipisresearch.be/publication/the-impact-of-diamond-mining-on-local-communities-in-africa-field-research-results-of-kp-csc-members/
R. Sango. 11 March 2016. Chiadzwa Diamond Fields: Unprecedented Plunder. Review of African political Economy. https://roape.net/2016/03/11/chiadzwa-diamond-fields-unprecedented-plunder/
Notes
---