La Rochelle Country House and Spa, a National Trust of Zimbabwe property
Why Visit?:
La Rochelle is the best known property belonging to the National Trust of Zimbabwe.
The house is unique in Zimbabwe and was built in 1951 by Sir Stephen and Lady Virginia Courtauld, a wealthy couple who once travelled the world in their luxury steamship Virginia and who built their Zimbabwe retirement home with the looks of a French chateau surrounded by a wonderful garden, set in the lush, green Imbeza Valley, near Penhalonga, and allegedly once cared for by 55 gardeners.
Given to the National Trust in 1970, it has been recently transformed from a ruinous state and reopened in 2015 with newly restored buildings and redesigned gardens as the La Rochelle Country House and Spa and provides a country breakaway and convenient base for visiting the many sites of Nyanga and the Bvumba.
Today for visitors to La Rochelle it feels like they have been transported back in time and are the personal guests of the Courtaulds in their home in the 1950's and 1960's when many international visitors enjoyed their warm and lavish hospitality.
A wide range of activities are now offered at La Rochelle including conferences, strategy sessions, team building events as well as a wide range of specialized workshops from Art and Crafts to Meditation and Mindfulness.
The many facilities have been extended to include The Tea House which offers organic herbal teas from the NTZ farm, plus sweet and savoury treats that can be enjoyed with a gin and tonic. The Spa upgrade now offers a wide range of beauty and stress treatments. The Gift Shop has also been revamped with a new range of locally crafted arts and crafts.
How to get here:
La Rochelle Country House and Spa is situated in the Imbeza Valley, in the mountainous eastern border area of Penhalonga, north of Harare. From Harare turn left off the A3 at the Christmas Pass Service Station onto the Penhalonga Road, 5.85 KM turn right onto a gravel road at the La Rochelle signpost, 8.85 KM turn right into La Rochelle, 9.22 KM arrive at La Rochelle car park
GPS reference: 18⁰54′23.71″S 32⁰41′28.27″E
Website: http: www.larochellecentre.com
During World War I Stephen Courtauld was twice mentioned in despatches and awarded the Military Cross in 1918. An enthusiastic mountaineer, he completed the first ascent of the Innominata face of Mont Blanc in the French Alps. In 1919, he met his future wife, Virginia (née Peirano), whom he married in 1923.
He did not enter the Courtauld family textile business, but his wealthy background enabled him to travel extensively and to pursue cultural and philanthropic interests — most notably, the redevelopment during the 1930s of Eltham Palace in Eltham, south-east London with his wife. The Courtaulds left Eltham Palace in May 1944 to live in Scotland.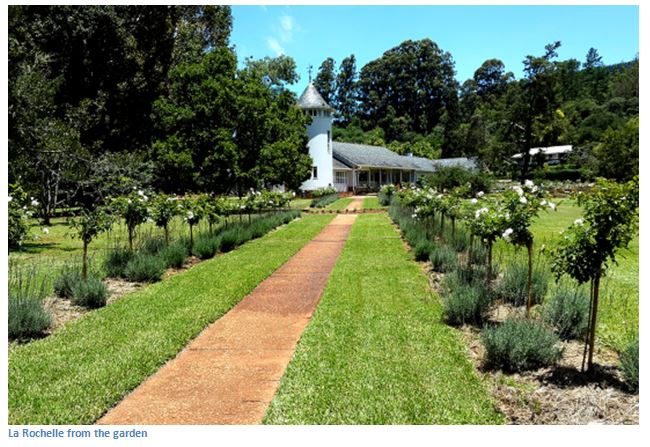 During the late 1940's they searched the African continent from the Cape to Cairo for a suitable site until, at the end of the 1940s, they flew over the Penhalonga Valley and decided in 1951 they would settle here, planning a house based on the home of Stephen's Huguenot French ancestors, the lovely Chateau de La Rochelle on the Bay of Biscay. The house with its romantic courtyard, "Courtauld Rose" garden and rolling lawns, was the venue of many magnificent parties, with famous artists and distinguished guests from all over the world staying with Sir Stephen and Lady Virginia Courtauld. Many engraved their signature with a diamond stylus on the plate-glass windows; fascinating pages of history still preserved. Members of the National Trust are currently cataloguing those names.

La Rochelle has a large established botanical garden, probably the finest in Zimbabwe, in addition to areas of unspoiled natural woodland and numerous walking paths. There are interesting exotic trees in the arboretum as well as palms, cycads, azaleas and other flowering shrub collected for the Courtaulds from all over the world. This diversity provides ideal habitats for a large variety of bird species. The shade houses are filled with exotic and indigenous orchids today enhanced by the Peter Horrocks collection of rare Phalanopsis.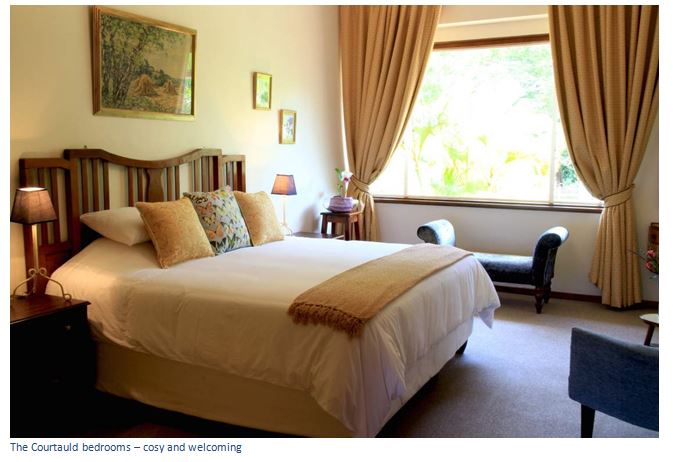 The Courtaulds were patrons of the arts and they funded the building of the Courtauld Theatre, the Queen's Hall and the Rhodes Club in Mutare, the Kukwanisa Agricultural School at Watsomba, and the National Gallery and the College of Music in Harare and gave lavishly to the newly-opened University College and also endowed Bulawayo Theatre. The Courtaulds were modest about their support; few knew of their generosity and it was only after much persuasion by Federal Prime Minister, Sir Roy Welensky, that Stephen accepted a British knighthood for his good works.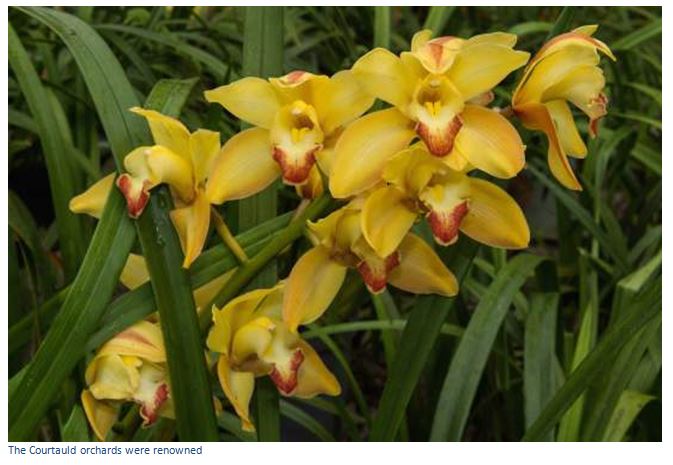 After Stephen's death at La Rochelle in 1967, Virginia continued with their joint hopes for La Rochelle and Zimbabwe in his memory. She moved to Jersey in 1970 where she died in 1972, leaving the entire estate to her "family" as she called the people of this country. From her death, the estate was managed and protected by the National Trust of Zimbabwe, but for many years a lack of funds has prevented implementation of a realistic conservation and development plan.
When the National Trust of Zimbabwe obtained vacant possession of La Rochelle on 1 February 2014 the property required urgent maintenance and refurbishment and the NTZ appointed project managers to supervise urgent maintenance work and undertake the preparation of a long-term development plan for the property.
The restoration of La Rochelle has been both sympathetic and understanding. The property has been restored to its deserving former glory – a number of photographs of Sir Stephen and Lady Virginia have been framed and hung and there are also prints of original paintings once held at La Rochelle by Sir Stephen, but it still feels like a home. If only the modernisation of Troutbeck could have been as sensitive! One can almost feel the presence of Sir Stephen smoking his pipe and absentmindedly patting one of the spaniels!
The designers have managed to combine the setting of a home with the flexibility of small business conference and function facilities, or the beautiful setting for a romantic country wedding. The surrounding natural and historical features attract the attention of the Orchid, Aloe and Tree and History Societies, as well as birding and specialized interest groups from around the world.
Spend a quiet morning out walking along the woodland trails, or around the dam, or explore the arboretum and gardens, or visit the covered nurseries where Sir Stephen's Orchid collection continues to grow. You can spoil yourself or your partner with a relaxing massage, or beauty treatment at the Fantasy Spa; or just catch up with your reading and emails in one of the sumptuous day lounges and soak up the amazing atmosphere. A new addition is the La Rochelle Tea House where guests can taste a range of organic herbal teas – these are fresh from the adjacent farm where over 120 hectares of organic herbs are grown.
The Spa upgrade is now complete and a wider range of products are offered including the Tip 2 Toe, the La Rochelle Signature Treatment, which is a luxurious 90-minute treatment using pre-blended aromatherapy oils to massage the entire body. This treatment offers a mixture of Swedish Massage integrated with Hot Stone Massage, Pressure Point Massage and Indian Head Massage techniques.
Accommodation within the main house consists of seven individually designed rooms. Each has King, Queen or Twin Beds, free Wi-Fi, room safe, exquisite bathrooms with superior Mohini Collection of toiletries, tea and Coffee making facilities and fine quality linen and towels.
Within the West Wing are another five rooms which are beautifully decorated in Art Deco style and have access to a guest lounge (with DSTV) and kitchenette. The West Wing sleeps up to ten and can be booked out as a self-catering unit, or just on a room basis which will then include Bed and Breakfast.
For those who prefer a self-catering option and longer stays the Virginia Cottage has been upgraded and is perfect for a family with young children or would like to bring their dog.
The fantasy honeymoon suite has its own private verandah and wonderful views into the garden.
The Hotel offers full English breakfast and a Table d'hôtel Menu in the evenings. Lunches comprise a light snack menu, except on Sundays, when a Table d'hôtel Menu is prepared subject to advance bookings. Over the last few months two leading chefs have visited La Rochelle to help with better sourcing of the abundant local produce both from their farms and in the surrounding areas, and for better presentation and new cooking techniques.They were Annabel Hughes-Aston of SavannaBel fame and Tjaart Walraven of The Great South African Bake-Off fame! In a recent review a guest commented that: "The highlight of our stay was definitely the food. The dinners were delicious."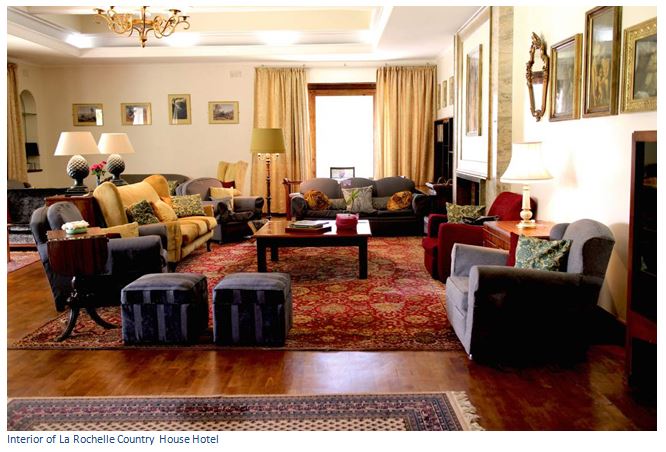 The La Rochelle Gift Shop was relaunched in the first quarter of 2019 and now includes an expanded range of high quality local and regional arts and crafts...the NTZ is excited to be working with some of Zimbabwe's top crafts men and women who it is hoped will transferring some of their skills to local women in the valley as was the tradition in the Courtauld era with Lady Virginia's Craft Hall!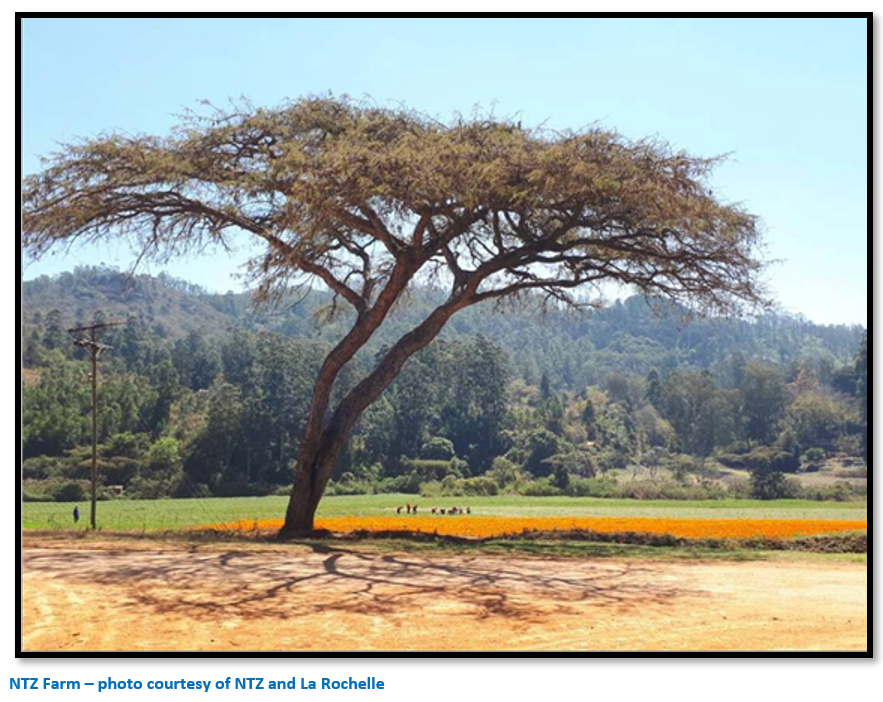 The National Trust of Zimbabwe's organic herb farms are now producing 30 different organic herbs and products including petal crops such as Calendula and Safflower, five species of mints, Melissa, Lemon Grass, Chamomile, Dandelion, Stinging Nettles, Anise, THyme and more recently Ginger and Turmeric. Many of the guests opt to take a guided tour of the farm where they get to smell, feel and taste the organic products and The NTZ holds wokshops and training sessions on sustainable and organic farming.
In 2019 visitors will be able to read about the exotic /adventurous life of Lady Virginia Courtauld in her former home at LaRochelle Hotel and Spa as the well-known author Louisa Treger will be publishing her book: The Dragon Lady
Acknowledgements
---
D. Millar. La Rochelle…it belongs to you and me! Newsday 17.11.2012
The National Trust of Zimbabwe
S. Waterworth. La Rochelle update January 2019
Fee:
Entrance fee for visitors to the House and Garden