Halfway House Agricultural Machinery
Why Visit?:
In the Nineteenth Century farm labour costs began to rise and farmers in order to survive needed to increase their productivity and lower their labour costs.
Almost all the manufacturers that produced the agricultural machinery below came from modest backgrounds and through experimentation and field trials gradually developed new processes and equipment which succeeded in both increasing farm productivity and lowering labour costs.
In many cases they pioneered new techniques of factory mass production that are in use today.
In all cases their agricultural machinery changed the face of farm mechanisation and led to the production of crops on a scale never before envisaged as the new technologies increased the size of farms, and changed the types of crops grown, the methods of farming, and the way in which land was used.
Nobody at Halfway House seemed aware of who collected and preserved this collection of agricultural machinery; but whoever had the foresight and determination to form this private collection made a great public contribution.
How to get here:
From Harare take the A3 towards Mutare. From Macheke at 22.4 KM reach Halfway House on your right just after the service station.
From Mutare take the A3 towards Harare. At 33.6 KM reach Headlands and soon after at 39.2 KM reach Halfway House on your left.
If you are allergic to bees, don't go near the portable steam engines as the boiler tubes seem to make ideal bee hives.
Robey & Co. Ltd Portable Steam Engine
There are three portable engines at Halfway House. They are all steam powered and would provide power through a drive belt from the engine's large flywheel. Unlike a stationery engine, they were portable being mounted on wheels, and could easily move from one work site to another by draft horse, or oxen.
Usually the chimney could be folded-down, ready for transporting the engine to a new location and the axle under the smoke box would pivot to allow the engine to be steered and towing eyes are provided on the axle assembly to allow the engine to be pulled along.
Portable engines were used to drive agricultural machinery, such as threshing machines, or milling machinery, such as gristmills, sawmills, and ore mills, pumps and fans in mines, or in industrial applications for machine tools, power hammers, presses, and other machines.
The portable engine above was manufactured by Robey & Co. Limited and still has the serial number 32438 on the boiler indicating it was built around 1914. Robert Robey was born in 1826 and established his business in Lincoln in 1854 with George Scott at the Perseverance Iron Works. In 1854 they built their first iron framed threshing machine. They produced their first portable steam engine in 1861 and went on to produce traction engines which moved under their own power, but they also produced threshing machines, saw benches, mills and elevators, all powered by steam. They managed to survive the great decline of the steam powered agricultural business after the First World War and went on to produce road rollers, and then electrical and diesel machinery, going out of business in 1988.
As noted by Thomas Aveling (later of Aveling & Porter fame), it was absurd to use four horses to pull a steam engine from job-to-job, when the engine possessed ten times the strength of the horses! It was therefore inevitable, once self-propelled traction engines had become sufficiently reliable, that they would take over the roles of many portable engines, and indeed this started to happen from the late 1860's.
However, the portable engine was never completely replaced by the traction engine. Firstly, the portable, having no gearing, was markedly cheaper, and secondly, numerous applications benefitted from a simple steam engine that could be moved, but did not require the additional complexity of one that could move itself, and small numbers of portables continued to be built even after traction engine production ceased with Robey and Company of Lincoln still offering portable engines for sale into the 1960's. In general, the portable engine is hauled to the work area, often a farmyard or field, and a long drive belt is fitted between the engine's flywheel and the driving wheel of the equipment to be powered.
Someone has tried to prise off the Robey's maker's plate and only succeeded in breaking the bottom half which would have read LINCOLN ENGLAND. The engine of a portable is usually reversed from that of a traction engine, with the cylinders at the firebox end and the crankshaft at the smoke box end. This layout was designed to position the regulator close to the firebox, making it easier for the engineman to maintain the fire and control the engine speed from the one location.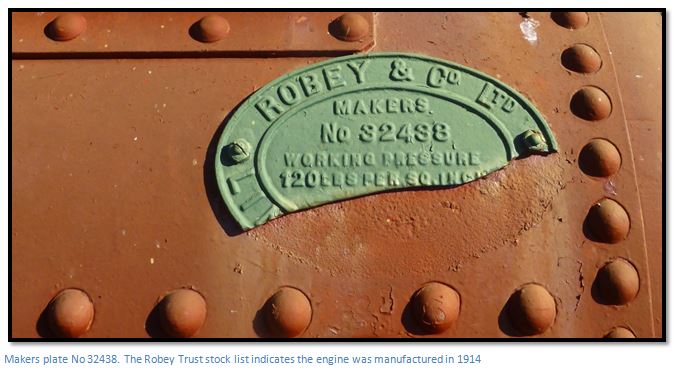 Most boilers intended for export to 'the Colonies' had a circular, marine-type firebox, known by British manufacturers as 'colonial' boilers with a high ground clearance for travelling along rough tracks.
The fuel was usually coal; but portable engines sent to Africa would be designed to use wood fuel and the longer, circular firebox was particularly suitable for burning logs with spark arrestors on the chimney. The tall chimney ensures a good draught for the fire and was usually hinged at its base to avoid overhead obstacles and would be folded down for transport and storage.
Most portable engines are single-cylinder, although two-cylinder engines were also built. The slide valve is usually driven by a single eccentric, and no reversing gear is fitted. There is usually a belt-driven governor to keep the engine running at constant speed even if the load fluctuates, and the flywheel is mounted on the crankshaft.
Most designs are fitted with four wheels and no suspension; the first portable engines had wooden wheels, but as the engines became more powerful and heavier, fabricated steel wheels were fitted instead. The front wheels are normally smaller than those at the back because they are mounted on the swivelling fore-carriage, under the smoke box, and large wheels would be liable to hit the boiler when the engine was turned around a corner. An added bonus was this enabled a larger diameter flywheel to be fitted, providing a more steady power output.
Ruston, Proctor & Co. portable steam engine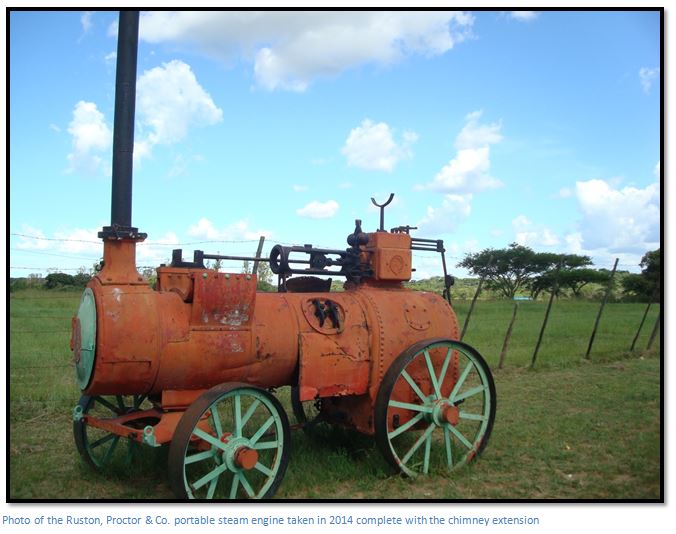 The firm started in 1840 as Burton & Proctor in Lincoln as millwrights and implement manufacturers; Robert Ruston became a partner in 1857, and the firm changed name to Ruston, Proctor & Co. and grew rapidly to become a major agricultural engineering firm. They merged with the established firm of Richard Hornsby & Sons, from Grantham in 1918, to form Ruston Hornsby Ltd.
They were primarily steam engineers manufacturing portable, stationary and traction engines, boilers, and associated engineering products, such as winding gear, shafts and pulleys. They also made threshing machines, clover hullers, corn mills, maize shellers and pumps powered by steam. Later they made railway locomotives and excavators (steam navies) which led finally into electrical and diesel engineering
Their rivals in Lincoln were Robey & Co and the development of both firms of steam engineers was very similar. There is another more complete portable engine, but of later date, made by Ruston and Hornsby Ltd at the Kadoma steam Centre [see the article under Mashonaland West]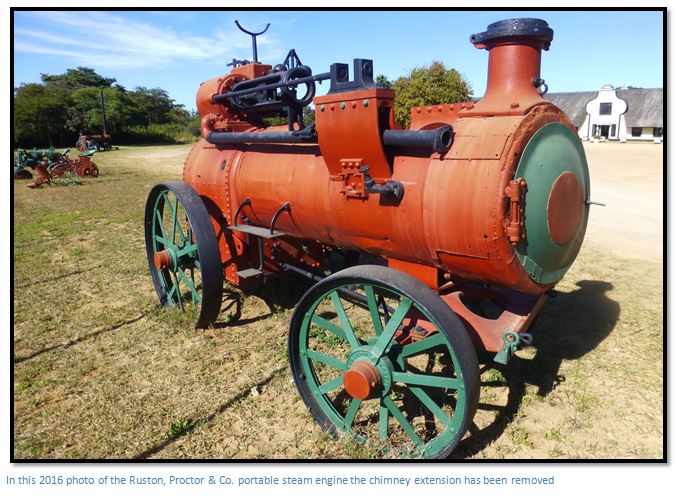 Marshall Sons and Co. Ltd portable steam engine
This is the most complete example of a portable steam engine at Halfway House. In 1842 William Marshall bought the defunct engineering works of William Garland and Son at Back Street in Gainsborough, which he renamed as the Britannia Ironworks, and began to produce road steam engines. He died in 1861; his two sons continued the business. Under their management steam engineering became a major element of the business until the First World War and the firm manufactured portable engines of all sizes, traction engines, stationary engines, and boilers which were exported to markets around the world.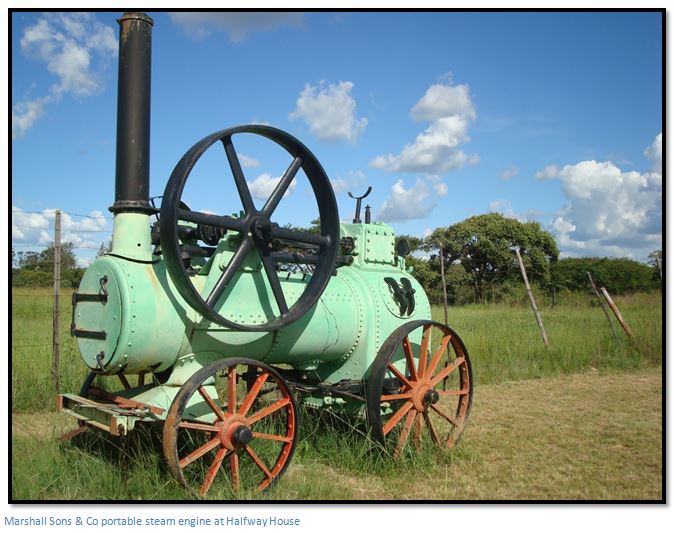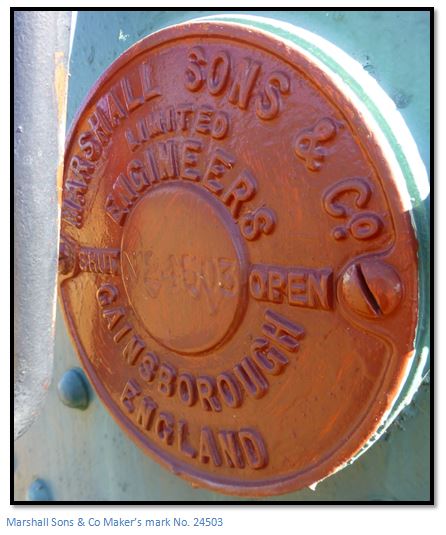 Portable steam engines like this Marshall portable engine were moved across farms to power different operations, and transported between properties by contractors to meet the changing needs of seasonal work.
Most of this engine is original, including the flywheel, governor and pistons and the original operating speed would have been about 150 turns of the flywheel per minute.
H.V. McKay's Sunshine Machinery
Below is a photo of a model "23 S" oil bath mower with 4ft 6 inch cutter bar, swathe-board and stick, fitted with mule pole. Irritated by the slow and laborious nature of farm work on Australian farms, Hugh McKay searched for a better and more efficient way of harvesting wheat. In 1884, when he was 18 he developed the Sunshine stripper harvester in a bush smithy, a machine which revolutionized farming.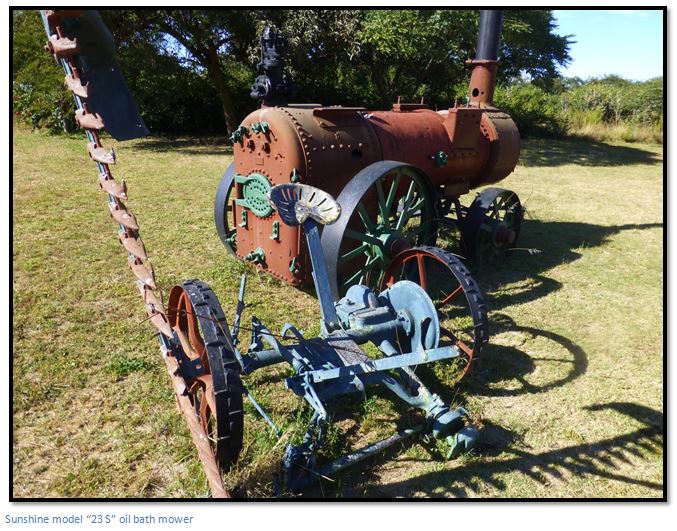 His first manufacturing base was in Ballarat, but he purchased the Braybrook Implement Works in 1904 and moved his operations from Ballarat to Braybrook Junction (later named Sunshine) in 1906. It offered room for expansion, train lines to country and wharves, an existing manufacturing plant, and land for residential development. At its peak the Sunshine Harvester Works employed 3,000 workers, covered 30.7 hectares (76 acres) and was the largest manufacturing plant in Australia.
Techniques of mass production reduced labour costs and increased McKay's competitive edge. The plant was completely self-sufficient and manufactured every item needed, including metal tubing, nuts and bolts, and even the bikes used by plant supervisors.
The Sunshine Harvester Works changed the face of farm mechanisation and led to the establishment of Australia's broad acre wheat production on a scale never before envisaged as the new technologies increased the size of farms, and changed the types of crops grown, the methods of farming, and the way in which land was used.
The impact of McKay farm machinery was felt worldwide. The company developed Australia's early export markets to Argentina, Russia, Chile, Britain, South Africa, and New Zealand. In 1955,H.V. McKay Pty Limited was bought by Massey Ferguson who expanded this export market to over 160 countries.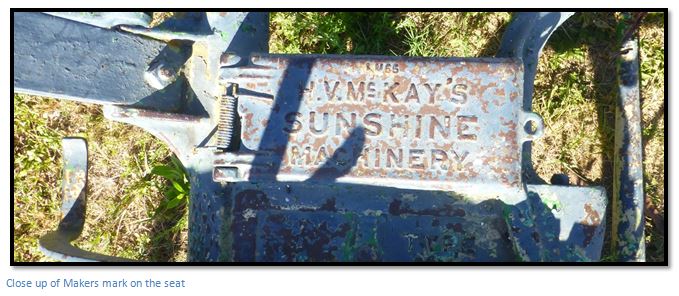 Hay baler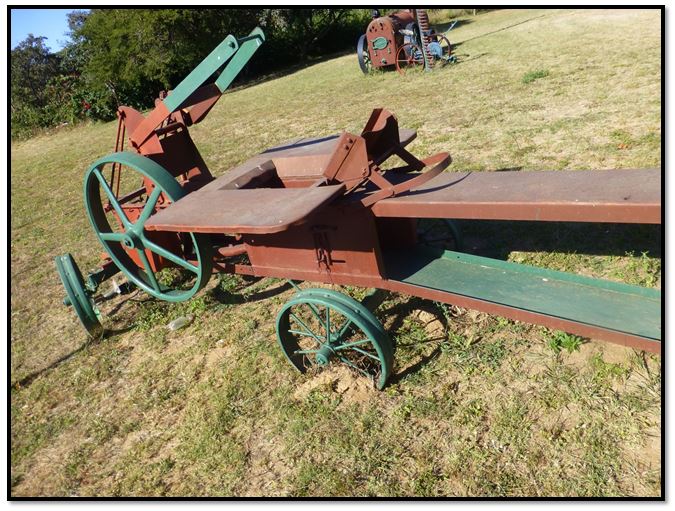 This hay baler still has its flywheel attached which connected via a belt to a portable steam engine and was used to compress the hay which had been fed into the compartment below the gear-powered plunger into the bale chamber. Finished bales would then slide down the green tray on the right of the photo. No manufacturer marks are apparent on this machine although the Number 496N appears on the flywheel.
The following has been summarised from the website www.farmcollector.com
With nearly every machine, hay was pitched into a hopper by hand where a gear-powered plunger pushed it into the bale chamber. At the same time, a reciprocating plunger compressed the bale into a bale chute and once the bale in the bale press reached the desired length, a wooden block (with channels for baling wire) had to be introduced into the bale chamber to hold the bale shape and provide a means of tying the bale. Two men, one on each side of the press, passed pre-cut pieces of wire through channels in the blocks and around their side of the bale as it moved through the bale chute. Once the other end of the bale cleared the bale chamber, the other end of the wire was passed through the next block and secured.
A "hay baler," is a machine taken to the field where the farmer is picking up hay directly out of the field. That didn't happen until around 1932, when the Ann Arbor (Mich.) Agricultural Co. pioneered the "pick-up" baler and Case also introduced a field-type pick-up baler in the early 1930's. Both models still required three people to operate the machine: one to drive the tractor and two to ride on seats attached to the bale chute, where they had the dusty job of feeding and tying the wires.
By 1936 a baler with a self-tie system was invented. The first attempt was made by Innes in Iowa, but it didn't work well in the field. A Pennsylvania farmer named Edwin Nolt began working on his own idea for an automatic-tie, pick-up-type baler. He initially bought an Innes baler to pick up the straw left in the field, but it didn't work. Out of desperation he built his own baler, salvaging the bale chamber from the Innes baler. Nolt worked on his contraption through the winter of 1936-37 with parts borrowed from other machines included bevel gears from a Fordson tractor, knotters from a grain binder and a blower from a blacksmith's forge to keep dust off the knotters. Eventually he could tie several hundred bales in a row making it the world's first commercially successful automatic field pick-up, self-tying hay baler.
By the 1950's, baled hay was the norm, although wire continued to be used on automatic balers with the development of wire twisters in place of knotters; but twine quickly took over the market.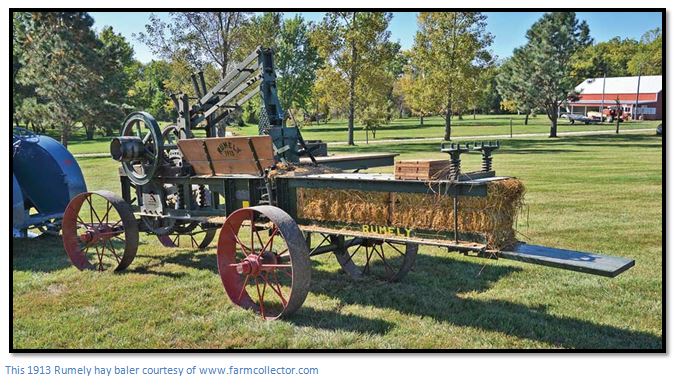 Walter A. Wood, Hoosick Falls, N.Y, USA, Mower and Reaper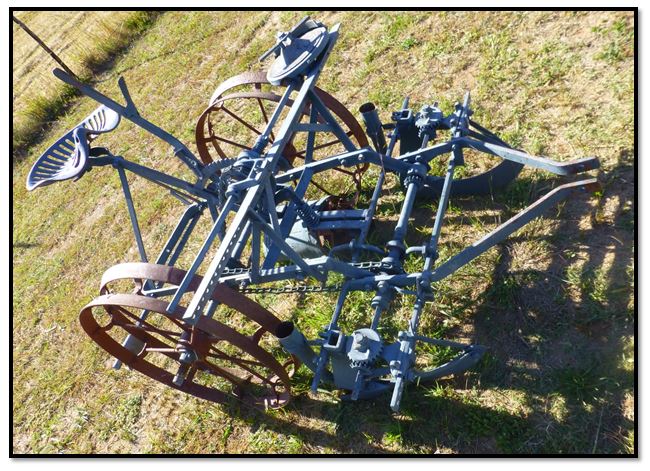 Walter A. Wood was born in Mason, New Hampshire in 1815. His father was a wagon and plough manufacturer and during his early years, he worked in his father's shop. At age twenty-one he moved to Hoosick Falls where he worked as a blacksmith for Parsons & Wilder.
In 1852, he built two reapers and by 1858-59 he was producing 5,000 per year. In 1860, the plant was destroyed by fire, but he immediately constructed a new plant. In 1861, he patented the "chain rake reaper" that was so unique that it caught the attention of farmers all over the world. A mower was added as well as improvements on all the machines manufactured. By 1865, his reapers and mowers were so successful that financial people became interested in the Wood Company. In 1866, the company was organized as a stock company and called the "Walter A. Wood Mowing and Reaper Machine Company."
A second large fire destroyed much of the Wood factory in 1870, but the factory was rebuilt. The output of the factory was about 8,000 units during this time. By 1890 the output had increased to approximately 90,000 units. During this time, the reapers and mowers won medals all over the world.
Wood died in 1892, but the company added ploughs and harrows, hay loaders, small engines, lawn mowers, washing machines by contracting out production on behalf of other manufacturers. However the First World War created the conditions that ended the Wood Company by destroying the European market. In addition, there were strikes and too much competition for a now shrinking farm market. By 1923 a receiver was appointed and the company assets were sold off.
In England, Walter A. Wood Ltd. continued operation under local ownership with its finest hours during World War II, when it provided tillage equipment to farm many acres of Great Britain that had been parkland and pasture. Submarines were limiting imports and more food had to be grown at home. The company continued on until the 1980's, when it was purchased by Massey-Ferguson.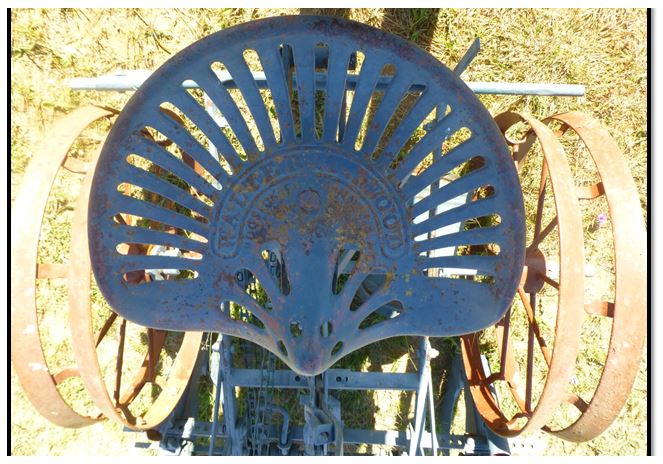 Minneapolis - Moline Power Implement Company
Minneapolis Moline Power Implement Company was formed in 1929 by the merger of Moline Implement Company, Minneapolis Threshing Machine Company, and Minneapolis Steel & Machinery Company.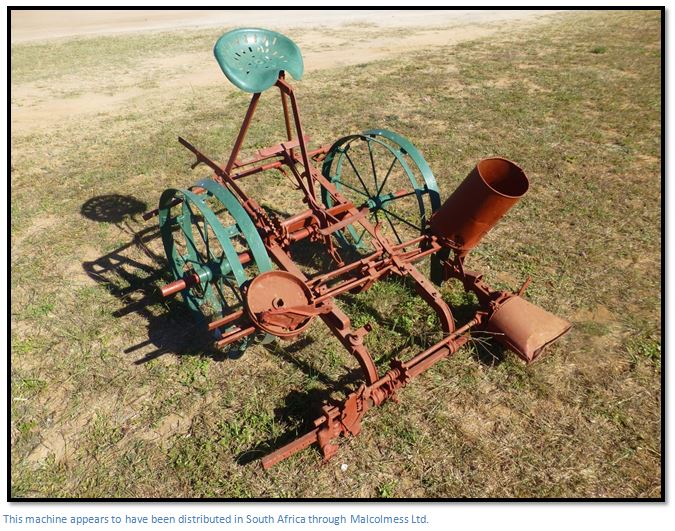 Acknowledgements
www.itsaboutlincoln.co.uk/robey
Wikipedia
www.museumvictoria.com.au/sunshine
www.farmcollector.com/implements/hay-press