Bridal Veil Falls, Chimanimani
Why Visit?:
Bridal Veil Falls is an ideal picnic site within easy walking distance from the Chimanimani Village. Tucked away at the base of high cliffs, where time seems to stop and all that's to be heard are birds singing and the water trickling over rocks into a crystal clear pool. If you feel brave, take a swim in the icy waters where many thankful mountain walkers have dipped their tired feet.
How to get here:
From Mutare take the A9 Chimanimani Road heading south, 66.5 KM turn left onto the A10 Road, 79.5 KM turn right and continue on the A10, 129.60 KM turn left for Chimanimani, 148.30 KM reach Chimanimani village, 151.0 KM reach Bridal Veil Falls
GPS reference: 19⁰47′30.55″S 32⁰50′52.25″E
Bridal Veil Falls are four kilometres by road from the village and many visitors park their vehicle in the village and enjoy the walk on the gravel road, which is not particularly arduous, but does involve a steady uphill trudge on the return leg. To drive requires a vehicle with at least high clearance and probably 4WD if it has rained recently. Getting to Bridal Veil Falls requires a drive east through Chimanimani village and then turning north at the turn off for the Frog and Fern Cottages.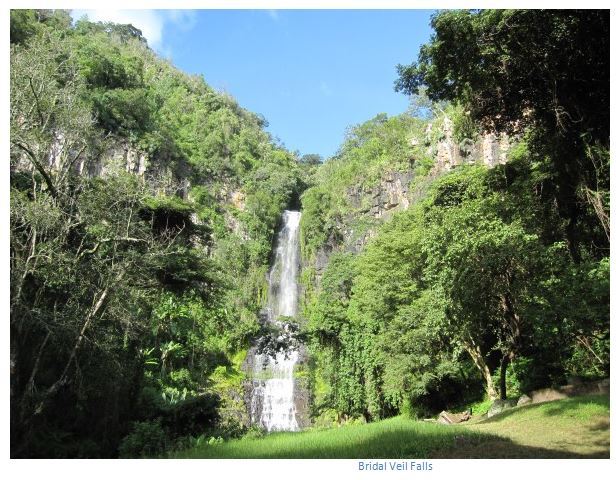 The small stream feeding the waterfall runs through the Eland Sanctuary, adjacent and to the north of the town and which includes the Martin Forest Reserve as well. There is a campsite with picnicking and braai facilities for visitors. Local people call the Falls Mutsarara, from the sound of the water falling, and it is reputedly the home of an Nzuzu (water nymph)
Bridal Veil Falls picnic and camping site is actually located within the Eland Sanctuary which is a small National Park. A relatively easy 5km walk from the village, or a short drive and you arrive at the falls, which plunge 50 metres down a sheer rock face into an accessible, crystal clear pool.
The birdlife is magnificent and there are lots of interesting plants including Water Parsnip (Sium Repandum), Crotalaria Variegata, an unusual species of Pineapple Flower (Eucomis Autumnalis) and a beautiful grove of Wild Banana (Ensete Ventricosum) In November a popular outdoor music festival to celebrate culture and conservation is held called Bridal Veil Mbira Moon Chimanimani and is hosted by ZPWMA and Chimanimani Conservation Network.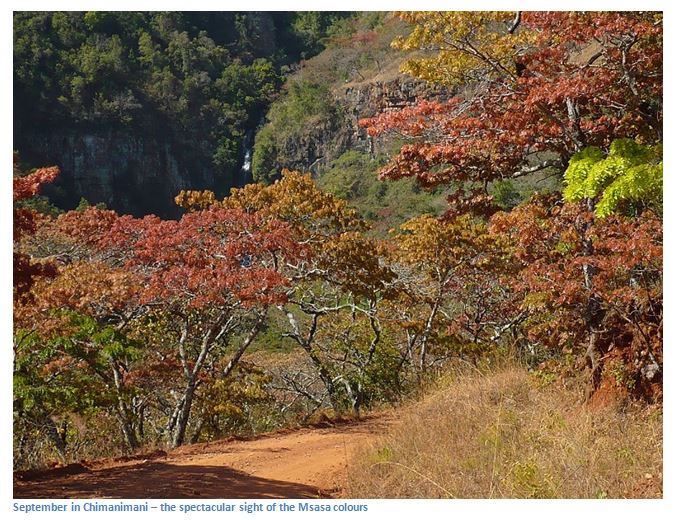 Frog and Fern Cottages, Chimanimani (www.thefrogandfern.com) are set in the village once known as Melsetter at the foot of the Chimanimani Mountains. They are 18 kilometres from CMNP Base Camp, 3 kilometres from Bridal Veil Falls and share a common boundary with the Eland Sanctuary. This location is perfect for walking locally or for getting prepared for a serious hike into the Chimanimani Mountains. The GPS Co-ordinates are: 19⁰48′21.1″S 32⁰51′32.6″E Frog & Fern provides quality self-catering accommodation in 3 stone, thatch and wood cottages housing a maximum of twelve people at any one time. There are three cottages and two camp sites in a fenced garden.
Miombo sleeps up to six people in a double storey cottage, with the main bedroom downstairs en suite. Upstairs are four single beds, dorm style. The cottage has two bathrooms, lounge with Jetmaster fireplace and open plan dining area and kitchen.
Msasa Cottage sleeps two people, has a large open verandah and is next door to Miombo.
Mzanje Cabin sleeps two or three people and has a Jetmaster fireplace in the lounge, large kitchen, one shower and loo with a small outside sitting area and stone braai.
Each cottage has a stone built braai.
Acknowledgement

---
When to visit:
All year around Monday to Sunday 6am to 6pm
Fee:
An entrance fee is chargeable