Zimbabwe in the sights of China's debt-trap diplomacy
Acknowledgements
This article uses as its primary source - Power Imbalance in Africa-China Investment and Development Deals: The Case of Zimbabwe (2000–2018) by Nancy Kambudzi.
All figures are taken from the Kambudzi article unless there is another reference.
Article Summary
The article argues that the negative challenges faced when negotiating and implementing projects with China adversely affect their outcomes in Zimbabwe with little in the way of productivity increases, economic growth and poverty reduction.
The author concludes. "Without proper management systems, accountability and policy-informed resource channelling, foreign development funding may not automatically stimulate economic development. The reason is that there is a plethora of challenges—brought to light in this paper—that are involved in the negotiation and implementation stages. The loan-seeking African countries, Zimbabwe included, should increase their bargaining power, free themselves from debt trap/bad debt, and address negotiation-level and implementation-level hurdles."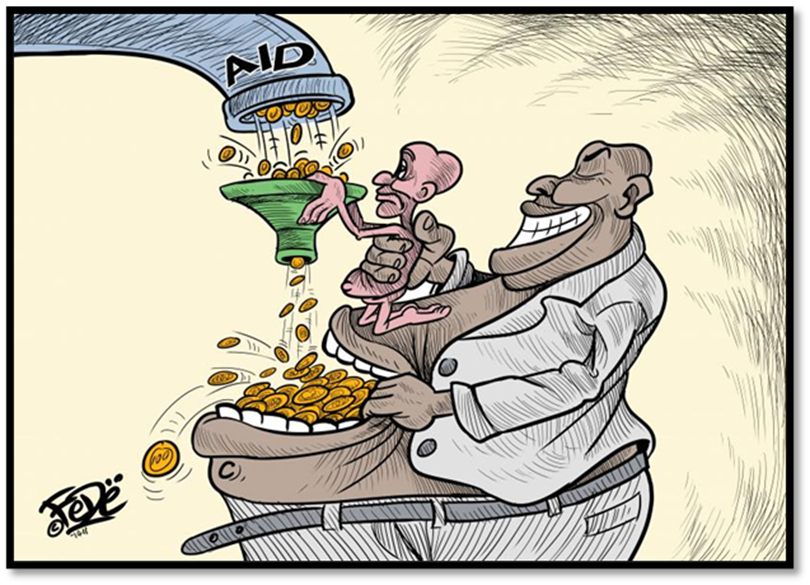 https://cartoonmovement.com/cartoon/aid-africa
Africa and Zimbabwe's current debt position
Some general statistics on Africa as a whole:[i]
African government's external debt payments doubled in two years, from an average of 5.9% of government revenue in 2015 to 11.8% in 2017; 20% of African government external debt is owed to China and 17% of African government external interest payments are made to China.
Sub-Saharan Africa average public debt increased by 20% in the five years to 57% of the GDP as at end of 2017 (World Bank, 2018)
Almost 40% of countries in sub-Saharan Africa (SSA) are in danger of slipping into a major debt crisis. The number of countries at high risk of debt distress, 15, has more than doubled since 2013, while eight countries are already in distress (World Bank, 2018)
The Zimbabwean public debt has been on an increasing trend, both external and domestic debt, reaching US$18 billion by December 2018. The Chinese share of external debt stock as of 2018 was estimated around 34 percent.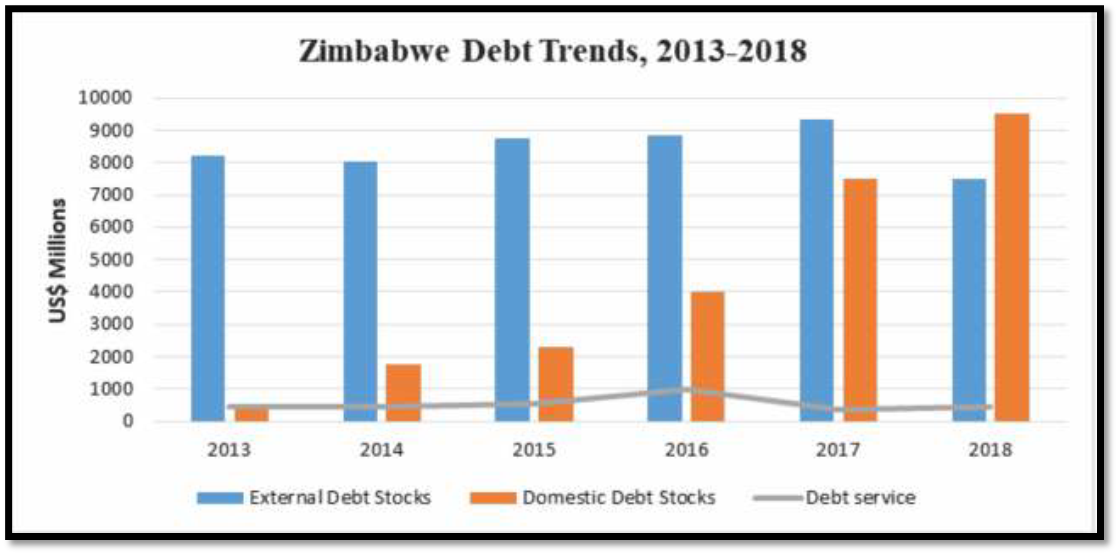 Source: AFRODAD, 2018
Zimbabwe's was forced into a 'Look East Policy' (LEP) following its contentious land reform policy in 2000
Prior to 2000 economic contracts with China were infrequent as Zimbabwe enjoyed good relations with the West. In the 1980's Zimbabwe received $417 million from the World Bank, $204 million from the United States and $156 million from the European Union. China's highest profile aid was the National Sports Stadium which opened in 1987. For years, Zimbabwe's officials have tried to play off China against the West, advocating the country's Look East Policy (LEP) particularly following the introduction of EU sanctions in 2002.
However, the problems began prior to and during what is often referred to as the "lost decade." Unbudgeted spending increases of the late 1990's in relation to the war veterans payments led to excess money printing and started a cycle of inflation and crisis that led to Zimbabwe defaulting on its debt payments in 2000. The period from 2000 to 2008 was characterised by hyperinflation resulting from more excessive printing of money and the continued defaulting of debt payments only worsened Zimbabwe's credit worthiness to the multilateral institutions (World Bank, International Monetary Fund) and foreign governments.[ii]
Poor management of the economy and the loss of confidence of western institutions in Zimbabwe's policies has had negative effects on the Zimbabwean economy, particularly in respect of a shortage of foreign exchange and declining investment.
The author states the relationship with China was revived to give Zimbabwe an alternative development and diplomatic partner following Zimbabwe's isolation by the West due to its controversial land reform policy of 2000. Following economic sanctions from the West, in 2003, President Robert Mugabe told a packed rally at the Chinese-built national sports stadium in Harare that, "we have turned East where the sun rises and given our backs to the West where the sun sets."
Trade between China-Zimbabwe had increased prior to the LEP, rising in the period 1997 – 2000 from $56 million to $125 million, but the establishment by the African Union in 2000 of the Forum on China-Africa Cooperation (FOFAC) between China and China-friendly African states and Zimbabwe embracing a Look East Policy gave much momentum to China-Zimbabwe trade and development partnerships.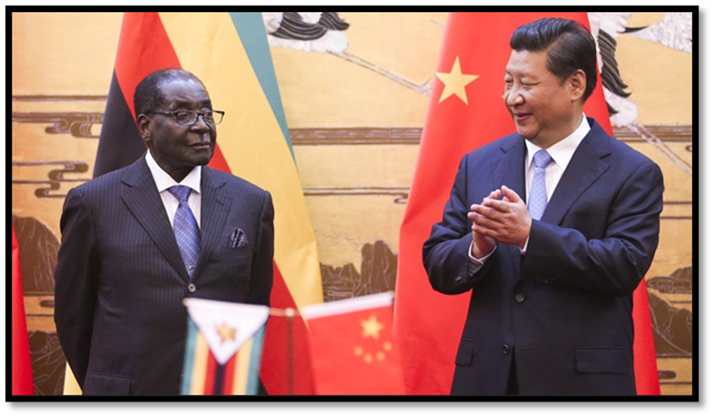 Getty Images: President Robert Mugabe and President Xi Jinping
Zimbabwe is now dependent on China
"China is Zimbabwe's fourth largest trading partner and its largest source of investment - with stakes worth many billions of pounds in everything from agriculture to construction with Zimbabwe the dependent partner with China providing the largest market for its exports [tobacco, cotton and minerals] and much needed support to its fragile economy." Chinese imports include electronics, clothing and other finished products.[iii]
The flooding of cheap and poor quality Chinese goods on the Zimbabwean markets further threatens jobs for locals as local industry is usually undercut and eventually closes down.
What is China's interest in Zimbabwe?
The article states, "China's rapid industrialization and economic renaissance have boosted its demand for energy and crude oil, metal products and minerals, and large quantities of raw materials. African countries, including Zimbabwe, became additional markets for China's manufactured goods and major sources of industrial raw materials. With Zimbabwe being among the mineral-rich African countries, China came calling."
Natural resource and development infrastructure projects receive a positive Chinese response
Zimbabwe's natural resources are clearly China's major interests. The two largest embassy buildings in Zimbabwe are those of the Chinese and British governments. As other foreign embassies scaled down or closed down, the Chinese embassy has expanded to reflect its economic interests in the country.
Exponential growth in Chinese development projects
Between 2004-2009 over $103 million was received in Chinese loans and grants and by 2008 there were 35 Chinese development projects valued at $600 million. Annual Chinese investment went from $11.2 million in 2009 to $602 million in 2013 with most of the projects focused on agriculture, mining and manufacture.
President Mugabe and ZANU-PF party officials and government ministers trips to China to attempt to secure economic rescue packages to fund increasing budget deficits to finance government salaries, defence, education and healthcare requirements received a poor Chinese response, although Mugabe continued to praise China as an "all-weather" friend, particularly for its non-interference policy, and disregard for the political rights of Zimbabwe's citizens.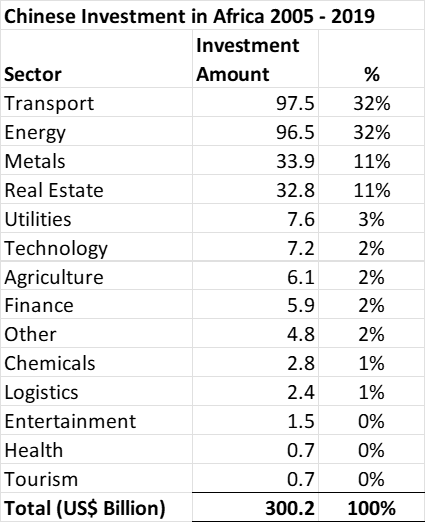 Source: China Global Investment Tracker 2019
China has been accused of 'debt-trap diplomacy'
It has been claimed that that Chinese loans to developing countries in Africa and elsewhere are part of their soft power potential for dominating Africa, and FOFAC is the vehicle through which this policy is driven. There is a widely held view that their policies are directed at resource-rich African countries and that every prospect is taken to advance any commercial opportunities of Chinese state-owned and national firms.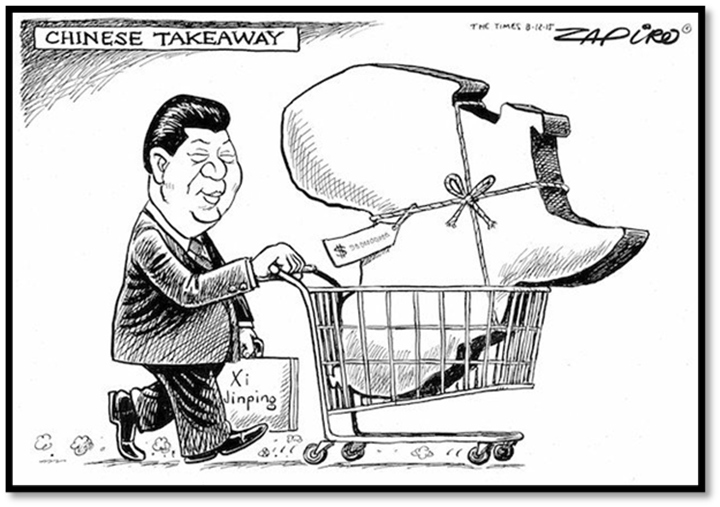 Credit-Zapiro-Jonathan-Shapiro-
China's upper-hand in negotiating aid
In her article Kambudzi argues that China's dominant upper hand in providing aid for infrastructure projects limits any economic and social gains Zimbabwe can expect. The author states, "there is an inherent disadvantage when a developing economy negotiates for financial favours from a developed economy" and goes on to say that at multilateral negotiations participants are treated equally "regardless of the country's economy, political structure and other distinguishing characteristics" but in bilateral negotiations the developed economy always has the whip hand. In any negotiations with China it is very clear who is the dominant party.
The author says in 2000 China was growing rapidly with 8.5% GDP growth, whilst Zimbabwe's GDP was declining by 3.1%, and fell by 13.7% in 2008. Zimbabwe was in a very weak negotiating position in view of the sanctions and lack of support from western nations.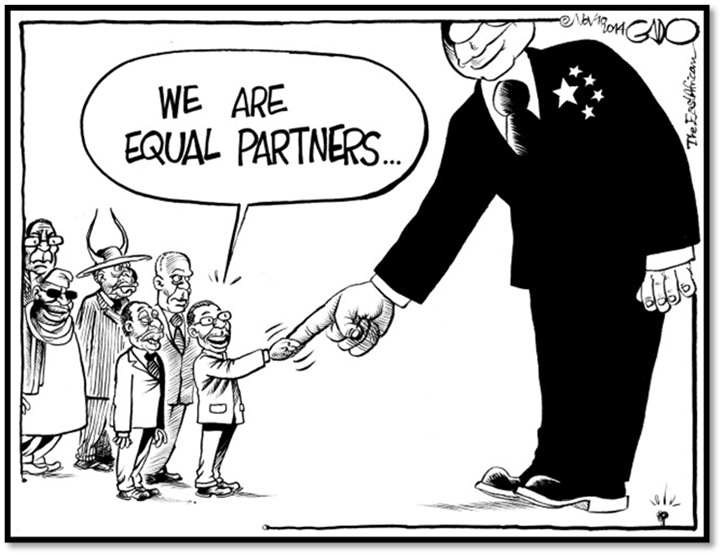 https://gadocartoons.com/wp-content/uploads/2014/11/EA.Nov_.10.14.Equal_.Partners.jpg
Zimbabwe indebted to China's state-owned Exim bank
The article states that between 2000 – 2019 China negotiated 1,141 loans to African governments and their state-owned organisations with commitments of $153 billion. Over 65% of these loans are infrastructure projects concerned with improving transport, water, energy and telecommunications sectors. Examples of loans to Zimbabwe included the Victoria Falls airport expansion ($150 million in 2012) and Kariba South Hydropower Station ($320 million in 2013) Robert Mugabe International Airport ($153 million in 2017)
Such was the extent of this indebtedness, that by 2018 Zimbabwe's external and domestic debt totalled $18 billion, shared evenly between domestic and external debt and 34% of the external debt ($3.1 billion) owed to China.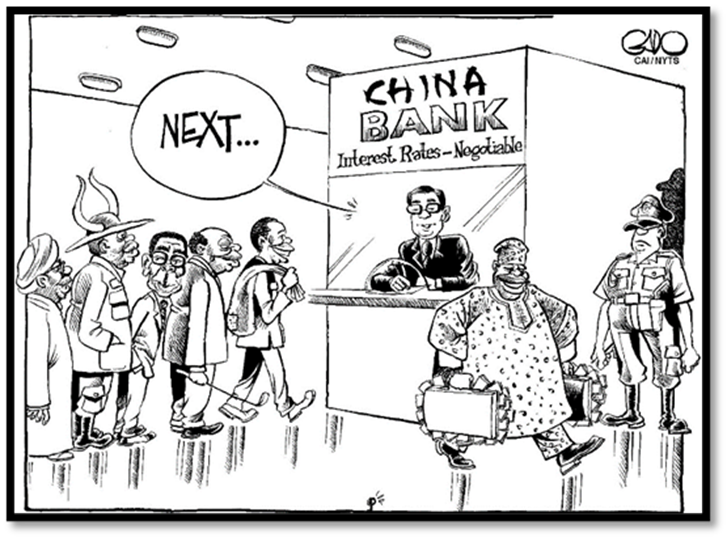 https://www.japantimes.co.jp/opinion/2015/10/28/commentary/world-commentary/india-playing-catch-china-africa/
Zimbabwe's poor debt repayment history weakens its bargaining position
Zimbabwe has an extremely poor debt repayment history. By continually failing to repay matured loans the country's credit rating and financial reputation for economic management has been permanently damaged. Defaults on loans include international funding agencies and Western governments, as well as China.
However in recent years, China has toughened its position. In 2014, Zimbabwe was forced to repay $180 million in mature Chinese loans, or risk losing its credit line. At the time Finance Minister Patrick Chinamasa stated, "In the first six months of this year we have had to cough up $180 million, which was not in the budget, just to make ourselves look good."
Chinese contractors are often given the construction work for these infrastructure projects
Many of the larger Chinese contracts have gone into Energy with much of the value going into procurement of Chinese equipment and to Chinese contractors. This reduces the positive money multiplier effect in Zimbabwe and even where local suppliers and experts exist, and have the capacity to supply, they are usually rejected in favour of Chinese suppliers.
One of the key statements from the AFRDAD article is, "70% of infrastructure construction and other contracts are awarded to "approved", mostly state-owned, Chinese companies and the rest handed to local firms, many of which are also in joint ventures with Chinese groups. Many [of these] projects have been undertaken with imported Chinese labour (Reality of Aid Network, 2010)". Indeed, projects backed by concessional loans are mostly required to be executed by Chinese contractors, often selected through a non-competitive negotiation process."[iv]
One of the latest Zimbabwe construction projects are the new Zimbabwe Parliament buildings at Mount Hampden. True to form the Shanghai Construction Group was awarded the contract at a value of $97 million and the complex has now been handed over.[v]
Loans to Zimbabwe from China between 2000 - 2018

AFRODAD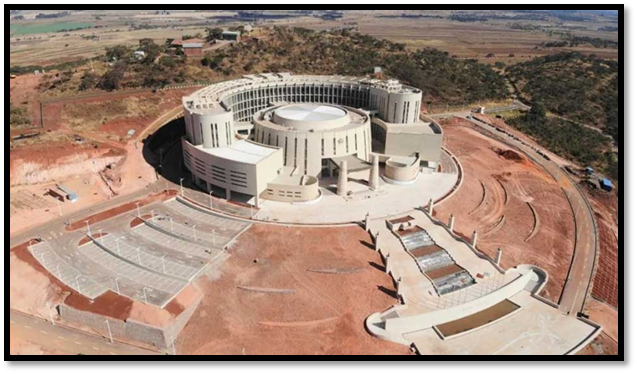 Zimbabwe's new 650 seat parliament building at Mount Hampden
The predatory hand of Chinese contractors
Kambudzi's article goes on to say that Zimbabwean citizens have, "borne the brunt, on one hand of the predatory attitude of Chinese contractors, and on the other, of the irresponsibility of the Zimbabwean government, unable so far to formulate policies that enhance debt sustainability, or to take action on citizen grievances, such as underpayment and maltreatment at the hands of the Chinese contractors."
Zimbabwe aid requests to China cannot always be relied upon
Zimbabwe's "all-weather friend" cannot be relied upon for all occasions. Although in 2016 China had approved over 128 Zimbabwean projects, not every request was greeted with a positive response. In 2014 Mugabe presented the $27 billion Sustainable Socio-Economic Transformation project for economic revival that exceeded the country's $4.5 billion annual budget. The Chinese response was to pledge $30 billion, reduced to $10 billion, then to $3 billion and eventually to $400 million.
Partly this may be due to China showing displeasure at Zimbabwe's poor economic policies resulting in hyperinflation, widespread corruption, ZANU-PF nepotism and a poor external debt management record. It has been estimated that by 2019, Zimbabwe has defaulted on $2.2 billion in Chinese loans, given between 2000 and 2017.
Zimbabwe's land reforms even dissuaded China from agricultural joint-ventures
"Following the "Land Reform Policy," Zimbabwe's agricultural production growth fell from 3% in 2000 to -3% in 2003; net Foreign Direct Investment inflows fell from $435 million in 1998 to almost zero in 2001, with exports plunging from $2.1 billion to $1.3 billion."
Zimbabwe attempted in 2005 to attract Chinese agricultural and horticultural joint-ventures as the country had a previous good record with commercial growers who were deprived of their farms in the land reforms. The Zimbabwe government anticipated The Africa Agriculture Development Centre, a subsidiary of the Chinese government-owned China State Farms Agribusiness Corporation, would partner with Zimbabwe's Agricultural Rural Development Agency, to rebuild the country's food production that had declined by approximately 60% from 2000. However the Chinese backed out following concerns that Harare's land laws and policies nationalized all agricultural land.
In addition, the distressed state of Zimbabwe's economy, the crumbling infrastructure and widespread poverty, the absence of alternative sources of foreign aid and other limitations mean that China is able to throw an economic lifeline that its ZANU-PF leaders are only too keen to grasp.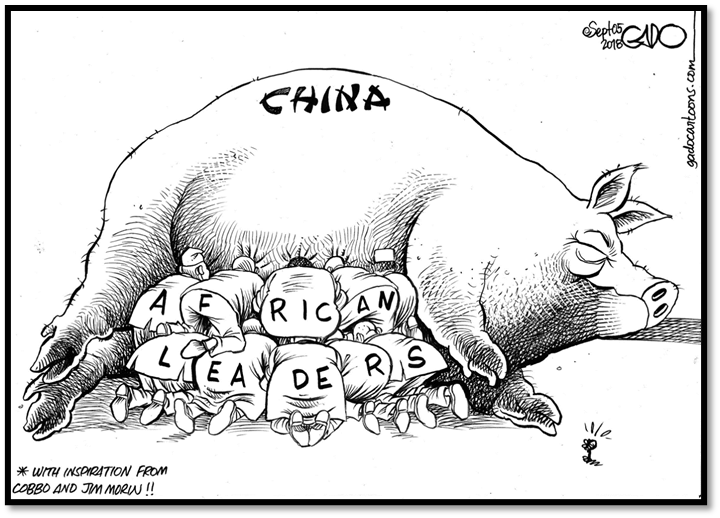 http://gadocartoons.com/african-leaders-and-china/
Zimbabwe gets political support at the UN from China and vice-versa
However, China was ready to support in the world political arena and with Russia – both permanent members of the United Nations Security Council, vetoed a draft UN resolution in 2008 to ward off UN sanctions against Zimbabwe for its poor human rights record (Ren 2014)
China gets rewarded for its support with the Marange diamond concession
Wikipedia states that at the time and in terms of carats produced, the Marange field is the largest diamond-producing project in the world, estimated to have produced 16.9 million carats in 2013, or 13% of global rough diamond supply. Marange is estimated to have produced 8.2 million carats in 2010, 8.7 million carats in 2011 and 12 million carats in 2012, although the value per carat at $50 is quite low.
In 2006 the ZANU-PF government took over all diamond mining in Marange through a state owned company, the Zimbabwe Consolidated Diamond Company (ZCDC) and kicked out the British-registered African Consolidated Resources who had registered the claims. Zimbabwe Mining Development Corporation (ZMDC) was partnered with seven private companies, all affiliated with Zimbabwe ex-military or political officials. In 2015, Zimbabwe Consolidated Diamond Company (ZMDC) took over from ZCDC and partnered with Anjin, a joint-venture between the Chinese firm Anhui Foreign Economic Construction Group (AFECC) and the Zimbabwe Defence Industries, affiliated with ZANU-PF.
Widespread public perception in Zimbabwe of Chinese contractors as oppressive and exploitative
The author states in the same article that the Zimbabwean public believes it has borne the brunt of Chinese contractors poor regard for the interests of their workforces. Invariably they give excuses for hiring Chinese rather than Zimbabweans. Local workers are almost always hired on temporary contracts and there is little attempt to provide training and minimal skills transfer. They say Chinese mining companies, in particular, have a poor record respecting local communities and providing compensation for accidents at work and for damaging property adjacent to their mining sites.
There are numerous examples in the media of employee ill-treatment , exploitation, underpayment of wages and salaries and physical abuse. The Zimbabwe Congress of Trade Unions has cited numerous examples of forced labour, exploitation and subjecting employees to unsafe working and living conditions. Examples of underpayment and ill-treatment of employees are often given in the popular press.
Trade Unions state the governments unwillingness to take action has encouraged unscrupulous Chinese employers to continue knowing there will be no redress for their actions and there is a widespread public perception of Chinese contractors as exploitative and oppressive.
Irresponsibility of the Zimbabwe Government
The Zimbabwean government is too weak and unable so far to formulate policies that enhance debt sustainability, or to take action on citizen grievances, such as underpayment and maltreatment of its citizens at the hands of the Chinese contractors.
Shoddy workmanship
Major concerns have been raised by local professionals over the quality of construction work carried out by Chinese contractors. Both the $98 million National Defence College (NDC) and the Long Cheng Plaza in Belvedere have been cited as examples of poor workmanship with buildings considered structurally unsound and showing signs of cracking. The Chinese-built National Sports Stadium developed cracks and in 2020 the Confederation of African Football (CAF) barred it from hosting international tournaments.
China-led projects are generally disapproved of by Zimbabwe citizens
Kambudzi's article states that the poor negotiating position of the ZANU-PF government means there have been limited economic and social gains for Zimbabwe from these projects, and their popular disapproval are the biggest barriers to the successful operation of Chinese infrastructure developments in Zimbabwe. Chinese-led infrastructure projects have resulted in hostility from local community groups. Incidents of violence against employees at mining sites and construction sites have received extensive publicity in the media and been met with widespread public disapproval.
The Zimbabwe government has tried to preserve national interests through indigenisation laws
In 2008, in any attempt to wrest back control from the predatory advances on local businesses, the government introduced an indigenization law requiring all foreign-owned companies with assets over $500,000 to cede 51% to Zimbabwean nationals, or the National Economic Empowerment Board. Of course, this was a marvellous opportunity for ZANU-PF connected individuals in the political, military and civil service to acquire substantial shareholdings for nothing.
Nancy Kambudzi writes this would have impacted on the ten thousand Chinese nationals then resident in the country, and following protests from the Chinese ambassador, Chinese firms were exempted from the law.
Western Aid has by-passed Zimbabwe's ZANU-PF government
With the Zimbabwe government's reputation for misappropriating funds and diverting them from their intended uses, and £11 billion in aid loans outstanding and overdue in 2016, Western aid has by-passed government and gone directly to recipients. In 2016, the US and UK gave $232 million and $136 million to non-governmental organisations and local community organisations directly.
Environmental damage by mining companies
Wherever Chinese mining companies have operated they have been accused by local communities of paying very little or no attention to the damaging effects their extractive methods have on the environment. Whether it is granite quarries near Mutoko, gold mining in the Mutare or Angwa or Mazowe rivers or their tributaries, chrome mining on the great Dyke, the complaints are always the same. Their quarries are always left open and unprotected and a danger. Due to local hostility, Zhongxin Coal Mining Group and Afrochine Smelting attempts to clear land and explore in the northern sector of Hwange National Park were stopped by a coalition of local communities and wildlife conservation groups.
Chinese and Western interest may eventually converge
With Zimbabwe's continuing inability to manage its economy and poor debt record, the Chinese government and Chinese businesses may be waiting for better days. Zimbabwe, unlike Ethiopia, Sudan and Angola is not a strategic partner, nor does it have the big markets of Nigeria and Kenya. At least one commentator has written that China may be waiting for a better investment climate in Zimbabwe and a valid election resulting in a legitimate and stable and accountable government might be as much in Beijing's interest as London's.[vi]
References
Nancy Kambudzi , "Power Imbalance in Africa-China Investment and Development Deals: The Case of Zimbabwe (2000–2018)" , Les Cahiers d'Afrique de l'Est / The East African Review [Online], 57 | 2022, posted on August 29, 2022 , consulted on March 09, 2023 . URL : http://journals.openedition.org/eastafrica/1719; DOI  : https://doi.org/10.4000/eastafrica.1719
Alex Vines. BBC - What is the extent of China's influence in Zimbabwe? 20 November 2017
T Nyachega, T. Mutazu and T. Yungong. The China Zimbabwe Relations: Impact on Debt and Development in Zimbabwe. The African Forum and Network on Debt and Development (AFRODAD)
Notes
---