Politics and thievery mean the same thing in Zimbabwe
The recent Al Jazeera documentary called Gold Mafia, a four-part investigation by their Investigative Unit (I-Unit) blew apart the links between Zimbabwe's gold smuggling and president Emmerson Mnangagwa, the man who when he succeeded former president Robert Mugabe, promised to cure the corruption linked to the country's ruling party ZANU-PF. However these revelations of gold smuggling by the individuals named below, and closely linked to Zimbabwean government officials and the president, have caused anger in the country although many have known of widespread corruption for years.
The principal crooks identified in the documentary
First was UEBERT ANGEL[i] and his side-kick RIKKI DOOLAN, both pastors in the Spirit Embassy: Goodnews Church whose website (www.uebertangel.org/) invites you to join 'The Millionaire Academy' where the 'man Presidents around the world call to receive instruction; whom Millionaires and Billionaires in the world will fight over to meet in hopes of hearing a sentence that will raise the trajectory of their lives' or join his 'Prophetic Retreat' a 'physical, face-to-face time with the Prophet of God, the Prophet to Christianity, and to this Last Dispensation, Prophet Uebert Angel.'
Uebert Angel, Zimbabwe's ambassador-at-large to Europe and the Americas and supported by his blonde-haired side-kick Rikki Doolan proposed that the money launderers - the Al-Jazeera I-Unit[ii] posing as Chinese criminals with 1.2 billion of dirty dollars that needed laundering (the money launderers) should give their cash to himself - Uebert Angel - who would use his diplomatic immunity to walk through Robert Gabriel Mugabe International airport (Harare airport) and they would receive in return an equivalent amount of Zimbabwe gold which they could then take out and sell in Dubai for 'clean' money. They were offering a money-laundering service to wash their illicit US Dollars using Zimbabwean gold obtained from the Zimbabwe Reserve Bank's Fidelity Printers and Refiners subsidiary. In turn this enables the ZANU-PF government to circumvent the paralysing impact of Western sanctions.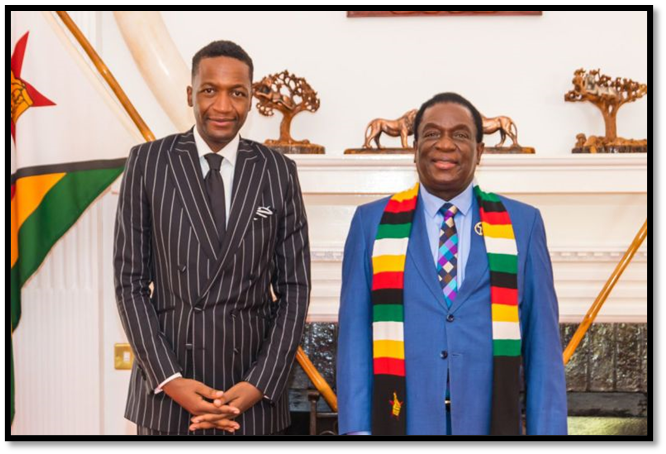 Al Jazeera: Uebert Angel Zimbabwe ambassador-at-large and President Emmerson Mnangagwa
They claimed president Emmerson Mnangagwa or "ED" as he is known in Zimbabwe, would provide protection for them. They insisted that the president, or "Number One" was aware of the scheme, and that for a fee or "appreciation" of US$200,000 they could set up a meeting with him. Angel claimed, "That guy doesn't take bribes. Oh no, no, he won't…There's a big difference in appreciating somebody and bribing" – although this distinction maybe too subtle for most readers as Rikki Doolan added that money laundering would not be a challenge "as long as you grease the wheels."
His sidekick, Rikki Doolan, who said he used the pseudonym 'Mr Jones' for President Mnangagwa, told the I-Unit, "What we're gonna do is take all of that appreciation and give it to Mr Jones."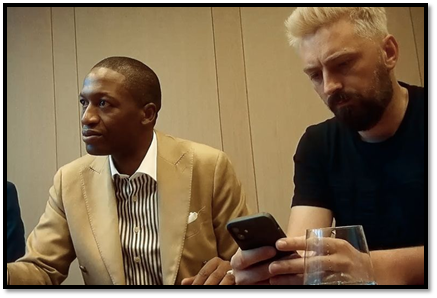 Al Jazeera: Uebert Angel and Rikki Doolan photographed undercover
Uebert Angel, special presidential envoy and ambassador-at-large[iii] since March 2021, who they secretly filmed bragging, claimed to the I-Unit, that he could move $1.2bn easily due to his diplomatic immunity and he repeatedly claimed that Mnangagwa was aware of his schemes, "I can call the president now, not tomorrow, now and put him on speaker, it's not an issue. We are the government."[iv]
Another crook exposed with a Church connection is KAMLESH PATTNI, a Kenyan, who calls himself 'Brother Paul' a central figure in the notorious Goldenberg scandal during the 1990's. There is a good Wikipedia article on this Kenya scam listing the persons involved, including two sons of president Daniel arap Moi, numerous Bank of Kenya and Treasury employees and other prominent officials. The scam was similar to that in Zimbabwe in that gold exports from Kenya that earned foreign currency were paid a bonus of 35% above the amount earned. However, the sums involved could never have been generated by the one gold mine in Kenya – the gold was actually smuggled from the Democratic Republic of the Congo (DRC) before being exported from Kenya.
Pattni, a notorious gold smuggler, moved to Zimbabwe and recycled his old Kenya scam, this time with Fidelity Printers and Refiners,[v] showed the I-Unit what he said were WhatsApp messages exchanged with Mnangagwa, whom he called 'Tembo' (Swahili for elephant) Pattni said he communicated via WhatsApp messaging, "He knows, of course, yes. But he can't – he will not talk too openly. He has to be informed, I've informed him what is happening in Tanzania, that we are putting up [a] gold coin factory in Bulawayo."
Pattni showed the I-Unit photos of him with the Zimbabwean president and offered to set up a meeting with him. He volunteered the information that he sends a trusted employee regularly to handover 'appreciation' - effectively bribes. "Every fortnight, he [Pattni's employee] is there at the State House. We always renew our appreciation. When you work you must always have the king with you, the president."
Lakshmi Kumar, policy director at the Washington DC-based think tank, Global Financial Integrity, which tracks illicit financial flows and money laundering, said he is a "criminal mastermind."
Al Jazeera: Kamlesh Pattni and former Zimbabwean president Robert Mugabe
Another home-grown crook highlighted and a prominent member of the gold racket is HENRIETTA RUSHWAYA, current president of the Zimbabwe Miners Federation, also coincidentally, the niece of president Emmerson Mnangagwa. This website has an article from October 2020 when Rushwaya was arrested for gold smuggling at the Harare airport by military intelligence acting for Constantino Chiwenga, vice-president of Zimbabwe in an internal ZANU-PF feud.[vi] At the time this website said there was little chance of a prosecution because of Rushwaya's political connections and the National Prosecuting Authority has since confirmed there is not enough evidence for a conviction, although 6.9 kgs of gold were in her possession.[vii]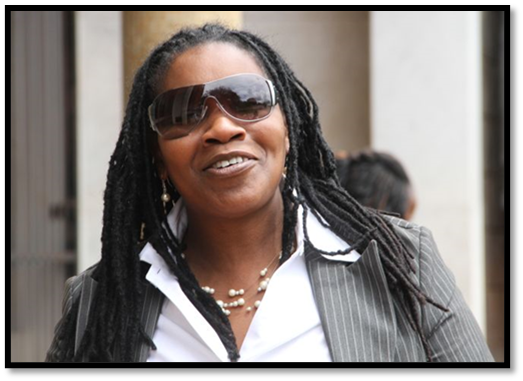 Henrietta Rushwaya, a key gold smuggler
Contacted by Uebert Angel to prove his credentials, and filmed by the I-Unit, Rushwaya confirmed the money laundering and gold smuggling scheme was "doable" and promised to help. Through Uebert Angel she told the I-Unit that they could bring into Zimbabwe US$10 million of illicit cash that needed laundering at a time, the money would be parked with Fidelity Printers and Refiners, who keep US$5 million as a surety deposit and provide US$5 million of gold that could be smuggled out the country to Dubai and there refined. She said, "They get gold worth five million every week, they take it out, bring another five million."[viii]
In addition to her own arrest in 2020, her former driver was caught at OR Tambo International Airport with 23 bars of gold worth US$783,000.[ix]
First Lady AUXILLIA MNANGAGWA, wife of the president was also actively engaged in the scheme. Rikki Doolan said, speaking of Angel, "Mr and Mrs Jones call him their son."
He was not joking as during one meeting with the I-Unit, Angel telephoned Auxillia Mnangagwa, calling her 'mum' and asking for help in laundering the US$1.2bn with the use of the presidential jet to move the cash. Angel asked her, "Remember those people that want to move cash. They would want to know, are we providing the planes or [are] they providing the planes?" Auxillia responded, "How would I know?...Ask father" referring to the president.
Angel then said, "I will see him at 6, right, and see how I best present this to him. I will present it to him then. Then he will discuss which planes he uses, his [Mnangagwa's] or their own." When Angel asked Auxillia if it was achievable to, "move the cash" she replied, "That's right."
Immediately after the call, Angel told the I-Unit, "You have got the president, you have got his family involved."[x]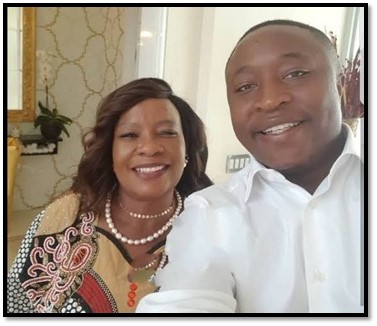 BBC: The President's wife, Auxillia Mnangagwa and son Emmerson Mnangagwa jr.
Another is EWAN MACMILLAN or Mr Gold, a veteran gold smuggler who has operated since the 1990's and was in partnership with Emmerson Mnangagwa even before he was elected Zimbabwean president in November 2017. Macmillan told the I-Unit that he was warned not to talk when he was imprisoned aged 21 for gold smuggling in the 1990's, "He was my partner, my exact partner. He said to me, don't open your mouth. Your life will get worse than it is," Macmillan recalled. "I said f**k, are you kidding me." Over the years, their relationship cooled, but Macmillan said they met again at a dinner after Mnangagwa became president. I walked in and he said, "good to see you, my old friend" and I said, "very good to see you and well done on your position."
He disclosed that these days he had a close relationship with the president's son, Emmerson Mnangagwa jr. and told the I-Unit, "I can put you straight in touch with him, that's no problem, he's a friend of mine." At this point Macmillan started boasting about his collection of classic watches adding that one of those watches, originally belonged to the president. "This is between us. I have Mnangagwa's gold-studded President." The son ran into debt and had to pay the debt off, so he gave me the Rolex. I paid the debt off, and he said, "Please don't tell my dad" and I think, "F**k, man, you're joking. I've got the dad's watch."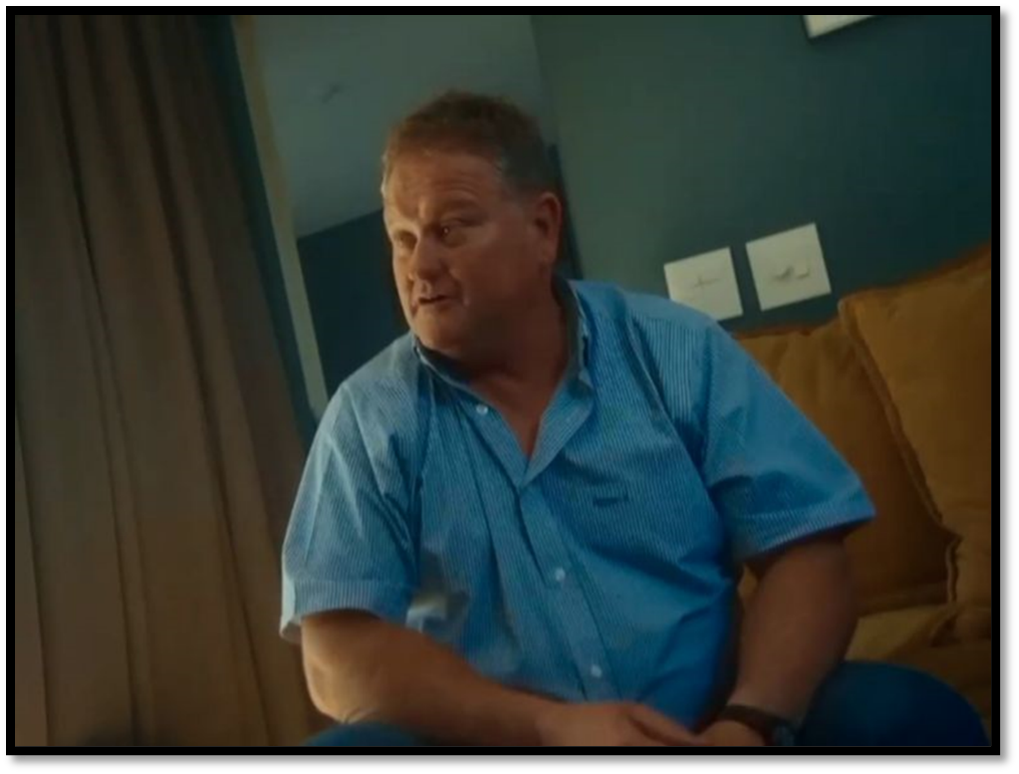 Al Jazeera: Ewan Macmillan, gold smuggler
Macmillan told the I-Unit, "There is an opportunity, a hell of a big opportunity to wash money here. I can give my partner gold in Dubai and he can just pay you anywhere in the world."[xi]
The brains behind Macmillan's operations and 'his partner' based in Dubai is ALISTAIR MATHIAS who told Al Jazeera he launders money for top politicians in Africa, including the King of Swaziland, Félix Tshilombo, the president of the DRC, the Zambian president, the Ghanaian president Nana Addo and Emmerson Mnangagwa, as well as many Russians. He uses a host of shell companies and all of the five Dubai-based gold refineries to make sure the money proceeds from the sale of smuggled gold "gets moved around." According to his statements to the I-Unit he moves gold valued at between US$70mn and US$80mn every month that has been smuggled from Ghana, South Africa, Zambia and Zimbabwe. He said, "In Zim, ED is my partner. I can't say it in public because he's sanctioned."
He told them, "You've sold it to a refinery and the money got paid in the bank account. So, it's very clean that way." The first step he said in laundering cash was to set up a company in Dubai that the smugglers could claim was involved in the gold trade. He told the I-Unit, "I can move as much as I want wherever I want for the most part. See, the best thing with gold is it is cash."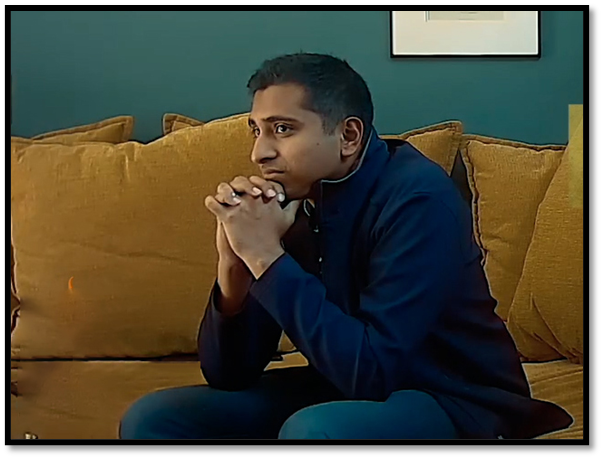 Al Jazeera: Alistair Mathias, the gold smugglers Dubai fixer
Gold is the preferred smuggling commodity in Zimbabwe facilitated by Fidelity Printers and Refiners
The official dealers in gold in Zimbabwe – Fidelity Printers and Refiners – cannot export gold officially from Zimbabwe as they are the subject of international sanctions. Yet, Zimbabwe is the sixth biggest producer of gold bullion in Africa and the illicit gold trade is estimated to cost Zimbabwe US$1.5bn every year, and these are the official estimates.[xii]
Zimbabwe suffers from an acute shortage of US Dollars, the currency that both Zimbabwe's artisanal miners and its gold producers preferred to be paid. Many of their import costs, such as mercury and chemicals are imported and require US Dollar payment; the international gold price is quoted in US Dollars; in addition the local Zimbabwe dollar currency is subject to high inflation.
So the smugglers named above have deals with Fidelity Printers and Refiners to buy gold bullion from the artisanal miners for US Dollars which they then export to Dubai and provide the hard currency for the Zimbabwean government. There are direct flights from Harare to Dubai through Emirates. The Al Jazeera undercover investigation showed that Kamlesh Pattni had several members of the Reserve Bank of Zimbabwe (RBZ) on his payroll, including Fradreck Kunaka, former general manager of Fidelity Printing and Refining. Documents showed Fidelity authorised smugglers like Pattni and Macmillan to buy gold from Zimbabwean miners on its behalf and the Reserve Bank also issued letters allowing the smugglers to bring millions of dollars of cash into the country.
Dubai is a haven for international gold smugglers
As Ewan Macmillan said, "It all comes out of Dubai. It's all Dubai, Dubai, Dubai, Dubai, Dubai."
Dubai has lax gold import restrictions with few questions asked about its origin or provenance and remains the key destination for smuggled Zimbabwe gold for this reason. The city has become one of the world's biggest investment destinations for white collar criminals because its' policies have been designed to minimise red tape and scrutiny and to assist businesses in setting up operations there. These make it a very appealing destination for money launderers and criminals.
Former FBI investigator Karen Greenaway, who now works as an anti-money laundering consultant, told Al Jazeera, "Dubai was set up to be a financial capital. They have set themselves up to be in the middle of the gold trade with lax laws and no enforcement. All of those things make Dubai a great place to have something like this, a major international money laundering operation involving, in this case, gold smuggling."
One of the biggest appeals of gold to smugglers and money launderers is that gold loses its identity once it has been melted down and refined…in effect, it erases its illicit past. Once 'cleansed,' the gold is shipped out to major gold hubs such as London and Switzerland. No gold can be certified as free from past laundering and crime.
The gold smuggling scheme – what Al Jazeera calls the 'golden laundromat'
This involves individuals such as Kamlesh Pattni, Ewan Macmillan and Henrietta Rushwaya, either buying on their own account, or on behalf of others such as ZANU-PF bigwigs, with a gold licence to buy direct from artisanal miners operating throughout Zimbabwe, or direct from Fidelity Printers and Refiners, and exporting the physical gold to Dubai. Rushwaya spoke of potential money launderers paying a 4% discount from the official gold price. Outsiders, such as the I-Unit posing as criminals operating from China, or Hong Kong, smuggle into Zimbabwe US Dollars they need to launder and deposit them with RBZ. Fidelity Printers and Refiners then supply them with physical gold (bullion) that is exported to Dubai.
Through complex dummy shell companies set up in Dubai registered as gold dealers, counterfeit identities and fake documents, the physical gold bullion is then sold to one of the five Dubai-based gold refineries and smelted, thereby losing its identity. The refiner pays the proceeds of the gold into their shell company bank account. The money has now been 'cleaned.'
The money proceeds can then be couriered back to Zimbabwe to purchase more gold or transferred world-wide as the money is now 'clean.'[xiii] As Rikki Doolan said, "It's a good washing machine, right?"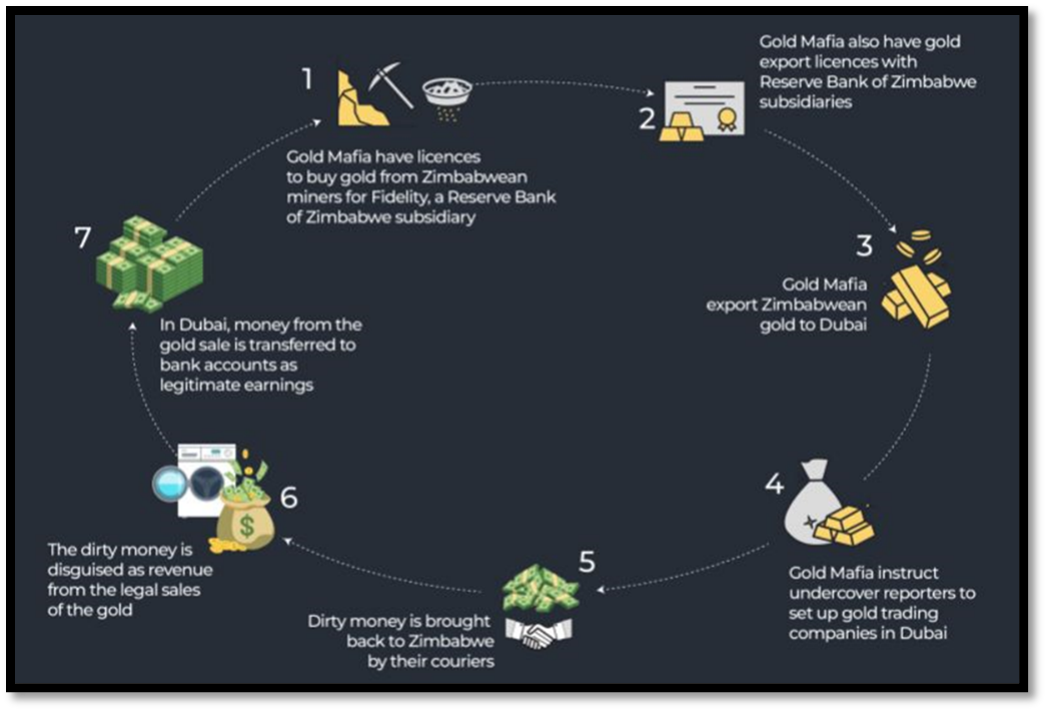 Source: Al Jazeera graphic
How deeply is president Mnangagwa implicated in gold smuggling?
In case after case during the undercover investigation by Al Jazeera, one name kept cropping up as the person the smugglers claimed gave them a protective shield: president Emmerson Mnangagwa or "ED" as he is known in Zimbabwe. All the evidence suggests from the scale of the Zimbabwean gold smuggling racket that he is deeply implicated, although he uses family and connections to distance himself from the smuggling networks.
Ewan Macmillan stated they had been partners in gold smuggling since the 1990's, that he still involved, but that these days, his son Emmerson Mnangagwa jr. rather than the president himself, takes an active role.[xiv]
Uebert Angel had Auxillia, the first Lady's number on his mobile, and received a positive response from her when he queried using the presidential jet for transporting dirty money on behalf of the I-Unit masquerading as part of a criminal network. They referred to the president as 'Number One' or 'Mr Jones.'
Uebert Angel and his side-kick, Rikki Doolan, hinted they were close to the president, had his confidence to arrange any money-laundering scheme and could arrange a meeting to discuss details.
Henrietta Rushwaya, the president's niece, gave a positive response when asked about a scheme to launder cash for gold was suggested over the phone.
Kamlesh Pattni said he enjoyed the president's confidence and was in constant contact through text messages with the president who he referred to as 'Tembo' (elephant) or 'the King.'
Alistair Mathias, the Dubai fixer said that the president was one of his numerous partners in Africa.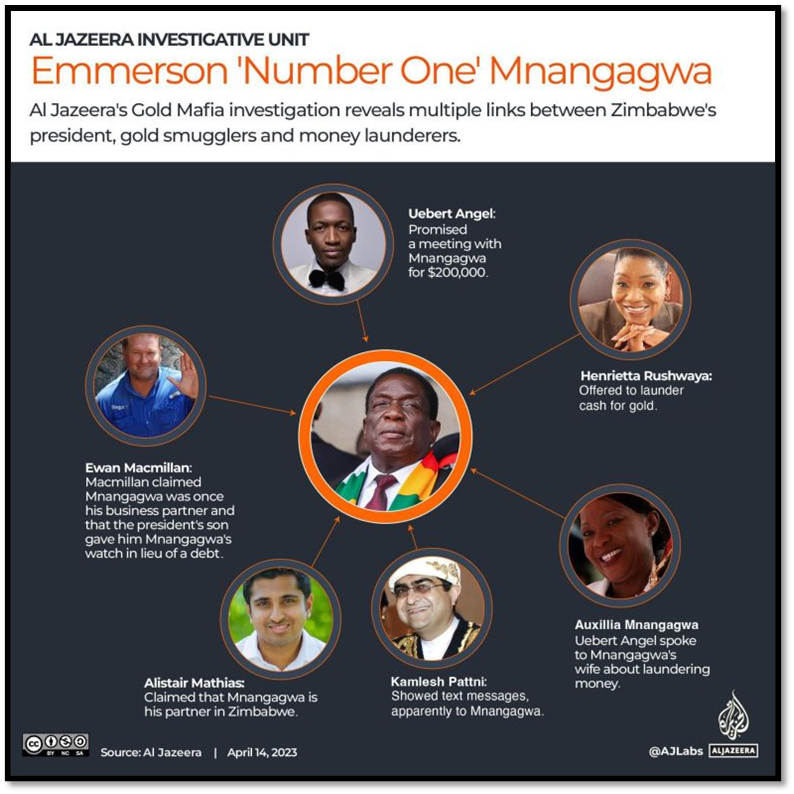 Source: Al Jazeera graphic
What Zimbabweans think of the Al Jazeera exposé on the Zimbabwe gold smuggling elite
Once again the widespread evidence of endemic corruption exposes the level of graft and economic mismanagement in Zimbabwe that has resulted in poor productivity, inflation and widespread unemployment – half the country live on US$30 or less monthly. On the whole the reaction was one of outrage, although Zimbabweans have long suspected that ZANU-PF individuals are corrupt and involved in every sort of criminality.
Zimbabweans have expressed outrage at what they say is the organised looting of the country's resources.
Angirayi Moyowatidhi, a 45-year-old Harare street vendor said, "When we were growing up, we were told of how the colonial regime of Cecil John Rhodes to Ian Smith looted our country's resources and externalised them to the United Kingdom. Now, we are witnessing the same process save for the fact that this is being done by our elected Black leaders."
Gift Gadza, a 29-year self-employed Harare youth told Al Jazeera, "The people who are involved in gold smuggling and breaking the country's laws to profit from gold must be arrested no matter their stations and positions in life. Ordinary people like me are suffering while other people are living pretty from gold looting. I think we need to unite as people and protest against the looting of resources in the country."
Nelson Chamisa, leader of the main opposition, the Citizens Coalition for Change (CCC) tweeted, "The #Aljazeeradocumentary exposes the extent of the rot at the top, but it's just the tip of the iceberg. This clearly shows how corrupt, rotten & broken leadership has destroyed a jewel and great country. Zimbabwe is not poor, it's just poorly governed!"[xv]
These criminals enjoy the patronage of Zimbabwe's elite
Zimbabwe's ruling party, Zanu-PF, tweeted on 11 April that the Zimbabwe Republic Police were investigating allegations raised in, "an Al Jazeera documentary that alleges several prominent Zimbabweans are engaged in money laundering and gold smuggling."
Zimbabwe's information minister, Monica Mutsvangwa, announced the authorities were investigating those singled out in the documentary, with the RBZ freezing bank accounts and assets of the country's ambassador-at-large, Uebert Angel, politically connected gold dealers Kamlesh Pattni and Ewan Macmillan, but opposition politicians poo-pooed any real investigation taking place saying, "the accountability, the oversight role is diminished quite a lot… To think that we're going to have any oversight of the gold mafia, it's a dream."
CCC's international relations secretary, Gladys Hlatshwayo, told Daily Maverick, "What is more significant is the depth of the issues raised against the Zimbabwe regime. This letter is a serious indictment of the Mnangagwa regime and evidence that the world is watching as his regime wantonly targets the opposition and plunders the resources of the country at the expense of the millions of suffering Zimbabweans. Zanu-PF has failed in absolute terms."
The RBZ governor John Mangudya defended RBZ bank because the gold smugglers risked bringing Zimbabwe to the attention of the Financial Action Task Force (FATF), risking potential grey listing[xvi] that would result in the flagging of all international transactions of Zimbabwean companies and individuals as high-risk, resulting in complicated compliance and administrative duties. This would likely result in lower investment and trade opportunities.
References
Al Jazeera Investigative Unit. 14 April 2023. Is Zimbabwe's President Mnangagwa behind gold smuggling? https://www.aljazeera.com/news/2023/4/14/is-zimbabwes-president-mnangagwa-behind-gold-smuggling
Al Jazeera Investigative Unit. 14 April 2023. Six secrets uncovered by Al Jazee​​ra's Gold Mafia investigation
https://www.aljazeera.com/news/2023/4/14/six-secrets-uncovered-by-al-jazeeras-gold-mafia-investigation
C. Muronzi. 30 March 2023. Al Jazeera: Zimbabweans outraged by Al Jazeera exposé on gold smuggling elite.
https://www.aljazeera.com/news/2023/3/30/zimbabweans-outraged-by-al-jazeera-expose-of-gold-smuggling-elite
T.E. Ndoro. 17 March 2021. Prophet Uebert Angel Appointed Special Presidential Envoy & Ambassador at Large For Zimbabwe. https://iharare.com/pics-prophet-uebert-angel-appointed-special-presidential-envoy-ambassador-at-large-for-zimbabwe/
T. Metelerkamp. 17 April 2023. Al Jazeera Gold Mafia exposé 'tip of the iceberg' for Zim corruption but accountability remains elusive. https://www.dailymaverick.co.za/article/2023-04-17-al-jazeera-gold-mafia-expose-tip-of-the-iceberg-for-zim-corruption-but-accountability-remains-elusive/
News24.com. 24 March 2023. Zimbabwe's Financial Intelligence Unit targets assets of diplomat, gold dealer.
https://www.newzimbabwe.com/zimbabwes-financial-intelligence-unit-targets-assets-of-diplomat-gold-dealer/
Al Jazeera Investigative Unit. 23 March 2023. Who are the Gold Mafia? Godmen, conmen and a president's niece. https://www.aljazeera.com/news/2023/3/23/gold-mafia-godmen-conmen-president-niece
Notes
---