Mukuvisi Woodlands Wildlife and Environment Centre
Why Visit?:
The 263 hectares of indigenous Msasa and Miombo woodland are very conveniently located for an initial introduction to Zimbabwe's game life, before you visit a National Park, or Game lodge. You will see zebra, giraffe, eland, wildebeest, ostrich, and impala, including some of their young born within woodlands, as well as a wide variety of birds and indigenous flora.
Situated in Harare suburb of Hillside with over 140 indigenous trees species including msasa, muhacha, and munhondo and over 300 bird species; enjoy the beauty of nature without leaving the city limits.
Home to a number of important environmental organisations such as Campfire, The Orchid Society, Action Magazine, The Zambezi Society and Wildlife and Environmental Zimbabwe (WEZ)
Now open every day of the year for viewing the animals from the viewing platform, especially around 10am feeding time when the plains game gather with their young and you may see eland, zebra, impala and giraffe.
Many local people visit for a 3KM, 5KM, 8KM or 10KM walk, or run, or bike ride on Sunday mornings. The gate opens from 7:00am and visitors can start their walk any time upto 11am. Dogs are welcome on Sunday, as long as they remain on a leash.
How to get here:
From Harare city centre take Samora Machel Avenue (A5) out of town to the Glenara Avenue junction. Mukuvisi Woodlands is 1.6kms; turn right into Glenara Avenue South and cross Robert Mugabe Avenue, continue to the next traffic light and turn left into Hillside Road. Entrance to the Mukuvisi Woodlands is 200 metres on the right. There is a guard at the Parking site.
GPS Reference: 17⁰50′11.47″S 31⁰05′20.28″E
Website: www.mukuvisiwoodland.co.zw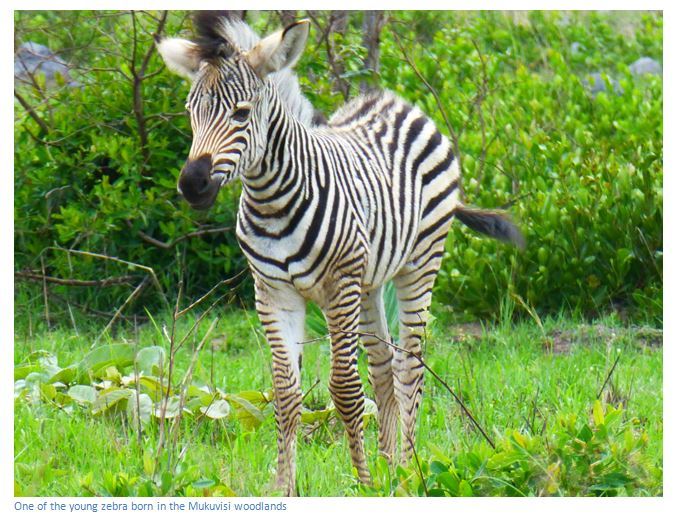 A game-viewing platform (bring binoculars) and a bird hide overlook a small dam. Food is placed in front of the game-viewing platform at 10am and 2pm, which brings the animals closer for observation and photos. There is a bird-park with lots of shy inhabitants to spot and in the animal enclosure find the tortoises hidden amongst the bales of hay. Two scaly crocodiles will excite the youngsters when they climb out of their pond and lie in the sun.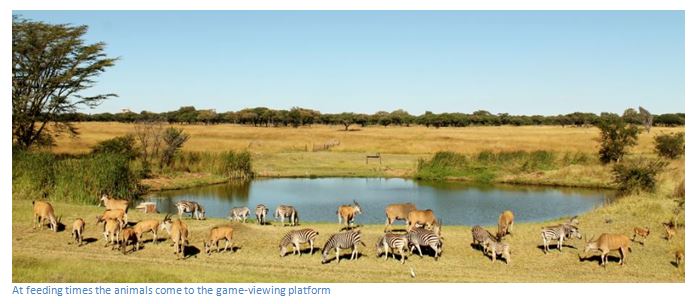 A few hundred metres from the entrance a small dam with a bird-hide allows budding ornithologists the comfort of a bench with a shelf to rest the elbows and support their binoculars whilst they watch and identify the numerous waterfowl and birdlife around the water.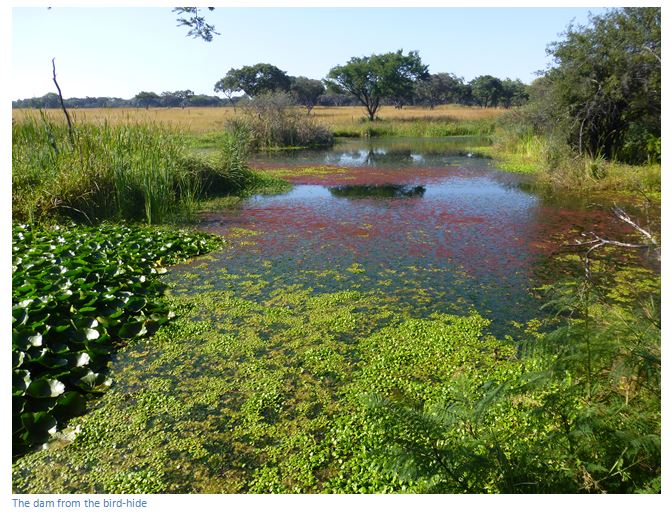 Every Sunday and public holiday from 7:00am to 11:00am families are encouraged to walk, or bicycle the self-guided scenic trails of 3.5 kilometres to 10 kilometres through the wilderness area. There is a small entrance fee for walkers / runners, or cyclists and for your dog, as long as it is on a lead. For visitors who want to get closer to the animals, take a horseback safari with a guide on well-behaved horses, or the guided bird watching walks with a ranger are excellent. All of these activities make for a good outing with some exercise and fresh air along the pathways in the shade of indigenous trees with riverine vegetation along the Mukuvisi and Chiraura rivers. Your dog will probably enjoy dipping his feet in the stream too! At weekends, look out for the SPCA Fun Show for you and the dog with plenty of categories and prizes.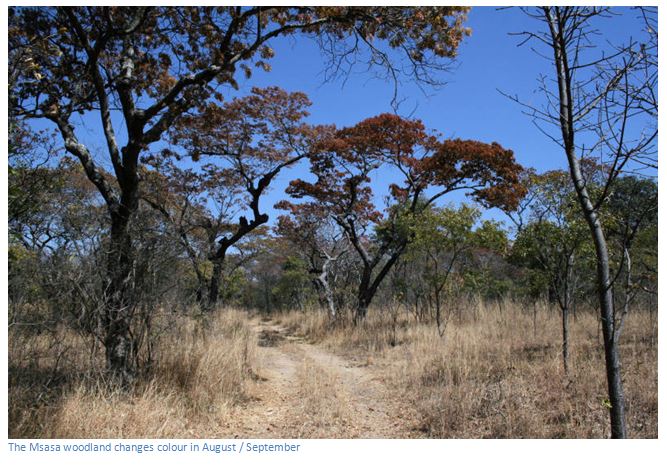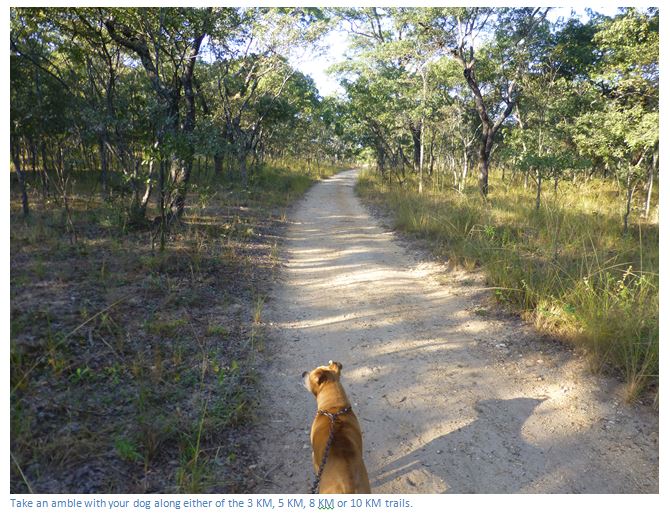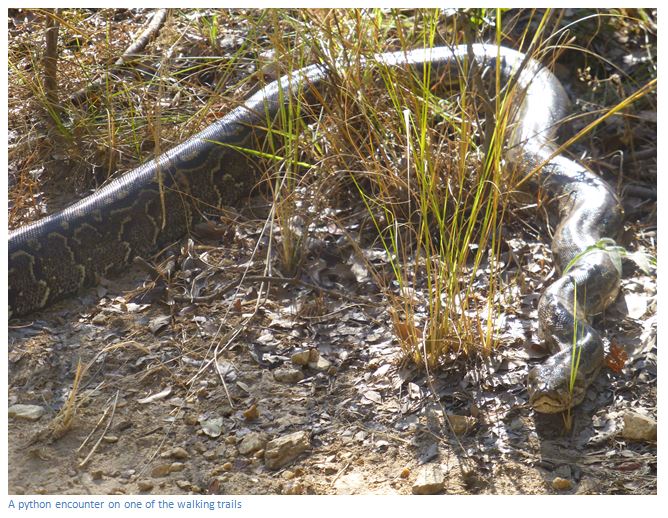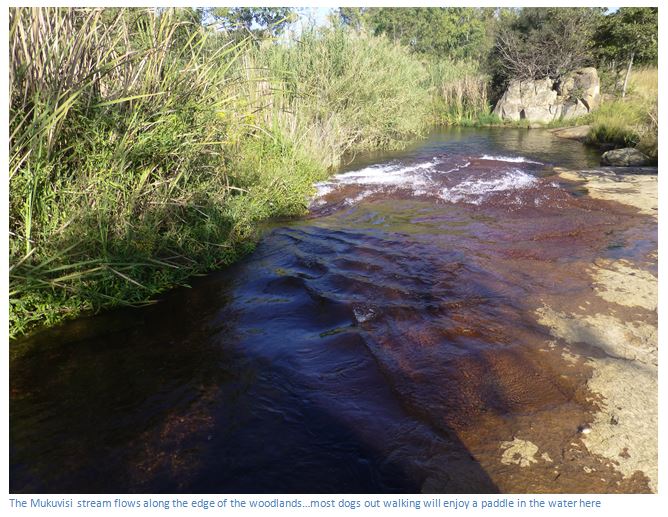 A coffee shop serves light meals, drinks and snacks. On Sundays get a bacon and egg, or steak roll with a tea, coffee or juice after your walk through the woodlands and your dog can enjoy a drink from one of the water bowls.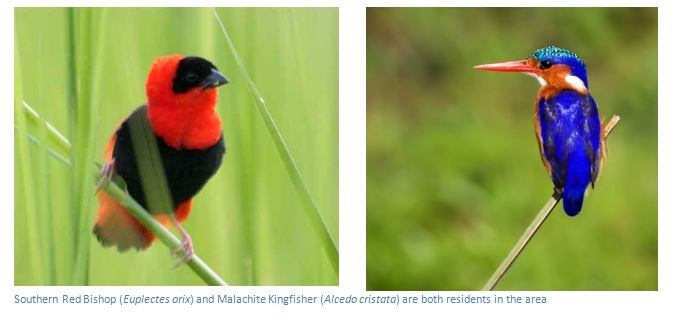 The nature reserve has a 99-year lease from Harare City Council that is managed by the Makabusi Woodland Association, a registered Charity. The focus is nature conservation through hands-on education through volunteer programs and school trips and natural science teacher training form an important part of the activities. In the past, there were young orphaned elephants, but they caused too much damage to the woodland trees and were moved to Antelope Park, Gweru.
An important function of the Mukuvisi Woodlands is the Education Centre where schoolchildren of all ages come for educational tours centred around environmental and wildlife awareness and teaching can move easily from classroom short lectures, videos, and practical activities in environmental sciences to guided walks within the woodlands. There are also holiday programmes for ages 6-12 and 13+ years on Tuesdays and Thursdays.
The Mukuvisi Woodlands hold various events throughout the year, as well as special events for special projects. Whether the one or the other, all of them are fun and educational for the whole family. For future events, please call ahead to confirm times and availability.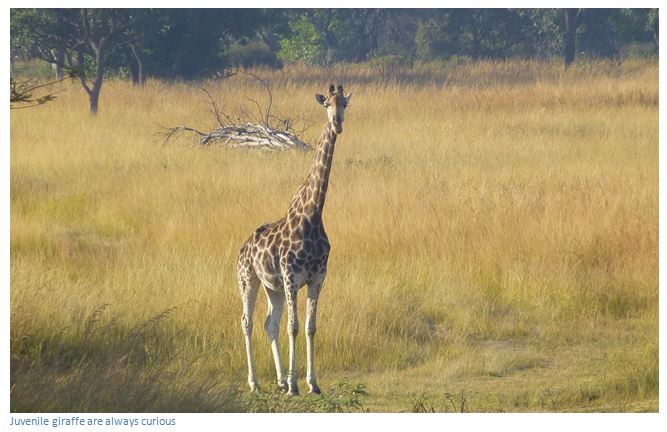 When to visit:
All year around Monday to Sunday 8am to 5pm
Fee:
An entrance fee is chargeable, but pensioners and 0-4 year olds enter free