Mugabe divorce papers expose their vast wealth
What's the issue?
Robert Mugabe's 33 year-old daughter Bona Mugabe filed for divorce in March 2023 against her former pilot husband of nine years, Mr Simba Mutsahuni Chikore, citing irreconcilable differences and that their marriage of nine years was "irretrievably broken down with no prospect of restoration." The couple married on 1 March 2014 in an extravagant ceremony attended by African heads of state and broadcast live on state television.
Bona Mugabe is demanding custody of their three children and maintenance of US$2,700 monthly per child until they reach 18 years old. She reportedly offered Chikore a house in Chishawasha, motor vehicles, cattle, and other "significant assets" as part of the divorce settlement, which Chikore swiftly rejected.
Despite admitting that the marriage has dissolved, Chikore believed that reconciliation is possible if external influences are eliminated, and the couple receives counselling and familial support.
iHarare recently reported that Bona Mugabe was determined to end her marriage with Chikore and that she opted to forego the equitable division of assets to speed up the divorce process and prevent any unnecessary delays as she was now fed up with his shenanigans.[i]
What do the divorce proceedings reveal?
Her estranged husband has stated that they are the joint-owners of at least 22 commercial farms in Zimbabwe and 25 properties in the affluent suburbs of the capital Harare and a Dubai mansion worth a listed total of about US$75m, although the value of the farms is not given. However he claims the properties listed are just the tip of the iceberg compared to Bona Mugabe's actual wealth. The court papers state Bona Mugabe also held, "substantial cash in foreign currency" and allegedly removed "cash in the sum of $760,000 in a bag" from the couple's residence and that he gave her US$129,000 from farm sales.
His plea filed in response to his wife's divorce application read, "Defendant (Mr Chikore) is not claiming even a third thereof [their joint properties] Defendant contributed to acquiring the properties through his savings from his former jobs as a pilot and the farming venture." He said his own wealth came from his late father-in-law, president Robert Mugabe, for work, jobs and special assignments done on his behalf.[ii]
He states the value of the matrimonial property must be shared and requested joint custody of the couple's three children.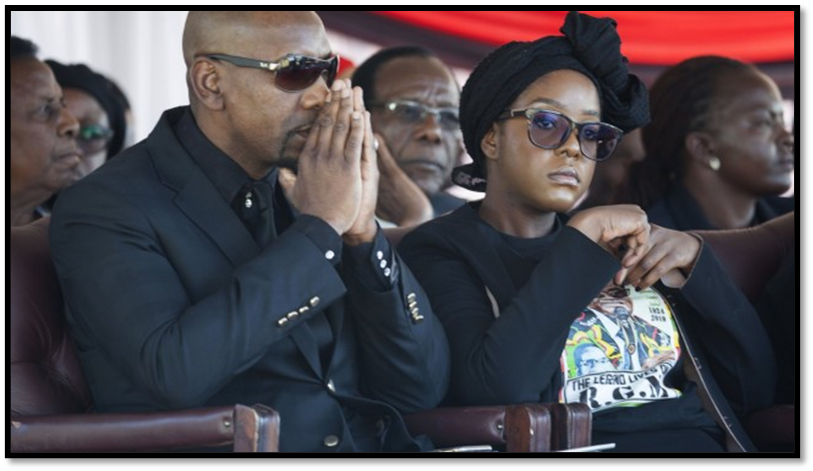 Photo: Wilfred Kajese/Getty: Bona Mugabe and her husband Simba Chikore at Robert Mugabe's 2019 funeral
Some of the Mugabe wealth previously held secret is revealed
The properties presently held by Bona Mugabe were allegedly given to her through her late father's estate.[iii]
Robert Mugabe ruled Zimbabwe with an iron fist for nearly 37 years and died in September 2019 two years after he was toppled in a military coup.
George Charamba, once Robert Mugabe's spokesman, told the BBC that the former president 'had nothing in his name'[iv] when he died in 2019 aged 95 years old survived by Grace, Bona, two sons and a step-son, although he was to receive £10m from the state as part of his pension.
Property valued at nearly US$75 million has been listed in court papers as their jointly-owned assets , including 21 farms[v] that have not been valued, and more than 25 residential properties in upmarket Harare suburbs, including one valued at US$40 million, along with a US$8 million mansion in Dubai. Also farm equipment, including combined harvesters and other equipment worth millions of dollars.
Cars listed included a US$790,000 Rolls-Royce and three Range Rovers.
The listed assets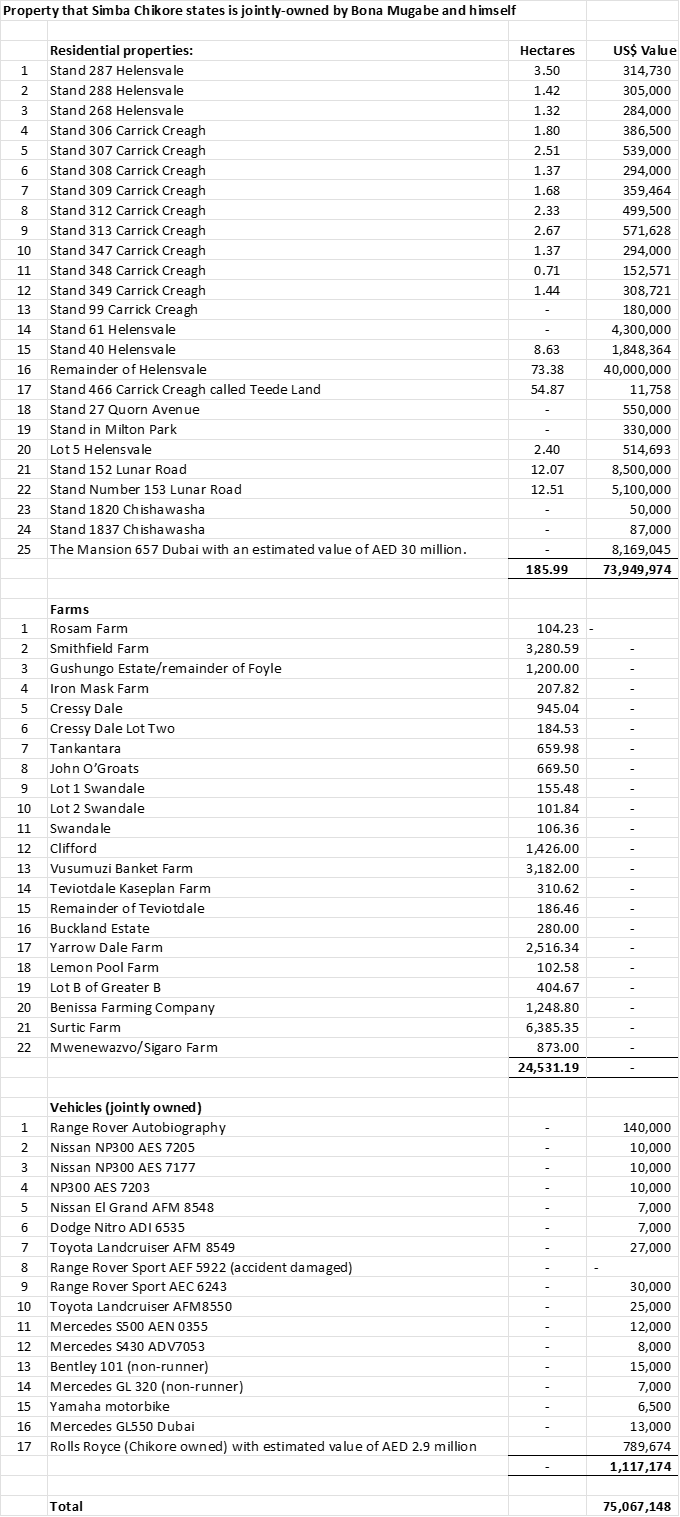 Zimbabweans have reacted with shock and outrage
Zimbabwe's citizens, who for decades have been exposed to rampant inflation and high unemployment reacted with indignation at the extent of the wealth allegedly accumulated by just one of Mr Mugabe's children that has previously been kept secret.
Zimbabweans since 2000 have experienced increasing impoverishment, when president Mugabe instigated and led a violent land-grab from white commercial farmers and distributed those farms to his senior ZANU-PF party officials and to landless peasants.
Hopewell Chin'ono, the well-known anti-corruption journalist, said the properties mentioned in the divorce case show that Mugabe was corrupt, "The Rhodesian Prime Minister Ian Smith and his family had one farm. Robert Mugabe's daughter and her family have 21 farms. Black Zimbabweans are desperate for land today 23 years after the land reform programme. Yet here you have black leaders like Robert Mugabe amassing huge tracts of land at the expense of the ordinary citizen. These people are not revolutionaries, they are looters."[vi]
Mugabe family wealth
The entire Mugabe family, led by Grace, the president's second wife, has long been accused of helping itself to some of Africa's finest once white-owned farms that were seized in early 2000 often violently from their former owners and Harare city properties that have been purchased with undeclared illicit funds that have been stolen from Zimbabwe's citizens.
Grace Mugabe was given the nickname 'Gucci Grace' because of her lavish spending on shopping trips. Some of her properties are clustered in the Mazowe Valley and include the Iron Mask Estate and Foyle Farm, once Zimbabwe's most productive dairy.[vii] Also a number of citrus farms, once owned by Anglo American that produced the iconic Mazoe Orange juice brand. For years it was known that Zimbabwe's taxpayers had funded farm worker wages, seeds, fertiliser and management of crop production, but nearby farmers and workers said that the herd had been badly mismanaged by the Mugabe's and no longer produced dairy products.[viii] Some of their farms have been invaded by landless peasants, others such as Surtic Farm, are overrun by artisanal gold miners.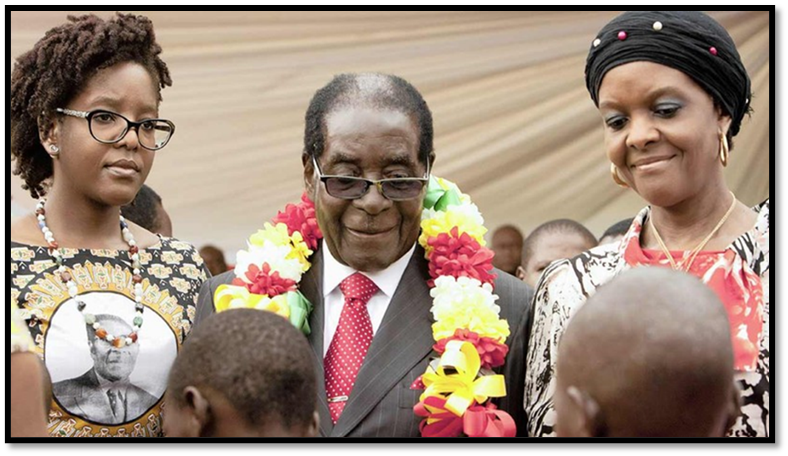 Photo AFP: President Mugabe with first lady Grace Mugabe and his daughter, Bona, left, at his 91st birthday celebrations in Victoria Falls.
Details of the family's lavish wealth have been disclosed against a backdrop of rampant inflation and high unemployment in the country. ZANU-PF mismanagement and corruption under president Mugabe resulted in the world's worst economic crisis in 2008 when the country had hyperinflation which ran into hundreds of millions of dollars, shops were without stock, almost all industry closed down, hospitals had no medical supplies. Hundreds of thousands of people (the diaspora) have fled to neighbouring countries to escape Zimbabwe's economic crisis and to remit their earnings back to their families.
References
Nation Africa. 3 May 2023. Messy high-profile divorce exposes Mugabe family's vast wealth
https://www.monitor.co.ug/uganda/news/messy-high-profile-divorce-exposes-mugabe-family-s-vast-wealth-4221662
P. Thornycroft. Rolls-Royces and Dubai mansion among Mugabe assets in £65m divorce battle. The Telegraph. 4 May 2023.
Bona Mugabe filed for divorce from former pilot Simba Mutsahuni Chikore in March. https://www.the-star.co.ke/news/africa/2023-05-04-mugabe-daughter-owns-dubai-mansion-divorce-papers/
Bona Mugabe and Simba Chikore's divorce hearing reveals lavish lifestyle with 22 farms and mansion in Dubai. May 2023. ol.co.za/lifestyle/love-sex/relationships/bona-mugabe-and-simba-chikores-divorce-hearing-reveals-lavish-lifestyle-with-22-farms-and-mansion-in-dubai-a1b52407-4fee-4074-bf34-ba6131c08d37
Robert Mugabe's daughter's wealth revealed in divorce case listing 21 farms and Dubai mansion. https://inews.co.uk/news/world/robert-mugabe-daughter-wealth-divorce-dubai-mansion-2313837
Notes
---