Makumbe Cave and Lower Makumbe Cave
Why Visit?:
A good example of how easily this precious and unique rock art is destroyed. Makumbe Cave is now completely ruined with smoke damage; once considered one of the best sites in Zimbabwe and used by Elizabeth Goodall for creating a stratigraphy of art styles for dating rock art – this technique is no longer used. This National Monument should be delisted as the rock art is no longer visible.
Visit for the good views over Makumbe Mission and Chinamora communal lands.
Lower Makumbe cave is easily accessed from Makumbe Cave, although the rock art has faded over time and comprises mostly sable antelope and some human figures.
How to get here:
Leave Harare on the Borrowdale Road, distances are from Borrowdale police station, 13.4 KM the road crosses a grid and enters the Chinamora Communal Lands, 16.3 KM pass the signpost to Domboshava National Monument, 26.6 KM pass the signpost to Ngomakurira National Monument, 29.9 KM turn left onto the gravel road. Makumbe Cave is set directly below the conspicuous cross at the summit of the hill facing north-east approached by a steep footpath. Travel 0.93 KM and turn left onto a farm track. Take the main footpath which leads up the hill just to the left of Makumbe cave.
Alternately turn left off the tar road 800 metres before the Ngomakurira turnoff onto a track signposted Rescue Store and bar. Go 600 metres to the shops, continuing straight on and turn right onto a track a further 100 metres on. This rough road continues across streams and up the back of Makumbe hill 4.5 KM before reaching the booster tower and cross almost directly above Makumbe Cave. High clearance vehicle recommended.
Lower Makumbe Cave is lower and about 150 metres to the east of Makumbe Cave.
GPS Reference Makumbe Cave: 17⁰31′20.92″S 31⁰13′28.64″E
GPS Reference for Lower Makumbe Cave: 17⁰31′23.54″S 31⁰13′30.82″E
Makumbe Cave
Peter Garlake thinks that the immense Makumbe cave, 100 metres wide by 30 metres deep once contained the richest display of rock art in Zimbabwe, even better than the Chikupu Shelter, a few kilometres away. Of course all Zimbabwe rock art is subject to natural geologic deterioration; but within living memory all the rock art at Makumbe Cave has been almost completely destroyed by smoke from the fires of Apostolic worshipers who camp out in the three deep recesses of the caves.
Earlier recording noted the left recess contained the remains of three formlings, or ovoids. The central recess had the remains of six formlings, or ovoids of unusually large size painted in light colours. The right-hand recess had most of the walls and the lower part of the cave ceiling covered with paintings. They were dominated by six large elephants, each 1.5 metres in length walking in procession with two calves between them. Superimposed on these huge elephants were rhinos, sable, kudu, including a group of superimposed female kudu, baboons and a fine red buffalo, eighteen inches long, with cloven hooves and a hairy neck. There were also vegetable motifs, possibly roots and bulbs and further formlings, or ovoids.
Cran Cooke and Elizabeth Goodall used the superimpositioning sequences at Makumbe Cave in the 1950's to develop a detailed sequence of successive styles of rock art ranging from Style I, which was considered the earliest comprising monochrome animals in silhouette, to Style VI which consisted of large clay plastered animal forms. Style II was considered the finest period for artistic and technical skills. Elizabeth Goodall writes of Makumbe Cave:" The large Makumbe Cave has a 9 metre frieze of six large elephant walking in procession with two calves between them. There are numerous other motifs around this frieze, which is an outstanding example for the study of superimpositions. Here, is the veritable stratigraphy of art periods. Whereas on most cave walls three to five layers can be discerned, in this case, up to fifteen different art layers and 'hand-writings' may be counted."
Although paintings depicting these styles are commonly found throughout Mashonaland, there is no real basis for these style sequence definitions and no recent research has been carried out on painting sequences. Many paintings had been superimposed upon others with the later paintings sometimes obscuring the earlier. This practice, which has bewildered many researchers, is alien to most artistic traditions; but the San artists may have interpreted them as valueless once they had served some magical or ritual act and were then ignored, their purpose served.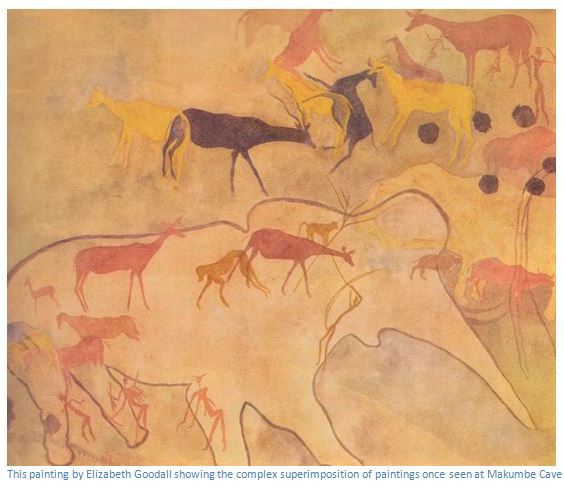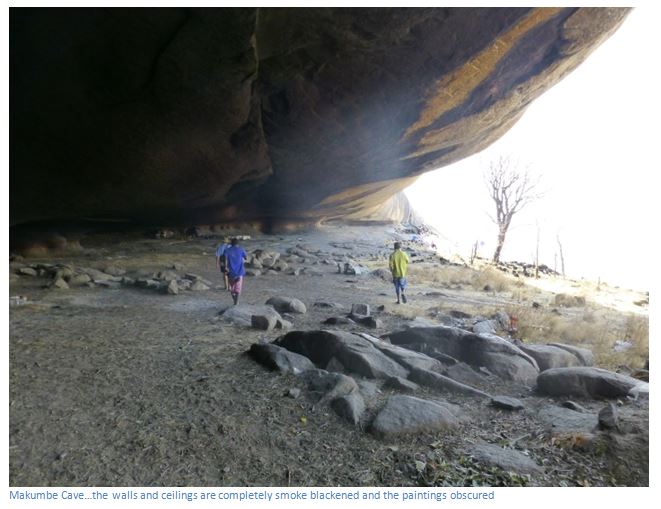 Lower Makumbe Cave
This overhang is at the base of the granite cleft that goes east from Makumbe Cave; it is about 150 metres away and hidden behind trees and shrubs and the paintings have not yet been vandalised. The eastern end has a large elephant with a faded kudu and the torso of a woman below with aprons with to the right the hind quarters of at least five two well-drawn antelope and a number of running stick figures with sticks.
The most prominent remaining panel has a large group of sable, some lying down. Many of the sable have deep hollows in their stomach areas that were originally painted white, but the paint has faded.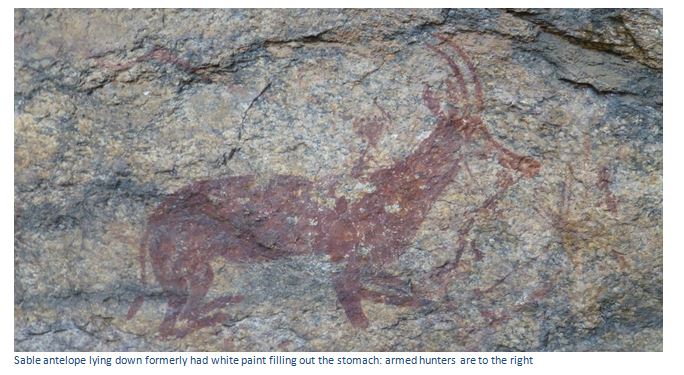 Further right a large yellow antelope has numerous other kudu and sable antelope superimposed on it and they are surrounded by quite crudely drawn hunters with weapons; in the centre of the frieze there is a possible aardvark.
To the far right is a line of four large ochre and yellow female kudu with two hunters.
The scene below which Elizabeth Goodall copied and interpreted as San hunters butchering three elephant after a hunt is no longer visible at this site.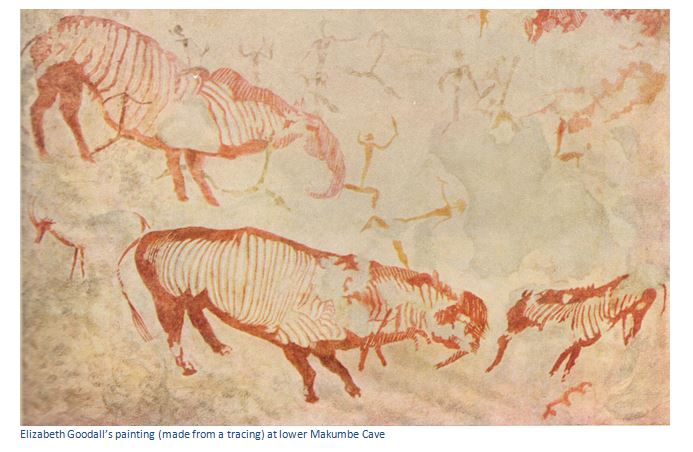 The concrete cross which is set above Makumbe Cave looking over Makumbe Mission is in memory of the Reverend B. Callan S.J. and says in Latin: Faithful father and friend of all of us who died 17th May 1939. RIP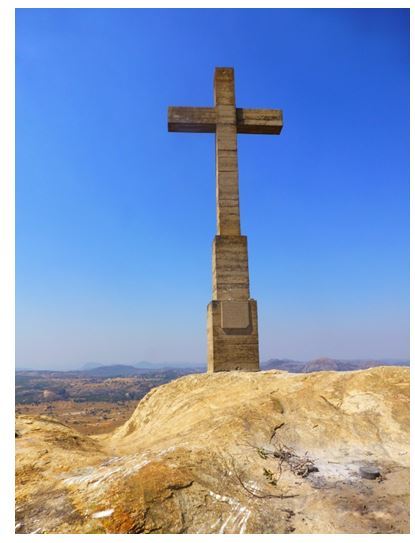 Willard Nyambiya is a freelance Tour Guide who enjoys taking visitors around Cultural and Historical sites in Zimbabwe. He works together with clients to create a customized tour package that suits the clients' interest. From city tours to rock art and ancient settlements around the country.
Face book: Zimbabwe Private Tours
Twitter: @zimtourguide
Emails: willardnyambiya@yahoo.com
Cell: +263 774 637 072 and +263 717 269 425
Acknowledgements
Prehistoric Rock Art of the Federation of Rhodesia and Nyasaland. E. Goodall, C.K. Cooke, J. Desmond Clark. Edited by R. Summers. National Publications Trust 1959.
P.S. Garlake. The Painted Caves. Modus Publication. 1987