Lieutenant-Colonel Edward Graham Pennefather (1850 – 1928)
Lieutenant-Colonel Edward Graham Pennefather (1850 – 1828) first commander of what became known as the British South Africa Company Police wrote a series of letters to his mother – summaries of those written between April to October 1890 are reproduced below from the National Archives of Zimbabwe with some of Pennefather's watercolours and sketches drawn as the Pioneer Column progressed on its march.
Pennefather's early military career
The best source of biographical detail on Edward Pennefather is from Col. A.S. Hickman's Men who made Rhodesia, but I have augmented these notes with information from other sources listed below.
Edward was the son of the Reverend William Pennefather, Rector of Callan, Co. Kilkenny, and his wife Ann, a daughter of General the Hon. John Broderick. Born in 1850, Pennefather received a commission as a Sub-Lieutenant in 1873 in the 6th Inniskilling Dragoons. In 1881 the Regiment, en route to India, was diverted to Natal, but arrived too late to take part in the first Boer War; instead, the Regiment went into camp at Pinetown, Natal, and this remained its station for many years. He was promoted to Captain on 18 June 1881 and, with the rest of his Regiment, gained experience of African conditions through service in Zululand in 1883 and 1884.
Pennefather was with the Warren expedition in Bechuanaland in 1885 when the body of Commander Bethell, R.N., was exhumed at Rooigrond, where it had been buried after he had been killed by the Boers. The body was taken to Mafeking, and there re-buried with great ceremony, Pennefather, then a Captain, being in charge of the firing party of 20 men of the Inniskilling's. He was back in Zululand in 1888 where he distinguished himself in operations in support of the arrest of Dinuzulu kaCetshwayo and Undabuko. As Commander of a small force of three troops of Dragoons and some eighty mounted infantry, he broke Zulu resistance at a critical moment by a spirited charge with the Dragoons. On 25 July 1888 he was promoted to Major and a brevet as Lieutenant-Colonel followed in the same year. A brevet was usually a promotion to a higher rank for outstanding service, but without the corresponding pay!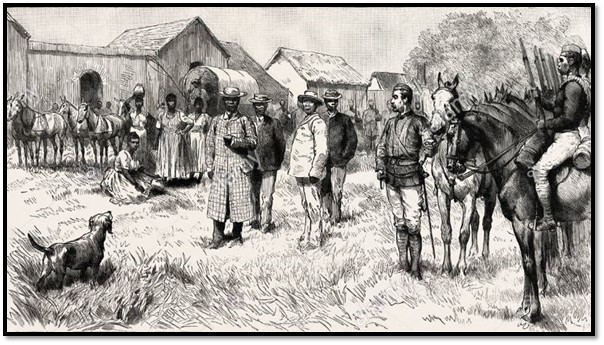 The Graphic. Dinuzulu kaCetshwayo, Undabuko and Chingwao, Zulu leaders, leaving Eshowe Gaol enroute to exile at St. Helena
Plans for the occupation of Mashonaland were maturing during 1888 – 1889
The formation of the Pioneer Column began at Camp Cecil, on the Crocodile River, between Palapye and Macloutsie in modern-day Botswana under Maurice Heany.[i] However, the recruiting efforts of Frank Johnson resulted in newspaper articles in the local press and Sir Henry Loch, the British High Commissioner for Southern Africa, knew that Rhodes' prospectors were allowed firearms, but asked for an explanation of the reported military force being recruited. Rhodes tried to bluff his way out: but in the end Johnson and Rhodes were forced to explain that their prospectors might be attacked by Lobengula's amaNdebele fighting forces and would need to protect themselves. In response, Loch ruled that the Pioneer Column to Mashonaland should be accompanied by an armed escort and recruiting began for a force, later known as the British South Africa Company's Police[ii] to protect the pioneers from attack by the amaNdebele, or by armed trekkers from the Transvaal (now Limpopo) Originally estimated at 250, the strength was raised to 500 early in 1890 and to 650 in 1891, both increases being due to threatened Boer incursions.
A further condition of Sir Henry Loch was that command of the whole expedition, including the 189 men of the Pioneer Corps[iii] under Major Frank Johnson, should be given to an experienced regular soldier and Lieut.-Col. Pennefather was appointed as overall commander, taking up his appointment on 1 March 1890. Frank Johnson was not happy with this arrangement but had to swallow his pride.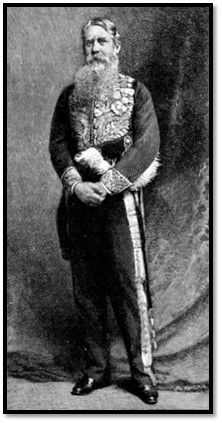 Sir Henry Loch, British High Commissioner at Cape Town
Recruitment continued at the main BSA Company's Police training camp at Macloutsie, a kilometre from the Matlaputla stream in present-day Botswana. In May 1890, when Capt. A.G. Leonard (E Troop) arrived, training was at maximum intensity under Pennefather. The camp soon grew significantly and served as a training ground, supply and communications centre. On the left of the road were the Bechuanaland Border Police (BBP) Troops under Major Raleigh Grey; between the two camps was Fort Matlaputla capable of holding 200 men. The Pioneer Corps camp at Fort Cecil was about forty kilometres away to the south-west.

The Graphic. Matlaputla Fort on the Macloutsie River, where Pennefather's British South Africa Company's Police carried out their training
The Pioneer Column moves out of Camp Cecil following training
This period of intensive organization and training was followed by an inspection by General Paul Methuen, commanding the Imperial Forces in South Africa, to determine the general efficiency of the force, again a requirement of Sir Henry Loch who feared the disastrous political consequences of the Pioneer Column being crushed by the amaNdebele.
Camp Cecil was abandoned on 7 June 1890 and the Pioneers teamed up with the BSA Company's Police. General Methuen carried out an inspection on 23 – 24 June 1890 with a march-past, then 30 ox-wagons were driven two miles out of the camp and a laager formed and an imaginary amaNdebele attack mounted. William Harvey Brown wrote: "The roaring of the cannon, the barking and rattling of the machine-guns and rifles, and the general din and clamour were enough to excite even the veterans." Methuen gave his approval of the force and permission for the march to take place.
A Troop under Capt. Heyman left Fort Matlaputla on the 27 June with B and C Troops moving out on 6 July 1890 with D and E Troops temporarily left behind. Just prior on the 4 July Pennefather wrote to Frank Johnson criticising his proposed layout of Fort Tuli and advising him to use the BSA Company's Police in its construction; a previous letter had been critical of Johnson's preparations for Lord Methuen's inspection.
This criticism won Pennefather few friends. Capt. Leonard compared Lord Methuen very favourably with Pennefather: "A leader for whom one would sacrifice anything, and such a contrast to Pennefather, who is noisy, discourteous, and loses the little head he has on every possible occasion, and when he has lost it, it takes him all his time to find it again."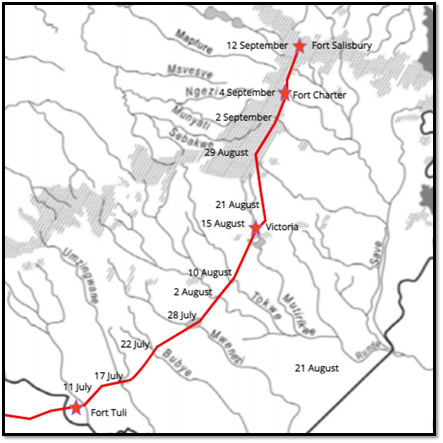 Map of the route taken in 1890 by the Pioneer Corps and British South Africa Company's Police
Leaving Fort Tuli for Mount Hampden
On 11 July 1890 the Pioneer Column with its BSA Company's Police escort and Pennefather in command, left Fort Tuli and crossed the Shashe River. The journey to Mashonaland was completed without being attacked by the amaNdebele, although there were plenty of sightings of small bands of warriors and no casualties were suffered; Pennefather must be given the credit for leading the column safely to its destination at Fort Salisbury.[iv]
Johan Colenbrander brought messages from King Lobengula demanding that they travel through Bulawayo and saying: "Who are you and where are you going? What do you want and by whose orders are you here? Whither are you leading your young men like so many sheep? Do you think they will ever return? Go back or I will not be responsible for the consequences. White blood can flow as well as black." To which Pennefather replied: "I am an officer of the Queen of England and my orders are to go to Mashonaland, and there I am going. We do not want to fight, we only want to dig for gold, and are taking this road to avoid your young men; but if they attack us we know how to defend ourselves."

The column reached the top of Providential Pass on 13 August 1890 where they were comparatively safe from amaNdebele attack and Pennefather left C Troop under Capt. C. Keith-Falconer in charge to establish the first Fort Victoria: "you will put the fort, which has been traced out, in defensible condition without delay."

Finally Fort Salisbury was reached, where on 13 September 1890 a ceremonial parade was held with B Troop of the BSA Company Police under Capt. P.W. Forbes, and the Headquarters Staff, along with the Pioneer Corps and the Union Jack raised at what became Cecil Square (now Unity Square) to mark the successful occupation of Mashonaland.[v]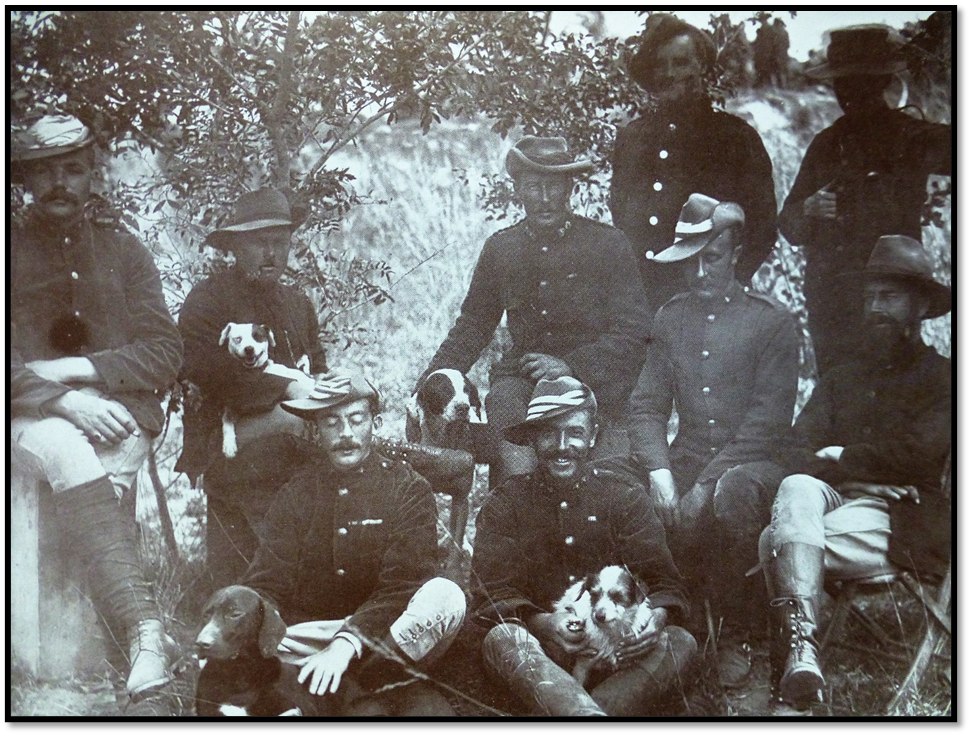 Photo by Lieut. W. Ellerton-Fry – British South Africa Company's Police Officers
L-R, back row; Lieut. CWP Slade (B Troop) Surgeon-Capt. RF Rand (HQ)
Middle row; Sub-Lieut. MHG Mundell (B Troop) Capt. PW Forbes (B Troop) Lieut-Col EG Pennefather (OC the Pioneer Column) Lieut. D Graham (Adjutant HQ) Canon F. Balfour (Chaplain HQ)
Front row; Sub-Lieut. the Hon EW Fiennes (A Troop) Capt. HM Heyman (A Troop)
Some contemporary opinions of Pennefather
On 30 October 1890 Pennefather arrived back at Macloutsie, where he met Rhodes and next morning travelled with him in his Cape-cart to Fort Tuli before taking leave. He returned to Fort Tuli on 29 December 1890 and Major Leonard in his book How we made Rhodesia comments on a rumour that he and A.R. Colquhoun, the acting Administrator of Mashonaland, did not hit it off, remarking that to a certain extent it was not surprising as Pennefather had been away for so long. According to Leonard Pennefather was quite free in his criticism of Colquhoun in the mess at Fort Tuli, that he considered Colquhoun had tried to assume too much power.
Leonard goes on to say: "whatever Colquhoun's faults, it is excessively bad form of the Commandant of the force to openly criticise the Administrator, but I am not surprised at this, as a man who will speak to his officers as I have heard him, and publicly censure them before their own men, is not fit to command a regiment, no matter what his other qualifications may be. The less said about Pennefather, the better. Of course, Colquhoun has no business to interfere in the interior working of the police, but as Administrator he has every right to move the troops about where he considers necessary… Certainly a comparison between the two would be incontestably in favour of Colquhoun, who has brains and tact, while the most noticeable features in the other are entire absence of tact and a furious temper."
Pennefather remained at Fort Tuli for a period to supervise the training of the BSA Company's Police recruits in equitation. Rhodes was so inundated with letters of introduction on behalf of men seeking enlistment that he sent them onto Dr Rutherford Harris, the Company's Cape secretary, to take them on – regardless of their qualifications and apparently no less than half of the last batch had absolutely no idea of how to ride. According to Leonard: "they were all sorts and conditions of men."
Pennefather went down with dysentery at Fort Tuli and was treated by Dr E. Goody and nursed by Mother Patrick and her Dominican Sisters. He left Fort Tuli on his way to Salisbury on 14 February 1891, but was reported to have died at Fort Tuli, and I relate the circumstances from Hugh Marshall Hole's Old Rhodesian Days.
"During that wet season communication with the south was only maintained by relays of mounted dispatch-riders, and even this method was unavailing in January and February when the rivers became impassable. The result was that all sorts of baseless rumours gained credence as to events in the newly occupied territory. Monty Bowden, who before joining the pioneer force had been a well-known and popular member of an English County cricket team, was one of several whose death was reported and cabled to his relatives at home. But he was by no means dead and afterwards took morbid pleasure in reading his obituary notices, and especially the accounts of a memorial service in his native county.[vi] An even stranger experience befell Colonel Pennefather, the Commander of the Police. He had gone down the line on some duty or other and was cut off by flooded rivers from returning. At one of the largest rivers, the Lundi, two dispatch-riders, unable to cross, hailed each other from opposite banks. "Any news from the south?" shouted the one from the Salisbury side. "Yes" was the answer: "Colonel Pennefather is delayed at Fort Tuli." But the roar of the torrent caused this item to be misunderstood, and in a few days word reached Salisbury that the Colonel had died at Tuli. The flag was lowered to half-mast, and, after a decent interval, the colonel's kit and camp furniture, in accordance with time honoured custom, was put up to auction, and eagerly snapped up by the junior officers. A few days later when the floods subsided the colonel started on his return journey, but before reaching Salisbury encountered one of his subalterns proceeding southward on leave. This young gentleman was so staggered at beholding what at first he thought must be a ghost that he forgot for the moment that he was wearing an excellent pair of field-boots bought at the above-mentioned auction. He partially pulled himself together and attempted a salute. But the Colonel's eyes were sharp: "What the devil do you mean, sir," he thundered out. "You've got my boots on!" Nor would he listen to explanations until his trembling junior had taken them off and restored them humbly to their lawful owner."
There are sources other than Leonard that indicate that Pennefather could be unreasonable. Lieut. E.E. Dunne, the transport officer, was put under arrest on an allegation of neglect following the death of Sgt H Hackwell on 16 April 1891 when their wagons were held up by the flooded Lundi River. Towards the end of July, he was released by Dr Jameson and compensated as there was nothing to show that any proper enquiry was undertaken by Pennefather.
When Pennefather met Cpl. C.H.F. Divine and Tpr. R.C. Smith looking for lost horses he made no enquiry as to whether they were themselves responsible but according to Divine:" at this he let himself go, and I got such a telling-off – it was no good telling him that I had not lost the horses, so I suffered in silence. He said we were not to be trusted with goats, let alone such valuable animals as horses. When the Colonel had completely exhausted his vocabulary, he rode off."
At its conclusion and after the disbandment of the Pioneer Corps, the BSA Company's Police were largely engaged in the administration of Mashonaland and in maintaining communications with Bechuanaland. During 1891 in establishing the Company's authority in Manicaland, the Police clashed with the Portuguese who had interests in the same area and there was a sharp fight at Chua Hill near Macequece.[vii]
However, there were other opinions that are far more benevolent of Pennefather. In July 1891 he was at Fort Hill in Penhalonga soon after nursing Sister's Rose Blennerhassett, Lucy Sleeman and Welby had arrived on foot from Beira, but had no hospital facilities. Blennerhassett and Sleeman writing in Adventures in Mashonaland wrote: "just at that time Col. Pennefather of the Inniskilling's, who was commanding the Chartered Company's Police, came from Salisbury to Umtali, and made a pilgrimage to our camp on Sabi Ophir hill. We found him a delightful person to deal with. With the prompt decision of a soldier he had the vexed question settled in a day, and it was resolved that we should occupy a small encampment close to the police lines. Hospital huts would be built near it and in two or three weeks we should be able to receive patients."
Winding down the BSA Company's Police
During 1891 agreement was reached by the Foreign Offices in London and Lisbon on the respective territories of Britain and Portugal and with this, coupled with a gradual extinction of Boer ambitions across the Limpopo River[viii] as the administration of Mashonaland grew firmer, there no longer seemed a need for a strong Police force. At this time, to secure a population of 1,500 Europeans, there was a force of 650 military Police costing the BSA Company £250,000 a year to maintain.
Marshall Hole writes that Rhodes and Jameson put their heads together to devise some means of ridding themselves of this white elephant. Jameson could not understand why the police would not carry out civil duties such as driving post-carts, assisting in surveying farms, or doing clerical work for the administration. On one occasion he said to Pennefather: "when your men are doing nothing you show them in your returns as 'available for duty' but the moment I ask a man to do something, I am told he must get extra duty pay."
In the months August 1891 to January 1892 Hickman records that 3 new recruits were added and 477 were discharged, reducing the Police force to 40 and the onus for defence was transferred to a newly formed body of volunteer settlers and prospectors, the Mashonaland Horse. Pennefather's own discharge should not have been a great surprise to him.
Indeed, Frank Johnson wrote on 29 September : "My dear Colonel, the officers of the Pioneer Corps have unanimously requested me to ask you to accept a piece of plate as a souvenir of the Expedition which it has been our good fortune to participate under your command, and particularly to mark our appreciation of the constant courtesy and consideration which we – the Officers of a 'very irregular' Corps have at all times received from you.
Knowing that you dislike anything approaching a formal ceremonial we have thought it best to write you a simple note tendering you our most hearty congratulations on the peaceful and satisfactory termination of the Pioneer Expedition to Mashonaland which you have so efficiently led. With kind regards from us all, Believe me, my dear Colonel, yours sincerely, F. Johnson."
The nursing sisters wrote in Adventures in Mashonaland: "on the 2nd January 1892, Col Pennefather rode into the camp [at Old Umtali] Everyone rejoiced to see him. He told us he projected spending the rainy season in Manica and set to work to make his hut comfortable. Great therefore was the general surprise when, on the 4th of January, a runner brought him a despatch informing him that the Military Police were to be disbanded and a Civil police created. The Colonel's services would therefore be no longer required. He could re-join his regiment when he pleased…The announcement was too sudden not to be unpleasant, but the Colonel took the affair very calmly: "I've received the Order of the Sack, Sister." That was all he said about it. We were very sorry indeed to say goodbye to him."
With this reduction, Pennefather left the Company's service and returned to his regiment. He retired from the army in 1895 to become Inspector General of Police in the Straits Settlements in Singapore before retiring to Tonbridge Wells in 1910.
Jono Waters quotes the following note from his grandson: "in the 1914-18 War he was sent on a remount commission to the USA to buy horses for the British Army in France. He accompanied the horses thereto and at the age of 68 years he took control of a YMCA canteen to serve the troops in France. In 1925 he returned to South Africa with his wife and died on 29th of April 1928 while visiting his son on a fishing trip at Draycott in the Underberg.
Pennefather is buried in the Commercial Road Cemetery in Pietermaritzburg (grave number 732) and his epitaph reads: Lt Col Edward Graham Pennefather VI Inniskilling Dragoons CO Pioneer Column 1890. Born 12 February 1850 Died 29 April 1928 RIP"[ix]
A memorial stone near his mother's grave at Wyke Regis, Dorset reads: "."Also in memory Of Lt-Col Edward Graham Pennefather 6th Inniskilling Dragoons February 12, 1850 - April 29, 1928. When the morning was come Jesus stood on the shore."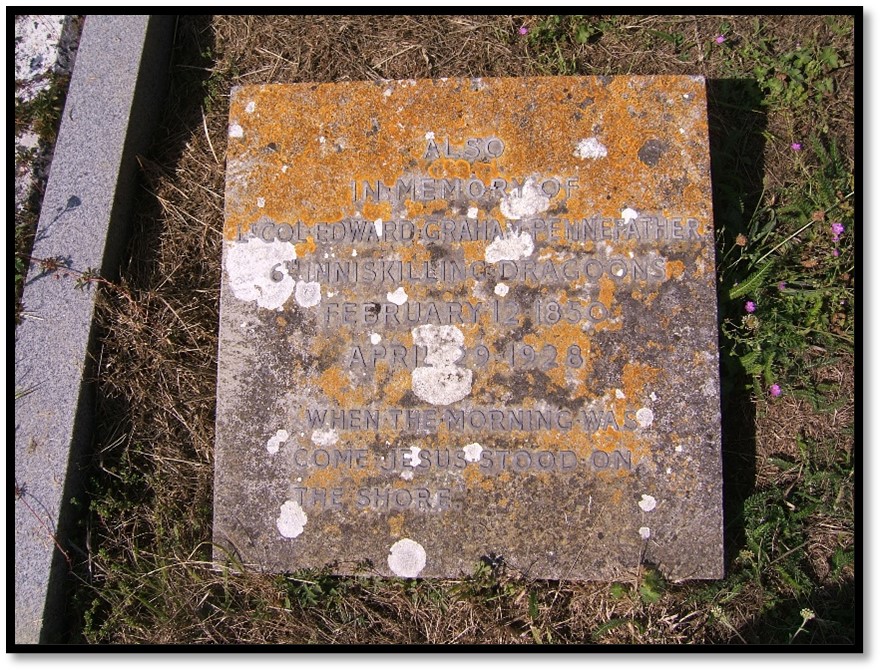 Memorial to Edward Graham Pennefather at Wyke Regis, Dorset
He married Mary Crompton and they had four children:
William Pennefather, born 1887
John Broderick Pennefather, born 1892
Mary Gibbings (née Pennefather)
Edward Matthew Pennefather
The men under Lt.-Col. Pennefather's command
Once Rhodes had out-manoeuvred all the concession hunters at Lobengula's kraal; he asked Sir Frederick Carrington, Officer commanding the Bechuanaland Border Police, how many men would be required to ensure a safe passage to Mount Hampden in Mashonaland; 'a minimum force of 2,500 armed men' was the reply.
The number under Pennefather who crossed the Shashe River is given in Ellerton-Fry's Occupation of Mashonaland as 223 men, including 37 civilians attached.[x] The British South Africa Company's Police, including D and E Troops stationed at Fort Tuli and Macloutsie camp was about 459, and Khama's force under Rhadicladi, but responsible to Pennefather, was 300 making a combined total of 982.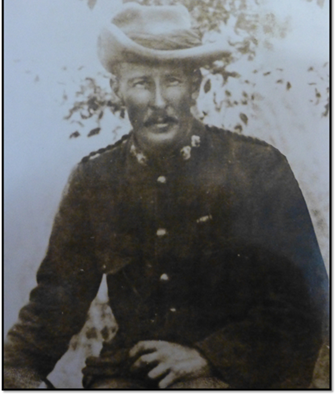 Lt-Col. Edward Graham Pennefather
Letters from Lt.-Col. E.G. Pennefather to his mother in 1890 to 1891 (NAZ PE 1/3/2)
28 April 1890 written from Kimberley Club – waiting for the Governor, objects of the expedition, Pioneer Column and BSAC Police organisation, preliminary route plan
My dearest Mother, you will get two letters from me by this mail, I suppose, which will be rather a puzzle to you until you have grappled with the rapidity of my movements. Now that I am here I shall have to wait and see the Governor, who will pass through here on his way back from Barotseland, mainly I believe to see me!!! He has taken up this Chartered Company's scheme very warmly, but he insists the expedition be under military control, until the forts and line of communication are thoroughly established. The real object of the expedition is to be beforehand with the Portuguese on the south of the Zambesi, and if possible to get an outlet to the sea on the east coast and to that the expedition ought to start not later than the middle of June. I shall probably have no concern with the coast part of the business, and when the company is thoroughly established in Mashonaland I shall probably leave their service. I cannot be on the frontier, the Macloutsie River where my force is to assemble until the latter end of May, as I must wait for the Governor. That will not give me much time to see the efficiency of my command. I am to have 500 mounted rifles, 250 pioneers, 2 7-pounder guns, 2 Gatling's, a Gardner gun and a Maxim. Why this vast assortment I don't know? This is all in case the Matabele should cut up rusty, but there does not seem to be much chance of that, as we shall not march through the inhabited part of their country at all, and after the first 100 miles or so, shall not be strictly speaking in Matabele territory. I will send you by next mail a rough sketch of the country, and the proposed route of my force. I have not any time to write more now, as I have been busy all day looking into details of equipment. I only arrived here at 6 this morning, goodbye dearest mother, give my love to all. Ever yr. affect. son, Edward G. Pennefather
11 June written from Macloutsie Camp – state of training and equipment
My dearest Mother, [EGP discusses some family matters, including the fact that Canon Balfour, who is acting Chaplain, went to Harrow with him, but he does not remember him] Our horses have not arrived yet, and consequently we are not yet ready to move. I hope that the first batch will be here on Friday, and that the others will move more rapidly than they have done. As far as the men's drill goes, dismounted, they do it capitally and I don't think they are far behind very good regulars. Probably in many ways they are as good as the best; they are a very handy lot too, and we are able to do everything for ourselves; just now I am making a lot of charcoal for forge purposes; I find that two or three kinds of trees about here are excellent for it.
The weather is capital, cloudy and cool. You would even think you were well within the tropics here a thousand feet or so above sea level which is very little for a place so far inland. I have no time to go after big game, although there is some not very far off. Last Saturday I went out shooting birds with 3 or 4 of my Officers, and we pot 4 or 5 brace; we had no pointers or might have got more; down on the Macloutsie game is much more plentiful.
We are expecting an occasion of strength on Friday, the Pioneer Corps is coming in then; they are only about 200 strong, but they have a lot of horses. They have a scientific attachment too. General Methuen ought to be here on Tuesday or so. I don't know whether he will inspect us before the horses come. I have had no time to do sketches or maps, but I hope to do more at leisure on Saturday and Sunday, but my official correspondence has assumed enormous proportions; there are so many different branches of ordinary military service all combined in our one corps, and a lot of official civil work besides. So, I must shut up now with best love to all. Ever yr. affect. son, Edward G. Pennefather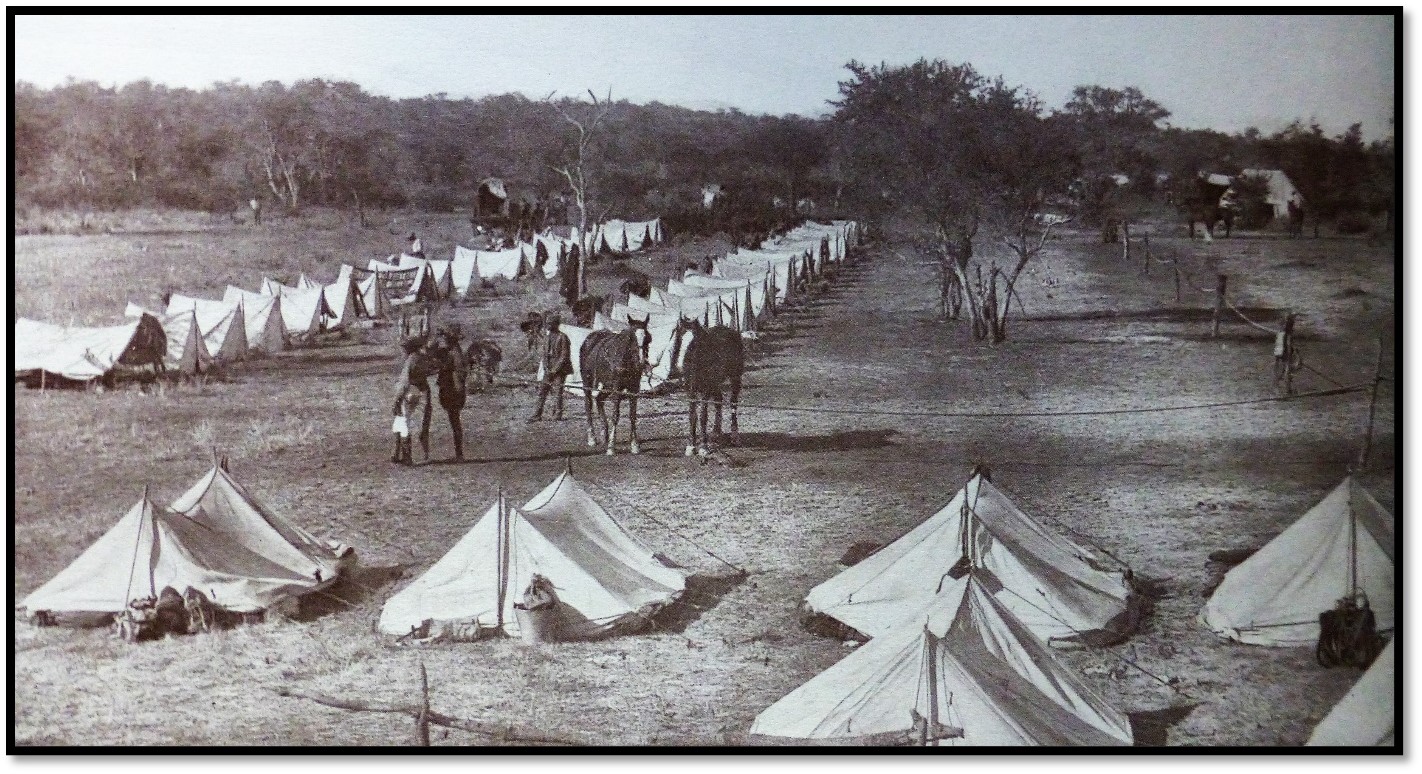 Photo by W. Ellerton Fry of Macloutsie Camp
17 June Macloutsie Camp – the road has been cut to Tuli
My Dearest Mother [EDG discusses some points in his mother's letter of 24 April which reached him the previous week] I am always wondering how you will take my having come up here; my letters to you when it was first offered to me will not have given you a true idea of what the business really is, but my later ones from Kimberley will have put things in their true light. It is a great jump from being a troop officer (even in the Inniskilling Dragoons) to running a show like this, both as to military and a great extent political detail; for we are so far from Cape Town that I have to take a great deal of independent action. I am glad to think the Governor believes me to be quite capable of carrying the whole thing through myself, as in a telegram to General Methuen he says I am not to be interfered with in any way; please God I shan't fail.
There is still plenty of work to do, but I have my good assistants. Malcolm Graham is a first-rate Officer; he is my adjutant now. My Staff officer has enough to do with supplies, transport, and intelligence branch, without doing regimental work; but when Sir John Willoughby leaves me; I shall get Graham made Staff Officer if I can.
I don't know whether I told you what a collection of Inniskilling's there are up here. Captain Forbes is one of my Captains, Captain Grey is commanding the BBP, and Captain Iye, who retired from the force about a year ago has an appointment at Kimberley and came up at my request to help in getting the corps equipped, and he has been of the utmost service to me.
I wish I had had the raising and equipping of the corps; I think I would have got some suitable equipment at a smaller cost to the company and I certainly would have done better in the matter of horses. I went out shooting to the Macloutsie on Saturday afternoon with Willoughby. He wounded a koodoo bull, which I pursued for about 8 miles as his pony was too slow. I had only a shotgun and tried to get a long ride and kill him with buckshot, but although I was never more than 60 yards behind him and often only 20 yards, I could not get up to him and had to leave him as my horse got done – however we took up the spoor next morning and found the koodoo dead.
We have had the country surveyed and a road cut to the Tuli River; 67 miles east of this; we get out of Khama's country when we get there.
18th. I have been very busy with the General all day and have had no time to write you a decent letter. Goodbye my dearest mother; best love to you all. Ever yr. affect son, Edward G. Pennefather
24 June, Macloutsie Camp – inspection by General Methuen, shortage of horses, electric searchlight.
My Dearest Mother, I got your letters of May 1st last Sunday and am very glad to find that you are pleased at my new job; perhaps you will be more pleased in some ways when you get my letters from Kimberley, but I know you will be sorry when you realize that my being here means another separation from Mary; however, I hope to get away on leave at the end of the year and see her again. Of course, you will have later news of her then any that I can give you. My present address is: Commanding BSAC Police, Macloutsie, Mashonaland. What my real address will be in a month hence, goodness knows, but my letters will be forwarded from here.
General Methuen has been here all last week inspecting my Corps. I am glad to say he was very much pleased. I was not here for all the inspection, as he wished me to go and see how the Pioneer Corps were getting on. Their camp is 20 miles from here. I left before daybreak on Friday and spent Friday and Saturday in inspecting them. I returned here on Sunday and met the General on his way down to inspect them; he returns tonight. I am very much handicapped by the want of horses, of which I have only about 150 as yet, and many of them are dying, or ill of horse sickness. I have to be my own vet; my treatment so far has been more successful than any other. If the General is satisfied with the Pioneers they will move 60 miles further east, to the Tuli river, and one of my troops will go with them; the remainder I will take on as soon as my other horses arrive. I shall go the Tuli myself this week and select the site for what will eventually be my base camp, returning here as soon as possible. The envoys from Lobengula have not come in yet, and I don't know what has become of them. The pioneers have an electric searchlight, to be used in case of a night attack, which works splendidly. You can see everything within 400 yards as clearly as by daylight, and the light can revolve so as to throw the light on any place you like. We can easily see the light from this camp, it would also be a splendid guide for any man who lost his way. They have an artillery troop with two seven pounder guns, a Gardner and a Maxim (these last are machine guns) This troop is very smart. The other two Troops are not very good, but they have capital horses.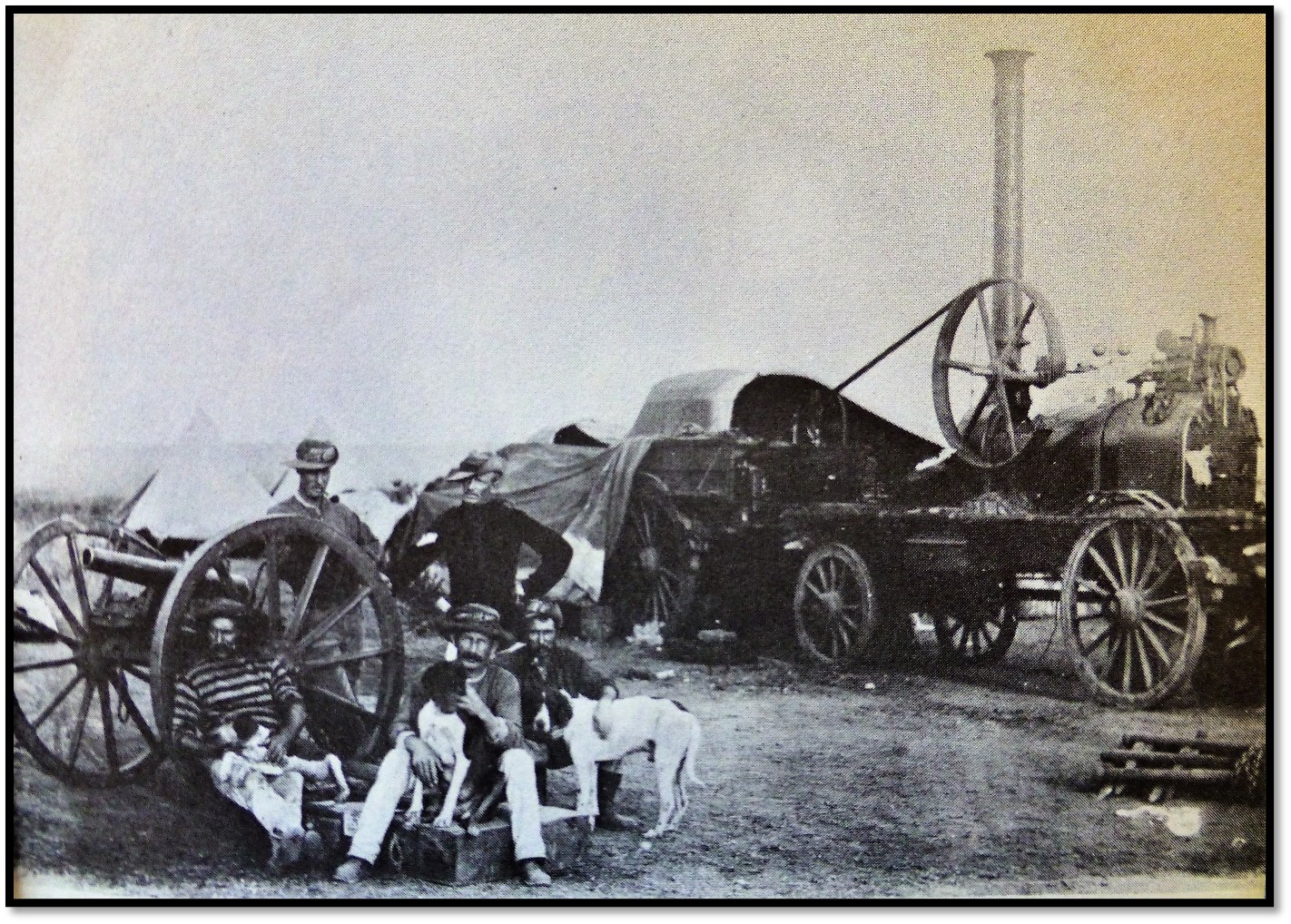 Photo by W. Ellerton Fry of a seven-pounder gun and the searchlight's boiler on an ox-wagon – Pennefather in the foreground holding one of his pointers.
The General has just come back and says the Pioneers will do, so one Troop starts for the Tuli tomorrow morning.
You will of course know by this time that all parcels for Mary are still to be sent to Natal – perhaps you might send books for me here; if so, address them Lt. Col Pennefather, B.S.A.C. Police, Mashonaland care of B.S.A. Company's Agents, Cape Town. Please have my papers addressed to Macloutsie, as on the front page of this letter. I suppose Mary is getting mine now, but she does not send any on to me.
…the most important things concerning myself which have happened of late, are the arrival of my dogs and my kit. My correspondence is dwindling down now (official correspondence, I mean) which is a good thing for me, especially as I haven't time for much. I must send off this, or rather shut it up; I shall be too busy tomorrow to do any private writing. Please give my love to all at Clifton and such relations as you may be writing to. Ever yr. affect. son, Edward G. Pennefather.
Saturday 28 June, Semelale River, 40 miles east of Macloutsie camp – Pioneers and one Police Troop arrived. F.C. Selous, Dr Jameson, A.R. Colquhoun, General Methuen already there. "I am having some trouble with Rhodes and others, but as all his representatives up here agree thoroughly with my plans, I shall have my own way;" horse sickness
My Dearest Mother, this place is about 40 miles west of our Macloutsie Camp, which I left on the evening of the 26th hoping that the Pioneers and one Troop of my police would have been here yesterday. However, owing to difficulties of trekking they didn't turn up until this afternoon. I got here late yesterday evening, having left the troop of police in the morning. Selous, Dr Jameson and Mr Colquhoun have been here for some days, and General Methuen joined them on Tuesday last. This morning I meant to have been on the Tuli, 28 miles further on, but it was no use going on whilst the troops were so far behind; so, the general, Selous and I went out to hunt giraffes. We saw one – but it saw us and got a long start, the bush was very thick, and after a gallop of about 2 miles we lost it. I got a fine spill and left several pieces of my face in a thorn bush; the General also lost a good part of his nose, and there seems to be about a pound and a half of flesh missing off Selous' arms, so we had rather a good day altogether. I am going on to the Tuli tomorrow with Selous to choose a site for a fort.
I got this morning your letters of 8th May by a post-rider from the Matlaputla, they had not been sent to Mary somehow. I also got one from her dated 1st June. She says she has taken to rink skating and is much the better for it. [there follows family news]
I shall return to Macloutsie camp about Tuesday, but I hope only to be there for a week, and then to bring the rest of my force onto the Tuli. I am having some trouble with Rhodes and others, but as all his representatives up here agree thoroughly with my plans, I shall have my own way and my position will probably be much stronger afterwards.
I am very curious to know what all our friends and relations think of my new turn; I suppose they hardly realise, any more than you seem to do, that within a couple of months I shall be on the Zambezi, or not 100 miles from it. I told General Methuen the other day that if this goes through all right, I shall apply to have my name noted as qualified for staff appointment; he said that I certainly ought to do so and that I should have a very good claim.
My poor horses have been dying fast, now that I've got them, but I think that the Matlaputla is a particularly bad place for them, so I'm going to move the others on from here as fast as they arrive. I must shut up now, for its late, and I have to make an early start tomorrow. Best love to all, my dearest Mother, Ever yr. affect. son, Edward G. Pennefather.
5 July Macloutsie Camp – start tomorrow with two Police Troops for Tuli ; go on from there with the Pioneers; road now being cut for 40 miles beyond Tuli; describes Tuli; failure of contractor to deliver supplies; supply convoy to follow under Sir John Willoughby.
My Dearest Mother, this will be the last letter which you will get from me for some time from this place, I start tomorrow with two troops enroute for the Tuli, where I expect to be for a few days, and then to go on with two of my troops and the Pioneers. I am having the road cut now for 40 miles beyond the Tuli, so as to have a good start when we do get off; and then we shall have to keep cutting our way ahead. I have done a good deal since I last wrote to you. I rode on with Selous to the Tuli to select a site for the fort. The waggons followed us to within 7 miles of the Tuli, and we returned to them and slept there. On the way we saw two giraffes and a troop of quagga but did not go after them.
Next day I started at 7am and rode 50 miles back here, getting in at 7pm. I shot a zebra within 10 miles of camp. The Matabele envoys that I expected here turned up on the Tuli, and General Methuen sent back a message to Lobengula by them I hear now that there are another lot on their way here. Please thank everybody for their congratulations, if all goes well, as please God it will, there will be something indeed to congratulate me about.
Mary writes the word that the foreman told her the other day that he wished I was back, as he wanted me to take the Zululand Police whilst their commandant is on leave; that would have been a good job as I could have had Mary at Eshowe – but this ought to lead to more. If I were a bachelor and a bit younger, this would be a splendid thing, for I think I could go all over Africa. My ambition at the present moment is to get home to England and have a few quiet years there and then go to India – the height of my ambition is the command of a cavalry brigade.
I haven't described to you the country between this and the Tuli; it isn't quite so flat as this and is covered with bush; the Tuli [actually the Shashe River] at our Fort is a broad bed of sand about 400 yards wide, with low banks fringed with enormous reeds. It must have been a fine game country a year or two ago. Beyond the Tuli as far as one can see the country is flat and bushy, with a few low kopjes about it. There is a stream about 50 yards wide in the bed of the Tuli. You may divide the rivers in this part of Africa into three classes (1) those in which the water always runs (2) those in which there is always water to be found in pools, or by digging in the sand (3) those in which there is never any water, except just after rain.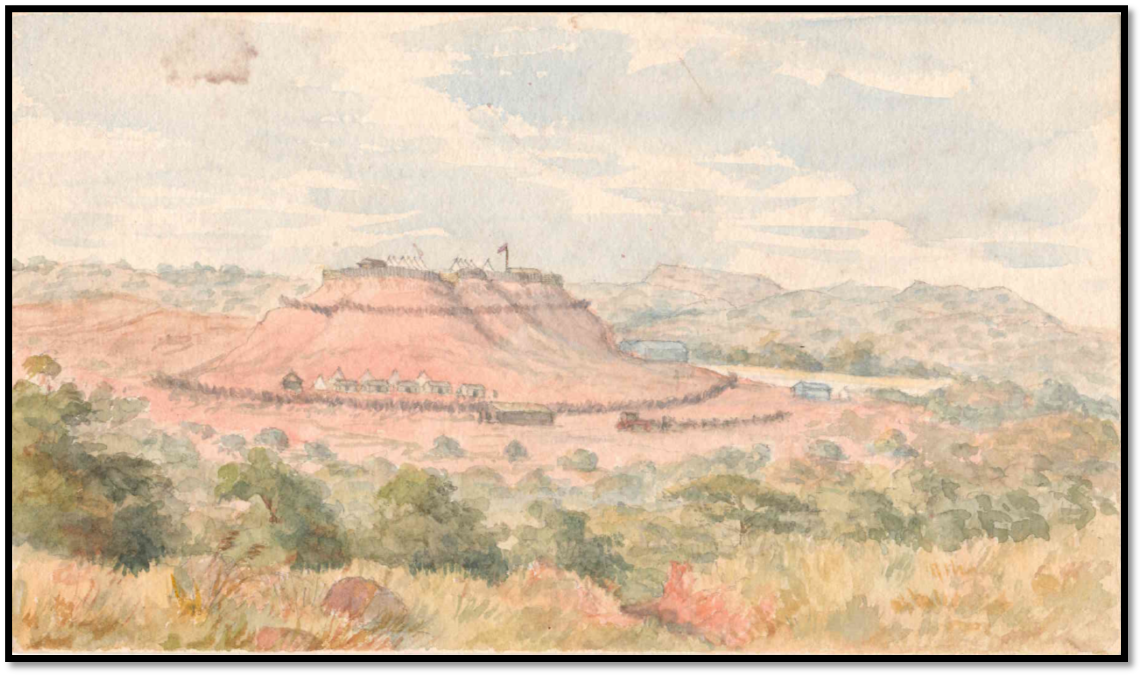 NAZ - Pennefather's original watercolour of Fort Tuli
Sunday 6th. I really don't think my mind is in fit state to write letters with this move coming off; I can think of nothing but supplies, transport, and lines of communication. The contractor here has failed altogether to keep up a supply for our requirements in the way of meal and other articles of consumption, and there are only two other small stores within 300 miles. My horses have not arrived, though I expected them on June 28th and I cannot hear anything of them. I have to leave my staff officer[xi] behind to see to horses and supplies and to bring up a convoy as soon as possible. He will probably catch us up 200 miles from here; halfway to our destination. No time for more. I am enclosing a letter to Charlie for his birthday. This will go next week. Best love to all. Ever yr. aff. son, Ed. G. Pennefather
17 July, Umzingwane River – evidence of game, almost certain the Matabele will not attack, 27 miles further will come to Banyai country and can get guides for next 100 miles.
My Dearest Mother, here we are journeying on as fast as the oxen will allow us but owing to have to make our own roads our progress is slow. We are only 35 miles from the Tuli, but I hope by this time tomorrow to be 20 miles further on. We shall be badly off if we aren't, for there is no water for that distance. We are in a great game country, thick bush with a good many rivers. There have been elephants here in the last 24 hours, and waterbuck, koodoo etc., are plentiful – but alas! I can't allow any shooting, for fear of the pickets getting to think that a shot means nothing. I don't believe that the Matabele are going to attack us; in fact, it is almost certain that they won't, as the King has sent an envoy to Cape Town, but it's as well to be on the safe side. We are not interfering with them in any way as we are nearly 100 miles from their nearest kraals, and never shall be any nearer. I had a letter, written at Lobengula's bidding by a white man at Buluwayo, sent to me whilst I was at Macloutsie, and I sent him an answer which has been very highly approved by all the people who are carrying on negotiations with him. I think he is fully persuaded that we meant to attack him, or at least to go through the country where his people live; he claims all this part where we are, and no one lives here, but his people come down to hunt game.
About 27 miles further on we come to the Banyai country, which is thickly populated, but the people are awfully afraid of the Matabele. However, we can get guides there who know all the country for the next 100 miles or more, and we may perhaps get them to run the post for us. I hope that the Matabele won't interfere with our line (I can't call it a line of communication, for one can hardly say that there is any)
We shall soon get out of this thick bush country, and I hope then to be able to travel a little faster, but there will be a great many rivers there, and sometimes crossing a river 100 yards wide takes longer than marching 10 miles – as the sand is heavy and drifts have to be made.
I am very sorry that you don't think Weymouth will be possible this year, but I hope you won't allow the time to drift by without getting somewhere for the summer – any change would be better for some of you. I seem to have lost the art of writing letters when I'm on the march. I suppose it is that the novelty of the whole thing has worn off, and I take no notice of what used to surprise me. Even here, when I am making a road through a country untraveled except at rare intervals by some Boer hunter, there seems to be nothing to chronicle. This place only differs from our other halting places in that the river is much bigger, and that there are some very fine trees and splendid grazing along its banks. There must be plenty of lions about, although we never hear them, for every stray animal gets killed within a few hours. There is very little game in the Banyai country, which is thickly inhabited. I did a sketch at the drift here yesterday, but as it had to include several figures, it was no good. There is an energetic photographer with us however[xii] who takes photos on every possible opportunity and who took several of the drift and others of the scenery. I hope his plates may not get broken, he is sending them to the Cape to be developed. I must shut up now, as it is nearly time to march. Best love to all. Ever yr. affect. son, Edward G. Pennefather.
22 July, Bubye River Camp – three rivers in next five miles, column halted for day while drifts made, method of road making, Chief Setoutse of the Banyai paying respects, contact with small scouting party of Matabele, accounts of expedition in English papers.
My Dearest Mother, I only hope that you are enjoying glorious weather and the best of health, as we are, and I flatter myself by thinking of you all at Minehead or some other salubrious and comparatively rural place. If only communication were rapid, I should be glad to see you at afternoon tea (which is now in full swing) in the laager. If anybody is writing to Francis O'Brien. Please tell him that I am carting about a 6 month's supply of tea and coffee – I shall never forget his solicitude for my creature comforts when I was at Rorke's Drift; I am now more than 1,000 miles from there by the nearest available road.
I am taking advantage of a difficult piece of road making to write my letters. We have three fair sized rivers to cross in the next five miles – so the column has halted for the day whilst the drifts are being made. There is no road through all this country except the one which we are making; but the "making" is simple. It consists in cutting a path through the bush wide enough for a waggon to go along – then you drive your waggons along and the road is made. But at these rivers we have at first to find a suitable place and then to cut the banks down, and where the bed is sandy, we put down branches of trees and long reeds to prevent the waggons from sinking deeply in the sand.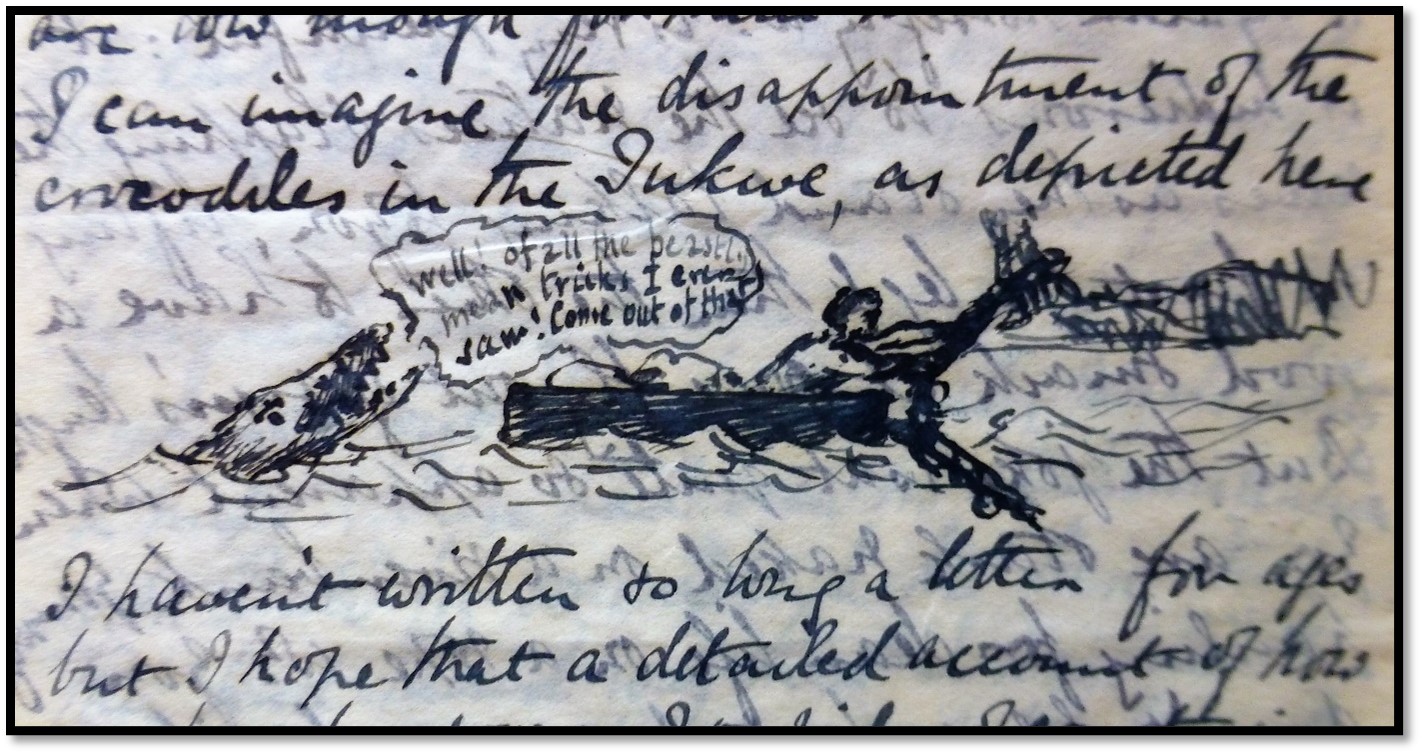 NAZ Pennefather letter – the crocodile says to the boatman: "well! Of all the beastly mean tricks I ever saw! Come out of that."
I got a cheery letter from Mary yesterday enclosing your letters of 29 May, as you will see by my reference to Minehead. I hope you will have got Jon away for a change.
I have been travelling through quite a different country for the last two days. The trees are much larger and more diversified, and there is a range of granite hills which we have been skirting, some of them over 1,000 feet above the plain; many of them are huge domes of bald granite, apparently quite inaccessible. Away to the north these granite hills rise range upon range in all sorts of curious shapes. I have had no time to sketch today, but yesterday I did one from the corner of the laager. There are a few natives living in the hills, the Chief Setoutse came to pay his respects today. His people are Banyai – they are a miserable lot, living in abject fear of the Matabele. We found a small scouting party of the latter the other day; they said they were sent down to see what road we were going. I sent them back to Lobengula, assuring him that I was not going to interfere with his people and I think they will accept the situation quietly; they were very much impressed when told there was a Queen's Induna (myself) in command. They asked me if I had ever been in the country before, and when I said no, they said you English are wonderful people – you come into a country that you have never seen, and you go straight through it to the point you want to reach.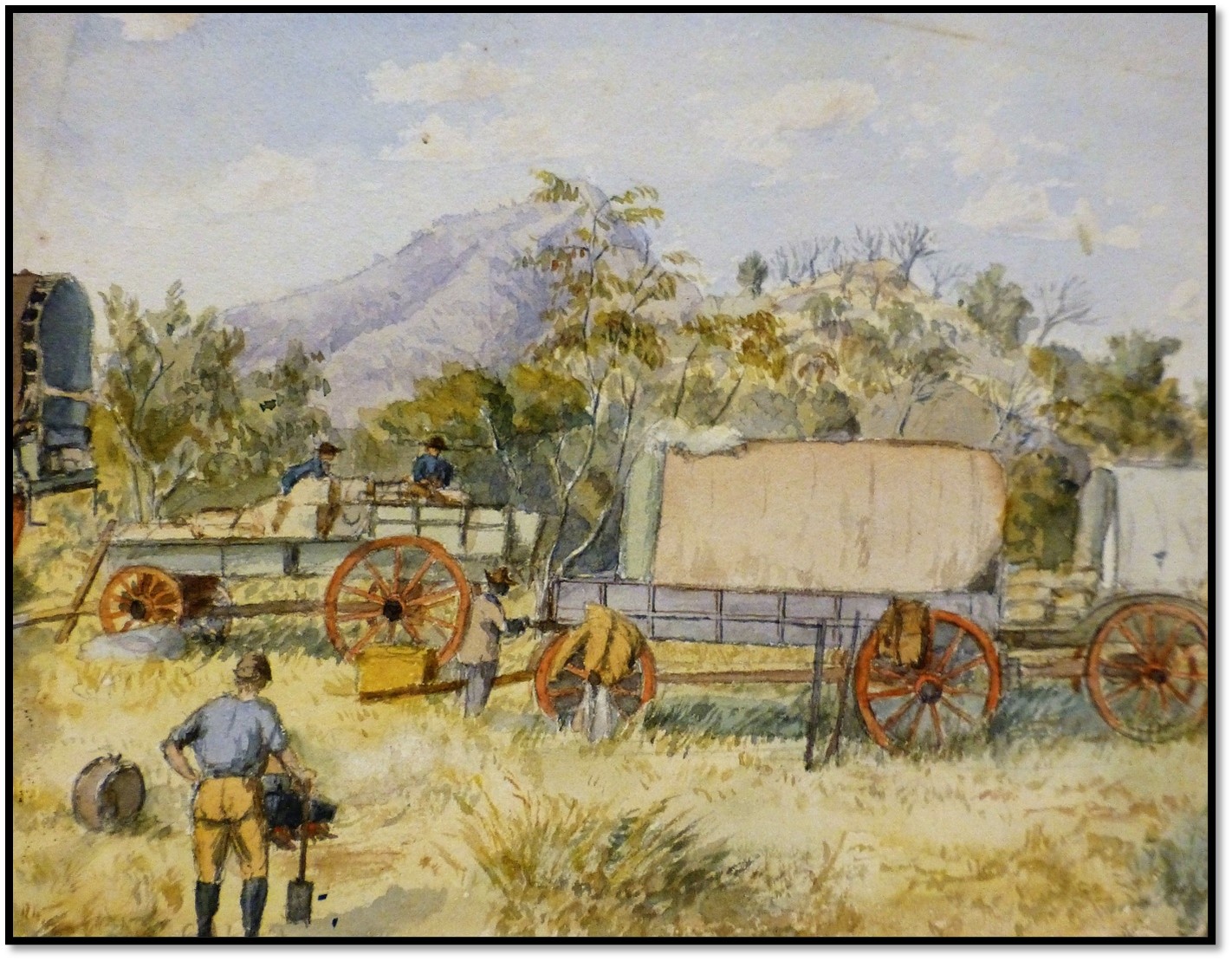 NAZ - Pennefather original watercolour of Pioneer Column ox-wagons in laager near Setoutse's Hill
I've had no papers for a long while, as they are too heavy for the post-riders to bring up. I suppose we shall get some when Willoughby catches us up with the convoy. He was to leave Macloutsie about Saturday last. You will probably see several letters in the English papers giving accounts of the expedition. They are duly written with authority and passed by our own "press censor." I don't write myself as I do not think it would do. As we are getting so much further away, you will probably not get a letter by next mail – not because I don't write, every week, but because it will take the post so much longer to get to Palapye; and after about every three letters you must expect an interval, until I have the postal service thoroughly organised. I daresay when we get to Mount Hampden we shall send the correspondence via Massikessi[xiii] and the Pungwe bay, in Portuguese territory; it is only 150 miles from Mount Hampden to Massikessi on the Buzi river, and there is a Portuguese fort there, and steam launches running to Pungwe Bay. Massikessi is in the Manika country.
One of our picquets vow that they saw an elephant the night before last and challenged him! I suppose he didn't know the countersign! We are beginning to count the weeks we must pass before we reach Mount Hampden now. We hope to be there before the end of next month. You were asking about Malcolm Graham; he is a capital fellow, very keen and quick and quite one of the best officers I have; he is acting staff officer for the now, in the absence of Sir John Willoughby, whom I have had to leave behind to bring a convoy up.
I must shut up now, though I feel more in a letter-writing humour than usual – but I have lots of correspondence to get through. Best love to all, Ever yr. affect. son, Edward G. Pennefather
28 July Wanesti [Mwenezi formerly the Nuanetsi] River – description of the granite kopjes and the Banyai; their Chiefs ask that their country be taken over to protect them from the amaNdebele
My Dearest Mother, you must put up with a very shabby line this week; I haven't time to write any more. We are getting on very well and are marching through the Banyai country. The last few days it has been lovely, but rather difficult to pioneer a road through, the whole country is thickly studded with granite hills from 50 to 400 or 500 feet high, the base of them has masses of boulders with thick bush growing in them, the upper parts huge bald domes, weather stained and overgrown with various coloured lichens. Some of the trees too in the lower parts of them have bright coloured flowers or seed jewels, and the leaves of others are autumnal tints, others bright green; the day before yesterday's march was through the loveliest country of the kind which I have seen.
There is a large population of Banyai who are very friendly; I have interviewed the Chiefs who have begged me to take over their country and settle it. They live in the greatest fear and detestation of the Matabele, but as they acknowledge Lobengula as their supreme Chief I think it is better not to take over the country until we can assure them of protection – but that will come shortly. They place their huts up in the most inaccessible crags and you see women with children on their backs running up a smooth and all but perpendicular dome or boulder, where you can hardly follow on hands and feet.
No time for more. We are all very well. Best love to all. Ever yr. affect. son, Edward G. Pennefather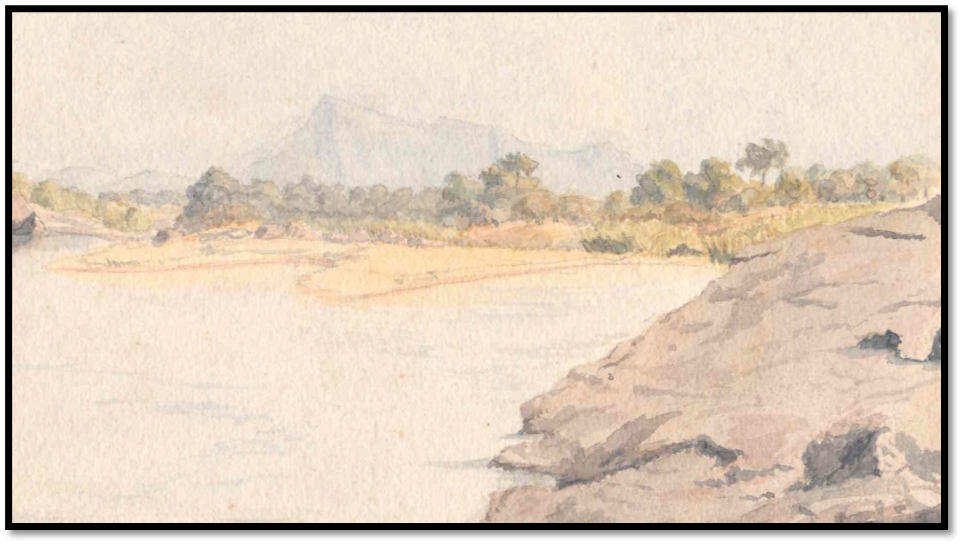 NAZ - Pennefather original watercolour of the Runde River (formerly the Lundi)
2 August, Lunde River – distance still to go unknown, making a drift across the river, using native runners to take the mail, Willoughby still not caught up with the Pioneer Column
My Dearest Mother, having got this far on our journey, I hope I may say that we have got over half of it, but the country is so little known that we cannot say whether we have still 250 miles to go, or only 180. At any rate we have marched 201 miles since we left the Macloutsie, and I think we have done what they call now a "record" time considering the country we have gone through. We have had literally to "axe" our way, though for the best half of the distance there were no inhabitants of the country.
The column arrived at this river last night, the advance party 24 hours before, and they have been hard at work making a drift; the river bed is 200 yards wide, but there is only about 80 yards of water and the stream is from 3 to 4 feet deep, and swift beautifully clean waters. There has been a great deal of work. The west bank is high and steep, the sand of the river bed very heavy and the waters too deep to let the waggons come over without the loads getting wet, so the bank has been cut down, a roadway of trunks of trees overlaid with reeds and sand, made over the dry sand, and a number of sacks filled with sand laid at the bottom of the water channel so as to reduce the depth to 3 feet at most. The waggons had to be lowered down the bank by ropes tied to the back, and when the oxen got into the water, another rope was made fast to the end of the trek tow, and the oxen, waggon and all pulled bodily through by a lot of men. My waggons got through early this morning and the pioneers are coming now. The noise and yelling which seems indispensable to getting the waggons across are indescribable. I often think what fun it would be to have a phonograph at a drift and bottle up the row for reproduction in London. Say at an Exeter Hall meeting! What a sensation it would create. You will very likely see photographs of objects of interest in the expedition and along the line of march reproduced in the Graphic. There is a most energetic photographer [Ellerton-Fry] attached to the Pioneers. I wonder if you will recognize me in any of them. I have done one or two sketches and if I could only draw figures and draw them quickly, I could get some splendid objects at the crossing of these rivers. This is the first river which we have crossed which does not run into the Limpopo; it joins another river called the Sabie which runs into the Indian ocean somewhere about Inhambane. If you have a map of these countries, as you probably will have, you can fix our present position approximately on the Lunde. We are about 12 miles SE [south east] of a large mountain marked as "Wochua" on most maps, but which the Banyai call Bufua. It rises apparently about 1,800 feet above the plain. I am rather doubtful whether some of my later letters will reach you. They have been sent back by Bamangwato runners and there are several small parties of the Matabele roving about the vicinity of our road, they may have robbed the mail – or what is quite as likely, the Bamangwato boys may have chucked the mail bags down and run away. One of Lobengula's titles which are shouted before him by those who work and honour him is "Interceptor of letters." I am sending a patrol back on the road tomorrow to find Sir J. Willoughby who is bringing a convoy up and shall send the mail back by them; if Willoughby is not very far off they will bring back the up mail – we have at least 3 week's letters to come. Next week I hope to have a photo of my tent and the corners of this laager to send you.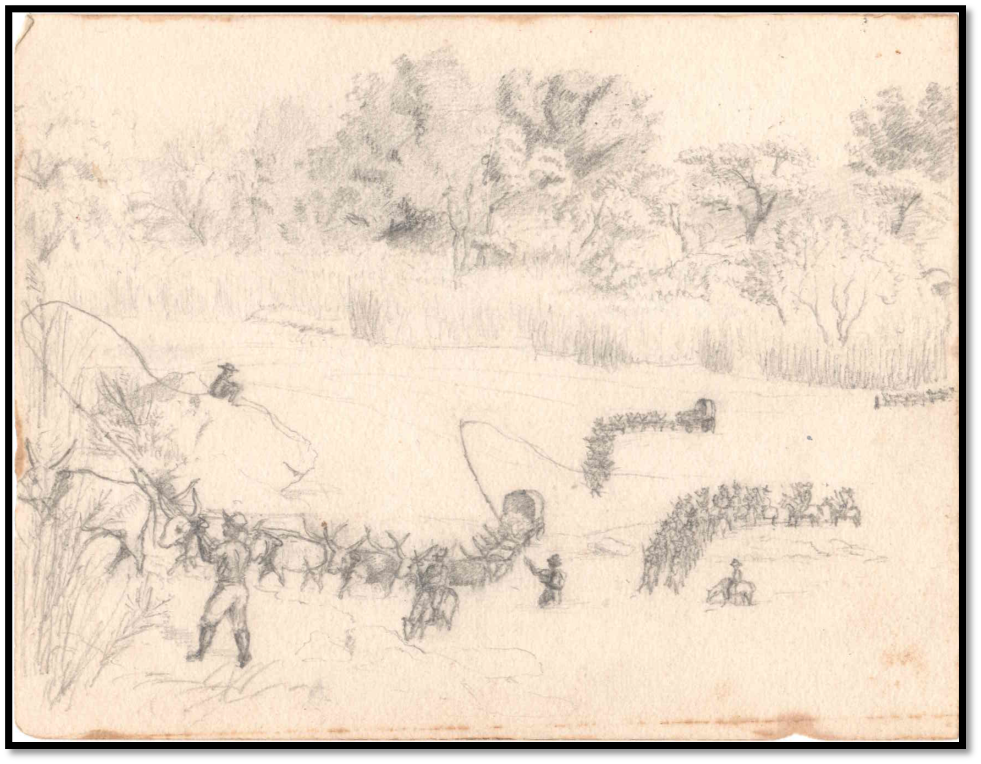 NAZ - Pennefather original sketch of the Pioneer Column crossing the Runde River (formerly the Lundi)
I rode some miles up the river yesterday afternoon and found a pool where there must be hippos, to judge by the quantity of spoor about, but I did not see any. All today except at service and meal times I have been writing hard to get off my official reports and letters; the charm of being "boss" of the expedition has not worn off yet.
Goodbye my dearest mother, best love to all. Ever yr. affect. son, Edward G. Pennefather
15 August, head of Inyaguzwe [Providential Pass] – postal arrangements likely to be cut in rains, urged Kimberley office to open route via Zambesi, now in open country, fortunate in finding a pass to it; Portuguese recently in neighbourhood trying to make treaties, waiting for supply convoy, building a fort, party gone to Great Zimbabwe
My Dearest Mother, the day before yesterday brought us a most welcome mail, including your letters of 18 June. What do you think of our getting letters from Mafeking in 14 days? The distance is nearly 600 miles, all of which has to be covered by post cart (drawn by oxen, in many cases) and post-riders. I have a detachment of post-riders out along 250 miles of road. But what on earth we shall do when the rainy season sets in and the many large rivers which we have crossed are impassable, goodness knows. I am urging the Kimberley office to open a route via the Zambesi, and hope that may be accomplished in time. It would be a great saving both of distance and time, and there is water carriage for the greater part of the way.
I have now about 180 miles of our journey to do, and I believe it is the easiest part. We are out of the low bush country and on a large open plateau, with an elevation of 3,600 feet; this plateau goes as far as Bulawayo in one direction and nearly to the Zambesi in another, whilst to the north east it is broken by the Sabi River but rises again in the highlands of Manika. It is a great relief to be out of the bush and broken country, and we were most fortunate in finding this pass without having to make a long delay searching for an available one.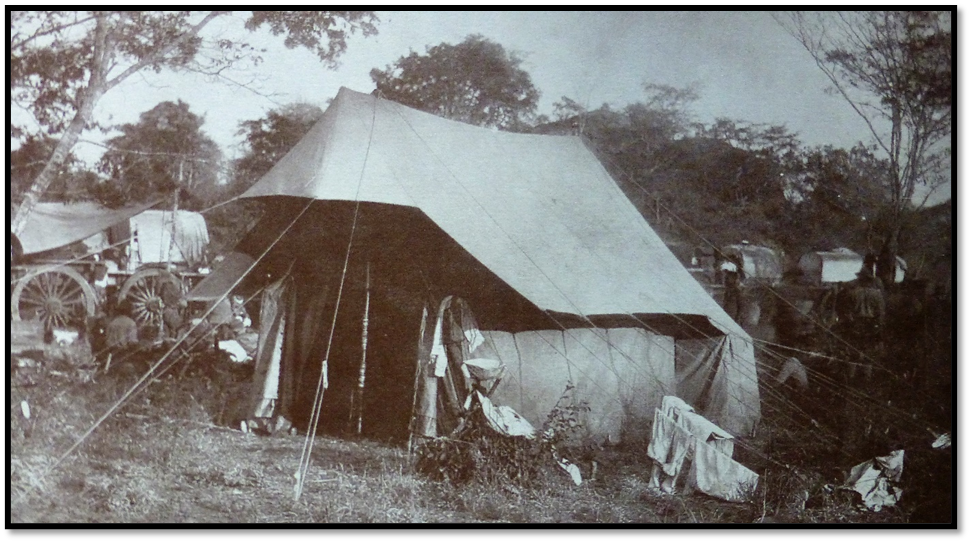 Lieut. W. Ellerton Fry – photo of Pennefather's tent
I find as I anticipated that some Portuguese are here (or have been within a few days) trying to make treaties with the native Chiefs. However according to Lord Salisbury's declaration, they have no right to be here, and as only two of them have been going about in palanquins,[xiv] it is probable that the natives won't have anything to say to them when they see our own expedition. I have sent messengers to the different Chiefs to announce my arrival and the size of my expedition will lose nothing in the telling.
I am waiting here for Willoughby who ought to join us in a day or two. Meanwhile I am building a fort here in which I shall put a troop of police[xv] Another troop will remain near Mt Wedza[xvi] 60 miles from here and one will go on to Mt Hampden with me.
I am so sorry that you could not manage Minehead; it is odd that hunting should make a place an expensive summer resort, but perhaps it is in the Devon and Somerset country? I hope the house at Weymouth will be a success, as also I hope will be your endeavours to augment your income. How kind of the old ladies of Bath to help you so handsomely.
I wish I could write you a decent letter; there are lots of objects of interest in this country if only I could get at them, but I have not time. There are some ruins called Zimbabye described by Carl Mauch in the hills to the south of this; I believe only one white man besides Mauch has seen them, but a party has gone from here; they will have to sleep out one night. However, I dare say I shall see them some day.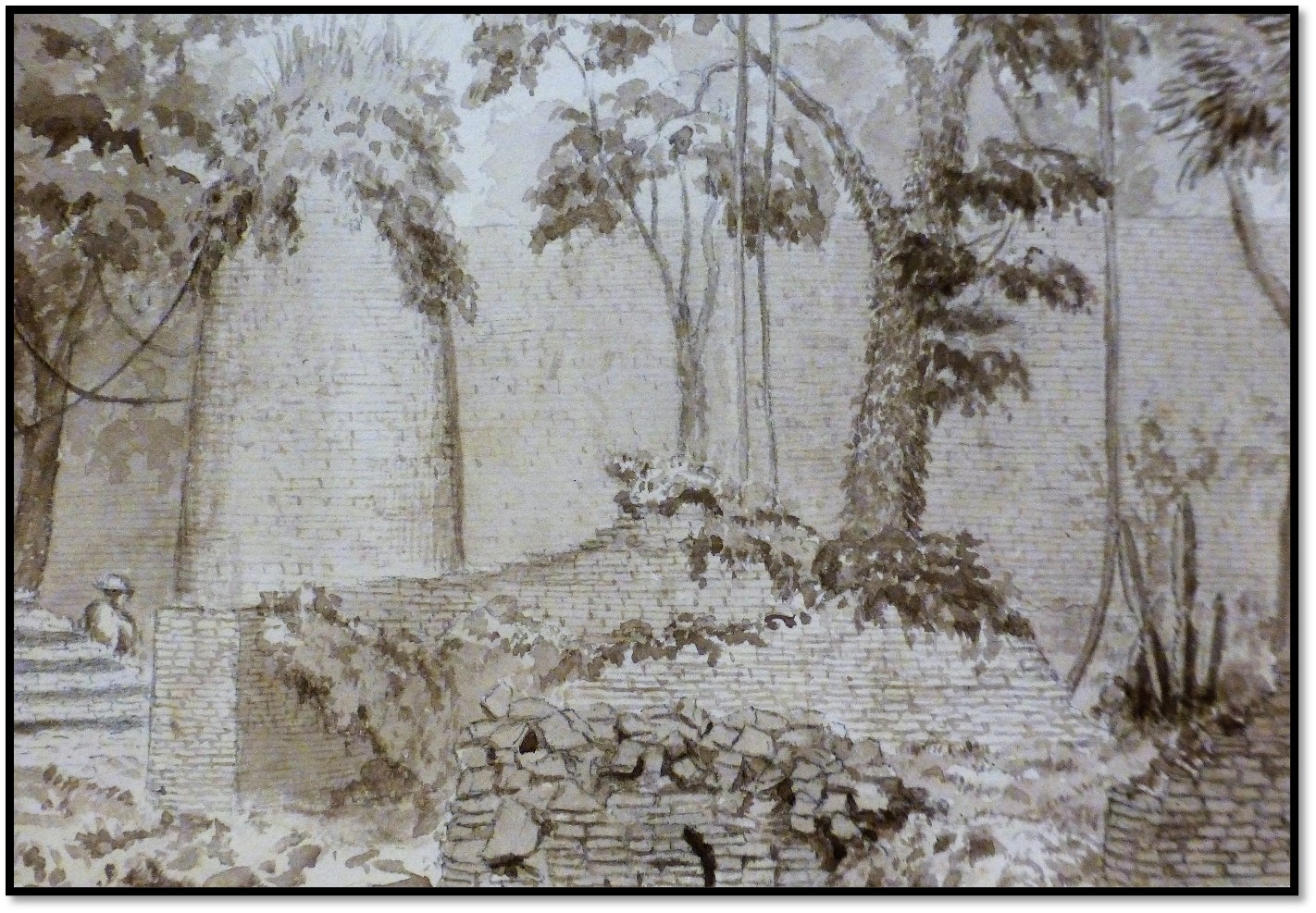 NAZ - Pennefather original sketch of Great Zimbabwe in 1891
There is a good deal of game about here – hippo, buck of various kinds, and the advanced guard came on a lion yesterday; the first seen by our column, although there are plenty about. I have no time for shooting. I must shut up now and get on to my official letters. Goodbye my dearest mother – best love to all. Ever yr. affect son, Edward G. Pennefather
21 August, 14 miles north of Fort Victoria – travelling along the watershed, shortage of game, welcomed by local Mashona as relief against the Matabele
My Dearest Mother, we are once more on the march again, and in another eight days I hope to have completed the last stage but one of our journey by arriving at Mount Wedza near the head of the Sabi River.
I have made a fort (called Fort Victoria) at the head of the Inyaguzwe[xvii] Pass, from which I last wrote to you. We marched on Tuesday afternoon, our first day's march was shortened by our having to cross two rivers, the Imtohege and the Imshagashi, the last of which gave us some little trouble. We are now traveling along a watershed, not quite the watershed between the Zambesi and the Sabi; but a secondary watershed between the latter river and the Inkwe, which we have already crossed. The Imshagashi here runs from north to south and we are marching up the southern bank of it. It is not a large river here, but there are heavy pools in it, some of which are inhabited by sea-cows.[xviii] There is not much game. We see a few reed-buck and smaller buck, but the natives here sometimes have big hunts and drive the game into nets which they make from the bark of trees and hang from tree to tree. In default of big game however they aren't proud; at this time of year they burn the grass all over the country on a large scale in order to indulge in rat hunting; rats are a delicacy among the Banyai apparently.
I wanted very much to view the ruins of Zimbabye, which are only 12 miles from Fort Victoria, but I was very busy whilst I was there and could not find time for the ride. Several parties went, and they describe the ruins as most interesting – you will no doubt see a full account of them and indeed of our general doings, in the Times and other papers. Of course, the military character of our expedition has not been dwelt on, in order not to raise the Aborigines Protection Society and other individuals who oppose the Chartered Company from interested motives. Though if the A.P.S. knew what they were about they would press for the extinction or subjection of the Matabele, who although they don't live nearer than 150 miles from this country, keep all the wretched Banyai and Mashonas in a constant state of alarm; armies from the King[xix] and unofficial raiding parties come into the country, kill all the men and women they can, raid all the cattle and take the young children as slaves. All the natives whom we have met have welcomed us eagerly, of course from motives of self-interest.
We are still marching over rather open plains, dotted with trees and clumps of bush at a height of about 3,600 feet or more. We have passed out of the (probably) gold bearing belt[xx] about the Inyaguzwe Pass and are getting into a granite country again, but further on we get again into the slate and sandstone.
23 August. This morning the post-riders brought a mail with your letters of 10th, you may imagine what the news about Alice was to me, but what I most fear is the effect on poor Jon. You must see what you can do about getting him away for the winter. I don't quite know what money I have, but I think I can let you have £50 by December at latest. I will write Mary about it, I must tell her the state of things. Best love to all ever my dearest Mother, Yr. aff. son, Edward G. Pennefather
15 September, Fort Salisbury, Mount Hampden – destination reached, enthusiastic comments on Selous, parade and hoisting of Union Jack, construction of fort by Pioneers and of huts and stables by Police. Patrols sent out to induce the Portuguese to retire east of 33°East in terms of Anglo-Portuguese agreement; their representatives mainly natives, Goanese or Mozambique men who have adopted Portuguese names; mostly slave traders; describes neighbourhood and Mount Hampden.
My dearest Mother, …It is also pleasant to have to announce our safe arrival at the end of our journey, and that all circumstances seem most favourable to the fortunes of the Chartered Company. You will have seen of course in the English papers the bare announcement of the arrival of the expedition here; I felt pretty tempted to send a telegram to you amongst the batch which I had to send off on our arrival here, by special despatch, but although £.s.d. are more plentiful with me than they were, the channels for employment of it seem to multiply. I wonder what will be the outcome for the success of our march – the responsibility for everything of course has been mine, but I had not much to do with the organisation of the greater part of it, and it would have been folly on my part to have interfered with Selous who is the intelligence officer and chief guide of the expedition up to Fort Charter. He is a man with a wonderful knowledge of the country and of great tact in dealing with natives, and any information given by him is absolutely reliable, and as to the way in which h carried out his work, I never knew a man more conscientious in the discharge of his duty.
We had a great parade on the morning after our arrival here for hoisting the Union Jack, which was done with all the honours including a Royal salute of 21 guns, which the two 7-pounders got through very creditably. I am now busy with the fort, which will be a very strong earthwork – it is already beginning to assume defensible proportions, although only 2½ day's work have been done on it. The Pioneers are doing that under my direction: the one troop of police here are busy building their huts and stables. We have just heard the outline of the Anglo-Portuguese convention which seems much more favourable to the Chartered Company than could have been expected. The Portuguese have not yet quite retired from Mashonaland, but they have been going back before our advance, and I have now patrols out, which will probably induce them to retire east of 33° east longitude. Their representatives in this part of the world are mainly black men, Goanese or Mocambique men, who have taken Portuguese names, and have been dubbed Colonels and Generals, so that their names may look well in newspapers and despatches, but most of them are nothing but slave traders.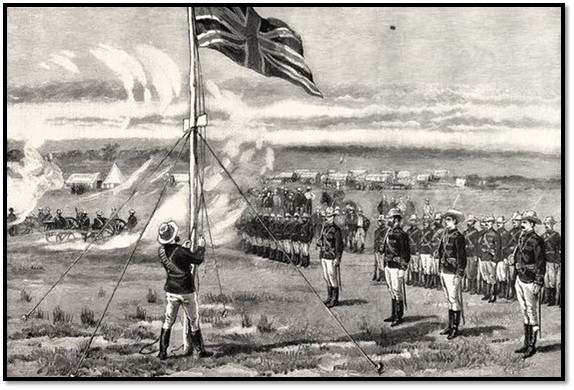 Engraving from the Graphic. The ceremonial parade on 13 September 1890 when the Union Jack was raised at Fort Salisbury
The country about here is flat, as most of the Mashona table land is: but as this place is 4,900 feet above the sea, it ought to be healthy all the year around: it certainly is now: the sun is hot sometimes, as one would expect in this latitude, but not hotter than in Natal, I think. There is abundance of bush and a few hills, but the latter are not much to speak of. Mount Hampden stands alone in the big open plain and is about 700 feet above the level of the surrounding country, which seems to be very fertile, as well as rich in minerals, and well suited in every way for European occupation.
The native population, owing to the raids of the Matabele, is very small now, though at one time the country must have been thickly inhabited by an agricultural population. I should like to take the Aboriginal Protection Society around this country and show them the traces of fire and sword (or rather assegai) left by successive Matabele impis. The wretched Mashonas have nothing to lose but their lives, and the Matabele come 200 miles for the sole pleasure of taking those! The Mashonas are rather a wretched looking crowd – particularly the women, who are more hideous than even the Bechuana women: oddly enough many of the children are not bad-looking. I must shut up now – as usual I have heaps of writing to do and I have not now the excuse that I cannot answer all correspondence at once, on account of being on the march. Still, I am busy enough and have only once been out of camp since we arrived here: the fort takes up most of my attention: there is hardly anyone here who knows anything about fortification at all.
My attention will next have to turn to getting some of the rivers bridged: I shall only attempt bridges for light traffic. Good-bye my dearest Mother, best love to all. Ever yr. affect. son, Edward G. Pennefather
14 October, Fort Salisbury – return of Colquhoun from Manica, expresses disgust that results of his journey upset by Anglo-Portuguese agreement, as Macequece (Manica) outside British sphere. Portuguese methods of recruiting natives for labour.
My Dearest Mother, it was very pleasant to hear how thoroughly you had enjoyed your stay at Weymouth this year, and how Uncle Edward enjoyed his visit to you; he is a wonderfully young man yet. I hope that your return journey to Clifton was successfully accomplished and that you found everything all right on your return. Has Jon gone back there yet?
Mary writes that she has given up our house and sold our belongings: a very bad sale I am sorry to say. We did not get more than half of what the things were worth. I am sorry to think that we have done with that place; it was a fairly good house, and the flowers were exquisite, particularly the roses.
Mr Colquhoun has come back from the Manika country: he accomplished the object of his journey most successfully, but to our great disgust, it seems that it has been all upset by the Anglo-Portuguese agreement, the text of which we have just received. Manika is just out of the British sphere of influence. It is perfectly ridiculous to see what the Portuguese are allowed to control, knowing as we do here how they occupy a country and what their methods and objects are. They simply kidnap the natives and send them from the east coast to work in the Portuguese possessions on the west coast and vice-versa. There was a case in Cape Town only the other day where a Portuguese steamer from Mocambique put into Table Bay with a lot of these slaves (for so they are in fact) on board. Some of them escaped and there was a row, but the weak-backed Government refused to detain the ship, although they would not permit the runaways to be recaptured.
Goodbye my dearest mother, best love to all. Ever yr. affect. son, Edward G. Pennefather
References
There are two deposits of papers at the National Archives of Zimbabwe
Personal papers of E.G. Pennefather relating largely to the period of his service with the BSA Company's Police. These were presented by W. Pennefather in 1948 and 1956 (accession no's 387 and 701) NAZ PE 1/2/1
Letters from E.G. Pennefather to his mother 1890 – 1891, with copies of some letters to his sister, presented by W. Pennefather in Sept. 1950 (accession no 495) NAZ PE 1/3/2
R. Cary. The Pioneer Corps. Galaxie Press, 1975.
W. Ellerton Fry. Occupation of Mashonaland Books of Zimbabwe. Bulawayo 1972. [This is the best book if one wishes to follow the Pioneer Column in photographs]
Col. A.S. Hickman. Men who made Rhodesia. The British South Africa Company's Police, 1960
F. Johnson. Great Days. Books of Rhodesia No 24. Bulawayo 1972
Major A.G. Leonard. How we made Rhodesia. Kegan Paul, Trench, Trübner & Co, London 1896
H. Marshall Hole. Old Rhodesian Days. Books of Rhodesia, 1976
J. Waters. Final Resting Places of Significant Personalities in our History Part V. Heritage of Zimbabwe Publication No 39, 2020
Notes
---