Lake Chivero Rock Art
Why Visit?:
Only an hour's drive from Harare, Lake Chivero offers a peaceful getaway for half a day, a weekend or a few nights of rest and relaxation.
A number of good San rock art sites. The rock art at both the crocodile panel and the kudu panel are in superb condition, the colours remaining bright and vibrant after 2,000 years and both are easily accessible to most visitors.
How to get here:
For directions to Lake Chivero Recreational Park Entrance Gate, see the separate article.
NOTE: all three sites described are within designated walking areas; in other areas visitors are not allowed to be outside their vehicles unless accompanied by a game scout, if in doubt enquire at Park Reception.
Crocodile paintings: from the entrance gate drive 650 metres and turn left at the green and yellow sign marked "walking trail rock paintings." At 850 metres, turn right off the track and park. Follow the footpath at the edge of the vlei. The crocodile paintings are 200 metres along the path after some cement steps constructed by National Parks to assist visitors. There is a small rock art panel halfway along on the right that has some faded hunters and antelope.
The Kudu panel: From the entrance gate, drive 970 metres past the Pax Park turnoff, 1.42 KM is a green and yellow sign marked "walking trail rock paintings." Park off the road and follow the well-marked footpath east off the road for 150 metres into the rocks and up cement steps constructed by National Parks to assist visitors.
Bushman point parking: from the entrance gate follow the gravel road; 5.32 KM turn right for Bushman Point that is well sign-posted, 13.6 KM reach Bushman Point parking area. Follow a clearly marked path to the north end of Bushman Point that takes you to the site overlooking the lake.
GPS Reference for Crocodile paintings parking: 17⁰53′46.37″S 30⁰45′17.62″E
GPS Reference for Kudu paintings parking: 17⁰54′10.50″S 30⁰45′21.40″E
GPS Reference for Bushman Point parking: 17⁰54′10.50″S 30⁰45′21.40″E
Crocodile Rock
To the left of the of the two large crocodiles are a line of ten hunters drawn in great detail wearing a mixture of headdresses, most have shoulder bags and some wear capes. They are painted in a variety of ochre shades; one is painted black and they are drawn in profile, whilst the large figure on the crocodile is drawn from the front. The vivid paint colours are a reminder of their original condition.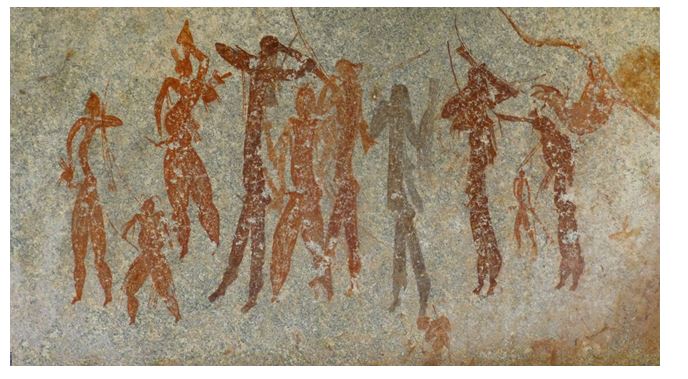 The two large crocodiles facing opposite directions make a unique panel in Zimbabwe; one crocodile is in outline belly up with an ovoid, presumably indicating potency. The other has a large male figure with elongated legs holding a small animal. These crocodiles are drawn in a larger scale than any other in Zimbabwe and their scales and claws are observed with great accuracy.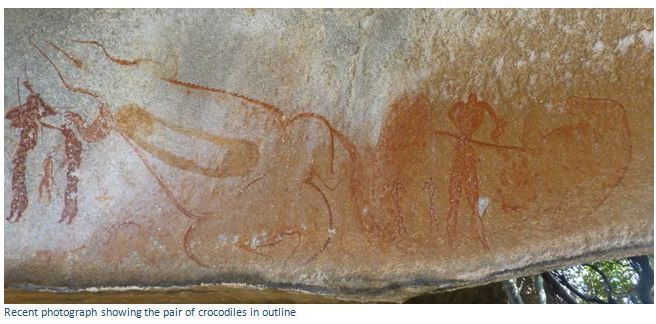 Bushman's Point
These paintings are reached on foot along a good footpath 150 metres from the parking area and are protected by a fence. A large and faded hunter figure is drawn on the left of the frieze with four smaller elongated figures below; one has rattles on the arm, over them have been painted three standing, sitting, and lying figures that carry sticks. To their right another figure has a striped torso and one leg, but no head or arms. Close by and shown below is a unique scene in Zimbabwe rock art: a tree is being cut down by a small figure. Above is a line of five dancing women wearing aprons.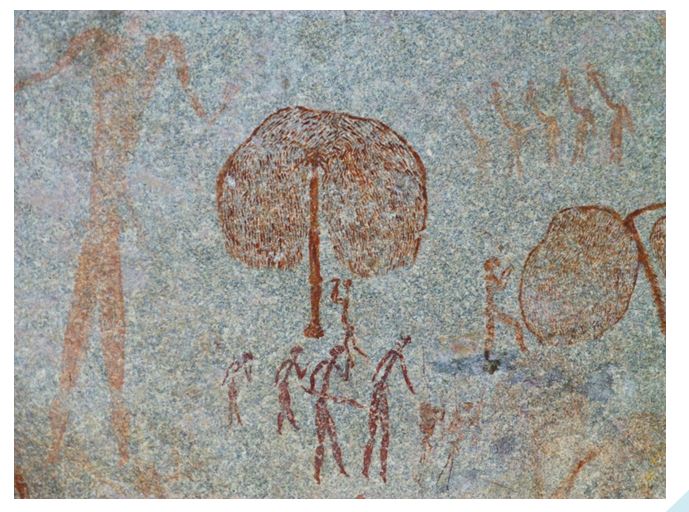 On the right are some large fish, a small elephant, and an incomplete eland. Below are a group of five men, each in different posture holding unidentifiable objects. At the bottom of the frieze is a line of thirteen identical kneeling figures that may be part of a dance scene.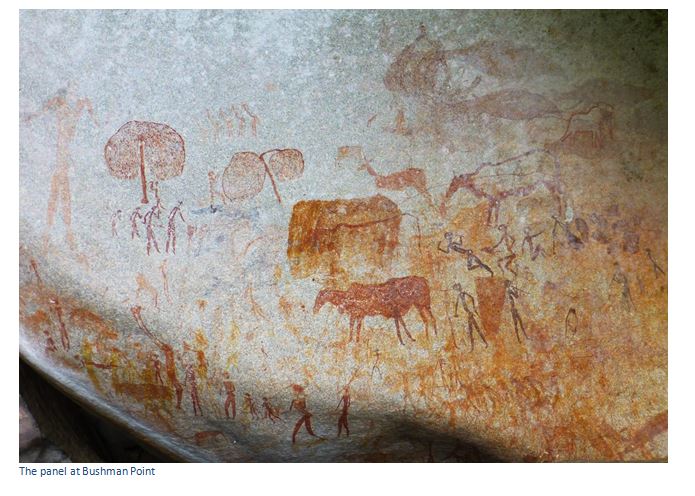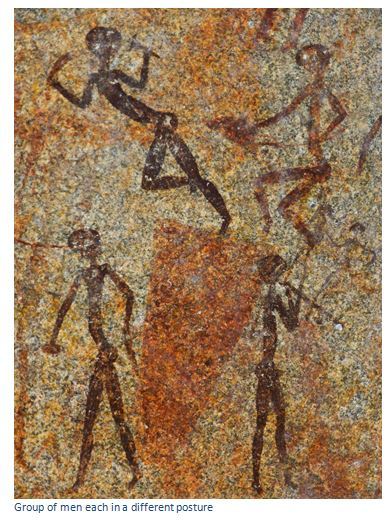 Pax Park
The most striking panel has three large kudu bulls. Close by is a warthog, its tusks shown in twisted perspective, and a small buck with lines from its muzzle. Some figures have arrows with conical ends and long sticks. A gatherer has a round bag at her waist or extended stomach, and a line coming from her mouth. A flight of arrows leads towards the lowest figures on the panel.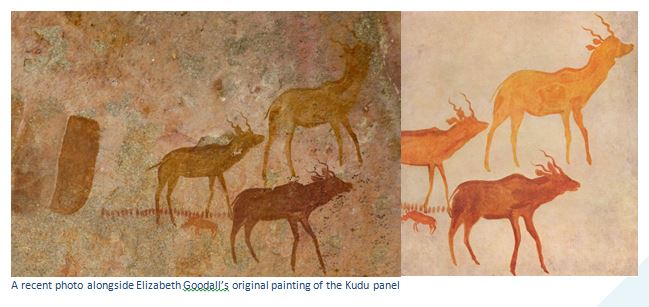 There are a number of other panels in the vicinity; one has a single ovoid with small stick like arms and head, stout legs and tulip penis. Another panel facing south on the outcrop furthest from Pax Park gates has a group of ten gatherers, one with a digging stick with a possible weighted stone. There is also a sable, a hare with a fat tail and the remains of ovoids. A further panel on the west has hunters, gatherers, tsessebe and an ovoid. On the rock opposite, there are elephants, kudu, bushpig, and rhino, including a rhino with white body stripes and bangles on its legs.
Close-up photo of the warthog featured below the kudu. Although the body is shown in profile; note how the head has been twisted to show both tusks, a technique called twisted perspective.
Rock with Ovoid designs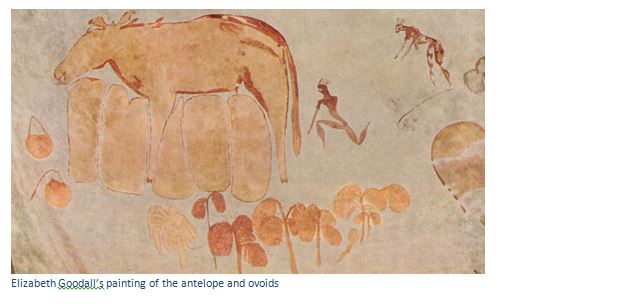 This frieze is drawn across two faces at right angles to each other. On the left is another unique scene of a large antelope drawn in profile, with just two legs. Under its head and belly is a line of five large ovoids, or formlings, which suggests an animal with considerable potency. This is "not an animal trapped in the rocks" or "medicine men using the potency of bees to capture and kill a rain animal." Beneath this scene is a line of trees and two creatures, one kneeling and the other crouched; both have lines extending from their hands, hair on end and open jaws. Both have pinched knees and tiny feet.
On the other panel is a large ovoid, with pale caps and lines of red dots and six trees attached to the top of the ovoid. Areas of stippling come from the ovoid and lead past the trees. Far right a figure has a distended, shapeless torso and thin outstretched arms and is sometimes mistaken for a spread out hide, rather than a human. Another example is next to the ovoid; its outline is hatched or stippled and lines of stipple arise from its sides. There are a further three of these shapes in the stippling below the main ovoid.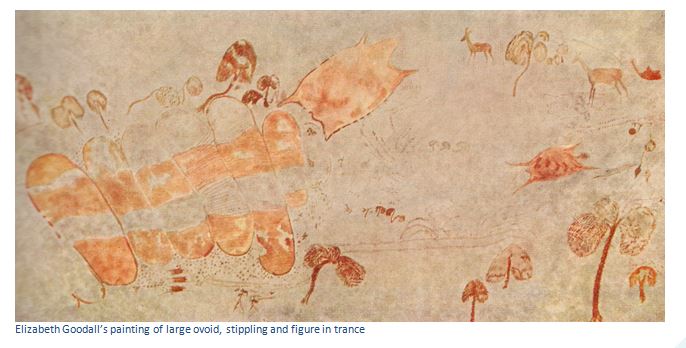 Moth Island
A rock with two faces includes large eland, zebra and several well-drawn figures with their arms held away from their bodies.
Willard Nyambiya is a freelance Tour Guide who enjoys taking visitors around Cultural and Historical sites in Zimbabwe. He works together with clients to create a customized tour package that suits the clients' interest. From city tours to rock art and ancient settlements around the country.
Face book: Zimbabwe Private Tours
Twitter: @zimtourguide
Emails: willardnyambiya@yahoo.com
Cell: +263 774 637 072 and +263 717 269 425
Acknowledgements
P.S. Garlake. The Painted Caves, an Introduction to the Prehistoric Art Of Zimbabwe. Modus Publications. 1987
E. Goodall, C.K. Cooke, J. Desmond Clarke, Editor R. Summers. Prehistoric Rock Art of the Federation of Rhodesia and Nyasaland. National Publications Trust. 1959
When to visit:
All year around Monday to Sunday 6am to 6pm
Fee:
An entrance fee is chargeable