Lake Chivero Recreational Park
Why Visit?:
Only an hour's drive from Harare, Lake Chivero offers a peaceful getaway for half a day, a weekend or a few nights of rest and relaxation.
There are a good selection of game including white rhino, giraffe, zebra, wildebeest, impala, kudu, waterbuck, tsessebe, ostrich, eland, sable, baboon, monkey, duiker, warthog and bush pig and a large variety of nocturnal species.
Excellent birding with over 400 species of wild birds and has been declared one of the seven RAMSAR sites. Driving through the high veld vegetation dominated by Brachystegia woodland and miombo woodland with intermittent views of the lake is very enjoyable and recommended for the visitor with little time for the more remote National Parks.
There are a number of good and easily accessible San rock art sites
How to get here:
Distances are from the junction of Samora Machel Avenue and Bishop Gaul Avenue. Continue on Samora Machel Avenue, which becomes the Bulawayo Road (A5) out of Harare. 25.8 KM ignore and pass the turnoff for the north side of Lake Chivero and continue on the A5. 29.9 KM cross the Manyame River Bridge, 30 KM turn left at signpost for Lake Chivero Recreational Park. 30.7 KM turn right for the National Park (the left fork goes to the Dam wall) 31.3 KM turn left to cross the railway track and continue on the gravel road up and over the hill, 33.4 KM turn right for the National Park (left is for the Tree Society site) 34.2 KM reach Lake Chivero Recreational Park Entrance Gate.
GPS Reference: 17⁰53′32.84″S 30⁰45′17.88″E
Website: www.zimparks.org
Lake Chivero (previously Lake Mcllwaine) Recreational Park is about 6,100 hectares in extent, including the lake. The Park opened in 1962 with a good variety of game as listed above; most of which was introduced from the Hwange Game Reserve. There is a great variety of birdlife to view, both woodland and water birds and the lake contains most of the common fish species.
Lake Chivero is Harare's main water supply and is approximately 26 square kilometres (2,632 hectares) in extent and 8 Kilometres at the widest point and the shoreline is 48 Kilometres long. The dam wall completed in 1952 is 400 metres long and the water is 27 metres deep at full supply level at the dam wall.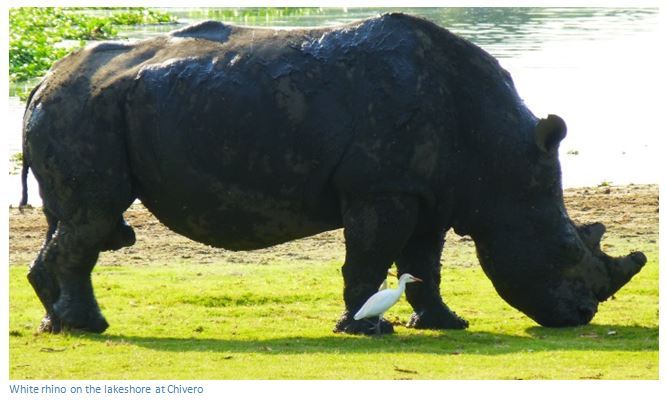 Facilities
They include lodges, chalets, a caravan site and picnic sites.
Lodges
The Lodges are self-catering units each containing bedrooms, a lounge and a kitchen. Cutlery and crockery are provided, they are electrified and water is drawn from a borehole.
There are two standard lodges, Sunbird and Stonechat lodges, each with two bedrooms.
There are three exclusive lodges; Hornbill located near the tourist office and Fish Eagle and Kingfisher lodges which are located on a hill 1.5 Kilometres from the tourist office. They each have two bedrooms and views overlooking the plain and lake.
Chalets
There are two types of chalets. All chalets have external communal ablution (toilet) blocks. The single chalets have one bedroom with a small sitting area; the other chalets have two bedrooms, a lounge and a kitchen.
Camp Sites
Bushman's Point and Public Mooring are undeveloped campsites on the South Bank.
The Msasa caravan and camping site is on the North Bank and has braai stands and an ablution block that includes showers, both cold and hot water and firewood.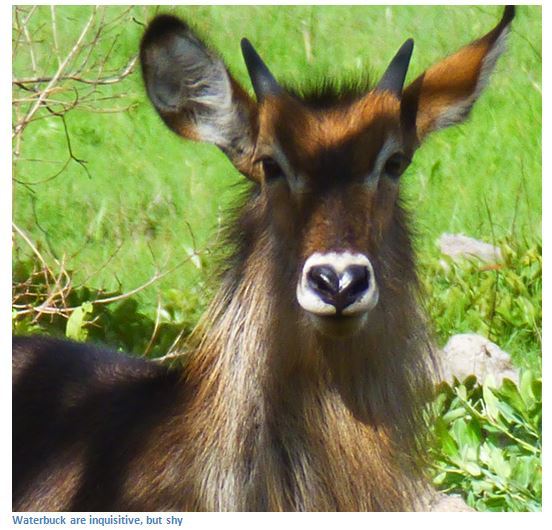 Activities
Game Drives
Driving around the Park on designated roads is open to the public all year round. Gates are open for game viewing daily from 6am to 6pm. Walking and cycling are strictly prohibited, unless with express authority and only in the company of a designated Park officer. If required, a guide can be hired from the tourist office.
Fishing
The main and most sought after activity is the all year round fishing at five fishing and picnic sites.
Game Walks
Game walks are conducted at a visitor's chosen time, but they must be booked a day before at the Park's offices. A guide takes tourists for a walk for at least an hour, but no more than five hours a day per group, unless it is an educational tour.
Horse Riding
Horse riding is conducted every day, except Mondays. There are two rides per day, one at 8am to 9:30am and the other at 3:30pm to 5pm. All rides are with Parks staff and can be booked at the Park office.
Crocodile Viewing
The crocodile ponds are within walking distance from the Park offices and tours take place between 7am and 5pm.
Tennis and Volley Ball
The tennis court has a clay service and is open all year round for a fee, tennis rackets are supplied at the office, but not tennis balls.
Swimming Pool
There are two swimming pools situated next to the lodges and chalets available all year.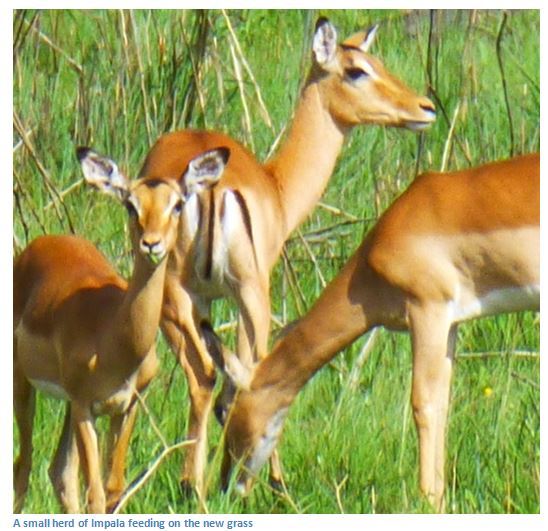 Just 30 minutes out of town, Lake chivero is the perfect spot for some relaxation. It's a favourite for getting family and friends together for lakeside braais, beers and banter; but also to do game drives which will usually be rewarded by spotting zebra, rhino and kudu and giraffe, or fishing (permits are required) The picnic sites are a bit run down and neglected, but they are shaded and have good views. The roads are generally in good condition and 4WD is not required, but avoid the marshy areas near the lake. There aren't many places left to enjoy game spotting without armed guards, or hordes of zebra stripped minibuses interrupting the view.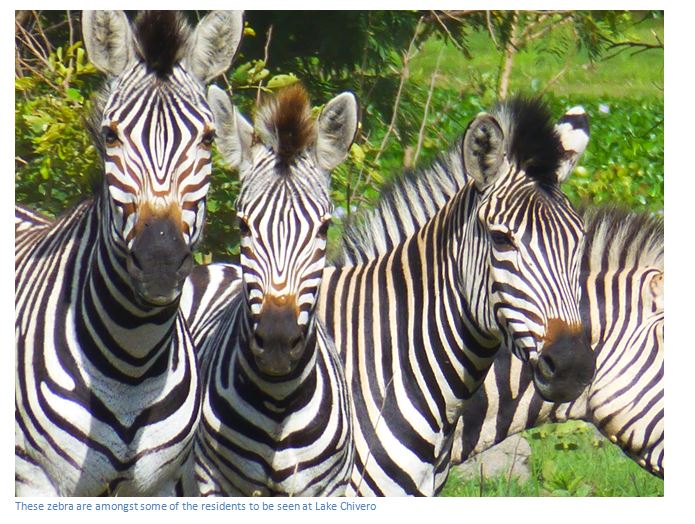 The ZPWMA Lodges are good value, clean and well-sited, being entirely private. Sitting in a camp chair by a fire under the stars, it's hard to imagine Harare is just thirty kilometres away. The staff are helpful and will build and light fires, wash up and help out. Book a walk with a Ranger who will take your children for a safe walk to identify animal spoor and view white rhino at a sensible distance.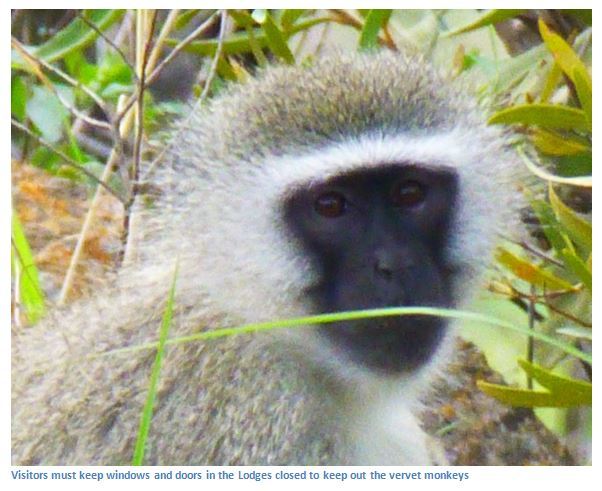 Lake Chivero Recreational Park in crisis
Environmental challenges are increasingly being aired with ZPWMA coming under fire. Since early October 2015, Zimbabwean households have endured as much as 18 hours of power cuts a day, mainly due to ZESA (Zimbabwe Electrical Supply Authority) inefficiencies forcing many to turn to fuel wood for cooking and heating. This has in turn boosted the illegal logging trade.
University of Zimbabwe studies show that 61% of citizens are not connected to the electricity grid, urban households already consume one to 4 tonnes of fuel wood per year, and rural families more than double that. The U.N.'s Food and Agriculture Organization says Zimbabwe lost 327,000 hectares of plantation forests and natural woodland on average each year between 1990 and 2010 with only 15.6 million hectares remaining.
With fuel wood's share in the national energy mix at around 53%, according to data from ZESA, Zimbabwe's forests are dwindling rapidly and there are reports the devastation of the nation's forests has become almost unstoppable.
At the Lake Chivero Recreational Park, the damage illegal loggers have done is evident. In a vast area where decades-old trees once stood, there are now only countless fresh stumps. "We estimate that 36 hectares have been cut down this year alone," said Violet Makoto, spokesperson for the Forestry Commission.
Local people say that as soon as the ZPWMA go home at 6pm the loggers move in using a variety of tools from hand axes to chainsaws, to cut the trees down.
Sewage pollution, industrial, and domestic waste from urban areas and farming in the catchment area are increasing rapidly and siltation of the lake has reduced capacity by 20%.
Poaching of fish is rampant and illegal netting carried out with Park Rangers being apparently bribed to look the other way. Brick making also takes place near the lakeshore causing erosion and siltation.
Venues leased from ZPWMA on the eastern shore show little concern for others blasting out their loud music at parties and creating noise pollution.
Local stakeholders accuse ZPWMA of failing to cooperate to address the issues that affect Lake Chivero Recreational Park both directly and indirectly. Professor Christopher Magadza said these factors together need to be urgently addressed and "the lake should be declared a disaster area."
Acknowledgement
Harare News. National Parks blamed for Chivero disaster. Issue 27. November 2015
When to visit:
All year around Monday to Sunday 6am to 6pm
Fee:
Entrance and accommodation fees charged