Harare, capital of Zimbabwe
How to get here:
Refer to the transport section of General Info for details of air, road, bus and rail connections with Harare, capital city of Zimbabwe.
History
Chief Mbari lived on the site of Harare kopje before the occupation in 1890, his brother Gutsa lived in the present area of Mt Pleasant and then moved to Mazowe where he was very active in the First Chimurenga of 1896-7. In the Seke area lived Chief Neharawa after whom the area was named Harawa, and later corrupted to Harare.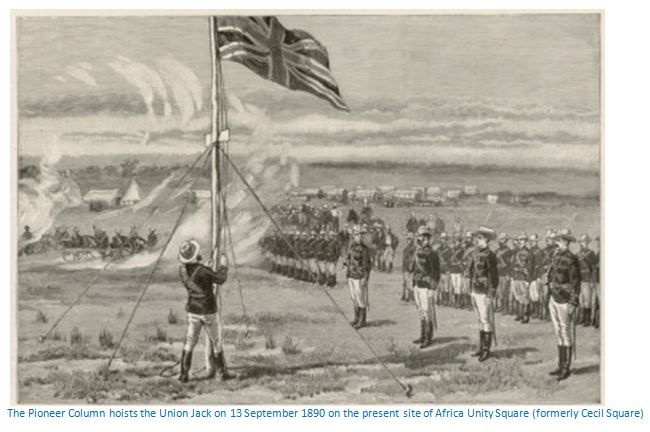 The city was founded in 1890 as Fort Salisbury after the Third Marquis of Salisbury, who was then British prime minister, at the spot where the British South Africa (BSA) Company's Pioneer Column, a military volunteer force of settlers organized by Cecil Rhodes, halted its march into Mashonaland. The occupation was one part of the nineteenth century contest between the European powers, particularly Britain, Germany, and France to secure territory for themselves.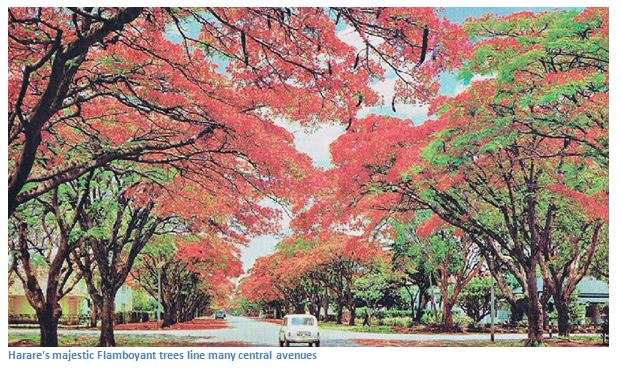 The intended site was Mount Hampden, but the Mukuvisi stream that flowed just south of the kopje provided a more reliable water supply and Colonel Pennefather decided the kopje site was preferable.
At that time, the area was marshy with a stream running along what is now Julius Nyerere Way into the Mukuvisi River and the first area to be drained, near the head of the stream, was named Causeway and became the site of the most important Government buildings. Commercial businesses tended to favour the area around the kopje in Pioneer Street, now Kaguvi Street, but development was somewhat haphazard.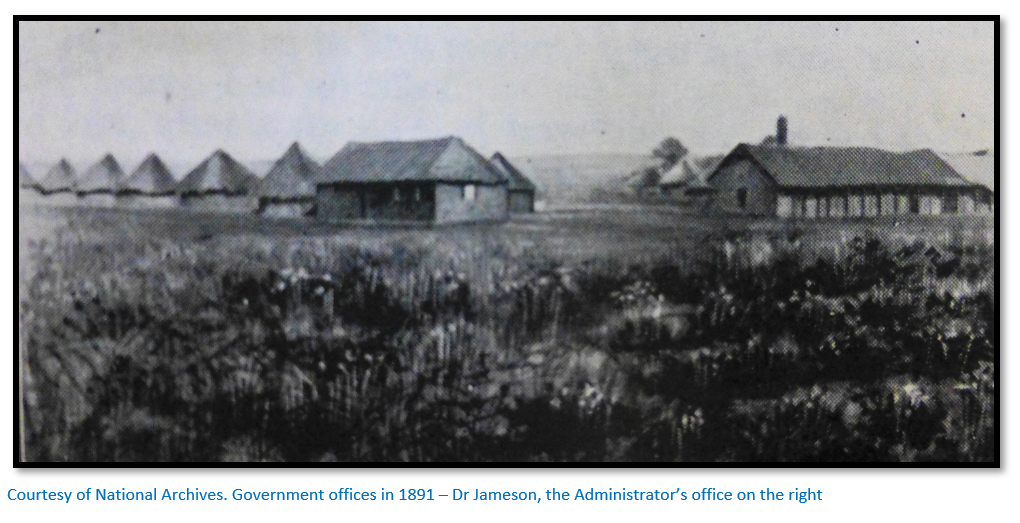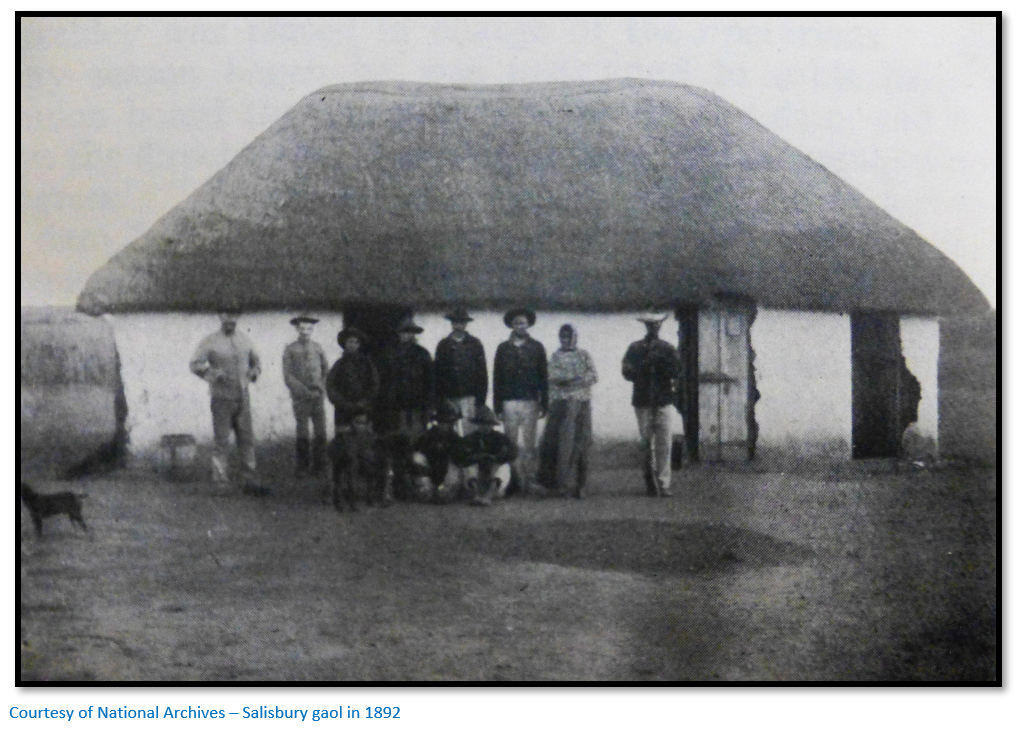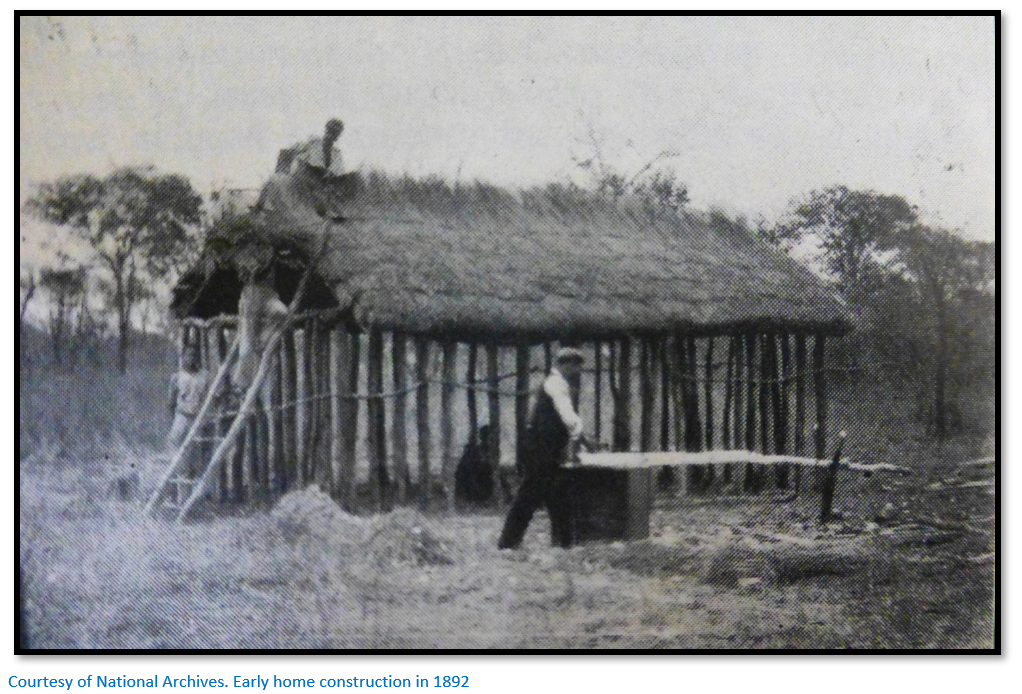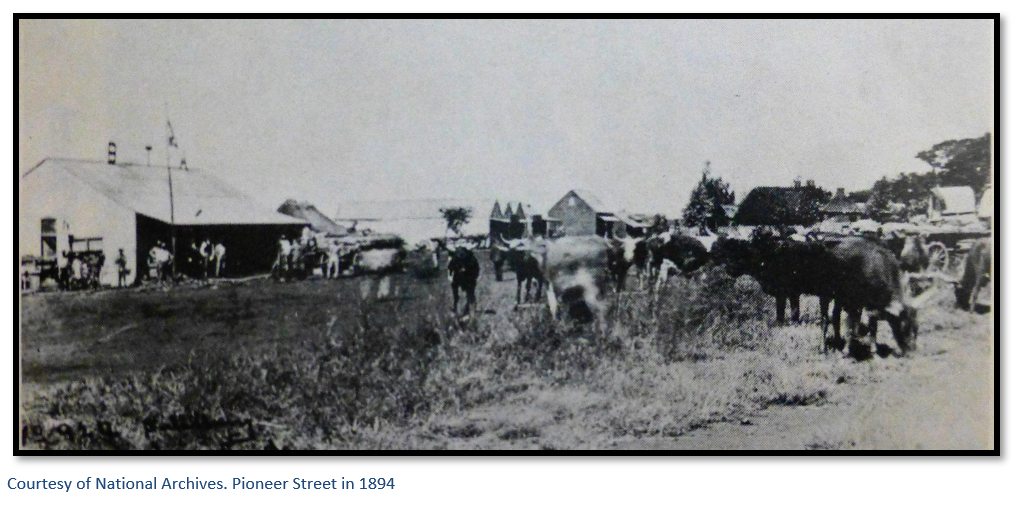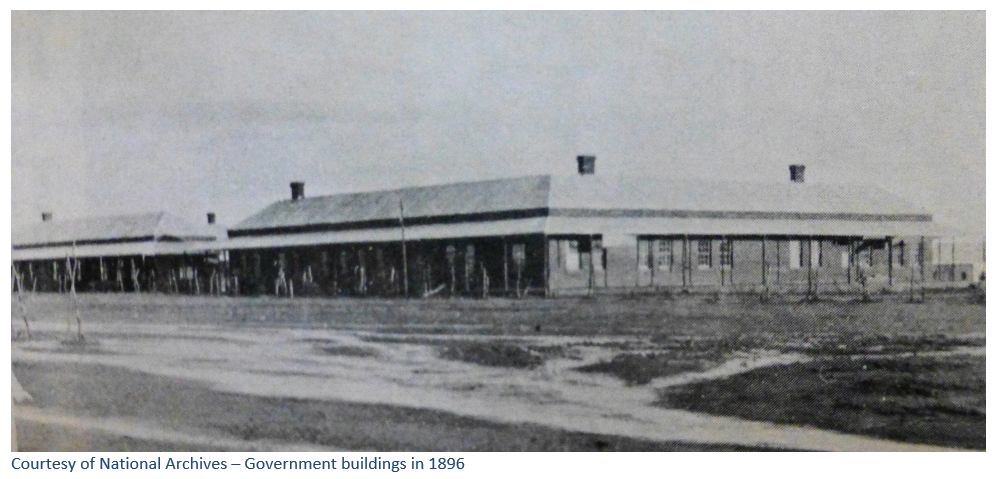 Capt. Thomas Ross, a nephew of the first administrator, A.R. Colquhoun, carried out the first town plan laying out his grids aligned to magnetic north parallel to the boundaries of the fort and around and around an area of gardens that were too marshy for development. The original township comprised 2,548 stands, as seen below, which varied in size between 400 square metres around Pioneer Street to 892 square metres in the avenues.
Beyond a large area was set out as commonage to provide pasture for horses, oxen, and dairy cattle and beyond that 200 civilian settlors that comprised the Pioneer Column and 500 British BSA Company police claimed their 1,500 morgen (1,250 hectares) that each had been promised.
However, many preferred the idea that they would make quick profits from gold mining to farming and soon sold their land holdings to speculators, so that by 1900 just five companies owned 38% of the stands within the central area and most areas lay undeveloped.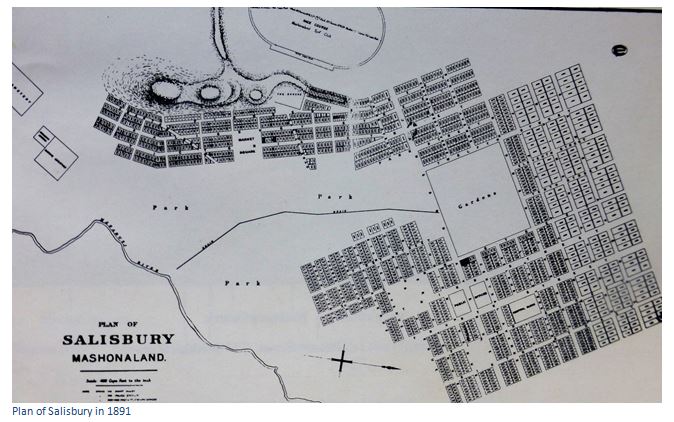 The next few years had periods of high tension as first in 1893 the military occupation of Matabeland took place with the power of the Matabele Impis broken at the battles of Shangani and Bembezi, Lobengula's capital at Bulawayo being occupied and Lobengula's death in northern Matabeland. A severe epidemic of smallpox in 1895 was quickly followed by a plague of locusts and then the almost complete decimation of all cattle by the rinderpest in 1896. In March 1896, the Matabele Rebellion, or First Umvukela broke out, followed some months later by the Mashona Uprising or First Chimurenga.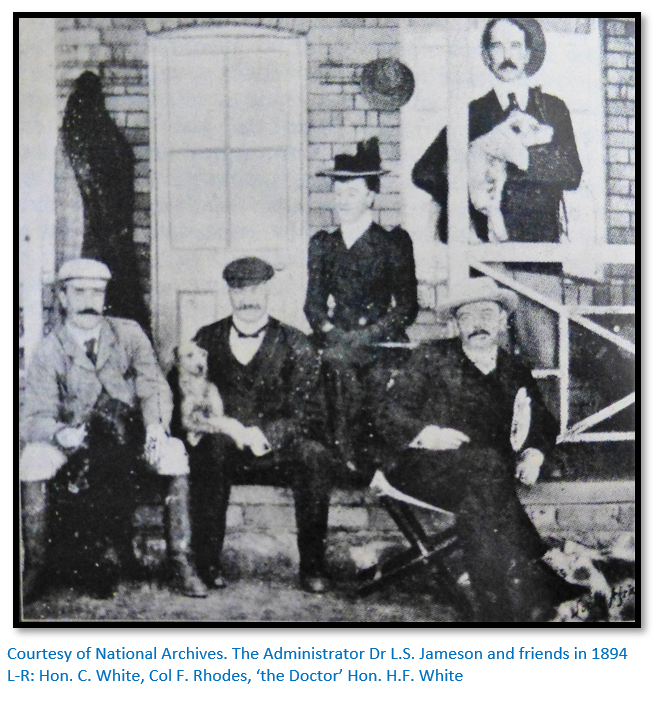 Peace came to Mashonaland in 1897, but was followed by a severe economic depression, that was intensified by drought. The formerly productive African system had been severely disrupted and gold mining had proved a huge disappointment, any promising claims requiring milling equipment and machinery for development that was not affordable or available. The local stock markets, initially full of optimism lost confidence and went into a slump
Salisbury was declared a municipality in 1897 with its first elected Mayor, W.E. Fairbridge. In 1898, the name Southern Rhodesia was adopted for the territory and when the railway arrived from Beira in Mozambique in 1899, the town began to develop as a trading centre. The link with Bulawayo and South Africa was delayed however until 1902 by the Anglo-Boer War.
Gradually through the late 1890's, the commercial activities of the town began to move from the area of the kopje and Pioneer Street (now Kaguvi Street) towards the Causeway end of Manica Road.
British South Africa Company administrators demarcated the city and ran it until Southern Rhodesia became a self-governing British Colony from 1923. Salisbury became a city in 1935 was thereafter the seat of the Southern Rhodesian (later Rhodesian) government and, between 1953 and 1963, the capital of the Central African Federation. In the 1940's the city's location and climate attracted the Rhodesian Air Training Group (RATG) programme which trained 10,000 Commonwealth and Allied airmen and attracted significant manufacturing and services which had been missing in the 1920 – 1930's and also an influx of migrants.

The Rhodesian Front government of Ian Smith declared Rhodesia independent from the United Kingdom on 11 November 1965, and proclaimed the Republic of Rhodesia in 1970. Subsequently, the nation became the short-lived state of Zimbabwe Rhodesia; it was not until 18 April 1980 that the country was internationally recognised as the Republic of Zimbabwe. The capital city retained the name Salisbury until 18th April 1982, the second anniversary of Zimbabwean independence, when it was changed to Harare.
Post-independence
Harare has been negatively affected by the political and economic crisis that is currently plaguing Zimbabwe, although Bulawayo has suffered even more. Its 1998-2002, involvement in the war in the Democratic Republic of the Congo drained hundreds of millions of dollars from the economy. The government's land reform program which began in 2000 was characterized by chaos and violence and badly damaged the commercial farming sector, the traditional source of exports and foreign exchange and the provider of 400,000 jobs and crippled the economy ushering in widespread shortages of basic commodities turning Zimbabwe into a net importer of food products.
In 2005 the elected Harare council was replaced by a government-appointed commission for alleged inefficiency as essential services such as rubbish collection and street repairs had rapidly worsened until they became virtually non-existent. The water reticulation and sewage systems virtually collapsed. In May 2006 the Zimbabwean newspaper the Financial Gazette, described the city in an editorial as a "sunshine city-turned-sewage farm".
Operation Murambatsvina
In May 2005, the Zimbabwean government demolished shanties and backyard cottages of 700,000 mostly poor supporters of the opposition in Harare and other cities in the country in Operation Murambatsvina "drive out trash." This took place without warning and no advance plans were made to provide alternative housing that at the time was widely alleged to be about punishing the urban poor for supporting the opposition Movement for Democratic Change. The government claimed it was necessitated by a rise of criminality and disease. It was followed by Operation Garikayi / Hlalani Kuhle "better living" a year later which consisted of building concrete housing of poor quality and without electricity, sewage or other infrastructure in poorly accessible areas.
In June 2007 the Government instituted price controls on all basic commodities causing panic buying and leaving store shelves empty for months. The continuing political and economic crisis plaguing Zimbabwe has had an ongoing harmful effect on Harare. The government of Zimbabwe in 2008 struggling with an unsustainable fiscal deficit resorted to printing money that resulted in an overvalued official exchange rate and hyperinflation. Official annual inflation rates rose from 32 percent in 1998, to 133 percent in 2004, 585 percent in 2005, passed 1,000 percent in 2006, and 26,000 percent in November 2007.
Badly needed support from the International Monetary Fund had been suspended because of the government's arrears on past loans and the government's unwillingness to enact reforms that would stabilize the economy. The European Union and the United States provide food aid and funds for the health services and education on humanitarian grounds.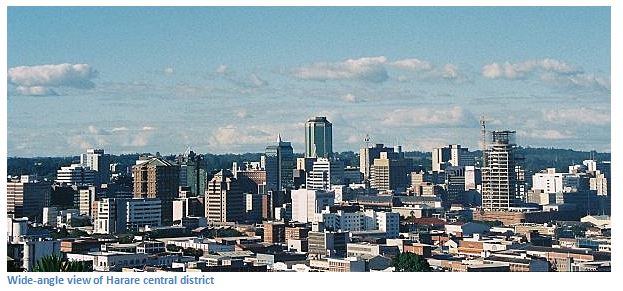 Today
Harare remains the capital and the largest city of Zimbabwe. Situated in the north-east of the country in the heart of historic Mashonaland, the city has an estimated population of 1.6 million, with 2.8 million in its metropolitan area. Administratively Harare is a metropolitan province, which incorporates Chitungwiza town and Epworth and is Zimbabwe's administrative, commercial, manufacturing, communications, and educational centre, and serves as a distribution point for the surrounding agricultural and gold-mining areas and is the trade centre for tobacco, maize, cotton and citrus fruits. Manufactures include textiles, steel, and chemicals. Factories produce processed food, beverages, clothing, cigarettes, building materials, and plastics
A modern, well-planned city with multi-storied buildings and tree-lined avenues, numerous suburbs surround the city, retaining the same names colonial administrators gave them during the nineteenth century, such as Warren Park, Borrowdale, Mount Pleasant, Mabvuku, Greendale, Marlborough, Tynwald, and Avondale. The Northern and North Eastern Suburbs of Harare are home to the more affluent population of the city including ex-President Robert Mugabe who lives in Borrowdale Brooke. Basic services such as water and sewage systems, potholes and traffic lights remain an issue but gradually the city council seems to be tackling these issues although it is hindered by the general economic malaise brought about by high unemployment, weak demand, structural issues linked to low commodity prices and poor investment funding and a huge current account deficit. This situation is caused by a lack of productive and proactive policy reforms from government as politicians continue to fiddle as the Zimbabwe economy shrinks.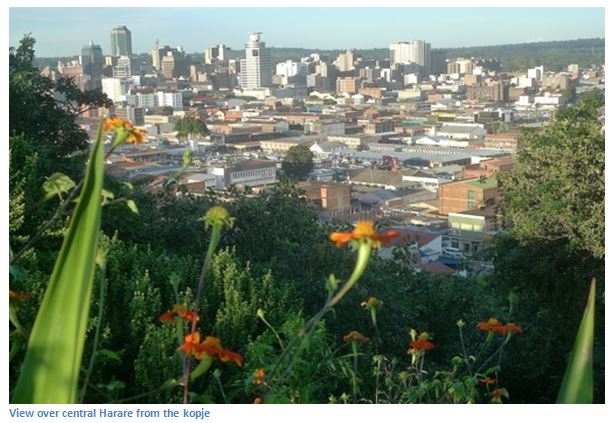 The University of Zimbabwe, the country's oldest university founded in 1952 is situated in Mount Pleasant, about 6 kilometres north of the city centre and Harare is home to the country's main Test cricket ground at Harare Sports Club, and to Dynamos Football Club, the most successful association football team.
The city has much to offer her visitors. First of all, a city tour would be recommended in order to get orientated. You will get to see the sparkling facades of the city centre's high-rise buildings as well as the high-density areas with their massive markets where you can buy almost anything. All sorts of goods are on offer, but the international visitor will most probably be mainly interested in the many stands selling stone sculptures and other crafts.
Harare as an international venue
The city has been the location of several international summits such as the 8th Summit of the Non-Aligned Movement in 1986) and Commonwealth Heads of Government Meeting in 1991 which produced the Harare Declaration, dictating the membership criteria of the Commonwealth. In 1995, Harare hosted most of the 6th All-Africa Games, sharing the event with other Zimbabwean cities such as Bulawayo and Chitungwiza. In 1998 Harare was the host city of the 8th Assembly of the World Council of Churches. It hosted some of the matches of 2003 Cricket World Cup which was hosted jointly by Kenya, South Africa and Zimbabwe with several of the matches held in Bulawayo. The city is also the site of one of the Harare International Festival of the Arts (HIFA), which has featured many acclaimed international artists.
Transport
Harare is a hub of rail, road, and air transport in Zimbabwe.
Harare International Airport is simple but modern. The ZIMRA staff is professional, but welcoming; there is no tension and no insults or power games, no thumbing of your passport and finger printing and photographing as at other African and Asian airports. The Transport section of the guide contains detailed information of the airlines flying to Harare International Airport.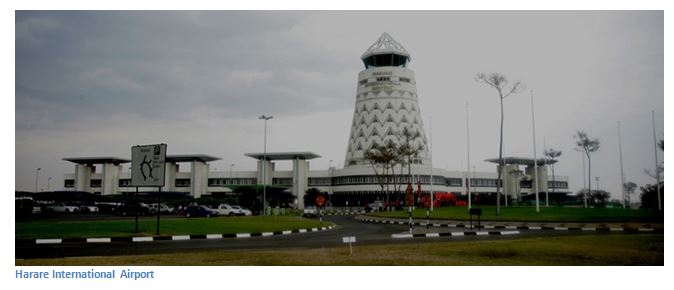 The public transport system within the city includes both public and private sector operations. The public transport system of buses, run by ZUPCO still exist but have largely been replaced by privately owned commuter kombis and minibuses which are more flexible stopping wherever it is convenient for the commuter. For inter-city travel again see the transport section of the guide.
Climate
Harare is situated in the north eastern part of Zimbabwe and has an agreeable subtropical highland climate with an average annual temperature of 18°C (64 °F) This is rather low for the tropics and is due to its high altitude at an elevation of 1,483 metres (4,865 feet) and a cool south-easterly airflow.
There are three main seasons:
Ø November to March / April is a warm, wet season with 16–26 °C (61–79 °F) in January which is midsummer.
Ø May to August, corresponding to winter in the Southern Hemisphere, is a cool, dry season with 7–22 °C (45–72 °F) in July the coldest month.
Ø September / October is a hot, dry season with 15–29 °C (59–84 °F) in October the hottest month.
The average annual rainfall varies from 825 mm (32.5 inches) in the southwest rising to 855 mm (33.7 inches) on the higher land of the northeast (from around Borrowdale to Glen Lorne). Very little rain typically falls during the period May to September, although there may be sporadic showers. Rainfall can vary a great deal from year to year and follows cycles of wet and dry periods from 7 to 10 years long.
The climate supports a natural vegetation of open woodland. The most common tree of the local region is the Msasa Brachiastygia soiciformis that colours the landscape wine red with its new leaves in late August. Two South American species of trees, the Jacaranda and the Flamboyant, which are introduced exotics, contribute to the city's colour palette with streets lined with either the lilac blossoms of the Jacaranda, or the flame red blooms from the Flamboyant. They flower in October/November and are planted on alternative streets in the capital. Also prevalent is Bougainvillea.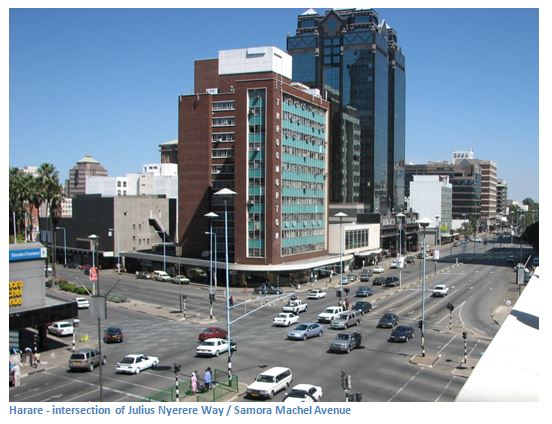 Population
Harare had an estimated population of 1,600,000, with 2,800,000 within its metropolitan area. There has been an increasing flow of Zimbabweans into South Africa and Botswanain search of better economic opportunities. Black Africans make up 98 percent of Zimbabwe's population. Shona comprise 82 percent; Ndebele 14 percent; other two percent; mixed and Asian one percent; and white, fewer than one percent.
English is the official language, while Shona, Sindebele (the language of the Ndebele), and numerous but minor tribal dialects, are spoken. About half of Zimbabwe's population follow syncretic religions which are part Christian, part indigenous beliefs. Christians make up 25 percent, those following indigenous beliefs 24 percent, Muslim and other, one percent.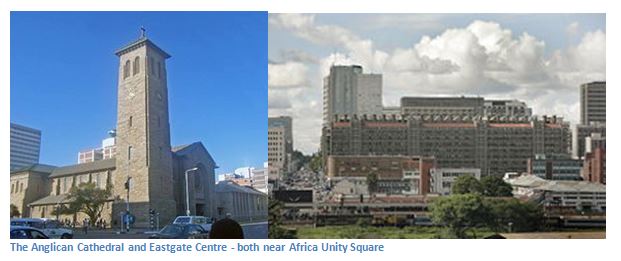 Places to visit
The centre of the city does have its sights, but many of the best places to visit in Harare are in the suburbs or on the outskirts. A car is the best way of getting to see most places and whether they are a shopping mall or coffee place most have a security guard to look after the car whilst you are inside. Alternatively, there are taxi services that you can use. Harare has something for everyone – you just have to know where to look. Here's a list of places to visit from Harare. Some of these places are really close to Harare, but they need a whole day to enjoy them fully and who knows, you might enjoy your day so much that you'll turn it into an overnight break. Most are easy to find with a mapbook or from the website. If you're with a tour company or a lodge ask for directions first, it's likely that all you'll need to do is ask, and they will be happy to give you more details.
These initial venues are covered in detail within this guide:
Ø Avondale Flea Market
Ø Chapungu Sculpture Park and Doon Estate
Ø Gallery Delta
Ø Kuimba Shiri Bird Sanctuary
Ø Lake Chivero Recreational Park
Ø Domboshava Cave and Hill
Ø Ngomakurira
Other suggestions include:
Ø Museum of Human Sciences – off Rotten Row to get a good understanding of the archaeology of Zimbabwe through the Stone Age into the Iron Age.
Ø National Archives - The Upstairs Gallery has a small but comprehensive display of some of the artefacts relating to Zimbabwe which are insightful for understanding Zimbabwe. Newspapers and photographs provide a reminder of the Constitutional Developments that led to the birth of Zimbabwe on 18 April 1980 and the display on the mezzanine floor concentrates on the first Chimurenga, or Ndebele-Shona revolts of 1896-97 which puts into perspective the historical struggle for independence.
Ø National Botanical Gardens – Alexandra Park, off the Borrowdale Road is a good place to visit for a walk or to see Zimbabwe plants or woodland habitats.
Ø National Heroes Acre - National Heroes Acre is a burial ground and national monument whose purpose is to commemorate guerrillas killed during the Rhodesian Bush War and also contemporary Zimbabweans whose dedication or commitment to their country justify their burial at the shrine.
Ø National Art Gallery - Since the 1950's the Shona art of stone sculpture was supported and exhibited here. In recent years the Gallery seems to have lost its way and recent exhibitions have been disappointing.
Ø Golf at Royal Harare - a 18 hole championship course which also hosts the Zimbabwe Open each year, part of Southern Africa's Sunshine Tour; the plush green fairways set in msasa woodland with small antelope feeding on the grass.
Ø Harare Sports Club ground which has hosted many cricket tests, one day internationals and T20 cricket matches.
Ø Rufaro Stadium - soccer is the most popular sport and Harare is home to the Zimbabwe Premier Soccer League clubs Dynamos F.C, Harare City, Black Rhinos F.C. and CAPS United F.C.
Ø Bally Vaughn Animal Sanctuary - 21 kilometres along the Shamva Rd (off the Enterprise Rd) to see lions, monkeys and hyenas up-close.
Ø Chiremba Epworth Balancing Rocks – take Chiremba Road 7.4 kilometres south out of Harare for extraordinary shaped rocks and San rock art friezes
Ø Cleveland Dam Recreational Park – on the Mutare Road (A3) magnificent msasa woodland bordering the edges of the dam and pretty views onto the Dam. We spotted cormorants and herons, as well as a water monitor, or leguaan and vervet monkeys. Best avoided at weekends.
Ø Ewanrigg Botanical Gardens
Ø Lion and Cheetah Park – although there are no longer any cheetahs, if you have only a few days in Harare, or have never seen a live lion, then the Lion Park is worth a visit as it is close to town on the Bulawayo Road (A5)
Ø Mukuvisi Woodlands – Hillside Road, off Glenara Avenue comprises 263 hectares of indigenous Msasa and Miombo woodland are very conveniently located for an initial introduction to Zimbabwe's game life, you will see zebra, giraffe, eland, wildebeest, ostrich and impala, including some of their young born within woodlands, as well as a wide variety of birds and indigenous flora.
Ø The Eastgate Centre, a shopping centre near Unity square and Sam Levy's Village in Borrowdale.
Ø Mbare Musika market - this market has a heady mix of fresh produce and random goods. It's the curios that bring tourists here; there is a big collection of Shona sculpture, wooden crafts and basketry. It's in a poor part of town and pickpockets are rife, so leave your cash and valuables at home and it is best to travel here in a group, with safety in numbers.
Ø The Book Cafe - a hub of literary, social and musical discussion where comedians, protest poets, singer-songwriters and many more perform – without censorship. This place has its finger on the pulse of Zimbabwe's thinkers and social commentators.
Ø Reps Theatre at Belgravia Shopping centre, Maasdorp Avenue / Sam Nujoma Street has a number of good performances ranging from opera to improvisation; check their website for what's on.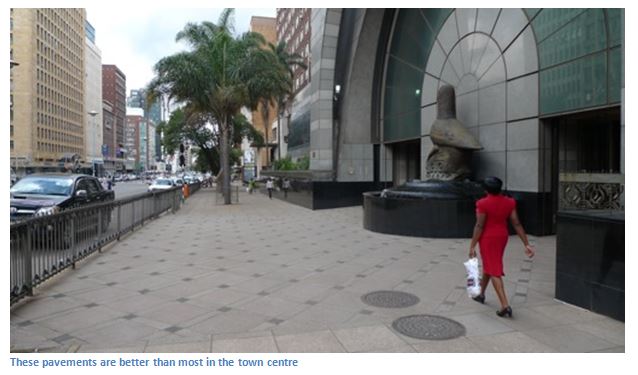 Safety
As with anywhere some areas are more risky than others. The city centre has there are some pick-pockets in the area as has the Avondale Flea market, so keep valuables out of sight and be aware of handbag snatchers. Visitors should not walk around at night for the same reason – take a taxi. Most residents and visitors remark on the low level of crime in the city, black and white Zimbabweans all say that Harare is one of the safest cities on the African continent.
Shopping
There are shops around the international hotels like Meikles, but visit Doon Estate, Avondale Flea Market and Mbare Market for handicrafts and souvenirs to take home. Chapungu at Doon estate is good for Shona soapstone sculptures and textiles. For more conventional shopping centres, try Sam Levy's Village in Borrowdale, Westgate, Eastgate, Arundel Village Shopping Centre and Avondale Shopping Centre. These places have shops selling most items that you might need although the choices are nothing like those visitors will be used to and prices will be higher.
Harare has a good choice of supermarkets including Bon Marche, Pick n Pay, TM and Spar. For fresh fruit and vegetables, Fruit and Veg City in Greendale Avenue and Food Lover's market in Sam Levy's Village
Eating out
There are dozens of options that cover the whole culinary range from Thai to French with dozens of coffee shops in between. A selection from luxury restaurants to takeaways are listed under the General section of the Guide.
Harare could be described as a beautiful city. Of course, it is not as stunning as Cape Town,but in a very modest way it is very attractive.
In the centre of town are Harare Gardens and Greenwood Park a little further out the Botanical Gardens and most of the streets are lined with gracious trees. To have such public and 'open' areas like parks is unthinkable in many other African capitals like Kampala, Kigali, Addis Ababa and Cairo.
There is relatively little crime in the city and there are no disagreements about this. Black Zimbabweans and White Zimbabweans, foreign experts, cops and doctors – all say that Harare is one of the safest cities on African continent. In Nairobi, you cannot walk down the street because of fear of violent crime. The level of danger for Indian women in New Delhi and other Indian cities is almost as high as it is in war zones.
Nearly all Zimbabweans speak good English. Every street robot has vendors selling newspapers and magazines. Zimbabwe is the most literate nation on the entire continent, from Suez to the Cape Town. According to the UNDP Statistical Digest, Zimbabwe has been ranked as the country with the highest literacy rate in Africa. Tunisia held held pole position for years with Zimbabwe second best and number one in Sub-Saharan Africa., but Zimbabwe's literacy level currently stands at 92 percent, up from 85 percent while Tunisia remains on 87 percent. "It shows how literate, how educated is Zimbabwe." It is real tragedy that so many top professionals have had to leave for South Africa during the current economic crisis.
Of course there are recurring electric blackouts in Harare, but not more frequent than in Nairobi, Kampala, Kigali, Lagos, Addis Ababa, Jakarta, Dhaka, Colombo, to mention just a few places. Water supply desires to be better, but it could be hardly defined as a tragedy as it definitely is in Indonesia, Sub-Continent and most of Africa. The City is short of cash, and it has serious problems with garbage collection and recycling, but despite that, Harare still looks very clean by Africa standards and more at par with much wealthier Kuala Lumpur than with the cities like Manila, or Surabaya.
In Harare, culture is very important and very diverse and interesting. You can get true, vibrant and traditional local culture in the center and in other parts of the city, or you can drive to Borrowdale just a few miles away, as well as to other suburbs, and there you get what is common in the South African white suburbs, or in Cape Town – all those luxury malls, movie theatres showing latest releases, posh cafes. You can eat local food, you can eat Chinese, Indian restaurants, Portuguese, there are even few sushi places.
Harare has Mbare slum, but it is not as terrible as Kibera or Matare in Nairobi. Mbare is small, but it has basic infrastructure, including sport facilities. Kibera slum houses hundreds of thousands, some say one million people, crammed in inhuman conditions, whilst the population of Mbare must be at most ten or twenty thousand.
In Harare people are generally free to air their grievances and discuss food prices, security, even the upcoming elections and there is no fear like in Rwanda or Uganda, no tension like in Djibouti, Kenya or Ethiopia.
Most people are resilient and tough, and very kind at the same time. They feel powerless, unemployment has sky-rocketed, businesses closed, tourism collapsed.
Acknowledgements
P. Jackson. Historis Buildings of Harare. Quest Publishing (Pvt) Ltd 1986
Wikipedia