Group Captain Harold Walmsley, Spitfire ace who destroyed at least 11 enemy aircraft; trained at Belvedere and Cranborne air stations during WWII and was an instructor at Heany air station afterwards – Obituary
Harold Walmsley who died on 4 April 2021 aged 98 years has an obituary that is note-worthy for at least two reasons:
Firstly, he is one of the many thousands[i] of young men who came from Britain and the colonies to train in Southern Rhodesia as part of the Rhodesian Air Training Group (RATG)
Air Vice-Marshall Sir Charles Warburton Meredith KBE, CB, AFC, who commanded the RATG believes the scheme was not only Southern Rhodesia's main contribution to World War II; but proved to be "one of the most important happenings in Rhodesian history" and JF MacDonald in the War History of Southern Rhodesia wrote it was "undoubtedly Southern Rhodesia's greatest single contribution to the Allied victory."
The RATG trained not only pilots of fighter aircraft and bombers, but navigators, bomb aimers, air gunners, wireless operators and flight engineers. The establishment of six new air stations required a considerable amount of building, all of which had to be done using local resources. In Salisbury (Harare) the EFTS (Elementary Flying Training School) was at Belvedere, with the SFTS (Service Flying Training School) at Cranborne; the second pair of schools would be established at Bulawayo (Induna and Kumalo) with the third pair at Gwelo (Gweru) (Guinea Fowl and Thornhill) and later increased by Mount Hampden and Heany with an instructors training school at Norton. Moffat bombing, navigation and gunnery school at Gwelo was for the training of bomb aimers, navigators and air gunners.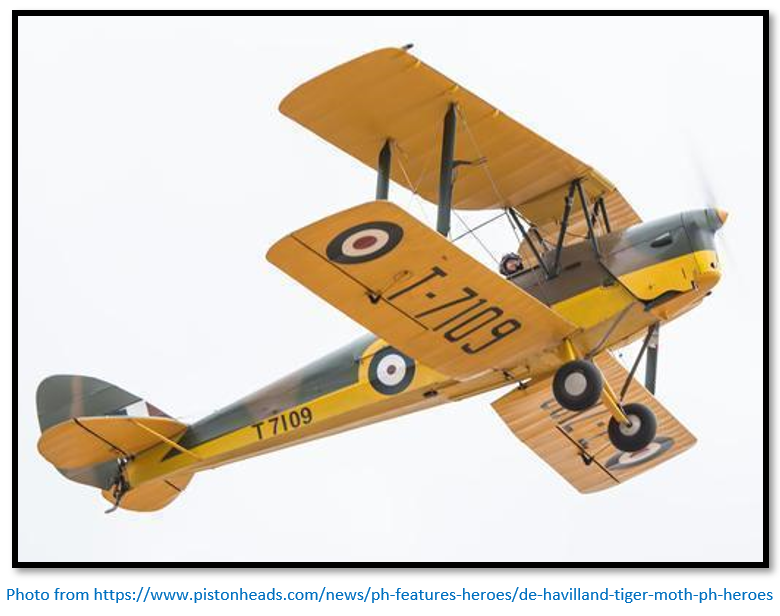 Although the bulk of the trainees were British, the RATG also received Greeks, Yugoslavs, Australians, South Africans and, of course, Rhodesians. Walmsley probably went initially to the EFTS at Belvedere that gave a recruit 50 hours of basic aviation instruction on a simple trainer, such as the de Havilland Tiger Moth. Pilot cadets who showed promise went onto training at a SFTS where they were awarded their "wings." The SFTS provided intermediate and advanced training for pilots on the North American Harvard for fighter-pilots and Airspeed Oxford aeroplanes for bomber-crew.
There were many deaths in training; the Commonwealth War Graves Commission (GWGC) records 446 graves at Harare, Gweru and Bulawayo – all still kept in immaculate condition.
Secondly, although Harold Walmsley was too young to take part as one of "the few"… the young fighter pilots that took to the skies to defend Britain from the Luftwaffe between 10 July to 31 October 1940, he followed in their footsteps and was one of those who played a vital part in protecting Britain and the Commonwealth during World War II. Like those in the Army, Navy, Merchant Navy, Women's Auxiliary Air Force, the Observer Corps, local volunteers and all those working in the mines, factories, and industry to keep the war effort going, the pilots and aircrew of the RAF "gave their today for our tomorrow."
Here is his obituary as written in the Telegraph Obituaries of 28 June 2021.
He was shot down supporting ground troops in the Battle of the Bulge and was given the Croix de Guerre by Belgium to add to his DFC and bar.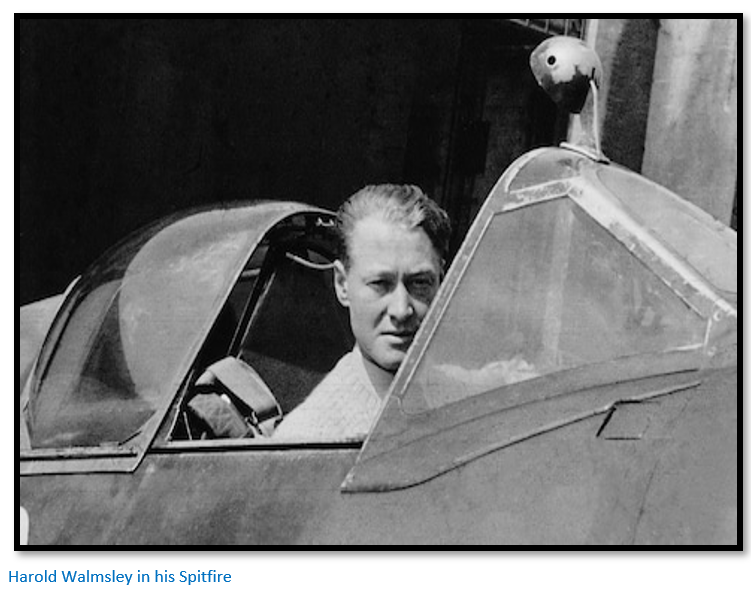 Group Captain Harold Walmsley, who has died aged 98, was one of the last surviving Spitfire "aces" of the Second World War.
He joined 130 Squadron as a flight commander in October 1944 when it was based in Normandy flying the latest mark of Spitfire on ground-attack sorties in support of the advancing Allied armies.
On 8 December, having moved to an airfield in Belgium, he was leading his section when Messerschmitt Bf 109's attacked it. In the ensuing fight, he shot one down. During the Ardennes offensive later in the month, he was assisting US forces when he was shot down by friendly fire. He bailed out, landed in a tree and was rescued by Belgian forestry workers who helped him reach US lines. He was wearing a khaki battledress (RAF blue was too similar to the field grey uniforms of the Germans) and initially the Americans treated him with suspicion, but he eventually managed to convince them of his identity and return to his squadron.
The bitter winter of 1945 cut down the squadron's activities, but from March onwards it was involved in fierce dogfights with Focke-Wulf Fw 190's. Flying from airfields in the Netherlands, Walmsley shot one down near Hamm on 13 March and destroyed another on the 28th. In two weeks of April, he destroyed seven more enemy aircraft in the air and two on the ground. On the 17th he shot down a Junkers 52 transport aircraft and destroyed two aircraft on the ground. He accounted for three more FW 190's and two Messerschmitt's before sharing in the destruction of another FW 190 on 26 April, by which time he was in command of 350 (Belgian) Squadron. This was his 11th and final success, having probably destroyed another and damaged a further four.
On the day the war in Europe ended, his squadron was at Fassberg, north of Hanover. On that day, Walmsley wrote in his flying logbook: "Four Huns, bless 'em, landed in their 262's [the Luftwaffe's jet fighter] on the 'drome in the evening having taken off from Prague, bombed the Russians and then come here to surrender. Nice types!"
He was awarded a Bar to an earlier DFC, and the Belgian Government awarded him the Croix de Guerre. The citation for the award of his second DFC recorded his "fine example of determination and devotion to duty."
Harold Edward Walmsley was born on 14 December 1922 in Preston, Lancashire, but when the war broke out he was living in Uxbridge, where he was working as a metallurgical laboratory assistant. He joined the RAF in December 1940 and was one of the first pilots to be trained in Rhodesia returning to the UK in June 1942 as a sergeant pilot and in September 1942 joined 611 (West Lancashire) Squadron to fly the Spitfire from Biggin Hill. The squadron provided escort for bomber squadrons attacking targets in northern France.
On 9 January 1943 Walmsley probably destroyed an FW 190, and over the next few weeks he claimed to have damaged at least three more. On 25 July, while escorting bombers to Amsterdam, he shot down a Bf 109.
In August he moved to 132 Squadron as a flight commander, also equipped with the Spitfire, flying sweeps and escort over France. On 7 January 1944 he shot down a FW 190 over Abbeville. After 20 months of continuous operational flying he was rested in April and awarded the DFC. He spent time as a fighter instructor before returning to operations with 130 Squadron in October.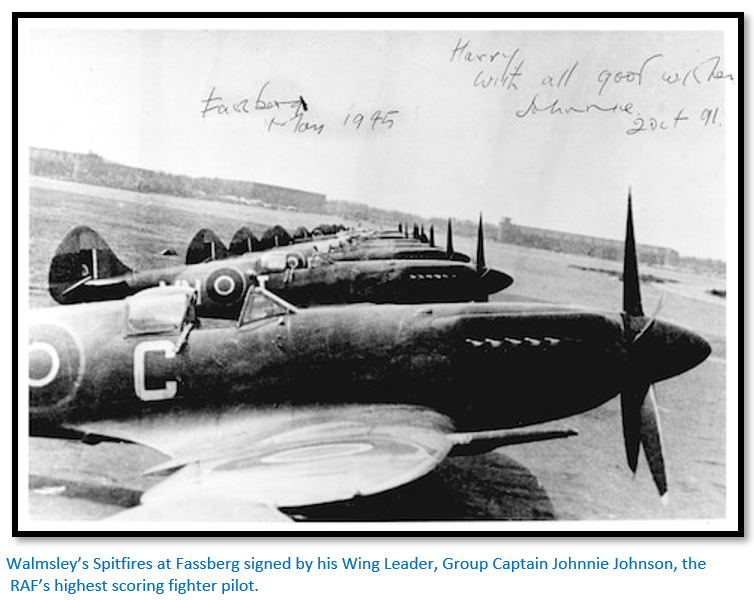 After the war, Walmsley took command of 80 Squadron in Germany, flying the Tempest fighter. In November 1947 he became a flying instructor and in May the following year was posted back to his first squadron, 611, as the adjutant and flying instructor.
Now part of the Royal Auxiliary Air Force, flying Spitfires from Woodvale, near Southport, he was one of three regular officers on the squadron. A return to the Central Flying School as an instructor was soon followed by his appointment as the chief flying instructor at 4 FTS based in Rhodesia. [This was at RAF Heany near Bulawayo flying the Tiger Moth, Harvard, Anson & Chipmunk aeroplanes – the air station operated from 1947 to 1954]
After attending Staff College he converted to the Sabre, and in April 1955 assumed command of 67 Squadron at Wildenrath in Germany, remaining as the CO for two years. His next appointments were in the fighter role, first in charge of flying operations at Tangmere, near Chichester, and then, as a group captain, he commanded the radar unit at Boulmer in Northumberland, a key station in the chain of fighter control units that provided for the air defence of the UK. In 1965 he left for Singapore, with responsibility for plans during the Indonesian Confrontation campaign, before going on to serve in the MoD on the Defence Policy Staff.
He was the RAF parliamentary adviser to Denis Healey, a man he held in high regard, although on the whole he had little time for the Labour politicians. After a period as the senior RAF instructor on the Senior Officers' War Course at Greenwich, he retired from the Air Force in 1971 and moved to the village of Waldringfield in east Suffolk.
On leaving the RAF, Walmsley was immediately offered a two-year contract as deputy director of the British Defence Consortium being set up in Saudi Arabia. He spent a further two years as the general manager of Airwork in Oman, providing maintenance and technical support to the expanding Sultanate of Oman Air Force, which was being equipped with the Strikemaster light attack aircraft.
After his second retirement he was able to focus on his passion for sailing. He owned a Deben Four Tonner, a small wooden cabin cruiser which he sailed to Channel ports. He visited the Baltic, and joining a friend and his Moody 336, he sailed to the Channel Islands and the Frisian Islands. His other great love was his garden.
Harold Walmsley married Jean, a wartime nurse, in 1945; she died in 2017. Their son and daughter survive him.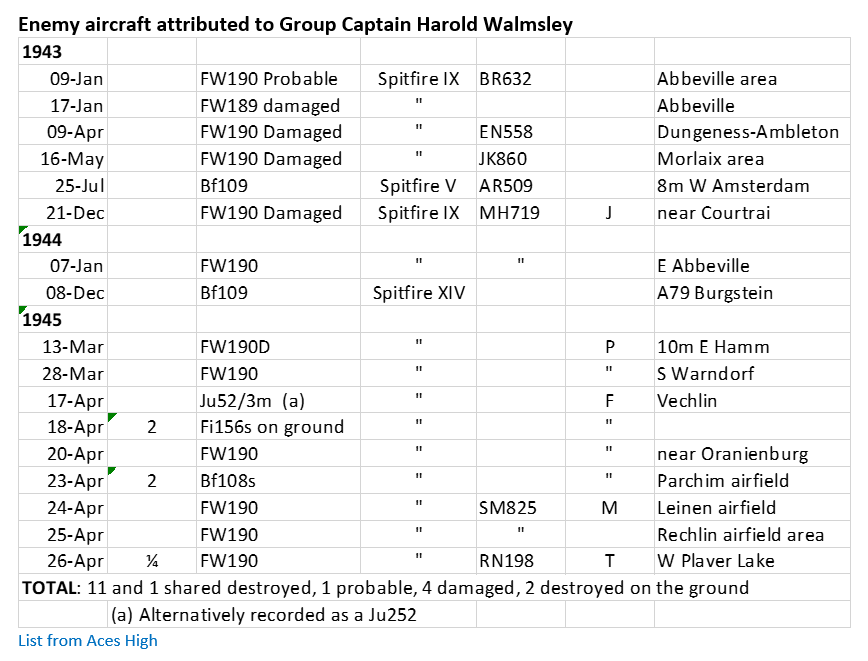 Harold Walmsley, born 14 December 1922; died 2 April 2021
References
Telegraph Obituaries, 28 June 2021
Aces High: A Tribute to the Most Notable Fighter Pilots of the British and Commonwealth Forces in WWII. Christopher F. Shores, Clive Williams, 1994
The Rhodesia Air Training Group (RATG) 1940 – 1945 and statistics on fatalities from the Commonwealth War Graves Commission (CWGC) at www.zimfieldguide.com