Chiremba / Epworth Balancing Rocks
Why Visit?:
There are some extraordinary shaped rocks although on a much smaller scale than those in the Matobo National Park near Bulawayo.
The balancing rocks are close to Harare.
There are some enigmatic San rock art sites worth visiting. They are in excellent condition and give a good idea of the original paint colours and the fine lines the San painters were capable of drawing on the granite surfaces.
The site is well cared for by NMMZ in an area which is under increasing pressure by creeping urbanization.
How to get here:
From the junction of Glenara Avenue / Chiremba Road, take the Chiremba Road 7.4 KM through the suburbs of Queensdale, Chadcombe, Hatfield and Park Meadowlands before reaching Epworth. A large rock on the right is called Domboramwarwi, which means "rock of God," shortly afterwards the Balancing Rocks are reached and are very obvious on the left of the road with the turnoff at the National Museums and Monuments of Zimbabwe signpost.
GPS Reference: 17⁰53′13.46″S 31⁰07′29.12″E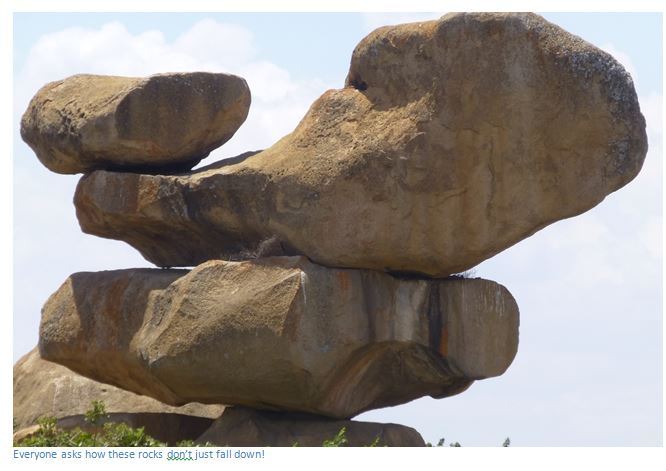 Although the Chiremba / Epworth balancing rocks are not as extensive as Domboshava, or Ngomakurira in the Harare area, they are well-known locally because one of the strange granite formations appears on the old Zimbabwean dollar notes issued during the period of hyper-inflation.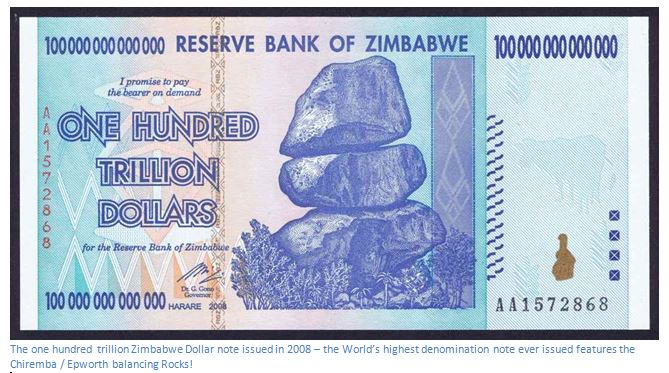 Visitors always ask how these huge angular blocks of granite "piled on top of and beside one another, forming pillars and stacks, like a child's building blocks" are formed and the geology behind their natural formation is fascinating. Billions of years ago, magma formed within the earth's crust and was forced up towards the surface through weaknesses in the rocks. As it slowly cooled and solidified, it formed into a hard crystalline rock, such as granite. The granites at Epworth are typical of volcanic rock and known for their hardness - the surrounding rocks, especially if they are sedimentary rocks like sandstones, or mudstones, may be significantly softer and therefore as the erosion processes continue, they are worn down faster than the hard granites. Eventually the hard granites also start to split; they develop cracks, which are attacked by weathering processes, whilst still under the ground. Castle kopjes develop when there are joints and cracks in the rock and onionskin weathering (or exfoliation) brought about by temperature changes causes the rock to peel off in thin sheets.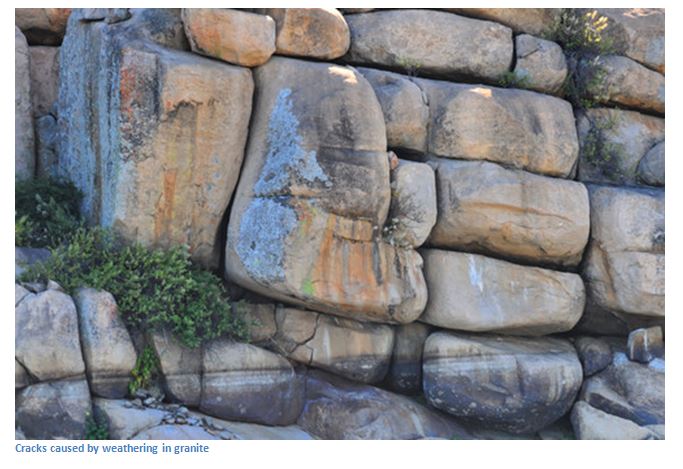 Chiremba / Epworth balancing rocks were declared a National monument in 1994 and according to the National Museum and Monuments website they symbolize the peace and stability of the nation's economy. To me this seems rather ironic as they appear on the one hundred trillion Dollar note shown above, a victim of the inflationary period in 2008-9; a period of great instability for Zimbabwe!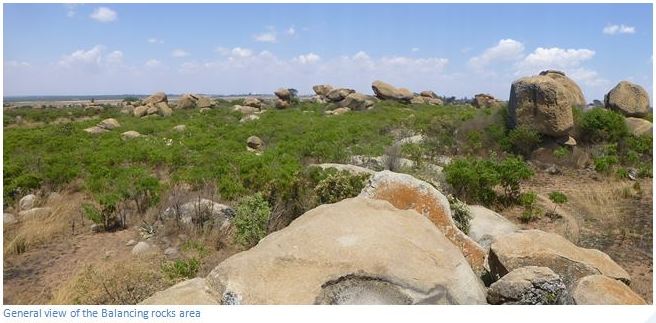 Epworth Mission was established by the Rev. Shimmin in 1890 as a Methodist Mission Station, but its population has grown rapidly in recent years and the Methodist Church could not control the influx of people, and therefore transferred ownership of the farm to the Ministry of Local Government in 1983.The site offers picnic activities and at the weekends can get noisy as a venue for weddings and children's birthday parties.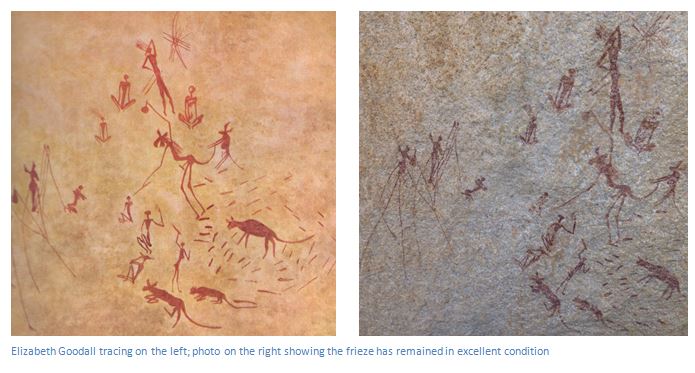 These figures with their strangely attenuated limbs form part of one of one of the rock art friezes at Chiremba / Epworth Rocks. In Elizabeth Goodall's painting on the left, she labels the scene "devil's rock," but they appear to be semi-human creatures that exist in the supernatural, or trance world of the San artists. They are quite common in Zimbabwe art and are called therianthropes and they appear in different guises; they usually are naked, walk upright, are male, and have long tails, pointed muzzles and ears like an antelope. These supernatural creatures may represent ghosts, or spirits of the dead, the gauwasi, which appear to the San artists whilst they were in a trance state.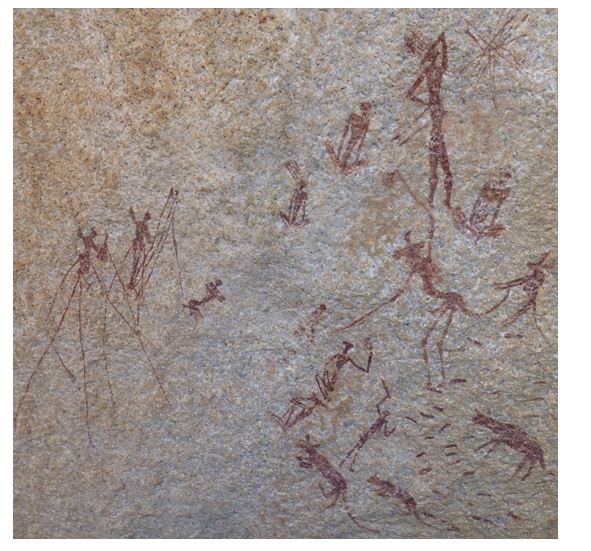 A closer look at this frieze reveals a collection of what may be arrows above a male with an ornate headdress who has one arm on his hip and the other above his head, an unusual gesture in rock art. On the left are two squatting males, one with an elaborate headdress, and a similar squatting figure on the right. Directly below a therianthrope dominates the scene with a very pronounced torso, penis and long attenuated arms and legs, a tail and antelope head. Behind a dog-like creature touches the therianthropes' tail.
The therianthropes' arms gesture over a small squatting figure; below are a further two squatting figures one with its hands supported by its knee. Below are two crouching creatures with long tails that resemble felines. All face inwards towards the small squatting figure in what may be a healing ceremony.
The only figure facing outwards appears to threaten another feline with a stick. This feline is partly surrounded in paint stippling.
To the far left a further two therianthropes with antelope heads, short torsos and absurdly long and spindly arms and legs face inwards.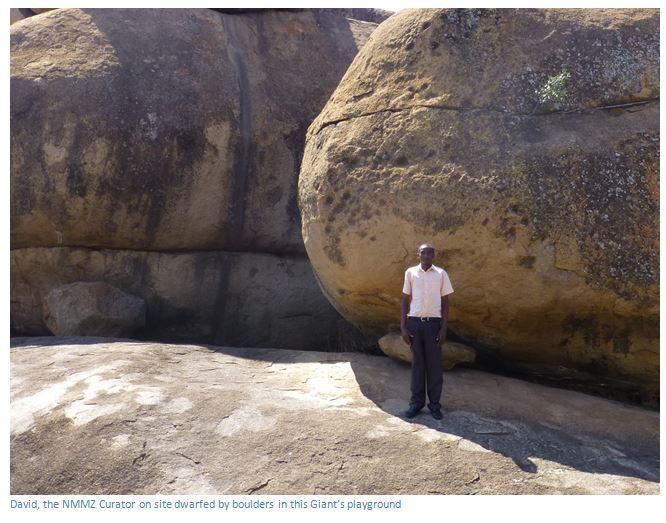 Willard Nyambiya is a freelance Tour Guide who enjoys taking visitors around Cultural and Historical sites in Zimbabwe. He works together with clients to create a customized tour package that suits the clients' interest. From city tours to rock art and ancient settlements around the country.
Face book: Zimbabwe Private Tours
Twitter: @zimtourguide
Emails: willardnyambiya@yahoo.com
Cell: +263 774 637 072 and +263 717 269 425
When to visit:
All year around Monday to Sunday 8am to 5pm
Fee:
An entrance fee is chargeable