Chapungu Sculpture Park and Doon Estate
Why Visit?:
The good news is that there are still some eighteen artist / sculptors working hard on the site and carving the stone sculptures in their traditional mediums of springstone, serpentine and verdite.
Don't ask for a hippo though, as these touristy pieces are mass produced and sold on the Enterprise Road near Newlands and at Pomona near Borrowdale shops.
Small shops sell authentic Zimbabwean products in a setting of flamboyant trees and old tin-roofed buildings with colourful glass, bead and tile decorated cement floors in shops which make a great shopping experience.
How to get here:
From Harare city centre take Samora Machel Avenue (A5) to Glenara Avenue junction. Doon Estate is 3.5 KM from here through four traffic lights. Travel along the A5 passing Cresta Lodge and then Halsted's (both on the right) At the fourth traffic light (opposite Engen service station) turn right into Falice Avenue, drive for 300 metres to a sharp curve, ignoring the Chapungu sign on the left, drive for a further 300 metres along Harrow Road and turn left into Doon Estate. The Chapungu Sculptures are to the left, Doon Estate shops are on the right and there is a security guard at the parking site under the acacia trees.
GPS reference: 17⁰50′37.17″S 31⁰07′14.49″E
Zimbabwean stone sculpture emerged in the 1950's under the active guidance of Frank McEwan, the founding Director of the National Art Gallery who set up the Workshop School that proved so inspirational to early sculptors and introduced them to the world stage.
Chapungu was founded by Roy Guthrie in 1980 and was one of the best suppliers of top-end Zimbabwean Shona sculpture and known for its International exhibitions. Unfortunately, with the decline of visitors and tourists into the country the 'sculpture village' fell into serious decline. It once had its own entrance and extensive landscaped grounds, but is now entered through Doon estate.
The pieces featured below are all individually carved and the prices quoted ranged from $30 to $700. However, in view of the current state of the economy, most prices are probably negotiable.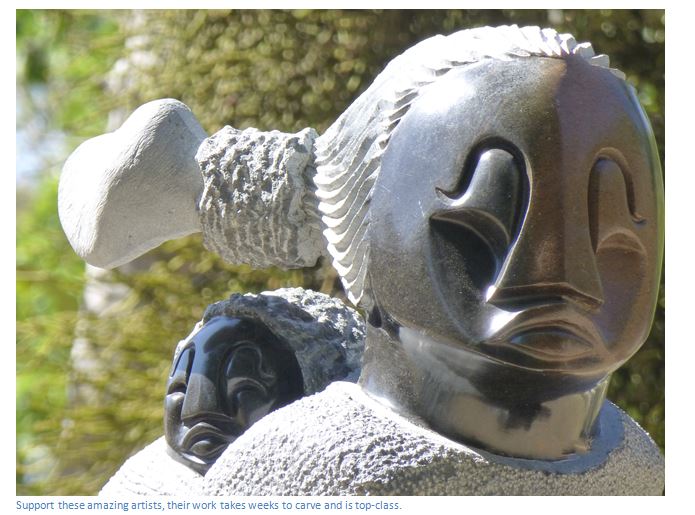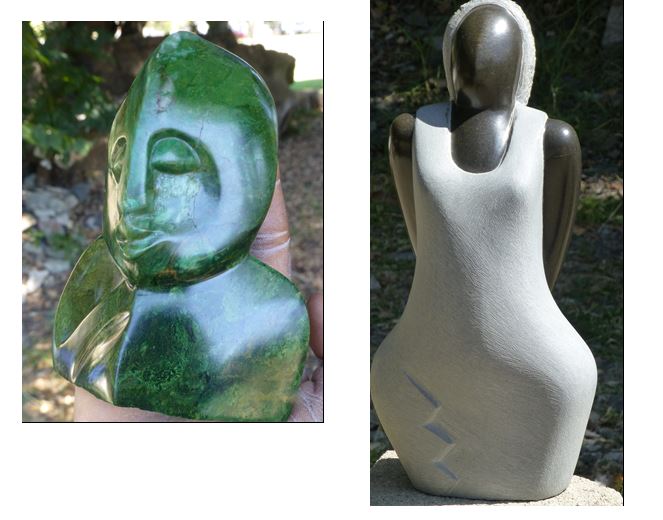 After the sculpture stroll over to Doon Estate, which despite its industrial past, has lovely mature indigenous and exotic trees and is well-maintained, a pleasure to explore and great fun for souvenir and handicraft shopping and also for a bite to eat.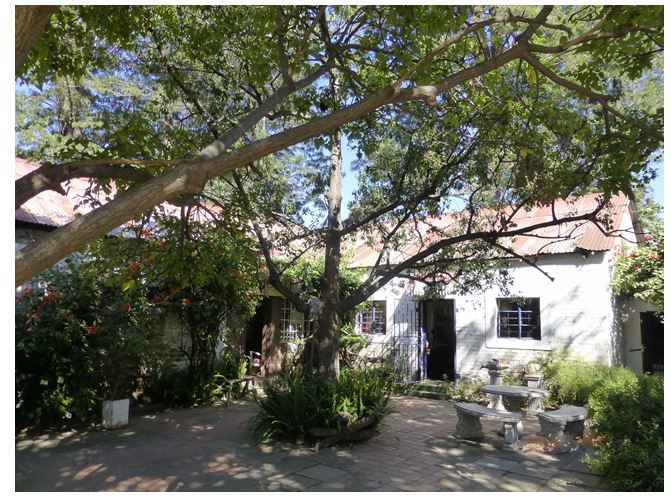 The shops and galleries are attractively presented and sell a wide range of wares. Some are specialized; Samuneti leather has bags, wallets, belts and jackets. Dendara gallery has masks, carvings and textiles from Zimbabwe and other African countries. There is something for every pocket, ranging from a dollar to several hundred, with a good range of locally made objects, so visitors can support the local community, although increasingly goods are being imported from South Africa.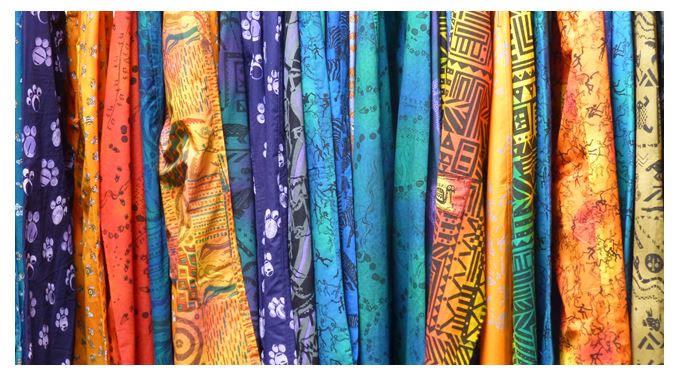 Nevertheless, there is a great range of items to choose from; colourful and well made - a good standard of shopping. For example, Kudhinda sells high quality printed fabrics, tablemats, cushion covers and tablemats in signature colours and patterns. Ros Byrne has hand painted pottery teapots, plates and mugs. Nicholai has an eclectic mix of handicrafts. Zimbabalooba has colourful outdoor clothes and batiks. Art Mart is stocked with the work of dozens of local artisans. The Gift Shop does batik wall hangings, local animals in wire and beads, sculptures made from recycled drink cans, bead necklaces and wood carvings.
The Cocoa Tree provides a welcome stop for coffee, tasty chocolates and cakes and The Shop Café uses fresh produce to create a healthy, creative and tasty vegetarian buffet lunch.
A troop of vervet monkeys are daily visitors, and will not hesitate to steal packets of sugar from the coffee tables if they can get away with it!
Even if it is not your intention to buy, it is worth spending a morning at Doon Estate browsing through all the little shops set amongst the giant flamboyant trees and finishing off with lunch.
The buildings at Dune Estate from 1940 to 1960 were the local recruiting depot for the gold mines in South Africa for migrant workers for the Witwatersrand Native Labour Association, more usually known by its initials WNLA, or more popularly as "Wenela." This grew into a large organisation, with its own depots, buses and even aeroplanes, spread over the whole of Southern Africa including South Africa, Lesotho, Swaziland, Namibia, Botswana, Zimbabwe, Zambia, Malawi, Mocambique, and even the Congo and Tanzania.
Each depot had administrative and medical staff and a "barracks" to house recruits both before departure and on their return. Some had clinics and even schools, where the recruits were taught, first, Fanagalo, the lingua franca of Southern Africa (fifteen hours of tuition was enough to be useful), and then the rudiments of what mining was all about. Tours were usually of six months duration, but many men spent their entire working lives as migrant workers and Fanagalo became the lingua franca of the whole of Southern Africa.
In Zimbabwe and Zambia the Government had instituted a "hut tax" of quite a small amount, payable annually for each hut. It was a form of "tribal initiation" for every youth to go down to the mines for at least one tour, and he would bring back enough money to pay the hut tax for the entire village.
The name Mandara, a suburb in the east of Harare, is believed to have been given by Malawi migrant workers who walked from Malawi. It was the last overnight stop before they arrived at the Wenela depot at Doon Estate.
When to visit:
All year round Open Monday to Saturday, 8am to 5pm