This rotten Law does Zimbabwe no credit at all; Tendai Biti says, "Not even Apartheid Rhodesia passed such repugnant law"
How did this oppressive piece of legislation come about?
At the same time as President Mnangagwa announced that Zimbabwe's next general elections will take place on 23 August 2023, the ZANU-PF Parliamentary majority passed the Criminal Law Codification Bill known widely as the 'patriotic bill' by 99 in favour, 17 against.
Constitutionally Zimbabwe is a republic, but its authoritarian Zimbabwe African National Union-Patriotic Front (ZANU-PF) government has not been freely elected for decades by using politically motivated violence and an uneven playing field by rigging the election registers and has been dominated by President Robert Mugabe and his successor Emmerson Mnangagwa since Zimbabwe's independence in 1980.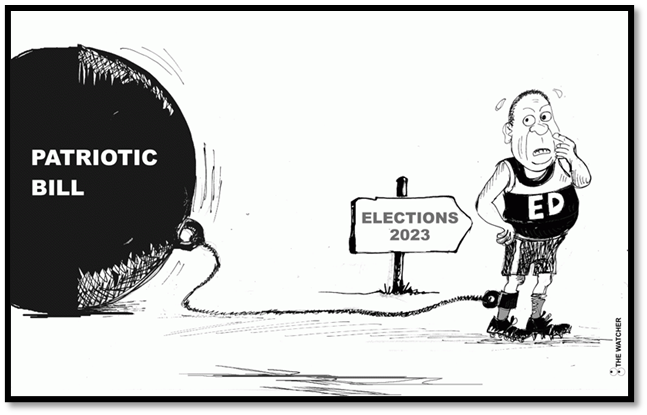 Cartoon from Newsday Zimbabwe
What does it say?
It contains a new addition which provides that "any citizen or permanent resident of Zimbabwe who, within or outside Zimbabwe, intentionally partakes in any meeting, one of whose objects the accused knows, or has reasonable grounds for believing, involves the consideration of or the planning, for the implementation, or enlargement of sanctions and a trade boycott against Zimbabwe (whether those sanctions or that boycott is untargeted or targets any individual or official, or class of individuals or officials), but whose effects indiscriminately affect the people of Zimbabwe as a whole, or any substantial section thereof, shall be guilty of wilfully damaging the sovereignty and national interest of Zimbabwe…"
So it makes it unlawful to communicate or attend meetings organised by "foreign agents" and to participate in any activity that "goes against Zimbabwe" therefore making it unlawful to criticise the Zimbabwean government! Any Zimbabwean can be punished for, "wilfully injuring the sovereignty and national interest of Zimbabwe."
Why has it been introduced now?
It will be used by this corrupt and crooked government as a tool of oppression against the opposition political parties and to attempt to silence any other critics of the Zimbabwean government and human rights defenders, especially ahead of the 23 August 2023 general elections.
Anyone who thought that after the late Robert Mugabe they might look forward to a brighter political and economic future under his successor Emmerson Mnangagwa has by now become used to an even more oppressive regime with the change in leadership in Zanu-PF.
The latest polls say that ZANU-PF will lose the August election
This is the most pressing reason for this unjust piece of legislation. ZANU-PF's main opposition is Nelson Chamisa and his Citizens Coalition for Change (CCC) who are predicted by the polls to win the next election.
A poll of 2,000 registered voters, conducted by Elite Africa Research in June 2023 found that if the elections were held then, 47.6% of respondents would vote for Chamisa in the presidential poll, while 38.7% would vote for President Emmerson Mnangagwa.[i]
The same poll found that 69.4% of voters in Zimbabwe think the country is on the wrong political path and 77.5% said that the economy was getting worse.
Voters gave the CCC party a net positive score of 28.6%, Zanu-PF scored a net negative of 2.7%. The author, Peter Fabricius, thought these results suggest a high level of discontent among Zimbabweans towards Mnangagwa and Zanu-PF, but also some reluctance, possibly anxiety, about replacing them with Chamisa and the CCC.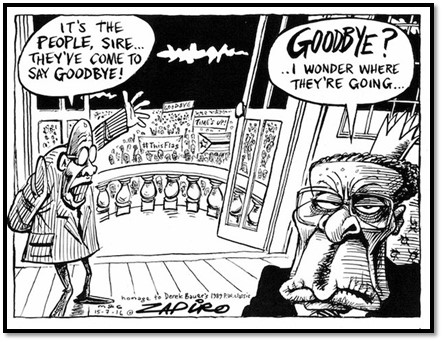 Mugabe Carton by Zapiro 15.07.2016
The bill has been widely criticised outside Zimbabwe
Maximalliant Katjimane[ii] in The Namibian states, "Every single individual who claims to be a proponent of democratic values should condemn and reject the 'patriotic bill' with the contempt it deserves, not only in Southern Africa but throughout Africa and the international community. It is the latest effort sanctioned by the Zanu-PF regime to turn Zimbabwe into a complete autocracy."
Katjimane goes on to write that Article 4 of the SADC Treaty obliges members to uphold the principles of "human rights, democracy and the rule of law" and that Article 4 of the AU Charter on Democracy, Elections and Governance, to which Zimbabwe is party, requires members to promote "the principles of the rule of law and human rights."
It should be clear by now to Mr Katjimane that the Mnangagwa regime is the same as the old Mugabe ZANU-PF administration, just a few personalities have changed. Both the Southern African Development Community (SADC) and the African Union (AU) have continued to extend an olive branch to these repressive and authoritarian regimes.
Flavia Mangovya, Amnesty International's deputy regional director for East and Southern Africa said, "It is deeply concerning and signals a disturbing crackdown on Zimbabweans' rights to freedom of expression, peaceful assembly and association. The weaponization of the law is a desperate and patent move to curtail the rights to freedom of expression and to public participation in elections due in August" and went on to say, "would also give authorities greater powers to unduly restrict human rights adding that it would allow for imposing the death penalty against those perceived as being critical of the government, including political activists, human rights defenders, journalists, civil society leaders opposition parties and whistleblowers."[iii]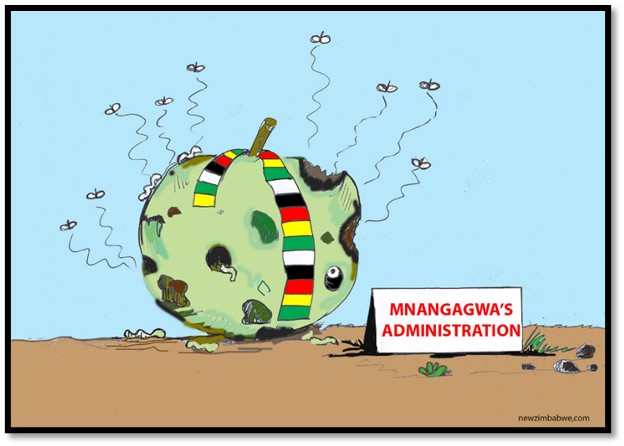 E.D.'s administration. 26 August 2020. New Zimbabwe
Similar criticism comes from within Zimbabwe
Nelson Chamisa, leader of the main opposition Citizens Coalition for Change (CCC) party, described the enactment of the new law as a desperate attempt by the Mnangagwa administration, "You don't legislate patriotism; patriotism is something that comes from a sense of pride, a sense of dignity, a sense of belonging. It's not done by putting a piece of legislation."[iv]
Fadzayi Mahere, spokesman for Citizens Coalition for Change said, "We condemn their signing into law of the unconstitutional 'Patriotic Bill,' which will criminalize free speech and freedom of association which are protected under our constitution…The introduction of this repressive legislation confirms beyond any doubt that Mr Mnangagwa is worse than Robert Mugabe and Zimbabwe as become a full-blown dictatorship in an outpost of tyranny."[v]
Lloyd Damba, spokesperson for MDCT leader Douglas Mwonzora, said, "We are going to have that law repealed because it is draconian, it is archaic and it is not in sync with the democratic principles of any nation globally."[vi]
Kumbirai Mafunda, spokesman for Zimbabwe Lawyers for Human Rights said, "We are saddened that Zimbabwe is taking a route that is retrogressive in terms of hampering citizens from exercising their rights. It's a sad day for Zimbabwe; it's a sad day for democracy. We are quite taken aback by a government that had made promises that it will enhance or make people enjoy their rights. We are seeing this happening towards an election and this shows that the government does not want any constructive criticism and constructive advice."[vii]
ZIMBABWEAN activist and #ThisFlag movement founder Evan Mawarire condemned the Bill saying, "Very sad day for Zimbabwe. Parliament passed the draconian Patriot Act…It criminalizes freedom of speech, freedom of association, and assembly and disallows Zimbabwe citizens from engaging foreign government officials. Zimbabwe has become far worse than any of us imagined."[viii]
ZANU-PF government offers the same tired arguments
Senior party activist Peter Tangi told Daily Maverick that the law was necessary, "This all started when some Zimbabwean citizens called for sanctions from America, Britain and other countries in the West. Every country has its own principles and we will not allow Zimbabweans who call for punitive measures … on Zimbabwe to allow the West to effect regime change in our country."
But Nelson Chamisa responded by saying Zimbabwe's problems come from a leadership crisis, "Government is the biggest sanction in Zimbabwe and we have to remove all sanctions starting with corruption, starting with the [current] government, starting with those who are causing problems and nightmares."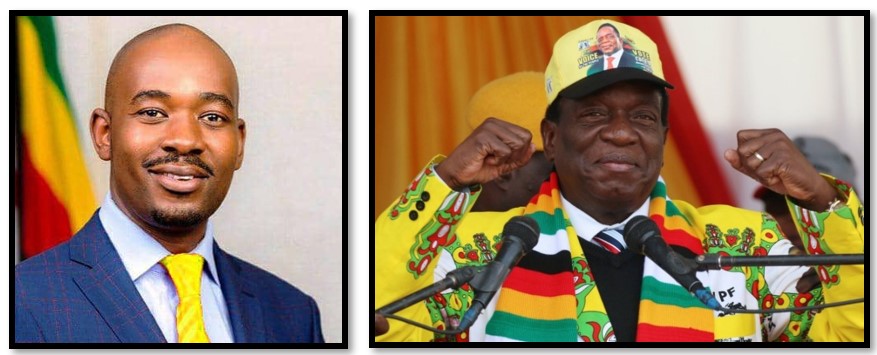 Nelson Chamisa of CCC (45 years old) Emmerson Mnangagwa of ZANU-PF (80 years old)
The new law threatens criticism of the government punishable by up to 20 years in jail
The law is clearly designed to intimidate citizens, civil society organisations and political adversaries of the ruling Zanu-PF party. Like all previous Zimbabwe elections this ZANU-PF government has launched a crackdown ahead of the 23 August election in the hope that Emmerson Mnangagwa secures 50% of the vote to ensure a second term as president.
Fadzayi Mahere, CCC spokesman and lawyer, added the law was "dangerous" and aimed at closing the democratic space ahead of elections. "Zanu-PF has reduced our great nation into an outpost of tyranny," he told Reuters. "None of it will work because Zimbabweans go to the polls with one mission - to win Zimbabwe for change. No amount of panicky despotism by Zanu-PF will stand in the way of change whose time has come."[ix]
Obert Masaraure, spokesman for the Crisis Coalition of Zimbabwe said the new law is too vague in its definition of offences, "Some of the penalties proposed by the law for deliberately injuring the sovereignty and national interests of Zimbabwe, such as the death penalty, long imprisonment, loss of citizenship and binding of persons from electoral participation for five years, are too harsh and inappropriate for vaguely defined offences…The provision of the death penalty means that the new law violates the constitution which only allows for the death penalty in cases of murder and aggravating circumstances. We firmly oppose the death penalty without exceptions. We are completely against the death penalty and we condemn it and unreservedly."[x]
ZANU-PF does not believe in creating a level political playing field at elections
Intimidatory tactics are not new to this ZANU-PF regime, in fact it is their custom to stack the cards well in their favour before any election to give them a head start and disadvantage the opposition. The government uses its hold over the state broadcaster, the Zimbabwe Broadcasting Corporation (ZBC) and the state newspapers, Harare-based The Herald and Bulawayo-based The Chronicle to ensure Mnangagwa gets all the political coverage and the opposition get very little.
The political-appointees of the Zimbabwe Electoral Commission (ZEC) will constantly refine constituency boundaries in the ruling party's favour and the voters roll itself is filled with dead and duplicate voters with many genuine voters' names either missing, or in constituencies a long way from their place of residence.[xi]
In 2018 Nelson Chamisa headed a rag-tag of opposition political parties and despite that election being viewed as neither free nor fair, he did surprising well losing only by a small margin.[xii]
Simukai Tinhu believes, "this makes this election like no other since this is the first time the opposition has taken a lead in the polls." He quotes the Johannesburg-based Brenthurst Foundation that places Nelson Chamisa 13 points ahead of President Mnangagwa and that Mnangagwa has to capture more than the 2.5 million votes he secured in 2018 in a dramatically different political context, making that task very difficult. Indeed, he believes that "with much younger voters and without the "rally-around-the-leader" effect created by the removal of the reviled Robert Mugabe, Mnangagwa is looking very vulnerable."[xiii]
Chamisa has the voter support, the electorate are sick and tired of the policies and blatant corruption of the ZANU-PF government and will vote overwhelmingly for him. Still, with the ZEC at their beck and call, few doubt that the ZEC will rule against an electoral outcome unfavourable to Mnangagwa and probably nothing will stop the regime from declaring Mnangagwa President as it did in 2018.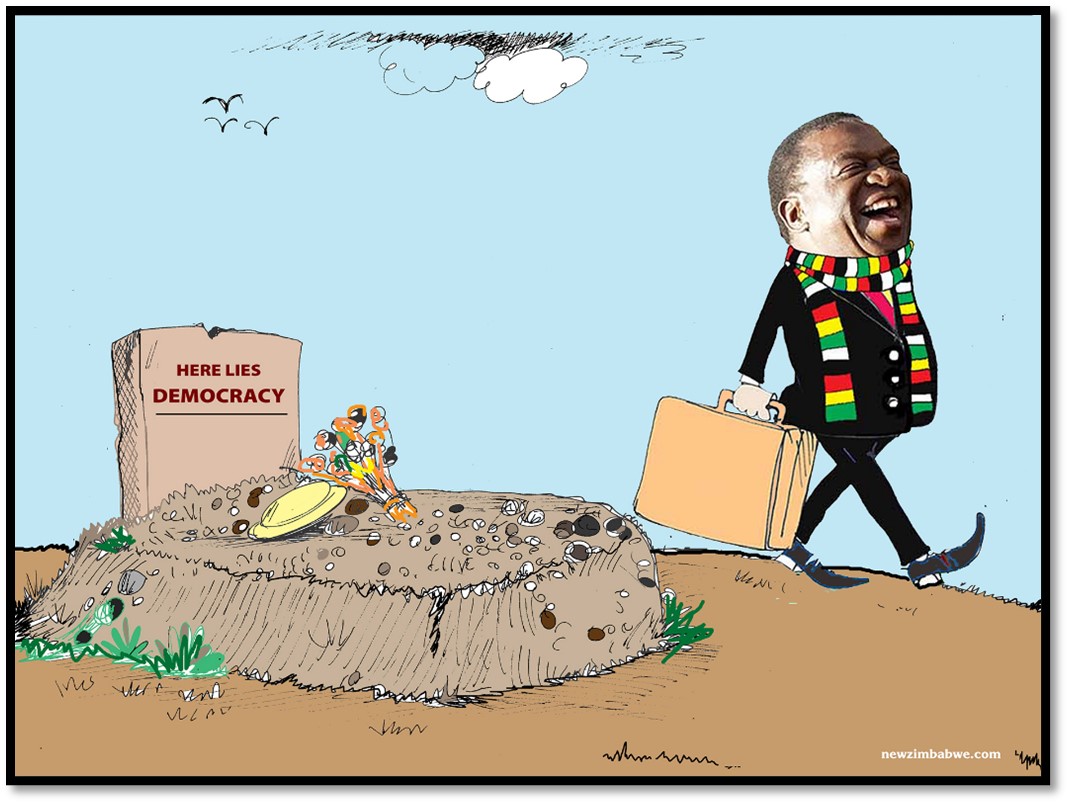 Here lies Democracy. 20 August 2020. New Zimbabwe
References
Anna Chibamu. New Zimbabwe. 1 June 2023. Very sad day for Zimbabwe – says #ThisFlag pastor as Patriotic bill sails through Parliament. https://www.newzimbabwe.com/very-sad-day-for-zimbabwe-says-thisflag-pastor-as-patriotic-bill-sails-through-parliament/
Frank Chikowore. Daily Maverick. 14 July 2023. 'Sad day for Zimbabwe' as Mnangagwa passes 'draconian' law to silence critics ahead of August poll. https://www.dailymaverick.co.za/article/2023-07-14-mnangagwa-passes-draconian-law-to-silence-critics-ahead-of-august-poll/
Peter Fabricius. Daily Maverick. 11 July 2023. Latest Zimbabwean poll says Chamisa and the opposition should win next month's elections. https://www.dailymaverick.co.za/article/2023-07-11-latest-zimbabwean-poll-says-chamisa-and-the-opposition-should-win-next-months-elections/
Maximalliant T. Katjimane. 18 July 2023. The Namibian. The 'Patriotic Bill' and the Erosion of Democracy in Zimbabwe. https://ww2.namibian.com.na/the-patriotic-bill-and-the-erosion-of-democracy-in-zimbabwe/
Columbus Mavhunga. 17 July 2023. Voice of America. Furious Over Signed Patriotic Bill. https://www.voanews.com/a/zimbabwe-rights-groups-opposition-furious-over-signed-patriotic-bill-/7184729.html
Simukai Tinhu. Daily Maverick. 30 July 2023. Chamisa's battle to topple Mnangagwa against heavily stacked odds. https://www.dailymaverick.co.za/opinionista/2023-07-03-zimbabwe-elections-chamisas-battle-to-topple-mnangagwa-against-heavily-stacked-odds/
The Telegraph. 1 June 2023. Zimbabwe outlaws criticism of government ahead of elections with sentences up to 20 years. https://www.telegraph.co.uk/world-news/2023/06/01/zimbabwe-ban-criticism-election-jail-emmerson-mnangagwa/
Notes
---