The 1893 Occupation of Bulawayo by the Salisbury and Victoria Columns
Photographs and descriptions of all the principal individuals involved in this article are given in the article The 1893 Matabeleland campaign and the roles played by Jameson, Lobengula, Loch and Rhodes in Masvingo province on the website www.zimfieldguide.com
The High Commissioner of Southern Africa, Sir Henry Loch, wanted the Southern Column to be the first to occupy Bulawayo
In October 1893 Loch mistakenly believed the Southern Column was advancing rapidly on Bulawayo and began to openly discuss his goal of taking the peace with Lobengula out of the hands of the British South Africa Company (BSACo). Rhodes and Jameson were well aware of Loch's plans and were just as determined to defeat them by being the first to occupy Bulawayo.
Loch orders the forces of the Southern Column to move to the Matabeleland border from Macloutsie in the Bechuanaland Protectorate
On 5 October 1893 The BSACo forces at Tuli under Captain Raaff were attached to the Bechuanaland Protectorate Police (BBP) under Lt-Col. Goold-Adams despite Goold-Adams' reservations of the fighting qualities of Raaff's men.[i]
The same day High Commissioner Loch told Goold-Adams to be ready for an advance on Tati in 'four or five days' time.'
7 Oct – Goold-Adams was told to move to Tati or the Monarch Mine (near present Francistown) as soon as he was ready but go no further. "Without my express sanction, do not advance beyond Tati and Monarch Reef unless military requirements render such a course in your judgement necessary."[ii]
Goold-Adams wanted Raaff's BSACo force at Macloutsie on 9 October when the combined force would leave for Tati. Chief Khama's men would leave Palapye the same day and they would all meet at the Macloutsie drift on 11 October.
But Raaff did not move from Tuli and a furious Loch told Rhodes that he had ordered Goold-Adams to take "decisive measures against Raaff if necessary" and wanted Captain Heyman from Salisbury to replace him. Rhodes agreed to send Heyman but added, "you may find Raaff alright and wiser not to swop horses when crossing a stream."[iii]
Finally Raaff's men marched through the night and arrived at Macloutsie the next day where Raaff produced a telegram from Dr Jameson telling him not to move for a week after the departure of the Salisbury and Victoria columns.[iv]
On the late afternoon of 11 October the combined BSACo / BBP Southern Column was on the march,[v] but the road was in poor condition and the progress of the wagons was slow. The force joined Chief Khama's men[vi] at the Shashe river on 13 October.
The main column arrived at Tati on 18 October, but the water supply was insufficient for the numbers of men and animals and Goold-Adams decided to move on to the Monarch Mine.
Loch's plan is that the Southern Column should reach Bulawayo first before Jameson
On 12 October the High Commissioner wired Goold-Adams saying the occupation of Bulawayo would end the war, but that he should not do so unless he could hold it until reinforcements arrived and that he should use his judgement. This view was reinforced on 20 October, "I presume you understand that you have freedom of action with regard to advancing on Bulawayo, but you must exercise your own discretion as to the time and manner in which you do so."[vii]
Clearly Loch's plan was for the Southern Column to arrive at Bulawayo before the Salisbury / Victoria Column and regarded the campaign as one in which the winner took all.
Reinforcements are sent to Goold-Adams
Loch was unsure if there were enough men to occupy Bulawayo. On 8 October he wired Goold-Adams that he would recruit another 150 men, but two days later increased the number to 200 men recruited from the regiments in the Cape (King William's town and Port Elizabeth) and Natal. The Natal men passed uneventfully through the Transvaal to Mafeking, the supply base, though they were advised to wear civilian clothes, "too prevent molestation by any of the third class Boers who might take pleasure to offer insult to British soldiers in uniform."
Loch himself was at Mafeking on the 25 October to view progress and found three Troops, totalling 300 men, under training and being equipped under Major Raleigh Grey.
Another 50 new recruits to the BBP were sent from Macloutsie under Lt D.H. Marsham to join Goold-Adams.
It appeared that Goold-Adams would have under his command at the beginning of November 1893, the 225 BBP already with him, another 300 BBP under Major Raleigh, his second in command, and a further 50 BBP under Lt Marsham, totalling 575 men.
The Southern Column is out-manoeuvred by the Salisbury / Victoria Columns
On 1 November, the day the Salisbury / Victoria Columns were fighting the Battle of Bembesi[viii] (Egodade) Loch was telegraphing Lord Ripon, Secretary of State for the Colonies, with details of the movements of the BBP. On 4 November Major Grey arrived at Gaberones with his BBP reinforcements and wired Bower, Loch's secretary, asking him for information about some news he had received that Bulawayo had just been occupied by the Salisbury / Victoria Columns!
Why was it important that the Salisbury / Victoria Columns occupied Bulawayo first? Rhodes wished to minimise any demand by the Foreign Office for a greater degree of control over the administration of Mashonaland and now Matabeleland, and thus it was essential that Jameson's force seize Bulawayo before the Imperial forces (i.e. the BBP under Goold-Adams) Hence his telegram to Jameson on 21 October 1893, "Be careful when you take Bulawayo that you retain management for the Company, and that Goold-Adams, when he arrives, is given clearly to understand that the Company retains management."[ix]
Why was the Southern Column beaten in the race to Bulawayo?
On 7 October Loch had told Goold-Adams to go as far as Tati or the Monarch Mine and he had left Tati because of the poor water supply and had, in fact, camped on the Ramaquabane river, still within the Bechuanaland Protectorate and was awaiting instructions.
Goold-Adams had sent F.C. Selous up the Ramaquabane river to scout out a possible route for the Southern Column, but on Selous' return on 25 October he had stated the route was not viable, again due to the shortage of water.
On 17 October Loch was complaining he had heard nothing from Goold-Adams, but telegraphed messages to Palapye then took another 5 days before runners could reach the Southern Column.
On the 29 October Goold-Adams was at the Singuesi river, just 10 miles (16 km) from the Ramaquabane with part of the BBP and some of Khama's mounted men and ten wagons. The remainder of his force, including Chief Khama and his remaining men, Captain Tancred and the remaining BBP men were left at the Ramaquabane river. Goold-Adams had reports that induna Gambo with up to 7,000 amaNdebele was near the Mangwe Pass, so he laagered at the Singuesi before telling Khama and Tancred to move up with the remaining force.
Loch had advised Goold-Adams on 12 October to "exercise your own discretion" and expected him to move on quickly with his force, but clearly Goold-Adams had not appreciated the High Commissioner's urgency.
23 October - An unequivocal message from Loch to the Southern Column to reach Bulawayo first
Only on the 23 October did Loch give a direct order to establish, "a commanding position as regards Bulawayo," but by 29 October this message had still not been received by Goold-Adams, as he made no mention of it in his own message from the Singuesi river. Once at Bulawayo Loch told Goold-Adams to wait for an approach from Lobengula or take such military steps as he felt necessary. At the same time he wired Lobengula to say that once Goold-Adams was established at Bulawayo, he [Loch] was open to any messages from the King that led to peace.
On the same day the Salisbury / Victoria Columns had safely passed through the Somabula forest by-passing the Insukameni Regiment that had been waiting in ambush for them but was thwarted by heavy fog.
On the 27 and 28 October further messages to Goold-Adams made the objective clear, "Bulawayo is the objective point you have to reach."
Stafford Glass states the delays were due to Goold-Adams over-cautiousness and slow pace of advance, his lack of imagination and Loch's failure to give a clear order for the Southern Column to reach Bulawayo as soon as possible.[x] These factors upset Loch's plans and enabled the BSACo's forces to reach Bulawayo first.
Southern Column situation at 1 November
Goold-Adams was laagered 2 miles north west of Empandine (Old Empandeni Mission) Selous had reported that Gambo's amaNdebele warriors estimated at 5 – 7,000 strong were 12 miles (20 km) to the north east. The previous day he sent messages for Chief Khama and the rest of his force to join up with them and they arrived on this day. His plan was to push forward and provoke Gambo into attacking, but he remained ultra cautious and told Loch if Gambo refused to attack he would wait for Major Grey to arrive with the BBP reinforcements. But Grey was still at Gaberones, over 300 miles (480 km) to the south!
But the amaNdebele made the first move and attacked Capt Tancred's convoy of wagons the next day. [for details see the article The Southern Column's skirmish at the Singuesi river on the 2 November 1893 revisited under Matabeleland South on the website www.zimfieldguide.com]
After the Singuesi skirmish
Goold-Adams now moved the Southern Column laager 8 kms to the north-east to a better position near the site of the old Empandeni Mission [xi] where Fort Adams was built. [xii]
On the same day at Bulawayo three of the Salisbury / Victoria Column's scouts, Burnham, Ingram and Vavasour heard the explosion and smoke following the destruction of the King's storehouse. At 8am they arrived at White Man's Camp on the east side of the Bulawayo spruit and found James Fairbairn and William Usher, the two traders who had remained in Bulawayo the whole time, playing poker on the corrugated iron roof of James Dawson's store.
That night the Salisbury / Victoria Columns reached the road joining the Hope Fountain and Inyati Missions and laagered beside a tributary of the Umguza river, about 7 miles (11 km) from Bulawayo.
4 November
The scouts reported the way was clear of amaNdebele and the column moved at 6am. Some time was spent building a drift across the Umguza river, and once across halted for a midday meal, some troopers grumbling the position was very exposed. In the afternoon the column trekked to White Man's Camp, for the last part they smartened up and fixed bayonets, with the piper Macdonald playing one of his own pieces, 'The March to Bulawayo.'
Once there the troopers fell out and stood in little groups watching Lobengula's Bulawayo burning on the other side of the stream. Two troopers climbed a tree near Colenbrander's hut and hoisted a rather tattered Company flag followed by the Union Jack.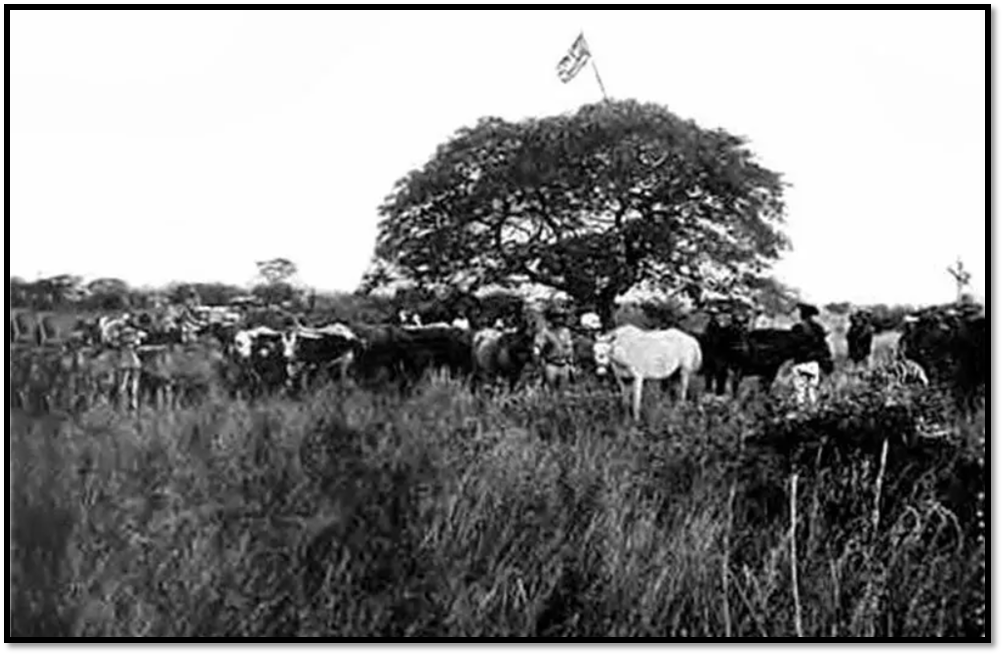 NAZ: The flag raised at White Man's Camp on 4 November 1893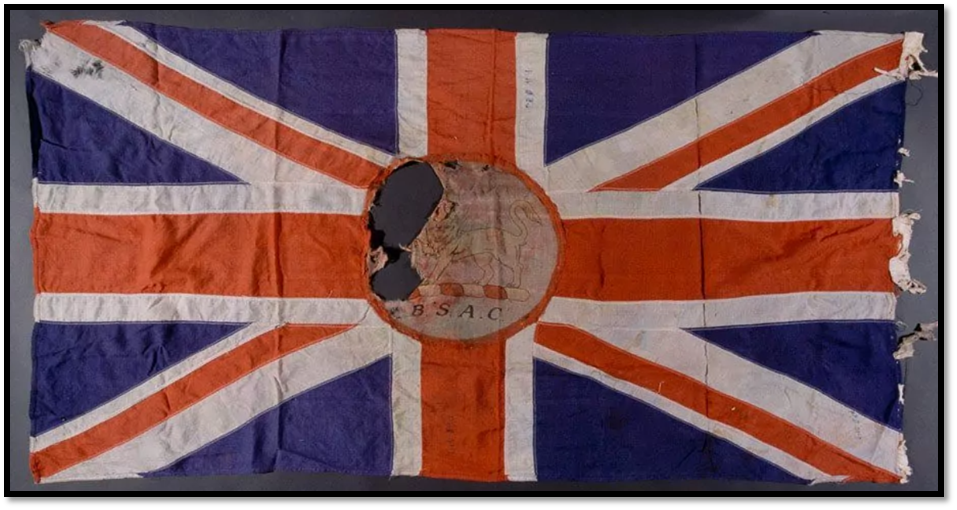 NAZ: The British South Africa Company flag – a Union Jack with a lion and initials BSAC in the centre
It had taken just a month since the 'border' was crossed for the Salisbury / Victoria Columns to occupy Bulawayo.
Chief Khama leaves the Southern Column
On 5 November Khama told Goold-Adams he was withdrawing his force back to the Bechuanaland Protectorate and two days later they were reported to be at Tati. The following year he told J.S. Moffat, "I was with him (Goold-Adams) at the Singuesi river where we had to fight with the Matabele. After that fight, when we had moved out of the kopjes to the neighbourhood of Empandine and were in the open country we saw that the Matabele had left us, and I took my men home because we saw there was nothing but smallpox around us, and also because the time was passing for us to plough and there was no one left at home to do this work."
Certainly Moffat who accompanied Chief Khama, believed Khama when he said many of the able-bodied tribesmen needed to be back home to plough and plant to avoid famine the following year, although he confirmed Khama was also irritated by the slow progress of the Southern Column.
As many of the Southern Column's oxen were in poor condition their loads had been lightened by off-loading onto Khama's wagons. These were now off-loaded before Khama's wagons left for Tati and then Palapye. The transport of these supplies owing to the poor state of his own oxen presented Goold-Adams with a logistical problem.
The military situation changes significantly
Within a few hours of Khama's leaving the Makalaka chiefs Malaba and Manyame sent councillors asking for protection for their people. They also gave Goold-Adams the news that the combined Salisbury and Victoria Columns had reached Bulawayo, Lobengula's capital on 3 November although scouting parties had arrived the previous day in time to watch as Lobengula's storehouse was blown up and they knew that Lobengula himself had fled to the north. They also stated that Gambo's impi that had been situated at the Simukwe river had left in the direction of the Gwaai (Gwayi) river.
Their news was correct, Gambo, the amaNdebele commander, had also heard that that the best regiments of the amaNdebele had been broken at Bembesi and disheartened, abandoned his position at the Simukwe river east of Mangwe Pass, leaving the Hunter's Road open and undefended.
How the BSACo retained administration of Matabeleland
Following several other telegrams to Lord Ripon, Loch telegraphed on 18 October that Her Majesty's Government, "should retain certain control or supervising authority over the administration of the Company's territories, and that this should be exercised by an Administrator and executive authorities directly responsible to the High Commissioner."[xiii] He also proposed an annual budget amount should be paid to the BSACo for administrative expenses.
He continued, "the administration of both Matabeleland and Mashonaland should be the responsibility of Her Majesty's Government until such time as the British South Africa Company were in a sufficiently established position in the country to take over the government with due regard to Imperial interests and upon such conditions as might at the time be considered well to require."[xiv]
Loch instructed Goold-Adams, "Should you come into communication with the Company's forces advancing on the east you will inform Dr Jameson or the officer in command that it is the orders of Her Majesty's Government that all negotiations with Lobengula are to be carried on by me as High Commissioner, and that therefore the British South Africa Company are not empowered to negotiate any conditions with Lobengula."
Copies of this telegram were sent to Harris and Rhodes who both protested angrily to London as they saw that Loch's course of action would have been fatal to the BSACo's interests.
However Loch had completely misjudged. Ripon was happy with the idea that Loch controlled negotiations with Lobengula, but this did not mean the Foreign Office had shifted from its view that that the BSACo should have full responsibility for the administration of Mashonaland and Matabeleland. Fairfield[xv] ensured the BSACo London office that instructions to Loch, "do not contemplate the adoption of any course inconsistent with the Charter."
On receiving confirmation of the arrival of the Salisbury / Victoria Columns at Bulawayo Loch told Ripon that this situation now made it impossible to adopt the recommendations of his 18 October cable.
Bulawayo before the occupation
Oliver Ransford writes that Bulawayo covered between 30-40 acres and was a copy of Shaka's great kraal in Natal. Its primary purpose was as a military kraal for the Imbezu Regiment, Lobengula's royal bodyguard, but it also had a civilian population of 15-20,000. It stood on the dome-shaped Umhlabatine Hill, surrounded by a stockade of mopane poles with a circumference of 1.5 miles (2.4 km) It had four entrances and immediately inside the stockade were tightly packed pole and dhaka huts,[xvi] six rows deep. An inner stockade contained a large parade ground, 200 yards (183 metres) across that surrounded the King's quarters, or isigodla. There were no huts within the parade ground that was kept for marshalling the regiments and celebrating the annual dance. For a description see the article The Great Dance or Inxwala Festival under Bulawayo on the website www.zimfieldguide.com
The isigodla itself was surrounded by poles 8-10 feet (3 metres) high and was almost 6 feet (1.8 metres) in thickness. Inside was a brick house with a verandah along the front and to the right, the King's wagon house, in which he almost always lived except in the cold weather when he moved into the brick house.[xvii] (This was located where the pantry of the present-day State House is now) Behind the wagon house was the goat kraal which the King used when he needed some privacy. Here he engaged with the rainmakers and made medicine (doctoring) and talked privately with his indunas and councillors.[xviii]
Alexander Boggie remembered the brick house as a long two-roomed house with a mud (dhaka) floor and he says that the king received him there seated on a throne made from a wooden crate. There was an untidy horde of elephant tusks, rifles, ammunition, golden sovereigns, and according to a widely believed story, buckets filled with diamonds in the house. A line of huts near the brick buildings provided accommodation for the Queens, Mrs Lippert entered one of them in 1891 saying "she had to crawl through the low door, but inside it is very high and done up quite artistically and the floors quite smooth and shiny, polished with stones and saliva."
We should note that at the time of the 1893 Matabele War Lobengula was staying at his favourite 'summer capital' of Umvutcha about 7 miles (11 km) north of the Bulawayo royal kraal and just beyond the Umguza river that was crossed by a drift. For a description see the article A Visit to Lobengula at the King's Kraal or Umvutcha in 1889 – Lieut-Col. H. Vaughn-Williams recalls his stay after 57 years under Bulawayo on the website www.zimfieldguide.com
White Man's Camp or 'Grass Town'
European traders and hunters found it convenient to outspan their wagons a little distance away from the royal capital on the east side of Bulawayo spruit and some stayed semi-permanently at this location. Ransford says James Dawson at his store imported thousands of short inferior ostrich feathers from South Africa for the amaNdebele warriors to wear and bartered them for good quality feathers that were in big demand in Europe. Dawson's store and compound were near Fairbairn's house 'New Valhalla' and nearby was Johann Colenbrander.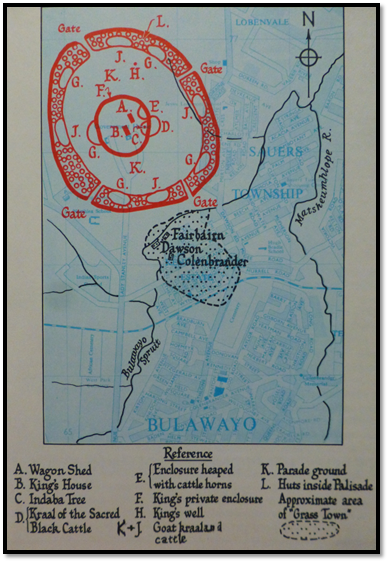 Bulawayo and White Man's Camp from Bulawayo, Historic Battleground of Rhodesia, P52
The actual occupation of Bulawayo – Major Forbes account
Thurs 2 Nov – Forbes sent out two mounted patrols to check the surrounding bush for any remaining amaNdebele, and when none were found, the columns trekked at 12am south west for the hill of Ntabazinduna with the native contingents between them carrying thorn bushes. A thick patch of bush had to be negotiated, the flanking parties were strengthened before open ground was found on the other side and a laager made on the east bank of the headwaters of a tributary of the Khoce river, about 3 miles (5 km) west from Ntabazinduna. The kraals around were all deserted, that of Manyao, the chief induna on the big amaNdebele impi raid to Victoria in July 1893,[xix] was burnt down and quantities of grain taken. Troopers Carey and Siebert, wounded at Bembesi, died of their wounds at this laager and were buried next morning.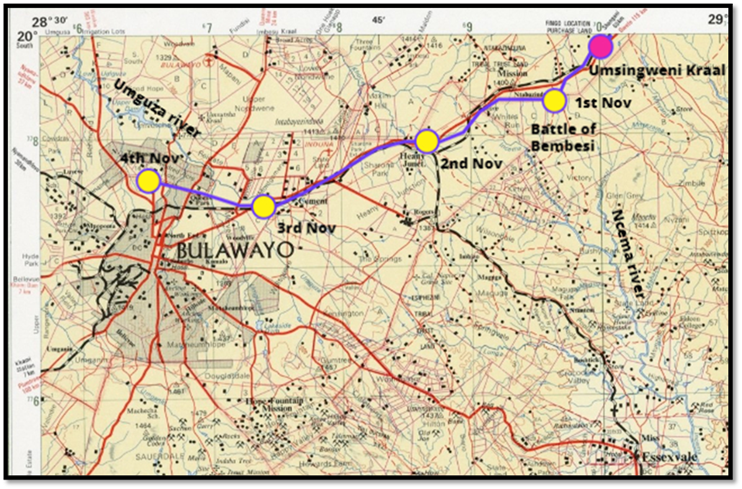 Battle of Bembesi and occupation of Bulawayo, adapted from 1:250,000 map sheet SE-35-4 Bulawayo; this map is used with consent from Window on Rhodesia with the site name: https://www.rhodesia.me.uk
Fri 3 Nov – After a brief funeral service for the two Troopers Carey and Siebert, the columns started forward at 6am and the Khoce river was crossed before a large force of amaNdebele were reported around Ntabazinduna Hill. Laagers were quickly formed, Captain Spreckley took C Troop to try and flush them out. They came under heavy fire and the indunas could be heard urging their men forward, but they remained under cover. On C Troop's return, the Maxim under Lt. Tyndale-Biscoe fired at 1,000 yards into bush and Capt Lendy fired off a seven-pounder shell and several one-pound shells from the Hotchkiss and these drove the amaNdebele away.
The scouts Burnham, Ingram and Posselt had left early to see if they could get to Bulawayo and as the columns had crossed the Khoce river a very large explosion was heard from Bulawayo. Allan Wilson wrote, "Next morning we saw from where we were the explosion which blew up the King's house and all his belongings. A great column of smoke went up towards the sky and the higher it got, the more it seemed to spread out till it took the shape of an enormous umbrella. I was riding with Doctor Jameson at the time of the occurrence and he asked me what it could be. I said it must be the King's magazine, which Dawson had looked after and had built in his yard. As it proved afterwards I was right in one sense. It was the King's Magazine, but the natives with the help of Fairburn [sic] and Usher had shifted it to the town of Bulawayo where one of the Chiefs, acting on the King's instructions had blown it up. Next day the column arrived. I was sorry for the King, but for the people of the nation, I have not the slightest sympathy. It is a just fate that is overtaken them. They have felt for the first time in their lives what they have been making the surrounding tribes feel for the last fifty years."[xx]
Soon after the leading troops came under fire from the base of Ntabazinduna, but Maxim fire broke up any intended attack. Later a scout brought a note from Burnham saying the royal kraal was on fire and they were going on. Forbes ordered Borrow and twenty men from B Troop to occupy the town.
The columns moved on at 3pm keeping south of Ntabazinduna Hill and reaching the Inyati (Emhlangeni) to Hope Fountain Mission road that was followed for a few miles before laagering at a tributary of the Umguza river. The laagering was in process when Ingram and Posselt rode in with letters from Burnham and James Fairbairn. Fairbairn and Usher were the only remaining whites at Bulawayo – Lobengula had assured them of his protection. On 1 November induna Sehuloholu brought a message thanking Fairbairn for sending wagons and Usher for sending cattle that added, "Stay where you are, you need not be afraid of my people as you are not personally responsible for the row; and if you get killed it will be by your own colour, as they will very likely also kill me."[xxi] Forbes sent in Capt Borrow and B Troop with Ingram as guide to occupy Bulawayo – exactly one month after the Salisbury Column had left Charter.
The columns needed grain now for the horses, so Forbes sent his galloper, Mr Tanner, after Capt Borrow to tell him not let his men do any looting or further burning of kraals and to put sentries over any stores they found. Tanner failed to locate Capt Borrow but rode into the burning kraal, before returning to the column.
Sat 4 Nov – The columns moved at 6am and after three hours crossed the Umguza river making drifts through its steep banks; the delay prevented them making it to Bulawayo in one trek. Jameson and Willoughby rode on, the column trekked again at midday and after crossing two more tributary streams reached Colenbrander's house at 2pm. Bulawayo was still burning about 1,000 yards (914 metres) away across the Bulawayo spruit. There were some huts at Colenbrander's that would be useful for stores, so the columns laagered there, the Salisbury Column taking the north west corner and the Victoria Column taking the south east corner. None of the white men's houses had been interfered with although both the Bulawayo and Umvutcha kraals had been burnt down.
Forbes describes Bulawayo as a ring of huts about 100 yards in depth enclosing an open space about 700 yards wide in the centre. The King's buildings comprised two brick houses, one being his living quarters and the other his wagon house and a large group of huts belonging to the Queen's together with the goat kraal. All were completely destroyed by the fire and explosion of 80,000 M.H. rounds and 2,000 lbs (907 kgs) of gunpowder that had been left in Fairbairn's charge. Lobengula had given orders that if they were beaten they should set fire to the royal kraal and these orders were carried out.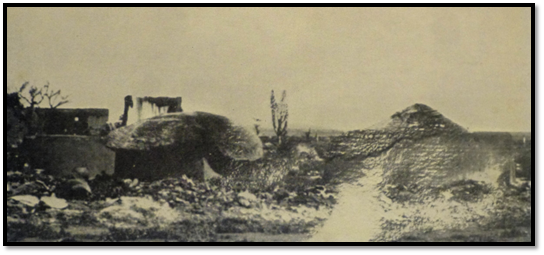 NAZ: The ruins of Lobengula's house and wagon house destroyed by fire and the explosion when the Salisbury / Victoria Column was just 12 miles (19 km) away
Forbes issued orders that nobody was to go into Bulawayo until he had checked it was safe; fires were still burning and there had been several explosions of gunpowder left in huts.[xxii]
But this apparently did not include the irrepressible scout Jack Carruthers, "the 4th of November 1893, Alan Wilson ordered me to ride to Bulawayo with the Hon M. Gifford. We were the first to enter the old kraal which was quite deserted. We found the King's abode had been burned down, destroying all his private effects and number of valuable weapons and other articles which the old chief must have received in presents and could not carry away. I counted six thousand huts encircling the royal kraal. Although Lobengula had to fly from his Kingdom, he played a good part. The store [White Man's Camp] across the stream had not been looted and the owners, Messrs Fairburn (sic) and Usher, were quite safe. Here the columns pulled up and laagered, the Union Jack was hoisted and our object gained.
The next morning, Bain and I went to a Umvutcha, Lobengula's private reserve on the north bank of the Umgusa river. Here we unearthed a pot containing all sorts of valuables, buried in the ground inside one of the huts. Bain found the seal, a silver elephant, presented to Lobengula by the Tati Concession Company which Mr Rhodes secured from him and placed in Groote Schuur."[xxiii]
Sun 5 Nov – Forbes and Jameson rode to the King's kraal and saw the buildings destroyed, large numbers of cartridges lying around and mixed up with old rifles, and the remains of past presents given to Lobengula. There was a good quantity of grain, about 600 bags, that was a blessing.
An arms inspection was followed by Bishop Knight-Bruce holding an afternoon service at Dawson's store. Cpl Samuel Calcraft, wounded at Bembesi, died this day and was buried in the evening. Lieut Rixon had died the previous day of fever. Supplies were short, Jameson had arranged for 80,000 lbs of meal to be at Tati, but it only arrived later. All foodstuffs were stored in one of Colenbrander's stores and issued as required by Capt Greenfield. A party of soldiers converted Dawson's store into a hospital for the sixteen white and twenty Africans wounded and sick.
6 November
Goold-Adams sends a force of 100 mounted men under Raaff due east to the Mangwe river to see if the Hunter's Road and the Mangwe Pass was still open. Once confirmed a small force of 50 men under Lieut Munro with two Maxim guns was left at Fort Adams (National Monument No 88) - 5 km from Singuesi and the remainder of the Southern Column moved to Mangwe. Another small force under Capt Williams was left at Fort Mangwe.
7 November
Raaff and his mounted force reached the Khami river that night. From Bulawayo ten spans of oxen were sent to the Khami under Captain Judd with orders from Dr Jameson that he was to return to the Southern Column and assist in bringing them on. The reason for this was that there was little food, or forage at Bulawayo and the supplies that Goold-Adams had in his wagons were needed urgently.[xxiv] Colenbrander, Armstrong and Mullins came from Palapye to Bulawayo with despatches for Dr Jameson.
A heliograph station was established on a nearby hill – the beginning of a chain to Salisbury.
The Salisbury / Victoria Column scouts Burnham and Ingram who had left Bulawayo the previous evening reached Goold-Adams in the afternoon with despatches from Dr Jameson confirming that Bulawayo had been occupied on 4 November and that Lobengula had fled northwards.[xxv]
The King was supposed to be near Shiloh Mission and John Grootboom, Samuel and Wilhelm volunteered to take a letter to him from Dr Jameson written in English, Dutch and isiZulu saying Bulawayo was occupied, that there was no need for further bloodshed, and guaranteeing his safety if he came in. Jameson gave the King two days after receiving the letter to come in, he would send a force out if he did not.
8 November
The Southern Column is at Mangwe. Captains Coventry and Heyman are sent with one hundred mounted men to Bulawayo.
Edwin E. Bradfield wrote, "A few days after our arriving in Bulawayo, Rhodes ordered me and Harry Windell to take two horses each and wagons and go to the relief of Goold-Adams's column, about twenty-six miles west of Bulawayo. They had been burnt out by the Matabele. We had to travel through the night and keep very quiet lest the enemy spied us. We managed to bring in 18 waggons. Soon after this, Rhodes asked me if I could take the waggons back to Victoria as the other conductors had refused. He offered me a pound a day, gave me seventy men and ammunition and told me to kill as many cattle as I wanted for food. Our old boy Mboveni was installed as cook and we had pippins and golden syrup for breakfast, dinner and tea. We had a lucky find though - a case of beer right in the middle of our track; it was a great treat."
9 November
There were reports that the amaNdebele were 30 - 40 miles (48 – 64 km) from Bulawayo protecting the King at Ntaba-gi-konga. The three messengers returned with a letter written in English by John Jacobs, the King's secretary, saying the King has received Jameson's letter and will come into Bulawayo, but asks where will he live as his houses are now burnt down and asking for paper, pens and ink. The messengers had gone to Shiloh where they were taken prisoner by the Imbezu Regiment and the letter taken to the King. Grootboom had spoken with Mjaan their chief, whom he knew from when he was the Rev Helm's driver. Mjaan said the Imbezu and Ingubu Regiments no longer wished to fight, but the young warriors of the Insukameni, Ihlati and Siziba would still fight even though they feared the Maxims, seven-pounder guns and signal rockets.
A great day for the BSACo. Jameson's arrival in Bulawayo is confirmed by telegraph to the world and the Southern Column is still 65 miles (105 km) away. Rutherfoord Harris wired Colenbrander at Palapye, "Jameson is in Bulawayo and is appointing officials!"
12 November
Lieut-Col Goold-Adams rode into Bulawayo in the evening from the Khami river where the Southern Column was camped.
13 November
Goold-Adams returned to the Khami river with instructions to send onto Bulawayo 150 mounted men from the Southern Column under Captain Raaff with two Maxims and a seven-pounder gun drawn by ten mules to join the force that would be following King Lobengula.
14 November
The force under Raaff arrived at Bulawayo consisting of 90 BBP and 60 BSACo with the two Maxims and seven-pounder gun under Capt Coventry.
15 November
The remainder of the Southern Column reached Bulawayo and laagered near the Salisbury / Victoria Columns.
Events after the occupation of Bulawayo
Loch was sure that further fighting with the amaNdebele would continue. On 17 November he received a telegram sent on 13 November by Goold-Adams stating that up to 8,000 amaNdebele were massed north of Bulawayo, between Shiloh and Inyati Missions, with Lobengula believed to be amongst them and there had been no offer of surrender.
The same day he received a telegram from Major F.W. Panzera at the BBP base camp at Macloutsie that an amaNdebele impi was approaching and that he was preparing for an attack, but it turned out a false alarm.
Beginning of present-day Bulawayo
Dr Jameson and Major Forbes marked out a position for a fort and the troopers began erecting earth ramparts, on the site of present-day West Park Cemetery. Huts were built around White Man's Camp with unburnt thatch from Lobengula's capital and soon a rough and ready settlement stretched as far as the new fort. Later descriptions of the settlement around the old White Man's Camp or 'Grass Town' included, "a curious collection of huts, houses constructed of packing cases, corrugated iron shanties, tents and every conceivable kind of habitation save those of civilisation."[xxvi]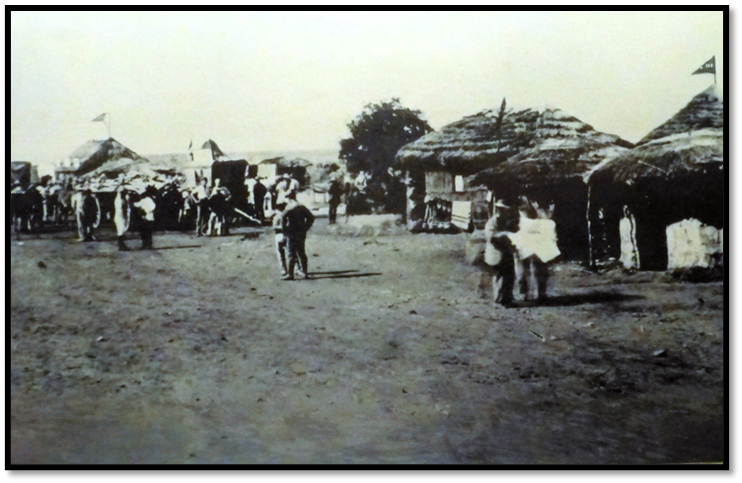 NAZ: White Man's Camp or Grass Town at Bulawayo, 1894
One trooper opened up a public dining room that was no more than 'a buck sail over poles' and a pole and dhaka hut went up as a post office. The Standard Bank opened its first branch in a bell tent.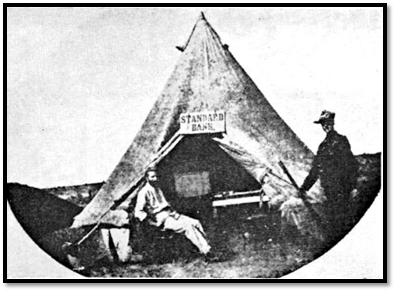 NAZ: Standard Bank's first branch at Bulawayo
Jameson assured everybody that 'Grass Town' was never meant to be anything but a 'provisional' settlement on a 'provisional' site and he refused to allow the building of any permanent buildings as he said he was going to choose another site for the new settlement of Bulawayo. He turned down all suggestions that it be built on the site of the former royal kraal and said that a prospector had announced it lay on a promising gold quartz reef. Rhodes arrived soon after and he, Jameson and Willoughby, after an extensive search settled on a site in the veld about 3 miles (5 km) south of the King's kraal as the new settlement.[xxvii]
JG MacDonald recalled that, "Rhodes and Jameson decided that all the business section should be west of the Matsheumhlope river and the residential area east and that the centre of the town should be practically where the present post office stands today." Rhodes wanted the town to be in a grid pattern about a square mile in area and surrounded by parklands and Willoughby, at Rhodes 's suggestion, roughed out a sketch plan with these features.
Bulawayo's surveyor, Patrick Fletcher
Dr Jameson needed a surveyor for the proposed new town and amazingly one of his Troopers, named Patrick Fletcher, fitted the bill. Fletcher went to see Jameson on 5 December to ask if he could go prospecting for gold. When he entered Jameson's tent he was asked, "Who are you? What is your name? Damn you, why didn't you say so at once? You are the man I've been looking for for days and days for I hear you are a surveyor and whatever you may be yourself you come from good stock. I want you to survey a township under my direction." They settled on terms and Fletcher left with Jameson calling out, "remember to leave room for the railway to come in" as he left the hut.[xxviii]
Fletcher began surveying, heavy rains delayed the work, his white assistants were often drunk and absent, the Africans quit for no apparent reason. Fletcher writes he did not altogether agree with the new site and would have preferred a more central position in the country and closer to a permanent river. When he objected to Willoughby's sketch plan, Jameson said, "Well, we mustn't take Johnny's plan too seriously. I will give you a free hand…to layout the town as you consider best, but inside the limits I have given you" and when Fletcher complained about the lack of water, Jameson said, "We are not Dutchmen. We will get water by sinking wells and making dams. We can leave our successors to fight that out…get on with the job."
Jameson did not entirely get his own way. When he said. "I want no small blocks…the blocks must be a quarter of a mile by a quarter of a mile," Fletcher knew this was too large, but laid out a single block of this size and then asked Jameson to walk around it. Twenty minutes later Jameson agreed that a tenth of a mile square would be a more suitable size for each block.
On 19 February 1894, Fletcher started using assegai heads to peg out the town in a rectangular grid pattern popular on America at the time. Ransford writes there is little evidence to back up the legend that Rhodes insisted the streets be broad enough to turn a full span of oxen, but there was criticism of their width. Hans Sauer, for example, grumbled that the new Bulawayo had been, "laid out on a pretentious scale with streets much too wide" but their width later proved of great benefit to Bulawayo. A generous area was laid out on either side of the Matsheumhlope stream for parkland. There was also a large area of commonage for the grazing of cattle and horses, although this was later allocated to those who distinguished themselves during the occupations of Mashonaland and Matabeleland. Thus Napier was allocated present-day Hillside, Gifford the site of Mpilo Hospital, Burnham received land at Kumalo, Dawson kept the ground at White Man's Camp, Maund and Heyman received allocations of land. Even the wagon drivers received one hundred acre plots on the northern boundary of the commonage.
Plots of land were sold by auction on 13 March 1894, prices ranging from £30 to £160. On the 27 March 1894, Fletcher made the triumphant entry in his diary, "put in the last peg." Ransford writes that an Easter sports meeting was held the day before at 'Grass Town' to celebrate this event but was slightly marred when a European prisoner confined in the sandbagged fort nearby "went mad through sunstroke" and turned a Maxim gun on the spectators, fortunately, "without causing any casualties."
Dr Jameson declared the new town of Bulawayo open on 1 June 1894.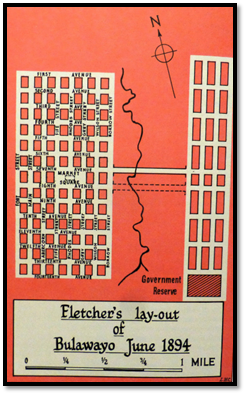 Fletcher's plan of Bulawayo from Bulawayo, Historic Battleground of Rhodesia, P69
References
S. Glass. The Matabele War. Longmans, Green and Co Ltd, London 1968
A.S. Hickman. Men who made Rhodesia. The British South Africa Company. Salisbury, 1960
H.M. Hole. Old Rhodesian Days. Silver Series Vol 8, Books of Rhodesia, Bulawayo, 1976
N. Jones. Rhodesian Genesis. Bulawayo 1953
P. Forbes (Chap VI – IX) and Sir J. Willoughby (Chap XIII- XIV) in W.A. Wills and L.T. Collingridge. The Downfall of Lobengula. Books of Rhodesia, Vol 17 Bulawayo, 1971
C.L. Norris Newman. Matabeleland and how we got it. T. Fisher Unwin, London 1895
O. Ransford. Bulawayo, Historic Battleground of Rhodesia. A.A. Balkema, Cape Town 1968
I. Tomes. The Matabele War 1893. Heritage of Zimbabwe, Publication No 17, 1998, PP18-73
Notes
---