Iron Mine Hill (Ntabasinsimbe) and the first casualty of the 1893 Matabele War
Why Visit?:
Captain John Lamont Campbell's grave has lain on the edge of a vlei in a clump of Msasa trees for over 120 years. Two other unmarked graves are nearby…one of them is that of Percy Wood, (described as Charles Wood by Jack Carruthers) and a member of the Victoria Column who died from fever the following night and the second is probably the grave of an unknown transport rider on the old Gwelo – Fort Charter road who died of malaria. The other unmarked grave belongs to Otto Berry, an alias for Otto Troberg, a young man from Finland lured by the prospects of riches in Africa who abandoned his wife and son in Turku, Finland. He was murdered at Finland Farm on 22 August 1911, but I am not aware of the circumstances.
This was the site of the first joint laager of the Fort Victoria and Salisbury columns during the 1893 military expedition to Matabeleland. The reason they choose the site is easily explained…water for at least 544 oxen and 414 horses. Just behind Finland Farmhouse is a small dam fed by two perennial streams from vleis to the west and north.
How to get here:
Directions are from the turnoff to Lalapanzi on the A17. 640 metres east of the intersection (i.e. towards Mvuma) on the A17, turn onto a farm track heading approximately south. 1.72 Km take the left track at the fork, 4.4 KM continue under the power lines, 5.64 KM ignore the farm track on the left, 5.85 KM farm gate, 6.1 KM enter an avenue of large gum trees, 6.30 KM park in front of Finland farmhouse. From the avenue of gum trees follow on foot a farm track that heads west, at 290 metres take the right fork on a footpath staying within the msasa trees; 430 metres the graves are just south of the footpath. The Finland Farm owner is Solomon Moyana on 0773857544.
GPS reference for Iron Mine Hill: 19⁰21′24.75″S 30⁰17′05.90″E
GPS reference for Capt. Campbell's grave on Finland farm: 19⁰22′41.35″S 30⁰13′30.54″E
Enquire at Finland farmhouse for permission to visit. If a grandson is deputised to guide you, a small gratuity is always welcomed.
Situated some 58 kilometres from Gweru on the railway line to Masvingo is a remote siding called Iron Mine Hill, named for the ancient iron workings on an overlooking kopje. When the BSA Company decided to mount its punitive expedition on the Matabele the area was largely unoccupied country without roads. Iron Mine Hill is a prominent feature and it was chosen as the meeting point for the armed columns coming from Salisbury (now Harare) and Fort Victoria (now Masvingo) The objective of the expedition was to overcome the Matabele and their King Lobengula and to annexe Matabeleland to the BSA Company.
The Salisbury Column under Major Patrick Forbes, who had overall command, set out on 5th September 1893 with 258 Europeans, 115 Mashona friendlies and 242 horses and 16 wagons. They spent 3 weeks drilling and training at Fort Charter before leaving for Iron Mine Hill.
The Fort Victoria column under Major Allan Wilson left on the 6th October 1893 with 414 Europeans, 400 friendlies and 172 horses with 18 wagons.
A third Column commanded by Lt.-Col. Goold-Adams with 448 Europeans, including 225 from Fort Tuli under Commandant Pieter Raaff, called the southern Column, left Tati on the 19th October 1893.
The Salisbury Column arrived at Iron Mine Hill on Saturday 14 October, but quickly moved to the site of present-day Finland farm, three kilometres west of Iron Mine Hill, because there was water for the considerable number of horses and oxen that the columns depended upon for transport. Some local Mashona came to trade and soon after the Victoria Scouts arrived. From the hill the pickets observed the light of the Victoria column's heliograph and shortly after Dr Jameson and Sir John Willoughby rode into camp. Captain Campbell was shot the next day.
The combined Columns moved off on 17th October in a south-westerly direction towards Bulawayo, each cutting its own route for the wagons about 350 metres apart. They moved cautiously, making separate but mutually supporting laagers each night and passed south of Gweru kopje on the 21st October 1893. Their first major test came at 4am on 25th October 1893 after crossing the Shangani River when they were fiercely attacked by the Insukamini, Isiziba, Ihlati and Ingubo regiments. However, the Ndebele regiments had never encountered the deadly Maxim machine guns and were forced to retreat with great loss.
The Columns moved on towards Bulawayo and at Bembezi and were again attacked with great determination by the Imbizo and Ingubo regiments who made a full frontal attack on the laager at midday and were only beaten back after incurring great losses from the firepower of the Maxim's and artillery. Bulawayo was reached on 4th November 1893 only to find that Lobengula had fled north.
Matabele War 1893 timeline

Background

Sun

9

July

Matabele impi commenced killing Mashona in Fort Victoria (Masvingo )region

Tues

18

July

Jameson's Indaba at Fort Victoria. Matabele dispersed with force

Salisbury column - Salisbury (Harare) - Fort Charter - Iron Mine Hill

Tues

28

Aug

advance party under Capt. Finch leave for Fort Charter

Tues

5

Sept

Salisbury column under Major Forbes leaves

Wed

6

Sept

Cross Hunyani River (Manyame) at daybreak

Thurs

7

Sept

continue

Fri

8

Sept

Cross Umfuli River (Mupfure) and laager

Sun

10

Sept

reach Fort Charter

Sat

30

Sept

Jameson and Sir John Willoughby visit Fort Charter

Mon

2

Oct

Column leaves Fort Charter to first water

Tues

3

Oct

Reach Dawson's disused cattle post (old Featherstone)

Wed

4

Oct

Stay at Dawson's. Forbes to and back from Fort Charter

Thurs

5

Oct

Stay at Dawson's.

Fri

6

Oct

To Dawson's other cattle post

Sat

7

Oct

Left old Sby - Byo hunters waggon route

Sun

8

Oct

Jameson confirms push-on

Mon

9

Oct

Crossed Umniati River (Munyati) the Matabele "border" and laager

Tues

10

Oct

Two scouting parties: Capt. Williams east up the Munyati and then south

A troop through Central Estates to Iron Mine Hill

Wed

11

Oct

Crossed Sebakwe River and reached Mvuma River

Thurs

12

Oct

Crossed Mvuma River

Fri

13

Oct

Near the headwaters of the Bembeswane River

Sat

14

Oct

Reached Iron Mine Hill "Sigala" in the morning

In the afternoon move 3 KM west-south-west to water

Victoria Column scouts reach the laager

Sun

15

Oct

More scouts of the Victoria Column reach the laager after a fight with the Matabele

Patrol goes out to recover cattle in the Lalapanzi area. Capt. Campbell is shot and dies next day.

Victoria Column from Fort Victoria (Masvingo) to Iron Mine Hill

Fri

6

Oct

Leave Fort Victoria travelling via Chatsworth

Sun

8

Oct

Travel north west

Mon

9

Oct

Laager waiting for artillery

Wed

11

Oct

Laager waiting for Tuli detachment

Thurs

12

Oct

Laager east of the Shashe River

Fri

13

Oct

Cross Shashe River (Matabele "border") then Tetekwe River

Jameson and Sir John Willoughby ride ahead

Sat

14

Oct

Jameson and Sir John Willoughby reach Iron Mine Hill

Sun

15

Oct

Column continues through the Chilimanzi Communal lands

Mon

16

Oct

Column reaches Iron Mine Hill at 08:00 hrs, then moves west to the laager site.

Combined Salisbury / Victoria columns from Iron Mine Hill to Gwelo (Gweru)

Tues

17

Oct

Left early for a new laager 2 kms west north west of Fort Gibbs

Wed

18

Oct

False alarm of 4,000 Matabele turns out to be 100 Mashona auxiliaries

Thurs

19

Oct

Rest day for men & horses

Fri

20

Oct

Passed old gold workings, crossed Gweru River, and laagered on Daylesford farm under a kopje.

Major Wilson left at midnight and burned kraals at Insukamini, returning next afternoon

Sat

21

Oct

Columns passed south of Gweru kopje laagering 5 kms east of Willoughby railway siding
Captain John Campbell from Salisbury became the first BSA Company casualty of the war on 16thOctober, after being badly wounded by a bullet in a skirmish the previous day with the Matabele. In spite of Drs Jameson, Edgelow and Stewart's efforts to save his life by amputating his leg, he died in the night and was buried the next day.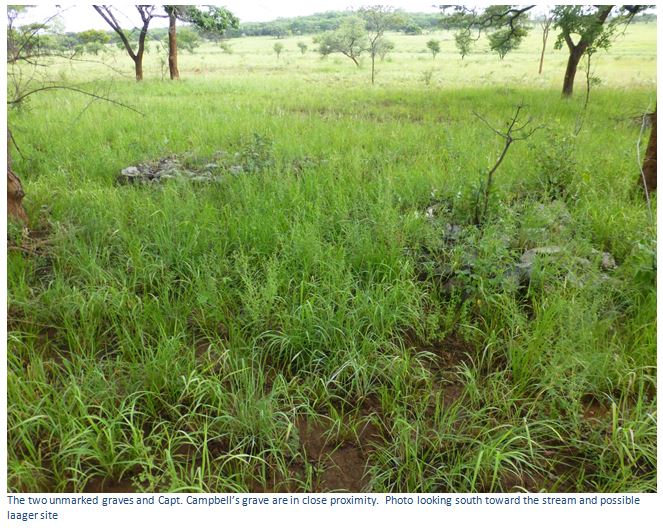 The two unmarked graves and Capt. Campbell's grave are in close proximity. Photo looking south toward the stream and possible laager site
The book The Downfall of Lobengula by Wills and Collingridge has a short biography of Captain Campbell, but states his full name is John Alexander Livingstone Campbell, whereas the gravestone states John Lamont Campbell. As the gravestone was erected by his father, Colonel Campbell, I can only assume that in their haste to publish their book the authors did not sufficiently check their sources.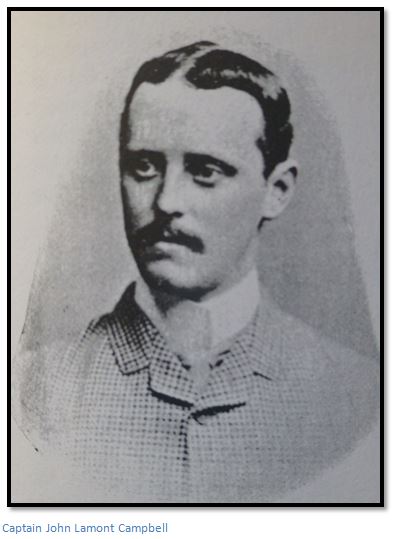 The two unmarked graves made of mounds of earth covered in stones belong to Percy Wood and Otto Berry. They would each have had a wooden cross with their occupants' name, but these have been quickly destroyed by termites, or veld fires. The following account kindly supplied by Ian Carruthers from the notes of Jack Carruthers (a member of the Victoria Column in 1893) suggests that one of the unmarked graves is occupied by Charles Wood. However, Major Forbes states he was Percy Wood, and as the senior Officer of the column, I believe this name is probably correct.
"We collected sufficient looted cattle, as we were driving them off there was an attempt by the Matabele to recover them. We killed several of the enemy before getting back out of the valley where we met Snodgrass with ten men. They were an advance patrol of the Salisbury Column, we rode back with them to where the columns joined laager near Iron Mine hill."
The next day found us among the granite kopjes towards Lalapanzi. We found difficulty in travelling with the two columns alongside each other causing some of the Salisbury Scouts to go astray. The majority of my scouts were out all-night searching for them, a strange thing to have to do. We made a big bonfire to attract their attention; some of the party sang songs to pass away the damp and dismal night. On the first night away from Iron Mine Hill, Charlie Wood, a Somerset East boy, died from some internal complaint. He was buried by the wayside after dark this was the first death in our Victoria Column. There was an opportunity for the Matabele to defeat our lone Victoria Column before October 16th, however due to the well-organized laagering of the column each night; they could not find an opportunity to attack in force. 'Matabele' Wilson, our guide who had visited Bulawayo from the south six years prior, knew absolutely nothing of our route and was little help to us scouts in anyway. Not a soul knew our current route. 'Matabele' Wilson and Manyesi, the Matabele who accompanied him, always kept with the column. Wilson told us about Lobengula's pet ram that used to drink beer from the king's calabash.
Day by day we were guided entirely by the compass, the topography of the country and our veldt sense. It was exhilarating our daily ride on scout duty at the head of the column, every mile of the two hundred miles of unknown territory was cautiously investigated. That is still so impressed on my mind as if the undertaking was only yesterday. Fortunately we were favoured with hospitable weather Jack Brabant, my brother Bob Carruthers and our N/C Makaberri commanded the black watch most of the way to koBulawayo. They were most useful in chopping and clearing our camp.
Our scouting plans were to advance right and left fronts. The Victoria Scouts had charge of the left front. Captain Charlie J. White of the B.S.A.P (in charge of the Salisbury Scouts) and Colonel Gerald C. S. Paget had charge of the right front. With Captain White was the Honourable Maurice Gifford (Canadian) Captain Owen Williams, Percy Swinburne and their guide and keen shot Albert Edward "Ted" Burnett. Harry Ware from Kimberly, although a cripple, was in charge of African helpers and did splendid work. We travelled parallel in two distinct lines each cutting their own way. The B.S.A.P. kept on the Salisbury Column side to the right. Duncan Dollar and I were alternately changing on the left side of our Victoria Column. We reached the Gwelo River without any mishap; everybody was pleased to see some open country. By this time our teams and laager activities were impeccable, it never took us more than five minutes to laager up. My friend Captain Kirton was in charge of the Victoria transport, he had great appreciation for his horses, always taking the time to keep his saddlery well-conditioned. With him were Bradfield (wagon conductor), Cumming, the Hiscock's and Jan Botha, all members of my trek party. Together with conductor 'Chiappi' [Sic] (Paul Lafitte Chappe?) in charge of the Salisbury Column's transport, they had the laagering-up arrangements perfect."
"Our commissariat friend and quartermaster, Harry Moxon Greenfield, afterwards numbered at Wilson's last stand, was often missing whenever the column halted. Kirton remarked to me: 'I believe the beggar goes off to do something on the sly.' On occasion Kirton and I followed him to where he had a billy on the fire. We waited for him to make tea and then sneaked the lot. We also discovered he had other niceties stuck away including tobacco which he carried in his shirt."
The other unmarked grave belongs to Otto Berry, whose name I discovered whilst researching Pioneer memorial crosses. He was murdered at Finland Farm on 22 August 1911, but I am not aware of the circumstances. However, I did discover after some research, that Otto Troberg, a young man from Finland lured by the prospects of riches in Africa abandoned his wife and son in Turku, Finland. However he went on to Rhodesia; renames himself Otto Berry and named his farm after his native country. The story is written in a book called Otto in Rhodesia by Kerstin Lindman-Strafford.
The gravesite with the three graves in the shelter of some trees is just 200 metres from a small perennial stream which still runs east into a farm dam and is probably very close to the combined laager site. Water was essential for the large number of cattle and horses and men, but the laager itself would have been positioned in open ground to ensure that it was not overwhelmed in a dawn rush. The columns moved on the 17th October 1893, the day after Capt. Campbell's burial.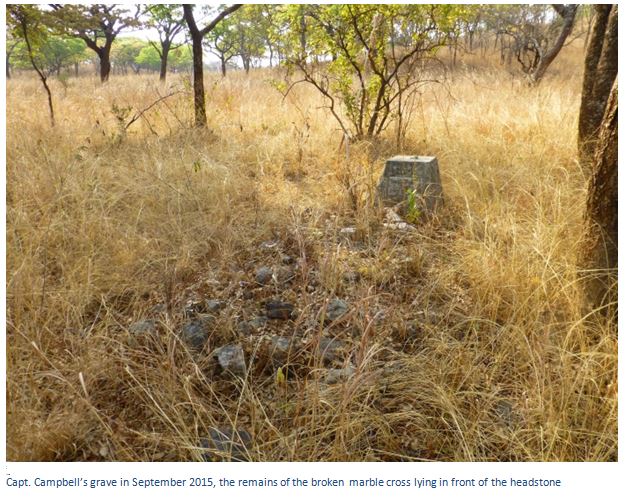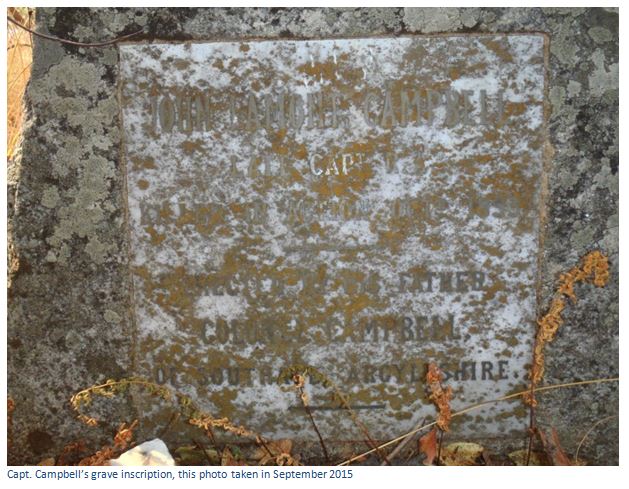 The grave inscription reads:
IN LOVING MEMORY
JOHN LAMONT CAMPBELL
LATE CAPTAIN RA
KILLED IN ACTION OCTOBER 1893
ERECTED BY HIS FATHER
COLONEL CAMPBELL
OF SOUTHALL ARGYLESHIRE
The three graves lie within a peaceful grove of msasa trees with a gentle slope leading down to the small stream which flows into a farm dam south of the farmhouse.
Finding his grave in the veld was in theory a difficult task. However, having arrived at a local store in the area, we asked the patrons if they knew of Finland farm and of an old grave. After four calls, our informant had spoken to the widow of the owner of Finland farm and established there were indeed three graves and one of them was a John. A young man was deputised to guide us and after some cross-country travel we arrived at Finland farmhouse and were conducted to the graves in the veld. This friendly reception and guidance is typical of Zimbabweans…they are ever willing to give what help they can even to strangers.
A second visit in February 2016, gave Brent Barbour and I the opportunity to meet Finland Farm's new owner, Solomon Moyana, to ask him if we could clean up the inscription and re-fix the cross with white marble adhesive putty to which he readily agreed and even accompanied us to the gravesite and assisted in every way.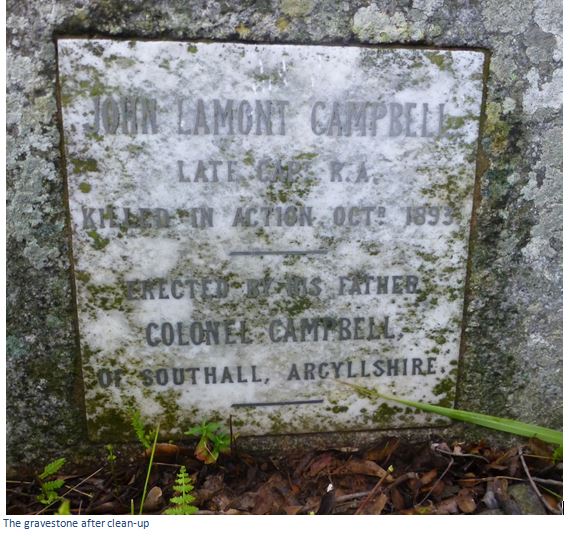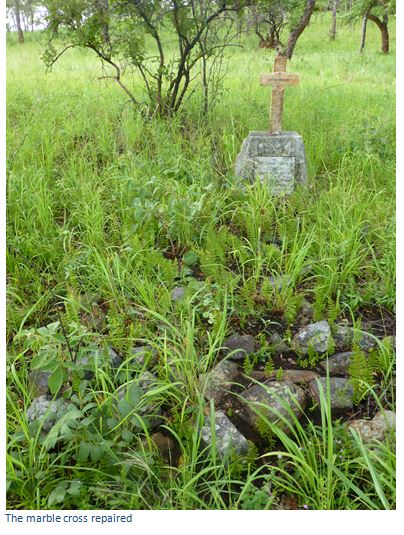 Wills and Collingridge state that John Campbell was born on 6 January 1856; at 20 years old he entered the Royal Artillery and after passing his Woolwich course was promoted to Captain in 1885. He left the service three years later and in 1892 was appointed a Magistrate in Mashonaland for the BSA Company. At the outbreak of the Matabele War he volunteered for service with the Salisbury Horse Volunteers and was attached to the staff of Major Forbes.
Shortly before the Victoria and Salisbury columns united at Iron Mine Hill, Captain Campbell was sent out with a small party of mounted troopers to capture native cattle. I am not sure why Forbes thought that confiscating cattle would be acceptable to local people, but it is clear that if the cattle were amaNdebele, the were considered legitimate booty. The "Victoria incident" had been brought about by King Lobengula sending up an Impi to punish local tribesmen around Fort Victoria for showing insufficient respect, and local people at Iron Mine Hill / Lalapanzi were not in any way involved in this incident.
Of course the amaNdebele reacted with violence when their cattle were seized, presumably for rations. According to Major P.W. Forbes, he started at 3am with sixty men; twenty each from A, B and C Troops and accompanied by Maurice Heany and Dr Jameson and Sir John Willoughby. They had travelled about sixteen kilometres and they were about to turn back when they came across about 250 cattle which were rounded up and driven back to camp. On the way back they saw more cattle and Captain Campbell was trying to drive them out from some large granite boulders when he saw a warrior armed with a musket covering him from behind a rock. He drew his revolver – they had no rifles with them, but before he fired was shot through the left hip. He fell off his horse and the warrior fled. Captain Campbell was helped back on his horse by Troopers Gourlay and Tanner and they supported him back to camp where he died the following day despite receiving the best medical attention available. He was buried the same day in the evening with full military honours. As he was an ex-Royal Artillery officer, the Artillery Troop provided the carrying party and "A" Troop of the Salisbury column provided the firing party.
Major Forbes says in his account that after the funeral and service; "I think there were a good many standing around the grave that evening who realised for the first time that what we had undertaken was no child's play, but stern reality, and that poor Campbell's fate might at any time be the fate of one or all of us; but there could be no turning back. We had undertaken the work, and had to go through with it."
On Page 95 (W&C) Major Forbes writes the Victoria column brought 150 cattle with them; making a combined herd of 422 cattle. As it was inconvenient to drive so many, 60 were kept for slaughter purposes and the remaining 362 sent back to Fort Victoria with Mr Brabant's local herdsmen. Clearly the rounding up of cattle was part of the seizure of the amaNdebele cattle herds meant as booty to reward the volunteers.
Acknowledgements
Ian Carruthers for sending me the relevant section from the notes of Jack Carruthers (a member of the Victoria Column in 1893)
I. Tomes. The Midlands in 1896. Heritage of Zimbabwe No. 18, 1999. P59-75
Souvenir (No. 7) of a visit by members of the Rhodesiana Society 29-30th May 1976
Souvenir (No. 10) of an outing to the Midlands area by members of the History Society of Zimbabwe 25-26th September 1993
R.S. Burrett. Gweru and its environs: a Glimpse of the Matabele uprising - First Umvukela, 1896. Heritage of Zimbabwe No. 15, 1996. P37-56
W.A. Wills and L.T. Collingridge. The Downfall of Lobengula. Books of Rhodesia. Bulawayo 1971 (W&C)