Memorial to Bertrand and Aleth de Guitaut
Why Visit?:
This is a very poignant spot where a honeymoon couple died sixty years ago…their lives commemorated by the stone cross on the granite kopje
There are wonderful views north west towards the Mulungwane Range and Bulawayo and also north east across Zinjanja monument
How to get here:
From Shangani take the A5 towards Bulawayo, 18.4 KM reach Insiza and turn left onto the untarred road heading south-east, 45.8 KM reach Fort Rixon road junction, 46.9 KM turn left towards Fort Rixon, 48.1 KM pass through Fort Rixon, 55 KM turn right at the intersection, 58.2 KM continue on at road intersection, 61.8 KM continue south at road intersection, 65.9 KM turn left at road intersection, 67.6 KM this is the nearest point to the Bertrand and Aleth de Guitaut Memorial 200 metres up the kopje to your left. Zinjanja Monument is just a 2-3 kilometres to the north east.
Alternatively drive to Danan'ombe Monument, afterwards continue on the same untarred road going west a further 11 KM to Fort Rixon, then south a further 19.5 KM.
GPS reference: 20⁰09′03.48″S 29⁰20′45.83″E
On the 14th April 1955 a honeymoon couple flew into the mountain at this spot due east of Bulawayo and years later their family came and built a memorial in the form of simple granite cross with a plinth below recording their names and the date of their death.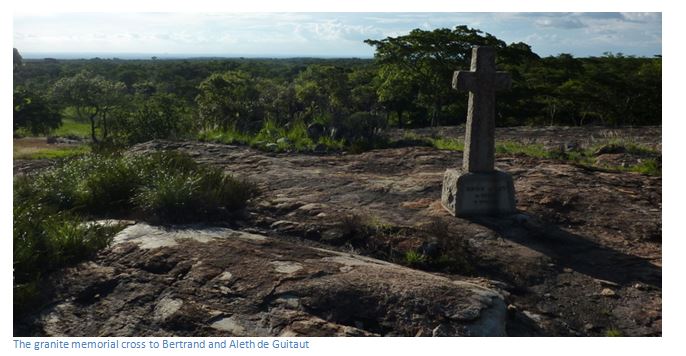 At one time visitors used to see pieces of aluminium from the wreckage, but they have disappeared over the years. Bertrand de Pechpeyrou de Comminges de Guitaut (1915-1955) was piloting their small single engine aircraft at the end of the rainy season on a day when their was thick mist hanging low on the ground and across a terrain which is for the most part fairly flat; so it is not hard to imagine these granite hills suddenly appearing when it was too late to adjust the course or altitude.
I could find no articles on the air crash, or information on whether they were perhaps flying from Bulawayo down to South Africa and became disorientated as the crash site is due east of Bulawayo.