Harare's Historic buildings – the Avenues
Cecil House (1901)
GPS Reference: 17⁰49′29.08″S 31⁰03′01.28″E
2 Central Avenue / 2nd Street (A1) Architect: Gibson and Cator, Client: De Beers Consolidated Mines Ltd Builder: Unknown
De Beers bought stand 1008 in 1901 for £500 and the building was completed in 1901, although De Beers only used it for a short period before leasing the building to the BSA Company from June 1893. Two of the offices were used by Sir Marshall Clarke, the Resident Commissioner (at this time he was living at The Residency) It was then used by the BSA Police Commandant, Col. Bodle from 1905 – 1909 as Police headquarters before they moved to Old Government House in Montague Avenue.
Cecil House was sold for £700 in 1920 and then fell on difficult times being used as a rooming house and being resold numerous times before being bought in 1975 by the Mining Industry Pension Fund. Their Trustees resolved on its restoration and new offices were built behind Cecil House, currently being occupied by Coghlan, Welsh and Guest, the lawyers. Many of the original features of Cecil House were kept including the high match boarded ceilings, timber floors, sash windows, and panelled doors with light fittings from the 1914 Bulawayo Stock Exchange and the corrugated iron roof was replaced.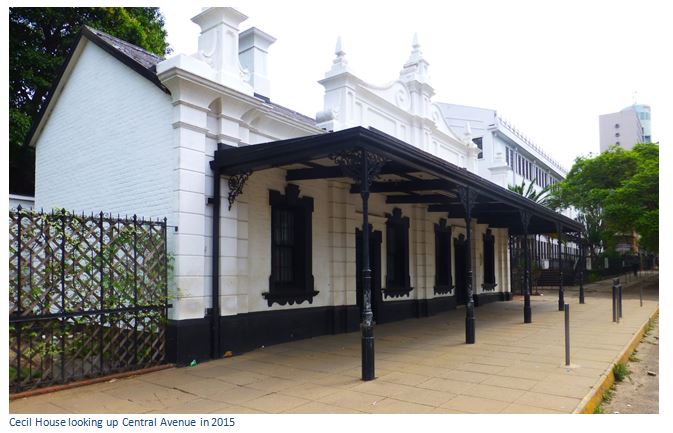 Cecil House is built of brick with a fine plaster covering called stucco on massive granite block footings. The building is dominated by the massive front gable that features scrollwork and pinnacles. The original ironwork columns were from MacFarlane's of Glasgow and have been replaced where necessary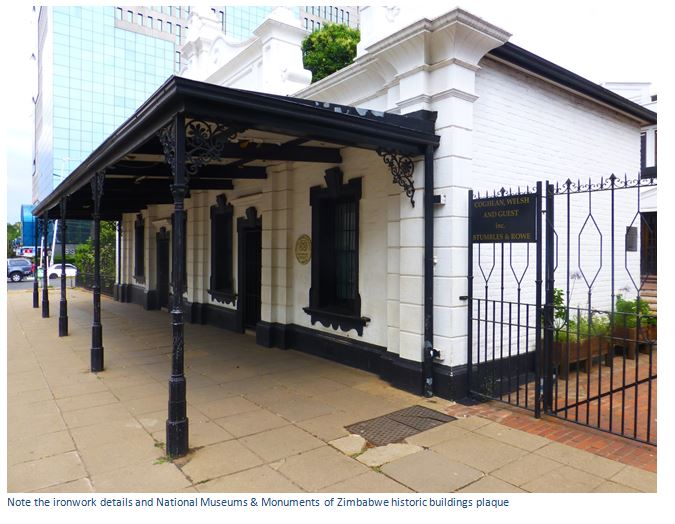 On completion of the refurbishment in 1977, the building was declared a National Monument and remains in excellent condition to this day.
The Residency (1895)
GPS Reference: 17⁰49′07.61″S 31⁰02′51.62″E
92 Baines Avenue / 2nd Street (A1) Architect: Unknown, Client: E.A. Maund, Builder: E.A. Maund for £4,000
In September 1894, E.A. Maund purchased four stands (1744-1747) on the corner of Baines Avenue and Second Street and constructed the first double storey brick house in Salisbury (now Harare) in 1895.
It appears that Maund never lived in the house and immediately leased to the house to the BSA Company who used it as a residence for senior administration officials. Justice W.J. Vincent, the senior High Court Judge of Matabeleland from December 1895 lived here until November 1896. From December 1895 to June 1896 during the Mashona Uprising / First Chimurenga when Lord Grey arrived, he was also the Administrator of Mashonaland.
Then Cecil Rhodes occupied the house. Rhodes' secretary Phillip Jourdan said of this visit "In Salisbury we found the people full of grievances. They asked for redress and assistance on every conceivable pretext. Mr Rhodes felt genuinely sorry for them, as they had just gone through a very trying siege and most of them had practically lost everything they possessed. We stayed at the Government residency and for three weeks, from early morning until late in the afternoon, there was literally a string of beggars winding their way to the Residency and back. They all wanted something and I do not think there was a single applicant for assistance who did not get something. My time was fully occupied in writing out cheques and in a short time he had given away in charity a sum considerably exceeding £10,000." Although he was only here for a month before leaving for England at the end of November for the parliamentary enquiry into the Jameson Raid, which had been postponed with the Mashona Uprising, the house became "Mr Rhodes' House"
Rhodes was followed by William Milton (later Sir) was Chief Secretary to the BSA Company at the time and shared the house with Justice Watermeyer and Jourdan. In December 1896, Milton wrote to his wife "Judge Vincent's house which I have collared could be made very comfortable, I have a large bedroom upstairs, facing east, which is cool and pleasant, and there is a nice room leading out of it in which Jourdan sleeps. Watermeyer has the other big front bedroom and there is a spare room. Downstairs are good-sized dining and drawing rooms and a cosy little study with a good light. We shall be snug here once we have settled down and I am sure you will like the house." In June 1897, Milton left to take up residence in Government House in Montague Avenue following his appointment as Administrator in succession to Lord Grey. Watermeyer and Jourdan continued to occupy the house until Rhodes return from England in December 1897, when he occupied The Residency for the following 7 months.
In October 1898, the house was occupied by Sir Marshall Clarke, the country's first Resident Commissioner "until such time as his furniture arrives." This post had been introduced following the Jameson Raid and the Resident Commissioner was an Imperial official appointed by the Secretary of State for the Colonies to keep an eye on local affairs, but paid for by the BSA Company. Initially based in Bulawayo, he moved to Salisbury (now Harare) when the Administrator, Earl Grey, moved from Bulawayo. This temporary measure for the Clarke's was to become more permanent and for the next 25 years until 1923, it was the official residence of the Resident Commissioner.
The Residency played a prominent part in the social life of the town. Lady Clarke's "At Homes" were held on Thursday afternoons at 4 o'clock and competed, in the friendliest manner, with Lady Milton's in Government House! They also jointly organised tennis parties.
The house had been the centre of the town's hunt and Col. Alderson who commandeered the Mounted Infantry during the Mashona Uprising / First Chimurenga wrote "on November 23rd [1896] we had, much to our delight, a look at what Mr Horrocks calls 'the h'image of war', the hounds meeting at the Judges house [Judge Vincent]…at 6 am."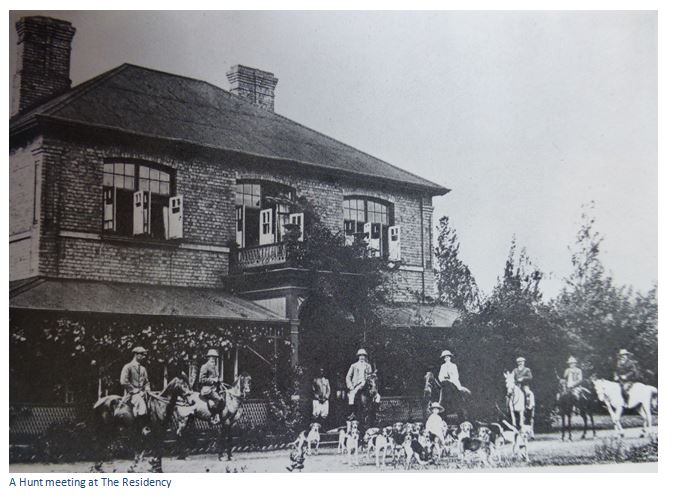 The second Resident Commissioner (1905 – 8) Lt.-Col. K. Chester Master revived the hunt with what was known as the Residency Pack. There are photographs from the front of The Residency of the hunt meetings and when he retired, the pack was taken over by the Salisbury Hunt Club. The last Resident Commissioner, C. Douglas-Jones left in 1923.
In 1904, the BSA Company had bought the house from E.A. Maund, and in 1925 it was sold to the Public Works Department of Southern Rhodesia (now Zimbabwe) and occupied by Ministers of the Crown, or the Chief Justice. The longest occupant was J.M. Caldecott who lived in the house for 13 years from 1950 to 1963, first as Minister of Finance, and later Minister of Finance in the Federation of Rhodesia and Nyasaland.
A typical Victorian dwelling it originally had a full-length verandah and a large porch with ornate carved rails and a balcony above the porch and large chimneys rose from the sharply sloping corrugated iron roof. All these features are gone, a tile roof has been substituted and ugly extensions have been tacked onto each side, the red brick walls have been plastered and painted over in white.
Today, the building is hemmed in and surrounded by bare brick residences of no architectural merit, their windows hung with washing and the grounds strewn with broken down cars. No account has been taken of the historical significance of the house that appears to be crammed with tenants. The well-cultivated grounds and tennis court still there in 1968 are gone, only the original first floor windows remain to remind the visitor of the distinguished past of The Residence.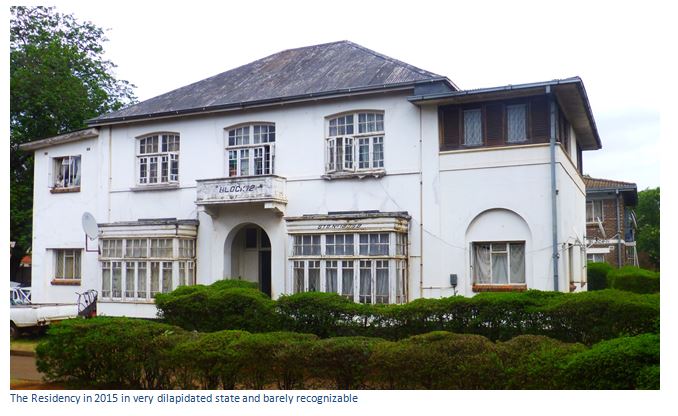 There was once a horse hitching post, but in 1963, R.C. Rowland in a Rhodesiana article on the Market Hall wrote that that a tree had engulfed it and this historical object appears to have been just removed.
Occupants of The Residency since 1895

Name

Position

Dates

BSA Company Officials

Justice J. Vincent

Senior High Court Judge

1895 - 96

William Milton (later Sir)

Chief Secretary of the Administration

1896 - 97

C.J. Rhodes

Company Director

1897 - 98

Resident Commissioners

Sir Marshall Clarke

Resident Commissioner

1898 - 05

Lt.-Col. K. Chester Master

Resident Commissioner

1905 - 08

Lt.-Col. J. C. Fair

Resident Commissioner

1908 - 11

Lt.-Col. Burns-Begg

Resident Commissioner

1911 - 15

H.J. Stanley

Resident Commissioner

1915 - 18

C. Douglas-Jones

Resident Commissioner

1918 - 23

Ministers of the Crown and Chief Justice

Major R. Hudson

Attorney-General

1924 - 32

Capt. F.E. Harris

Minister of Agriculture

1933 - 42

Sir R. Hudson

Chief Justice

1943 - 46

G.A. Davenport

Minister of Mines

1946 - 50

J.M. Caldecott

Minister of Agriculture, then Finance

1950 - 63

Lord Graham

Minister of Agriculture

1964 - 68
'Lo Kia' House (1902)
GPS Reference: 17⁰49′17.61″S 31⁰02′35.29″E
46 Fife Avenue / Leopold Takawira Street (formerly Moffat Street) Architect: J.A. Cope-Christie, Client: J.A. Cope-Christie, Builder: J.A. Strobel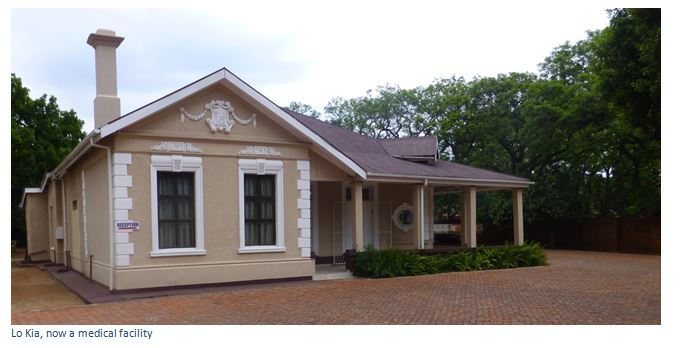 This was designed as the Architects' own home and like Berea House has a projecting front gable with a verandah wrapping around two sides and corner bay window, although in this case it projects up through the roof.
Internally it has a central passage leading onto a rear verandah that was enclosed in 1931 to provide additional bathroom / toilet space and five main rooms. The ceilings have are pressed metal in the main rooms, timber match boarding in the rear. The doors are feature fanlights and are complemented by sash windows and fireplaces with timber surrounds.
The roof is covered exposed corrugated iron, with three chimneys and a cast iron roof crest. The stucco exterior features imitation stone blocks (quoins) on the corners, with fine moulding above the windows and in the gable.
The external condition of 'Lo Kia' is a great credit to its owners; the house still has a very domestic feel and the paint finishes show off its interesting features to best advantage.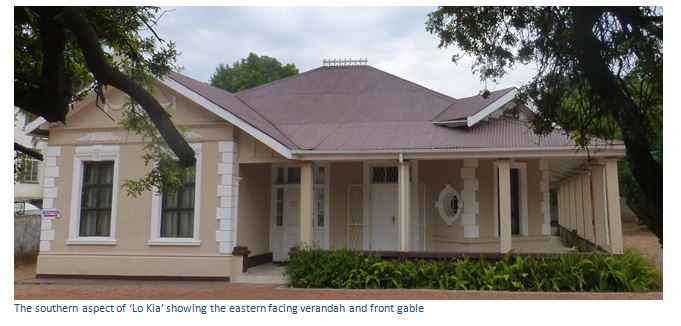 The house below has many similar features and is on the southern side of Fife Avenue opposite 'Lo Lia.' It is also used as a medical facility; the owners are to be commended for keeping the structure and external finish in excellent condition.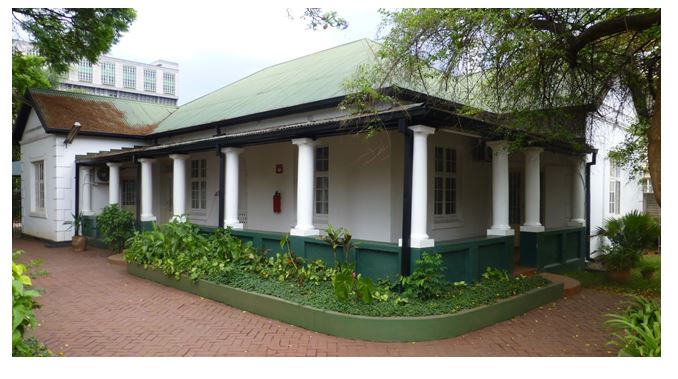 Berea House (1903)
GPS Reference: 17⁰49′14.66″S 31⁰02′47.45″E
78 Fife Avenue / Mazowe Street, Architect: S.D. Le Roux, Client: S.D. Le Roux, Builder: Sutcliffe & Cleveland
This building, owned by Faith Ministries, is now over dominated by ugly utilitarian blocks, and has been very much changed internally, although the exterior is maintained in good condition. In form it is very similar to Cope-Christies 'Lo Kia' although much smaller.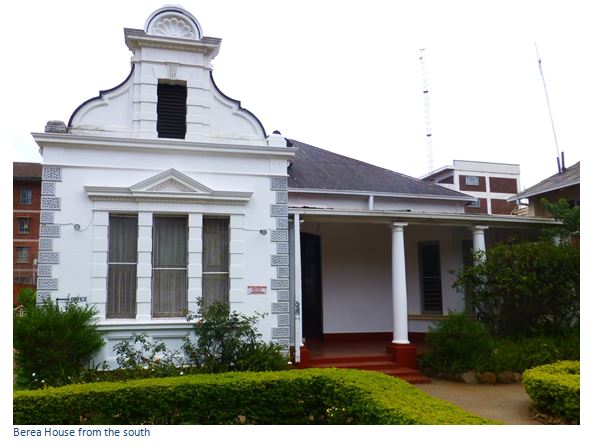 The verandah that wraps around the southern and eastern sides of the house has Doric columns and the Cape Dutch gable incorporating a louvered ventilator with oyster shell decorations topped by a small obelisk seems rather too large and ornate for such a small house. The house was formerly known as 'The Red House' and completed in facebrick; this has been covered in a stucco finish with corner quoins.
The front door and brassware furniture are all original, as are the cast iron fireplaces with elaborate timber mantelpieces. The timber floors and narrow sash windows are also original
Railway's House (1911)
GPS Reference: 17⁰49′17.41″S 31⁰02′45.10″E
67 Fife Avenue / Colquhoun Street, Architect: A.C.A Cator, Client: Beira and Mashonaland Railway Company, Builder: Beira and Mashonaland Railway Company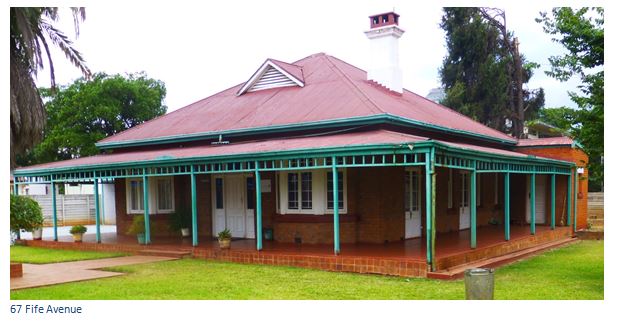 Railway's House at 67 and the house next door at 71 Fife Avenue were both built in 1911 by the Beira and Mashonaland Railway Company for their staff and continue to serve this purpose today.
The timber-framed verandah on three sides with gutters and rain water pipes and the red face brick are original. The southern verandah has been bricked in to provide additional toilets and bathrooms. The building is very typical of its time and still has timber suspended floors, pressed metal ceilings, timber framed casement and sliding sash windows with back-to-back fireplaces served by a single chimney. Panelled doors lead onto the verandah
The corrugated iron roof has a pyramid shape only broken by the chimney and triangular louvered dormer. As Peter Jackson states, this house, and its neighbour set in their grounds with Jacaranda and palm trees give a very good impression of how the avenues looked in the early twentieth century.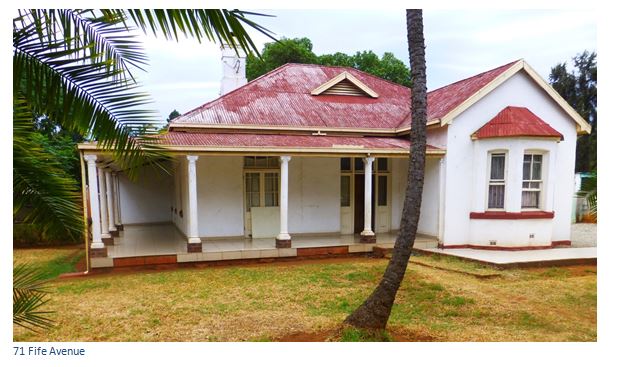 The sheet iron roof, windows, and doors in the adjacent house appear to be original.
The Villa (1910)
GPS Reference: 17⁰49′03.90″S 31⁰02′30.71″E
37 Josiah Tongogara Avenue (formerly North Avenue) Architect: J.A. Cope-Christie, Client: B.I. Collings, Builder: C.H. Edmanson
The original client, Burton Collings was a mining engineer who came to this country in 1907 and died here in 1930. His house was built to his specifications with some very distinctive features.
The corrugated iron roof is multi-gabled with black and white half timbering in the gables above timber-corbelled brackets on the roof eaves. The sides of the house have strongly built buttresses, not visible in the photo, to absorb the roof weight. The distinctive front porch extension has a sheet iron ogee-shaped cupola.
Internally, the dining room is the largest and most important room with a vaulted ceiling of stained timber. The columns around the inglenook fireplace and heavy cornices suggest to Peter Jackson that the room was designed to serve as a Masonic Temple. Two double folding panelled doors separate this room from the drawing room. At the time of Collings death, his wife and Dr Paul Anning were forming what eventually became REPS Theatre and many informal play readings took place here.
The study off the entrance hall has the most elaborate fireplace mantelpiece; those in the other rooms are simpler. The rear verandah provided access to the kitchen, pantry, bathroom, and original toilet. The rooms have imported pine boards, and press metal ceilings in the front rooms.
At the back of the house were servants' quarters, stables and a coach house. These have all been replaced by blocks of flats that are owned by the Mining Industry Pension Fund with the Villa used as a community centre.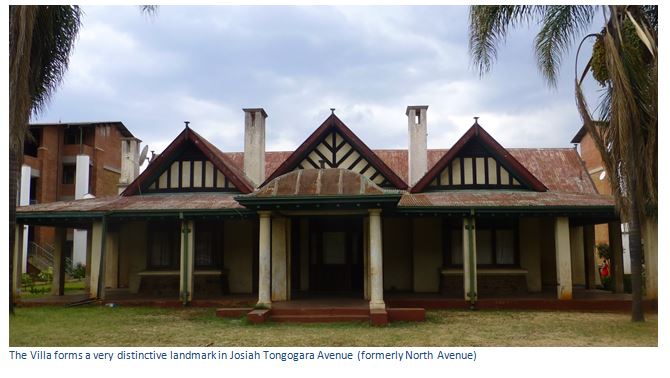 Acknowledgements
P. Jackson. Historic Buildings of Harare. Quest Publishing, Harare. 1986
R.C. Howland. Buildings of Historic Interest. No. 1. The Residency, Salisbury. Rhodesiana Publication No. 19, December 1968, P67-72.
When to visit:
All year around Monday to Sunday 8:30am to 4:30pm