Rhodes Nyanga Hotel
The Rhodes Nyanga hotel and the Victoria Falls hotel have an historic atmosphere not present in any other hotels in Zimbabwe.
Rhodes's bought the old Fotheringhame's homestead on Fruitfield Farm in 1896. "Mr Rhodes built himself a retreat; and this was always his solitude where he preferred to think out his great schemes." The original homestead on the Estate was modernized to form the present Rhodes Nyanga Hotel in 1933, about three decades after his death.
The hotel sits in well-manicured gardens with the verandah overlooking the Rhodes Dam and the typical Nyanga mountain scenery.
It is the only hotel located in the Nyanga National Park and its' central location gives easy access to the 47,000 hectare National Park.
The Rhodes Nyanga Hotel has 24 rooms, the 8 rooms in the old original block of rooms all have bath and shower, the rondavels and rooms 9 to 11 have showers. The most popular room is Room 8 with a free standing Victorian bath, walk-in shower and its historic associations with some of the original furniture where Rhodes himself used to sleep. For the romantic, a chocolate on your pillow is a sweet finishing touch.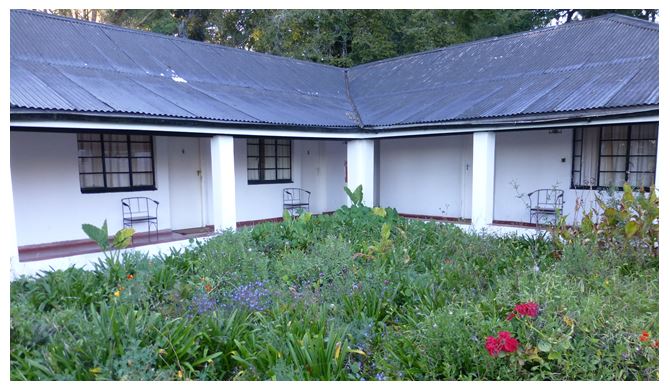 It comes well recommended for those who like atmosphere and a professionally run hotel that caters for both holiday goers and business meetings. Meals are more home cooking than gastronomy, but excellent, consisting of flavoursome soups followed by local trout or beef, with traditional puddings such as sherry trifle in the dining room with its cosy fire and attentive and cheerful service.
The Hotel can provide conference and business facilities, but is much less "corporate" than the other hotels at Troutbeck and Juliasdale and would make a more personal wedding venue.