Rhino Safari Camp
Rhino Safari Camp is a luxury, rustic owner-operated classic bush camp set on the shores of Lake Kariba on the western boundary of the Matusadona National Park where the Ume River joins the Lake. The camp is unfenced with the wildlife free to roam and can host upto fourteen guests in seven twin-bedded rooms; all are raised above the ground on wooden stilts and are open-to-the air at the sides and come with private open-air showers and bathrooms. A central thatched double-decked "boma" provides a spacious living/dining/bar area with a splash pool. The safari camp is open all year and promises a genuine safari experience. The Matusadona National Park a designated IPZ (Intensive Protection Zone) for the highly endangered black rhinoceros. The other Big 5 animals: lion, buffalo, leopard and elephant are also frequently sighted. There are over 350 documented bird species, resident and migratory, the Lake contains a healthy population of hippos and crocodiles. Lake fishing includes the legendary Tiger Fish, numerous Bream species, Cornish Jack, Vundu, Bottlenose and Catfish.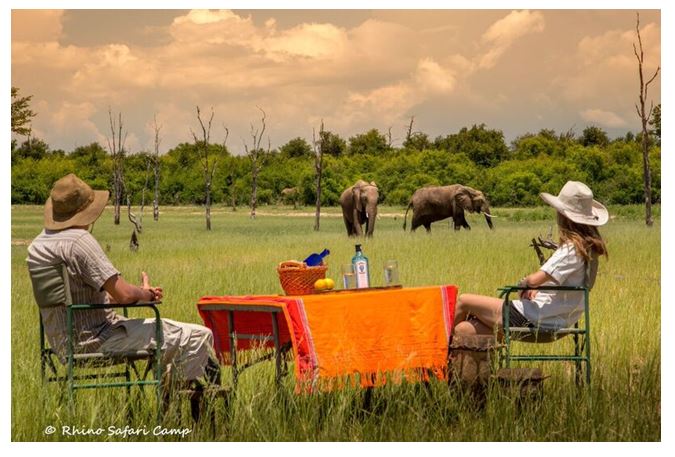 Visitors can track game on foot, or by vehicle with the armed professional guide, Steve Chinoyi, or relax on a boat with a fishing rod and watch the game come to drink from the Lake.
Access by road is only for the seriously adventurous which requires a proper 4x4 with decent ground clearance and preferably with a diff-lock. From Harare or Binga to Rhino it is roughly 12-14 hours depending on the time of year and state of the roads. The airstrips in the area are Tashinga (which is a short and technical airstrip and only suited to small light aircraft like Cessna 206 or smaller), Rokari/Kiplings which is at the Ume Croc Farm and is where most of our guests fly into because the strip is close enough to the harbour to walk and we porter the luggage. Then there is Bumi, although this airstrip requires a ground transfer between the airstrip and the harbour and Bumi isn't always able to do this, especially if they are busy with their own guests. From Tashinga we can transfer by vehicle (30-45 minutes) or by speed boat (5-10 minutes). From Rokari or Bumi, it has to be by speed boat and takes roughly half an hour and lastly people can drive or fly into Kariba and we can transfer them across by speedboat, which takes just over an hour, depending on lake conditions.
Rhino Safari Camp works closely the Zambezi Society (www.zamsoc.org) who co-sponsor the rhino monitors based at Tashinga and assist and promote The Tashinga Initiative (www.thetashingainitiative.org) They also work with MAPP / Matusadona Anti-Poaching Project (https://www.facebook.com/Matusadona-Anti-Poaching-Project-MAPP) in their efforts to assist ZPMWA curb illegal poaching with the Matusadona National Park.
GPS reference for the main boma: 16⁰46′35.90″S 28⁰28′57.00″E